Always figures in the finish
Originally from New Zealand, David has shown remarkable consistency at the national titles across the Tasman. He has finished in the top five places of the NZ National Championships during all 14 of his appearances. He has come desperately close to victory many times in New Zealand, after early success at the NZ Masters Championship in 1987. David finished second or third six times at the NZ Nationals between 1985 and 2002. This year he finished on the highest number of wins, only to be awarded fourth placing on margins. David is hoping to improve his record in Australia next year at the National titles - his highest finish so far is just 7th (2001). David is not the type to give up easily; he plays his best Scrabble against the toughest opponents.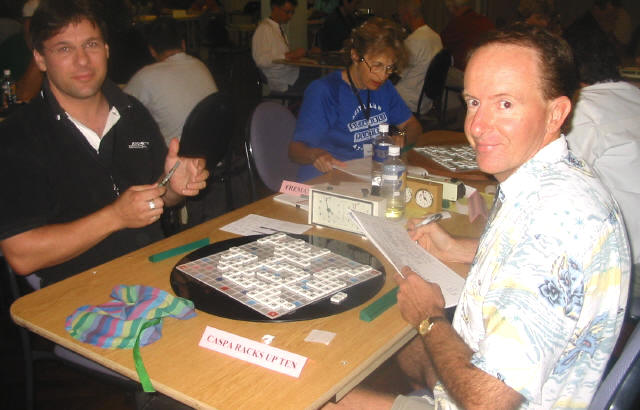 David Lloyd vs Rod Talbot, Fremantle, WA. 2002
Team Australia 2003 Player profiles
Sleeping with the enemy?
David actually played for Team NZ against Australia in Trans Tasman Challenges in 1998 and 2000. But he has since redeemed himself. David moved to Melbourne three years ago to join his new Aussie wife, Christine. He quickly established himself as Australia's number one Scrabble player. His remarkable consistency has kept him near the top of the ratings, although he has not yet broken through to win a state title. He has recorded clean sweeps in several Melbourne tournaments, including one where he notched up ten straight wins.
A man of the world
David spent six years working in England in the '90s. Nowadays, he does freelance work designing software applications, especially for the Apple Mac. He has created a string of successful shareware applications, including iCan, a utility so popular that even one of Apple's original founders bought the product. Meanwhile, David has headed for England again for a three-month working trip. He will then journey onwards to Malaysia to have his first attempt at the world title.