VICTORIAN SCRABBLE® CHAMPIONSHIP
The Victorian Scrabble Championship takes place over three days, Saturday to Monday (June 9 to 11). There are 24 rounds in all (8, 9 and 7).
On the Monday, other competitors take part in a 6 round event, the Queen's Birthday event.
Follow the results on this web site.
Links
Khwanjai Thammaping has created Facebook albums of photos from the
Victorian Championship
and the
Queen's Birthday
tournaments.
Nick Ivanovski has been
twittering
about the event, with comments, photos and videos.
Marj Miller has much information about everything happening in Scrabble in Victoria on the
Scrabble Victoria website
.
On the national website
www.scrabble.org.au
, Edward Okulicz has created archives of tournaments over many years, and in particular, the archive for the
2012 Victorian Championship
and the
2012 Queen's Birthday tournament
Victorian Champion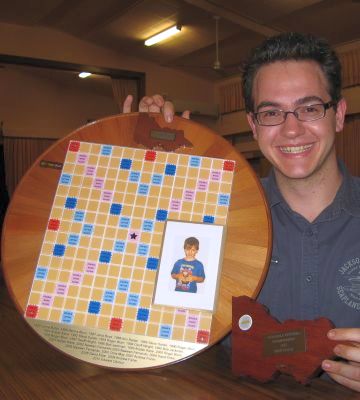 The Victorian Champion is Alastair Richards. This win comes hot on the heels of his winning the Western Australian Championship. Congratulations, Alastair.
Round 23
The top three each lose in
this round!
Geoff Wright and Peter Kougi (
GWRI_PKOU.gcg
), a strange endgame when Geoff plays TH/CH from his rack HOTEN and two blanks. And Trevor Halsall allows Ray Alford to have MARLINED so that he can have GOODTIME as a triple triple.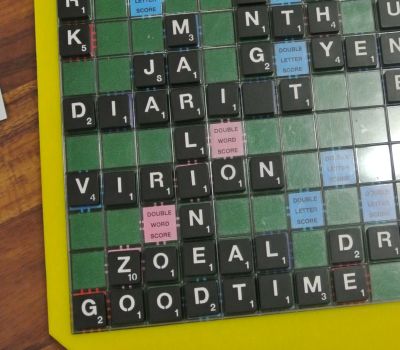 Round 21
Peter Kougi plays Norma Fisher (
PKOU_NFIS.gcg
).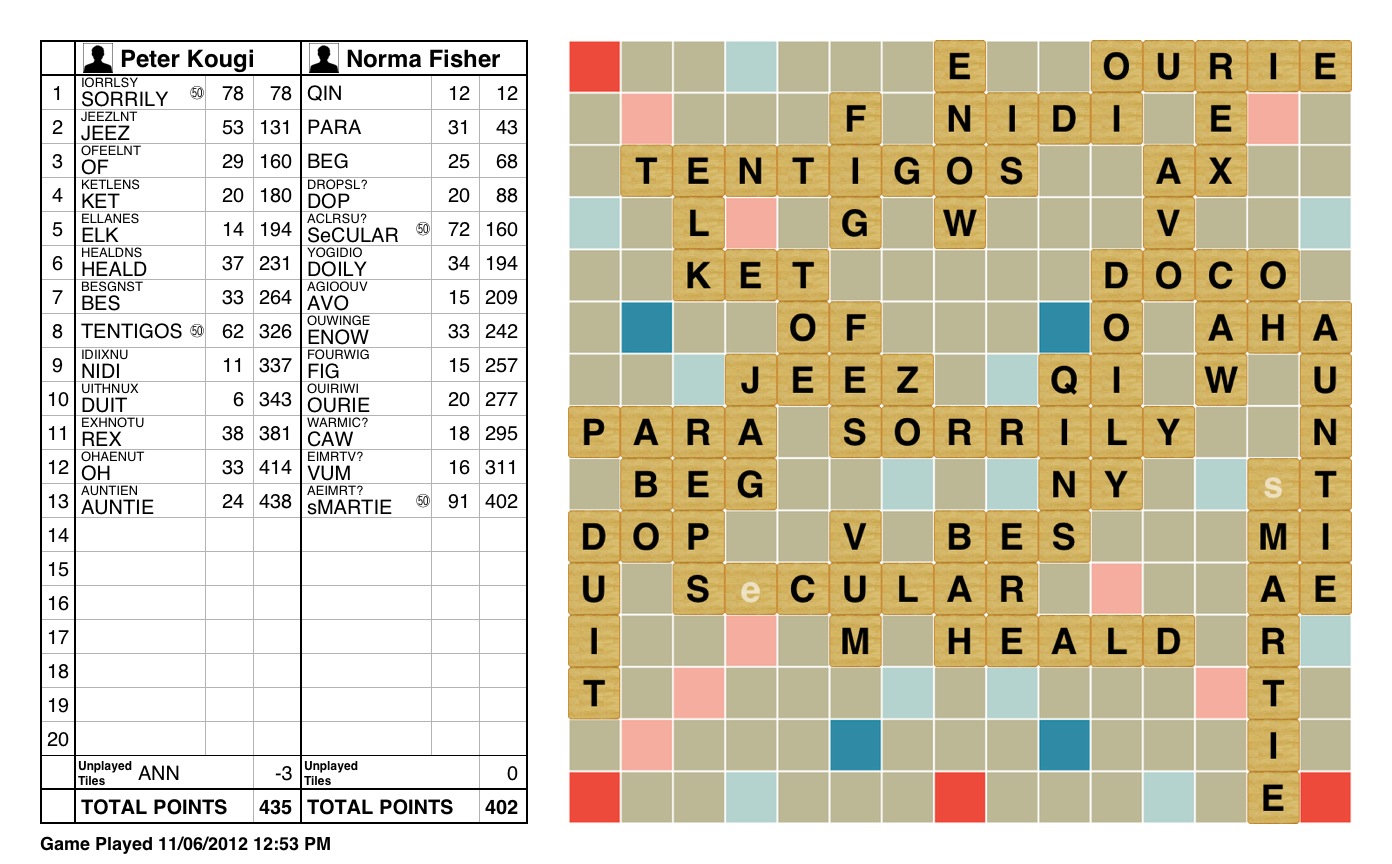 Round 19 of Champ, Round 1 of QB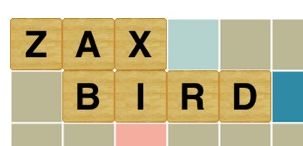 Peter Bauer was wanting to claim a record for high score for a three letter word, 70 for ZAX in the top left corner.
Round 18 (first round of Monday)
The Championship continues, with two dropouts. Meanwhile 52 players start arriving for the Queen's Birthday event.
Photos from Sunday
Round 17
A very happy Nick Ivanovski defeats Alastair Richards, who has been surging ahead of the field. We wonder what Alastair's secret weapon is? Perhaps the photo at the right is a clue.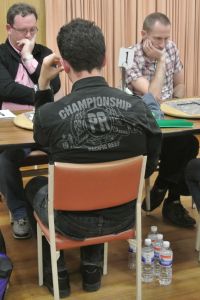 Round 16
A very close finish in the game between Joanne Craig and Alastair Richards. Thanks again to Naween annotating. (
ARIC_JCRA.gcg
).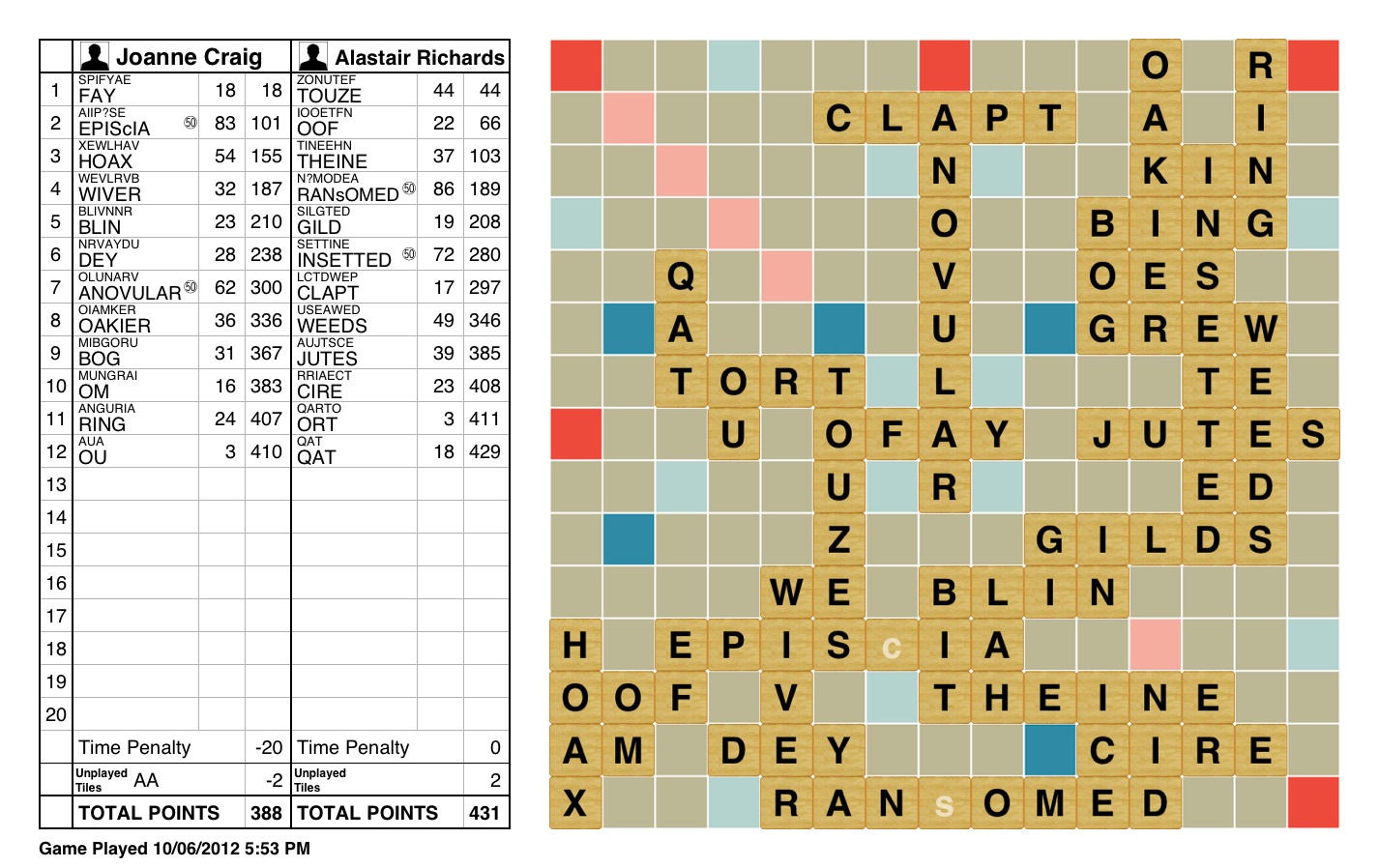 Round 15
Naween Fernando drops by, and uses Barry's iPad to annotate the game between Alastair Richards and Andrew Fisher (
ARIC_AFIS.gcg
).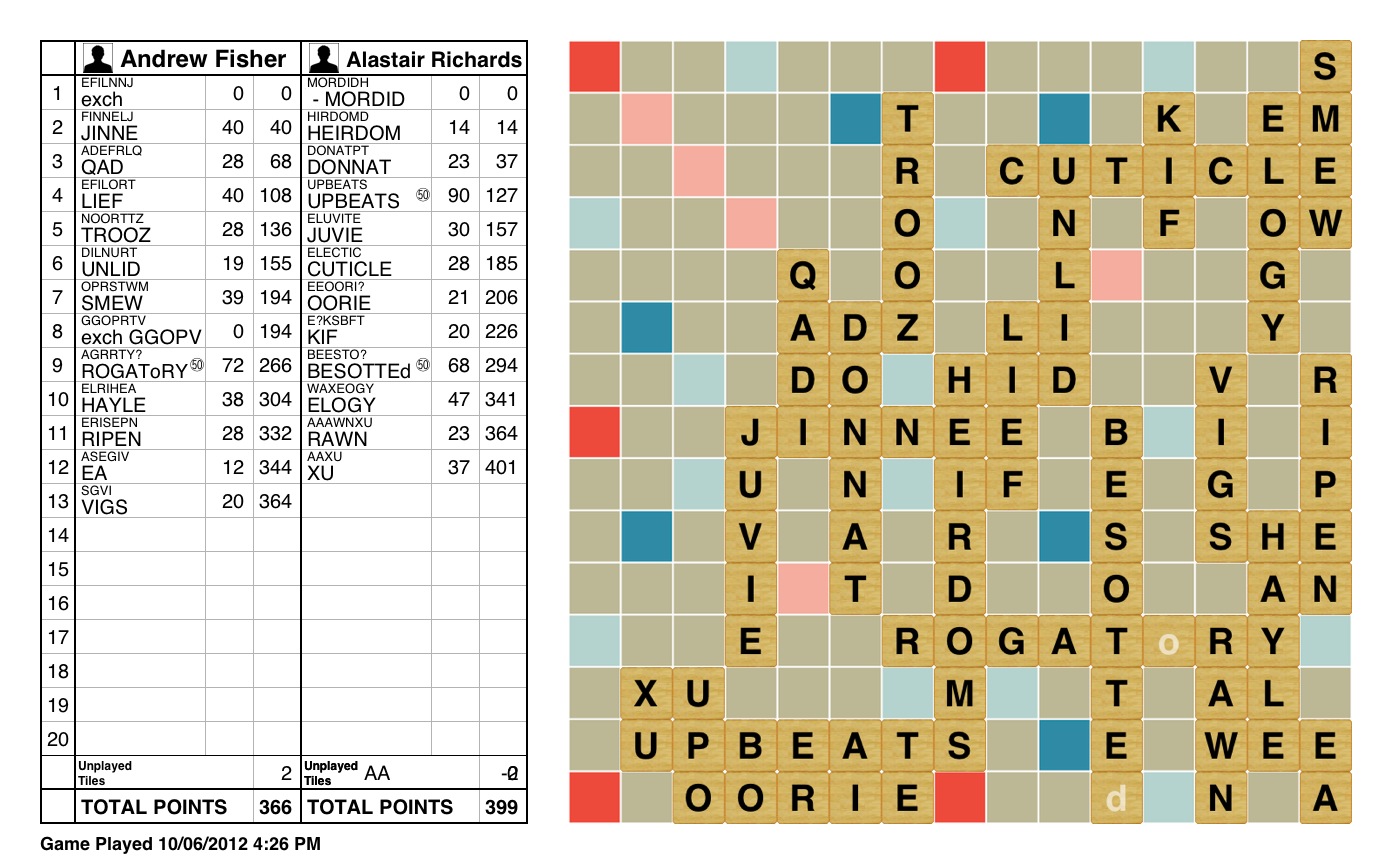 Round 14
A wild game Alastair Richards versus Peter Kougi, best followed move by move on Quackle (
ARIC_PKOU.gcg
)
Round 14
Andrew Fisher in a rematch with Trevor Halsall. (
ARIC_AFIS.gcg
).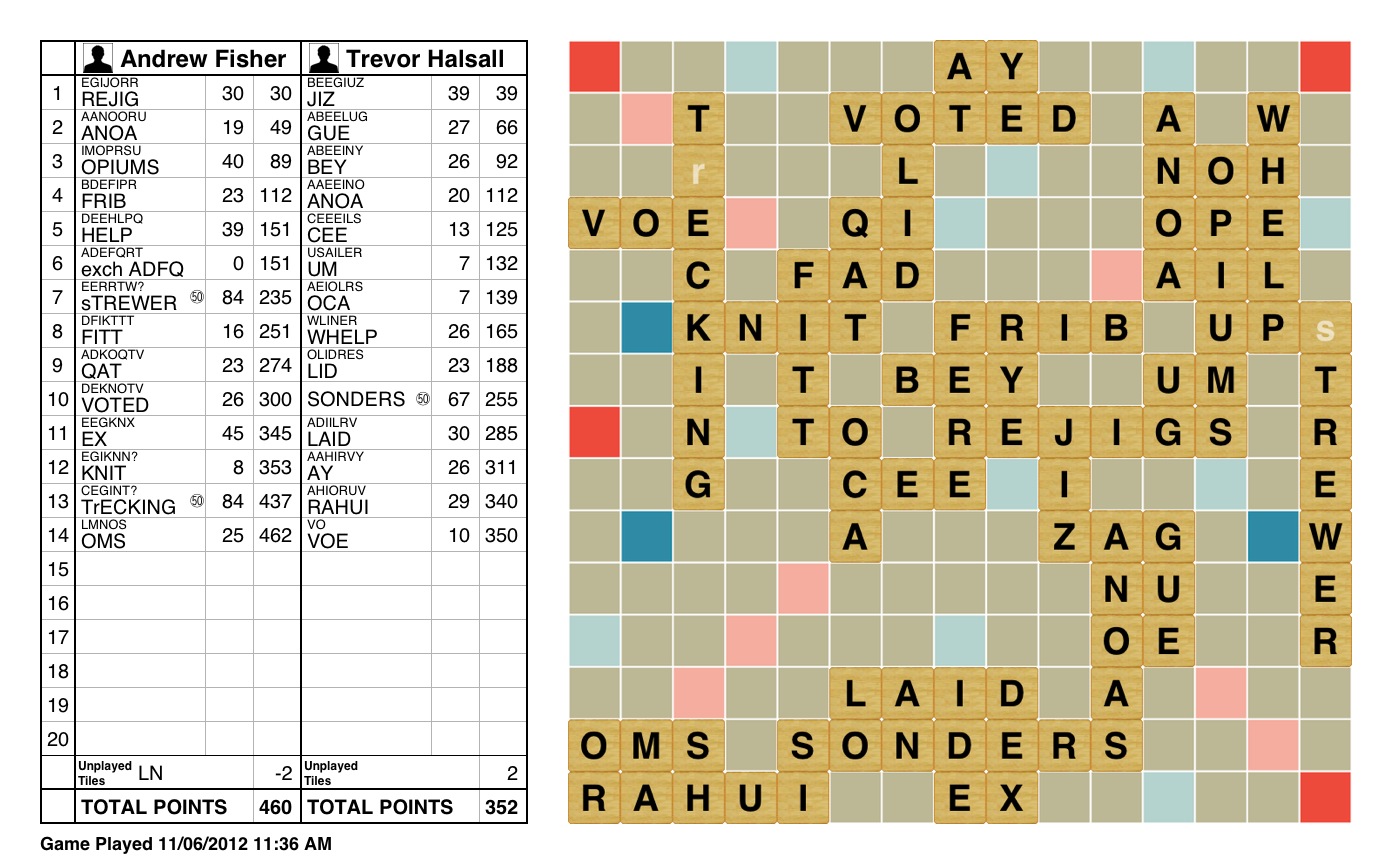 Round 13
This round is effectively King of the Hill, since there is a reset. Players will not be rematched against any opponent they have had from round 13 on.
Alastair Richards defeats Trevor Halsall (
ARIC_THAL.gcg
)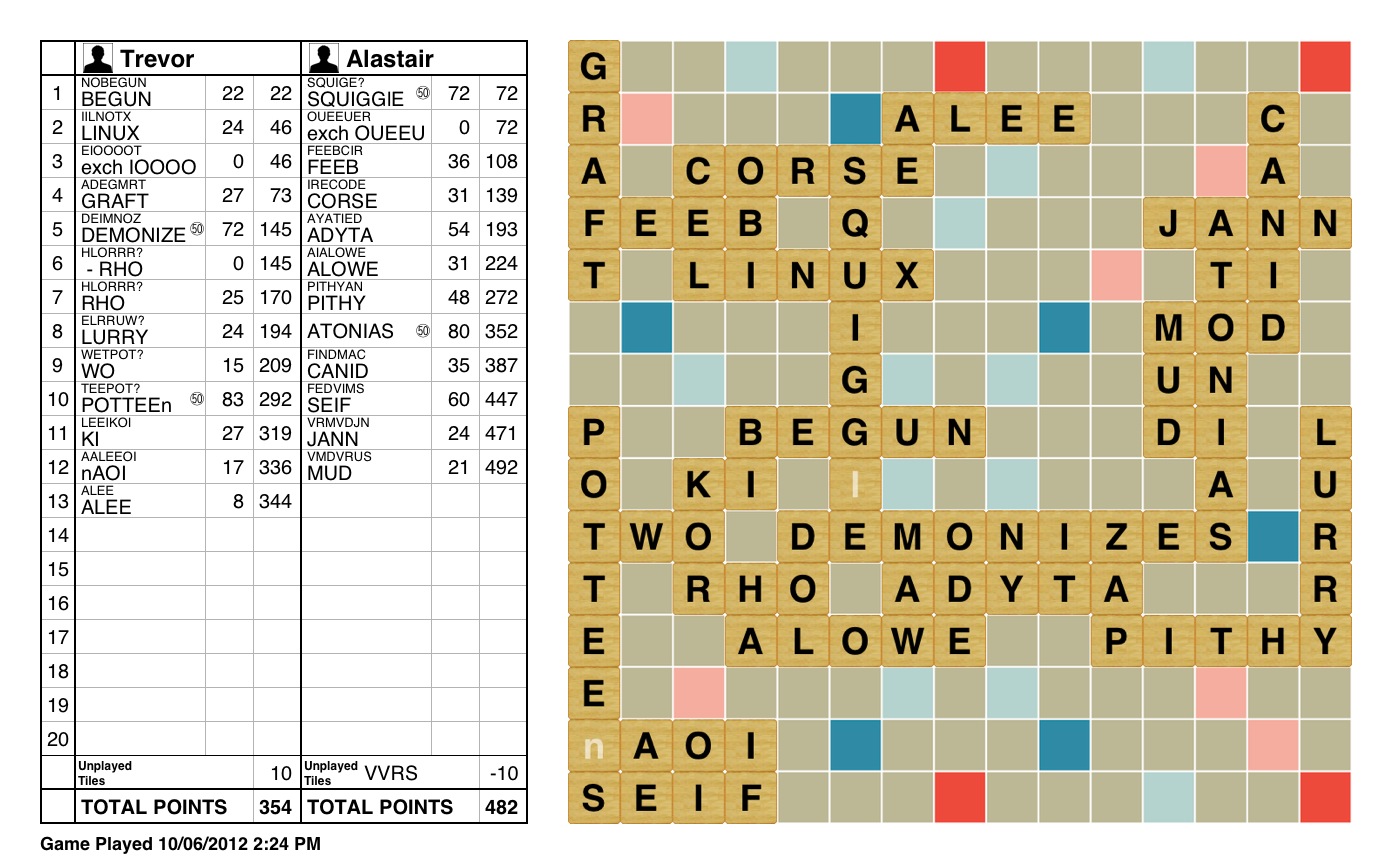 Joanne Craig gets 176 for KEDGIEST.

Round 11
It is inevitable with so many of the Richards family here. Last round Alastair played Paul. This round he plays Karen.
Round 10

The ten letter word ABORIGINES was played. Jenny Brysha played ABORI(GI)NE and then Greg Pinchbeck put an S on the end.
An interesting game between the hare and the tortoise, 'Quick Nick' Ivanovski versus Trevor Halsall (
THAL_NIVA.gcg
). The blanks had appeared late in the game and so Trevor went five minutes overtime, but still won.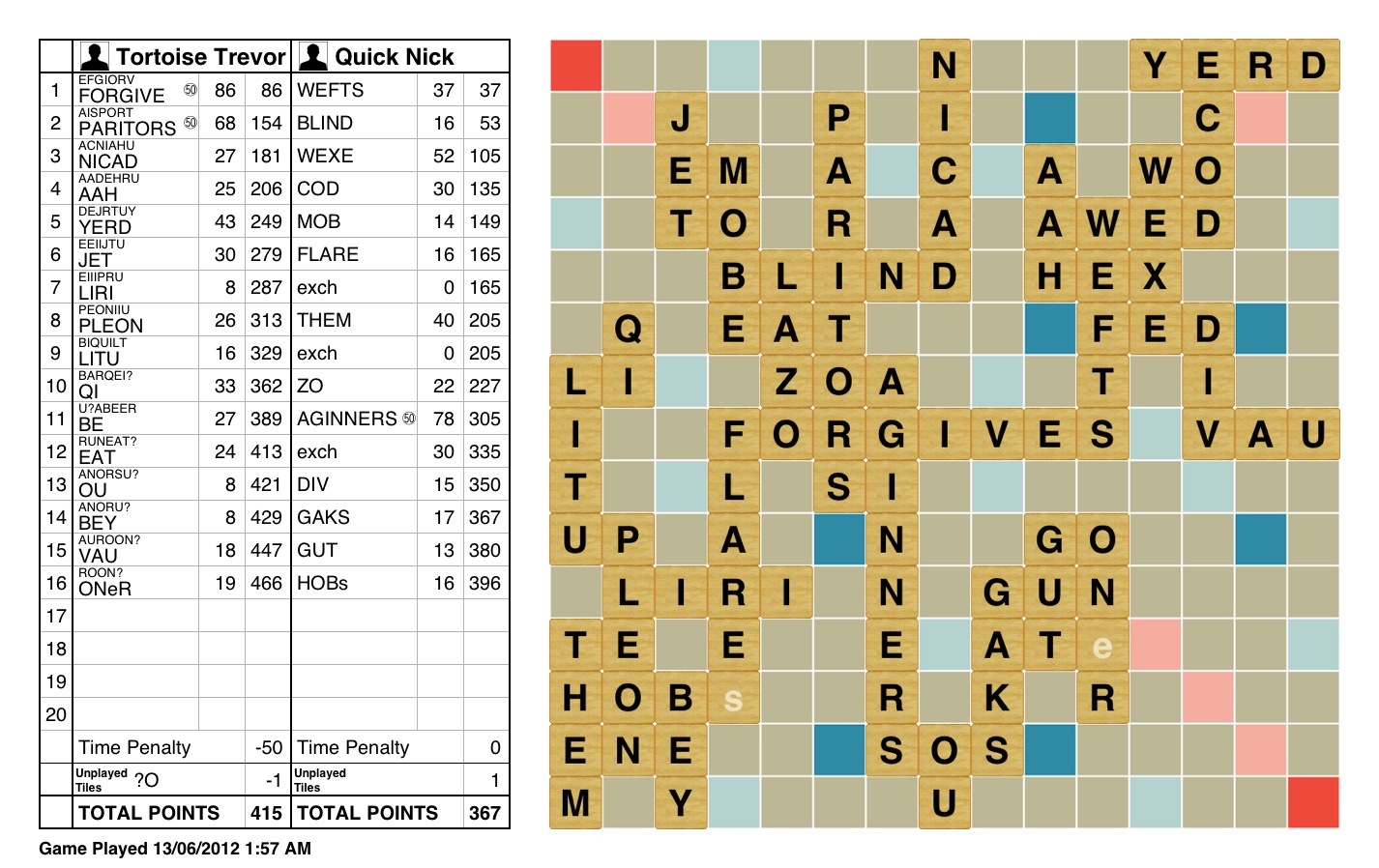 Round 9
The first round for Sunday. And a ripper game between Andrew Fisher and Peter Kougi. 539:515 in Andrew's favour (
AFIS_PKOU.gcg
)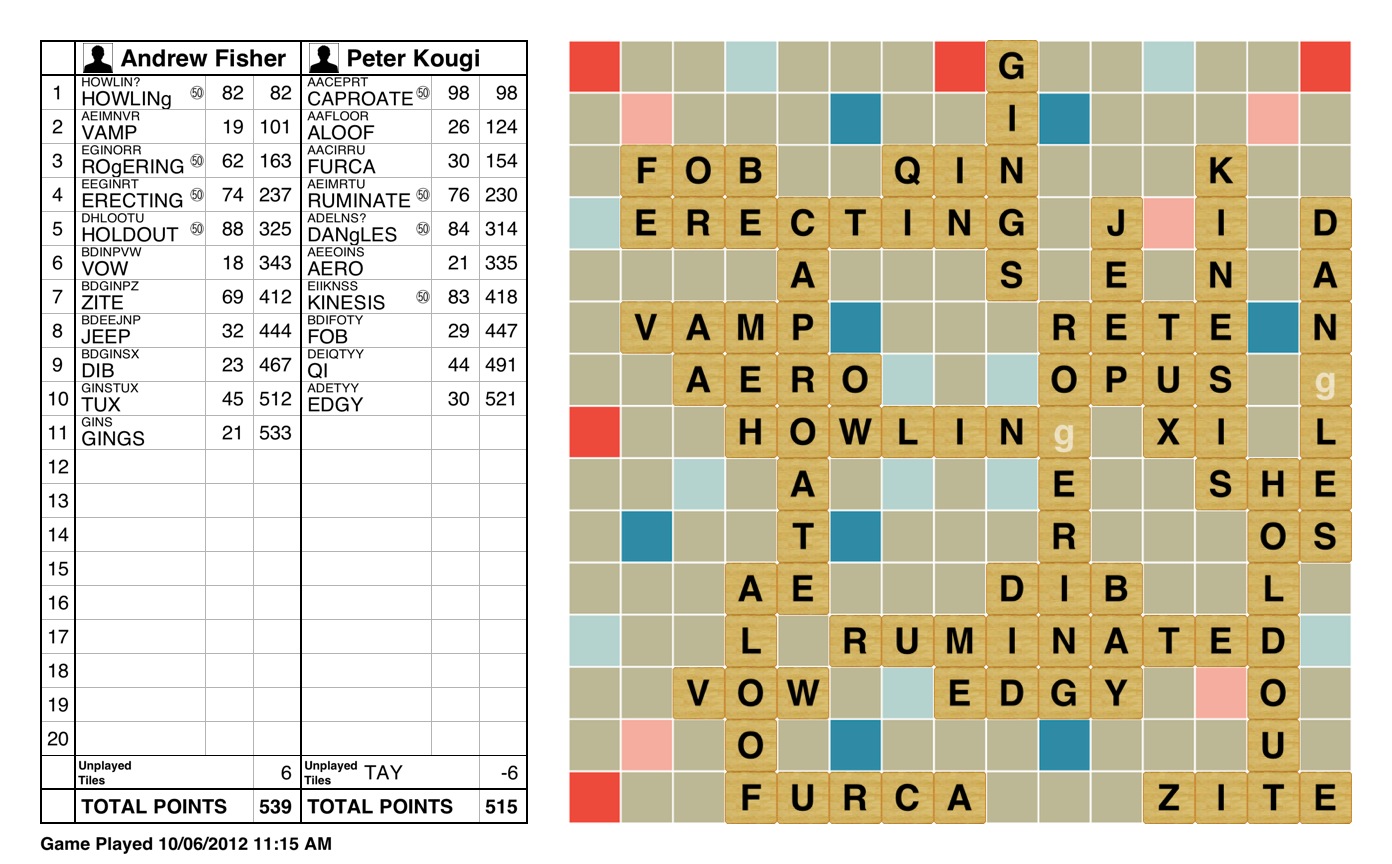 Some photos
Round 8
A tense endgame Trevor Halsall versus Andrew Fisher. Trevor's outplay was nice and he also had another place to play out.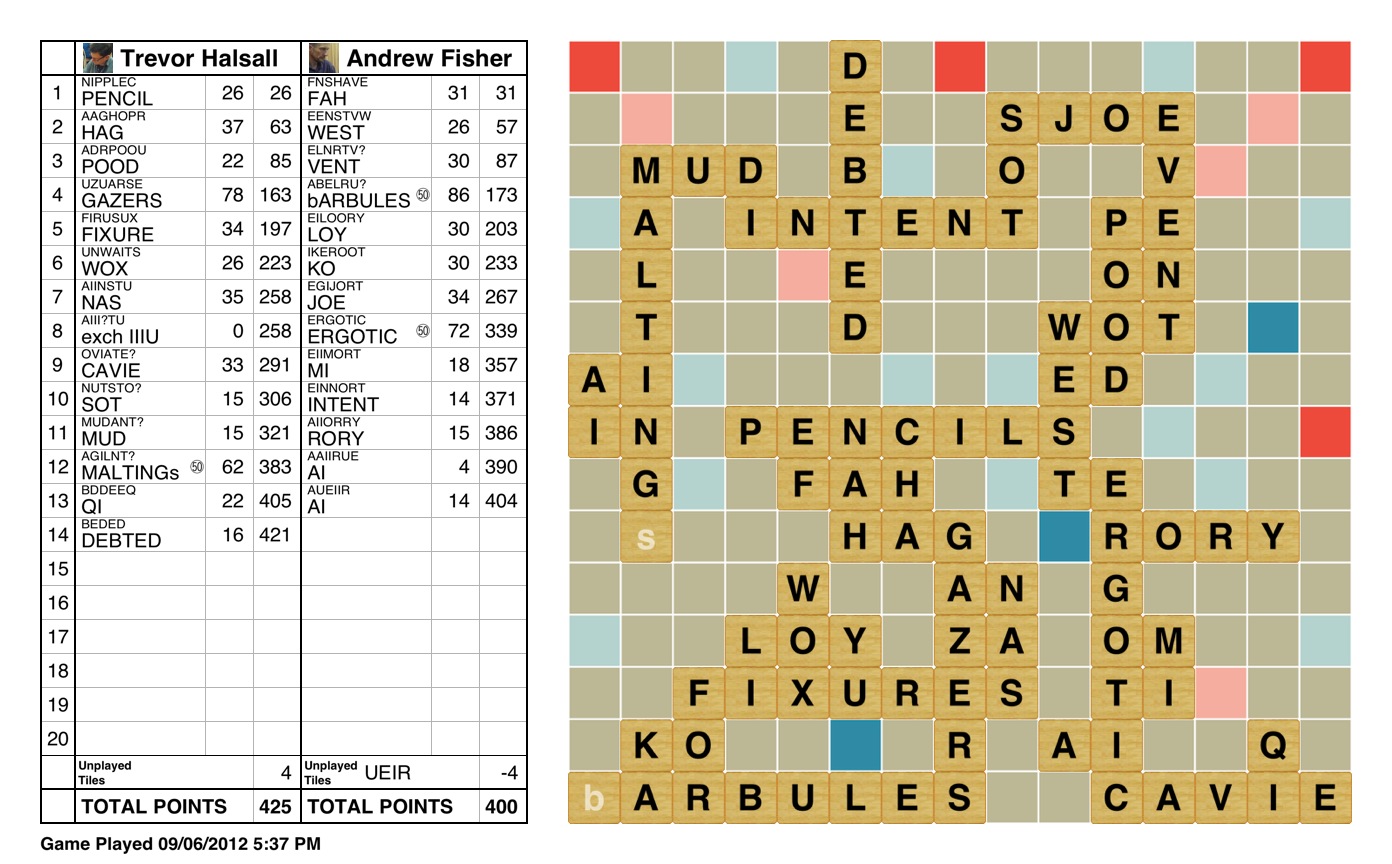 Round 7
Players are enjoying the lovely food that is being put out. As she and Rob York were nibbling at the goodies, Marisa Nuccitelli was excited that she played MOOPING, but had no idea what it meant. It means nibbling!
Round 5
Trevor Halsall kept ahead of Alastair Richards (
THAL_ARIC.gcg
)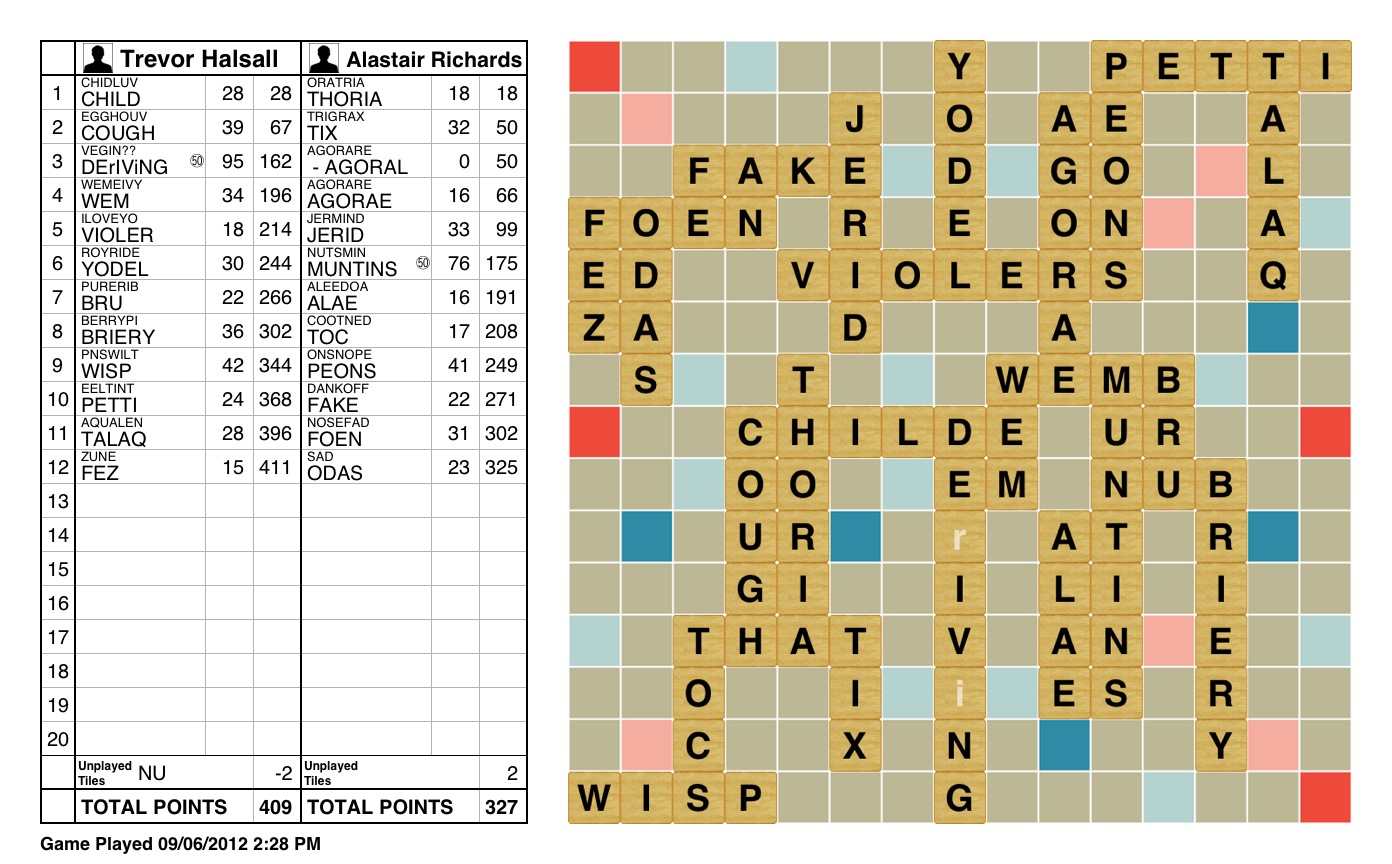 Round 4
A frustrating game for Michael Rubinstein playing Trevor Halsall (
THAL_MRUB.gcg
)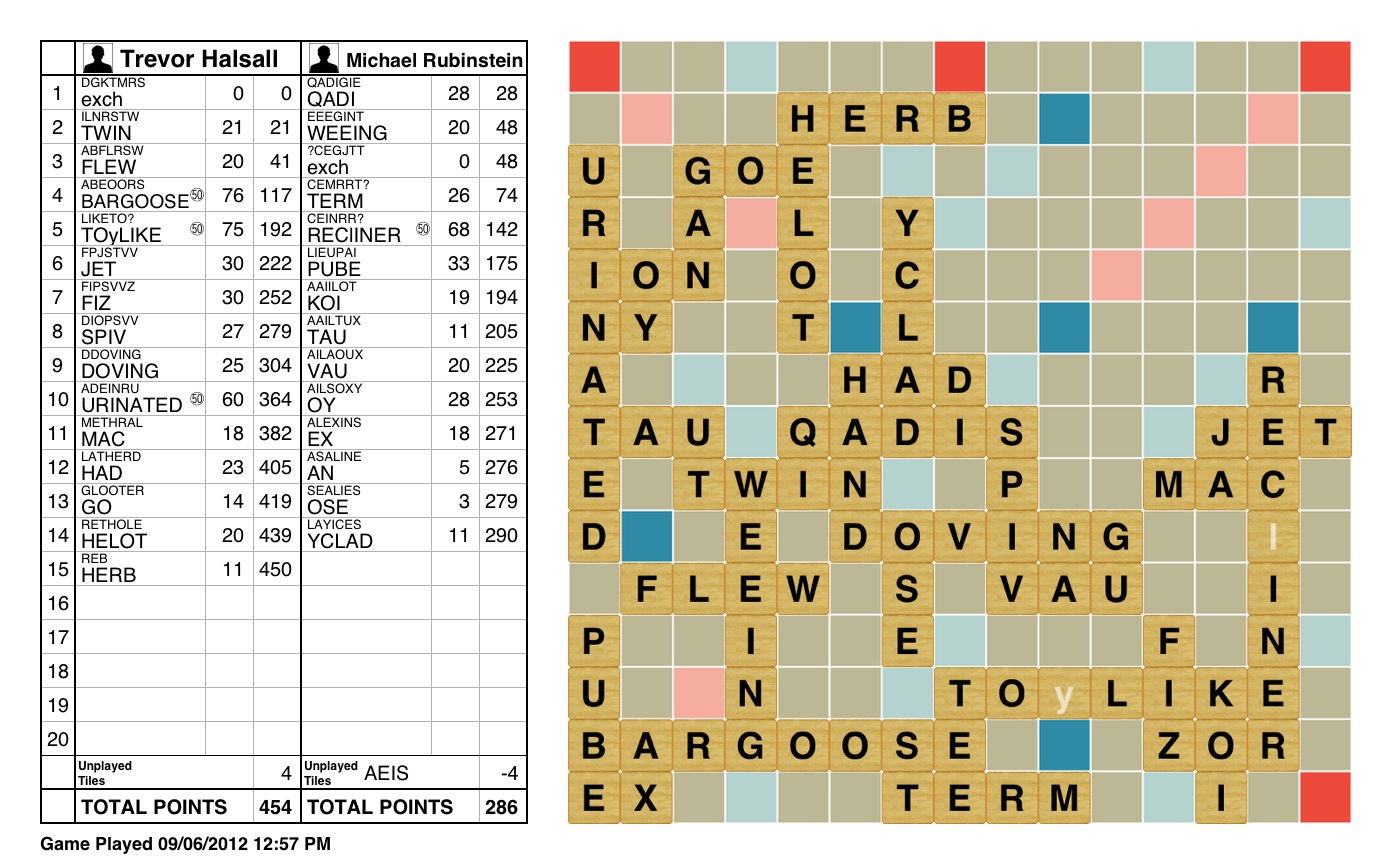 and Nick Ivanovski got a personal best high game score of 650 and also claimed the record for highest opening score for 2012, QUEYNIE for 106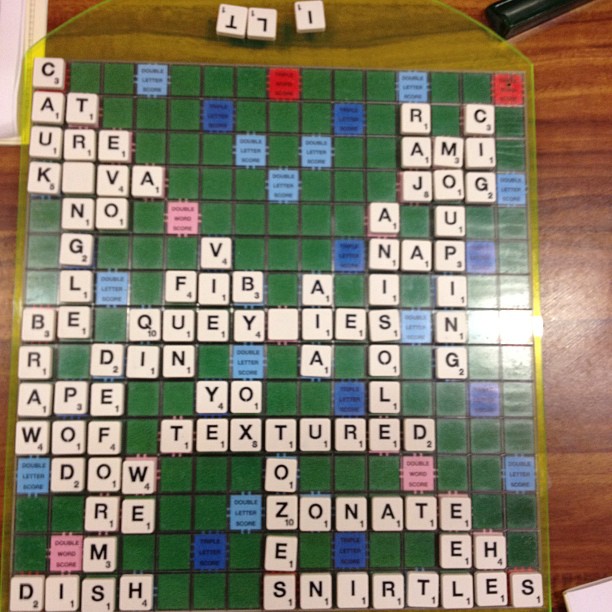 Round 2
The heavies meet already. Alastair Richards defeats Andrew Fisher. (
THAL_ARIC.gcg
)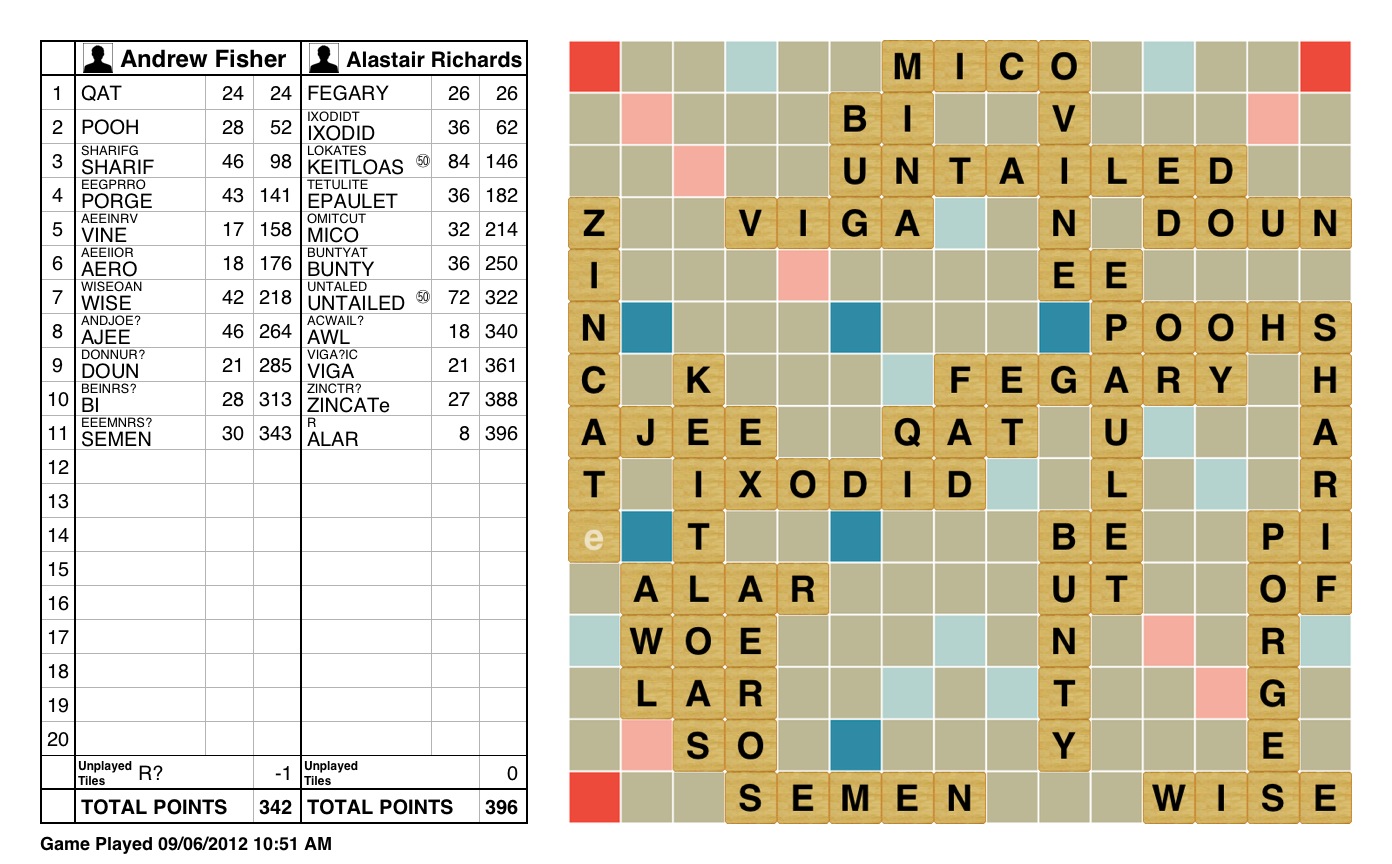 Round 1
Ray Alford played JAMBEES for 97, making 8 words in the one turn.
Getting started
A TV crew is here following three players in particular, Jenny Brysha, Lois Binnie and Trevor Halsall. They had earlier filmed them at home preparing for the event, and have been filming them from a distance as they play, and interviewing them between games. There will in due time be a segment of about 25 minutes on the Channel 31 program, Behind The Words.
Past Victorian Champions
VICTORIA

Year
Winner
Runner-up
Third Place
2011

Trevor Halsall

Andrew Fisher

Julian McKail

2010

Edward Okulicz

Naween Fernando

Joanne Craig

2009

Andrew Fisher

David Eldar

Edward Okulicz

2008

David Eldar

Joanne Craig

Carmel Dodd

2007

Andrew Fisher

Trevor Halsall

Michael Hornung

2006

Chris May

Andrew Fisher

David Eldar

2005

Naween Fernando

Andrew Fisher

Joanne Craig

2004
David Eldar
Edward Okulicz
Andrew Fisher
2003
Naween Fernando
Andrew Fisher
Trevor Halsall
2002
Naween Fernando
Rod Talbot
Geoff Wright
2001
Alistair Kane
Rod Talbot
Geoff Wright
2000
Roger Blom
Saheed Jimoh
Trevor Halsall
1999
Alistair Kane
Geoff Wright
Rod Talbot
1998
Bob Jackman
Alistair Kane
Ray Alford
1997
Geoff Wright
Roger Blom
Lindsay Van Niekerk
1996
Roger Blom
Alistair Kane
John Barker
1995
Bob Jackman
Paul Cleary
Jean McGiffen
1994
Geoff Wright
Alistair Kane
Roger Blom
1993
Roger Blom
Geoff Wright
Gwen Lampre
1992
Steve Sunter
Alistair Kane
Audree Clifton
1991
Alistair Kane
Pat Worsfield
Linda Findlay
1990
Roger Blom
Nick Ivanovski
Geoff Wright
1989
Steve Sunter
Nick Ivanovski
Roger Blom
1988
Ann Radan
Alistair Kane
Audree Clifton
1987
Lena Boyd
Moana Nepia
Roger Blom
1986
Dennis Boon
Joan Rosenthal
Marie Knight
1985
Lynne Butler
Jean McGiffen
Jack Mack