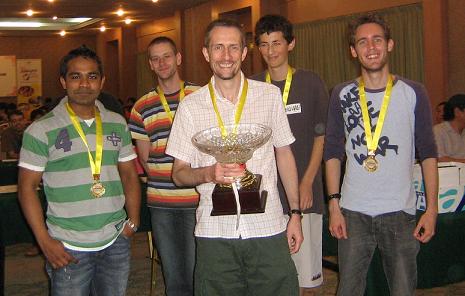 Australia's victorious Causeway Team:


Naween Fernando

(Vic, 4th),

Edward Okulicz

(NSW, 7th),

Andrew Fisher

(Vic, 8th),

David Eldar

(Vic, 5th),

Chris May

(NSW, 3rd)


Australia
won the 2006 Causeway Challenge convincingly. Invited for the first time, Australia sent its top five-rated players at the qualification date and was rated by most observers as the favourites. Naween Fernando led early on, undefeated for the first 10 rounds, but Chris May was the highest placed finisher. Andrew Fisher was one of three players to beat champion Ganesh Asirvatham (Malaysia).
Full results - Challenge
Full results - Open
Annotated Games

The event:
Once a teams event between Singapore and Malaysia, the 2006 Causeway Scrabble Challenge pits six teams of five players against each other. The 2006 event features teams from Singapore, Malaysia, Thailand, the Philippines, India and Australia.
The announcement for the event can be read
here
on the Singapore association's
site
.
Andrew Fisher
was one of the UK's top players before emigrating. He is the current top-rated player in the country, the reigning National Champion and the winner of many other titles and has several top-5 finishishes in the World Scrabble Championships.
Naween Fernando
has been one of the world's top players since his youth, playing in Sri Lanka and Bahrain before moving to Australia. He has won three Victorian Championships, the 2005 Australian Championships and many other tournaments, as well as coming 3rd in the 2005 WSC.
David Eldar
burst onto the scene in 2003 and quickly made a name for himself, rising into the top section and winning the 2004 Victorian Championships, and came runner-up at the inaugural Australian Masters in 2005. He came 11th at the 2005 WSC and continues to improve.
Chris May
is New South Welsh but is the current Victorian Champion, was runner-up in the 2005 NSW Championships, and is the current Trans-Tasman Champion. One of the most consistent players in the country, his brief international career has given him the highest (unofficial) rating in the world.
Edward Okulicz
won the 2001 Australian Championships less than three years after starting competitive play and has won many titles in his home state of Queensland (including three State titles there), as well as winning the 2005 New South Welsh championships in his adopted state.