~ News Archive 2008 ~
Decathon: December 28 2008
Ten games of scrabble in a day is quite a challenge, but all 74 players seemed to enjoy the tournament, which ran quite smoothly using a modified lagged draw - as soon as the last pair completed a round the draw for the following round was posted immediately, and this was helpful in reducing the turnaround time between games. We welcomed back several people whom we hadn't seen for sometime, including Angela and Ian Newton, Alan Stewart, Diane and Wayne Stoyan, Jimmy Scarff, and Jason Stockdale, returning after completing his VCE and prior to moving on to Uni somewhere.

Division A, one, two &amp three
Andrew, David, Naween


Interstaters Maree Heynen
with David More - 1st Division B

John Minas, Chris Scholten &amp
B.J.Winzer - 1st Division C
A brilliant performance in Division A saw Andrew Fisher victorious, winning all ten games and finishing 2.5 games clear of David Eldar, with Naween Fernando (6.5 wins) in third place. In Division B one of our interstate visitors David More (NSW) won 8 games to finish ahead of Dianne Gibson (8 wins) and Jason Stockdale (7.5 wins). The winner of Division C, B.J. Winzer, has been steadily improving his rating, and won 8 games to finish a game clear of Bridget Halge and John Minas in second and third positions respectively. Fourth placed was our enthusiastic 8 year old Anand Bharadwaj, also on 7 wins. Anand has a refreshing approach to Scrabble tournaments - he doesn't seem to mind if he loses, but really enjoys the challenge of a close and hard-fought game.

Test cricket on Naween's TV:
Mal, Wayne, Chris, John, B.J.

Dianne Gibson &amp Rob York
Greensborough Club players

Peter Bauer with Diane Stoyan,
back after a break from the game
High Game scores for the day went to Natasha Podesser (547), Alan Cole (504), and Dorothy Barraclough (514), while worthy High Word scores were credited to Naween Fernando (RAINBAND 122), Ian Newton (QINTARS 108) and Nobby Clark (SUCKLED 102). Notable ratings gains for the day were achieved by Irlande Alfred +145, David More +73, Frank Csarics +66, and Andrew Fisher +61. Well done to all.
Thank you to all who helped make the tournament a success, particularly Gillian Kinder for organising the entries, Carol Johnsen, Barry Harridge and Chris Stockdale for computer duties, and Jack Miller for being such a great help in general, from moving furniture to handling sales to dog-minding duties.

Time for an ice cream -
Naween tucks in

Geelong players
Mary Mackie &amp Joyce McCombe

Anne Menheere, Bridget Halge,
Gianna Devcic
Scrabble® Celebrates 60 Years: December 16th 2008
Sixty years ago Alfred Mosher Butts registered this wonderful board game in the USA, starting what has become a fascinating hobby for millions around the world. Radio 3AW generously devoted time to an interview at 7.15am on Wednesday morning, and on the same day we were fortunate to have an article published in The Age newspaper here in Melbourne. To read the article, please click
here
World Youth Scrabble Championship December 9-11th 2008 in Malaysia
To follow the action of our young representatives click
here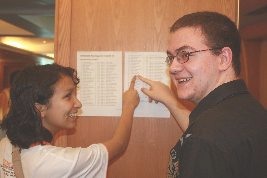 Natasha &amp Alastair study the form
Unfortunately one of our players, James Gunner, has had to withdraw from the event after breaking his arm while swimming in the pool yesterday. This must be very upsetting for James , as he was no doubt looking forward to participating. At the end of Day One our best placed Aussies are Alastair Richards(9th) and Michael McKenna (15th), both on six wins. Khoo Beng Way from Malaysia looks to be the one to catch, leading with 9 wins from the 9 games played.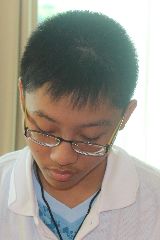 2008 WYSC Champion
Charnrit Khongthanarat
WYSC Update - Day 2:
Our best placed player is Alastair Richards in 19th spot with 10 wins, while the leader Khoo Beng Way is on 17 wins, with 18 games completed.
WYSC - Final Day:
After 22 "normal" rounds, the best of five final was won 3:1 by Charnrit Khongthanarat from Thailand, in a battle with Khoo Beng Way from Malaysia. Here's how our Aussies finished - Alastair Richards 9th, Michael McKenna 22nd, James Gunner (who managed to win 10 of the 14 games he played, despite his broken arm) 35th, Natasha Podesser 37th, Kitty-Jean Laginha 39th, Phillip Hamilton 41st, John Hamilton 47th, and Bela Laginha (who financed her own trip) finished 50th. I'm sure all made some new friends and enjoyed the wonderful experience of competing overseas.
Go to the top
SA/Vic Border Challenge December 6/7 2008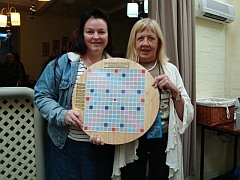 Paula &amp Carol
A pleasant weekend was spent at Horsham, where 14 Vics played 14 players from SA at the Bull &amp Mouth Hotel. Thanks to Paula Brown (SA) and Carol Johnsen (Vic) for their efforts in organising the event. Here is a report from Carol on the weekend's activities: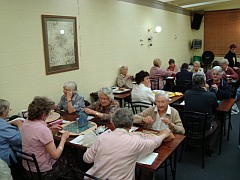 The playing room at the Bull &amp Mouth Hotel
Whilst Victoria had a resounding win, it was not all easy-going with the likes of South Australians Carmel Dodd and Teresa Dean leading their charge ... two very formidable and intense opponents. Congratulations to Carmel on her win. It was left till the last game where the winner out of Carmel Dodd and Heather Long would determine the winner of the A Section.
The hospitality of the publican, Tim Phillips, at the Bull and Mouth Hotel, was outstanding and it was decided by the players at this tournament that we would hold the challenge once again at this venue in 2009 on 5 and 6 December. Horsham abounds in various styles (and prices) of accommodation and eateries ... and, oh of course, don't forget the pokies! Thank you for all those Victorian players - you did a great job and we'd love to have you back next year.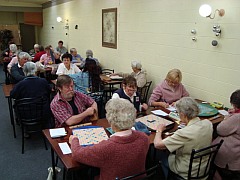 More of the players
And, where was Khwanjai, when I needed her? You're not being treated to the usual extensive collection of photos ... I just remembered to take a couple of the start of the second day. My apologies for not taking team photos.
Thanks to Paula Brown of South Australia for her fantastic job of organisation of the venue and accommodation details. Her prize certificates were also a delight. Spot prizes were awarded for the highest scoring words commencing with H O R S H A M obtained in all games throughout the tournament. This proved a very popular competition.
Carol Johnsen


8.00 pm December 7: Causeway Challenge Final Report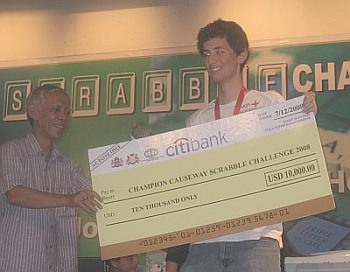 David Eldar, a happy winner
For the full results, annotated games, pics etc, please click
here
In a close fought event, David has emerged victorious on 32.5 wins, half a win ahead of Edward Okulicz from NSW. Congratulations to both, what a brilliant effort to fill first and second placings. Chris May has finished 8th, Naween 11th and Andrew 23rd, and well done to the Australian team on their comprehensive victory, 19.5 wins ahead of the UK team, followed by Nigeria, New Zealand and the USA. Top 20 finishers in the Open Section were Alastair Richards(8th), Kitty-Jean Laginha(10th), Helen Maurus(11th), Bob Jackman(13th) and Karen Richards(16th). This has been an interesting event to follow, and I hope those who have done so have enjoyed the coverage. Thank you to Barry for keeping us up to date.
December 7: Causeway Challenge Update Day 4
After 39 games David is leading on 29 wins, followed by Edward Okulicz(28), Harshan Lamabadusuriya(26.5), and Nigel Richards(26). Chris May(25) is 7th, Naween(21) 17th, and Andrew(19) is 25th. With just six games left to play it will be interesting to see who is eventually victorious. Australia appears to be in an unassailable position in the teams event, 17 games clear of the UK. In the Open Section our best performed Aussies are Helen Maurus in fourth place, Alastair Richards 6th, and Bob Jackman 10th. Good luck to all for a successful final day.
December 6: Causeway Challenge Update Day 3
In the Premier division four players are at the top of the table on 21 wins from 29 games played - Nigel Richards (with a far superior margin), David Eldar, Harshan Lamabadusuriya and Edward Okulicz. Chris May is 5th, Naween Fernando 13th and Andrew Fisher 27th. In the Open division Alastair Richards (NSW) trails Andy Kurnia from Singapore by 1 1/2 games. I'm not sure whether anyone wore a hat yesterday, but at the Mayoral Dinner last evening several of the players performed, including John Barker from Sydney, who gave a rendition of "My Way".
December 5: Causeway Challenge Update Day 2
Ten games were played yesterday, and the leader is now Harshan Lamabadusuriya from the UK. The Aussies: Edward is 2nd, David 4th, Chris 6th, Naween 18th and Andrew 29th. Australia leads the team event, 8.5 wins clear of the UK. Today should be a fun day as the current World Champion, 17yo Suanne Ong from Malaysia, has decreed that all competitors must wear a hat. I am hopeful that we will have some photos to show you soon, but I suspect that Webmaster Barry has little time to add photos to the Causeway site.
December 4: Causeway Challenge Update Day 1
After the first day's play Edward Okulicz is doing extremely well, leading the field one win clear of Howard Warner and Joanne Craig, both from NZ. Chris May is in fourth place, with David Eldar in 9th, Andrew Fisher 31st and Naween Fernando 42nd. All will be hoping for a good day's play today. New Zealand on 29 wins is currently leading the teams event by one game from Australia. Our first five games today are all against NZ players, so the team positions could easily be reversed.
Good luck to the players, and also to Barry who has had some frustrating technical difficulties beyond his control. Here is his email from yesterday.
We are having the same problems at the Zon Regency that we had last year. The wireless access does not work in the playing area. I have uploaded some results here at the restaurant during lunch. I hope we can find some better way later.
Photos from the Bentleigh Tournament 30 November 08.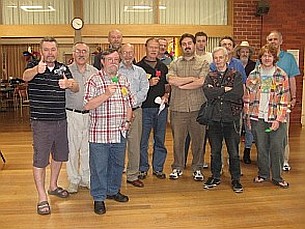 The Movember Lineup:
from left, Patrick Morgan, Sal Costanzo, Alan Cole,
John Taylor, Jack Miller, Peter Bauer, Frank Csarics,
B.J.Winzer, Peter Kougi, Rod Casey, Oliver Podesser,
Geoff Wright, Shaun Donnelly, David Lemish.

Setting up:
John T. &amp Marisa N.


Gillian Renwick - 2nd Inter;
Carmel Doney - 1st Masters

Lois Binnie
2nd Masters

Beryl Bourne 2nd Adv;
Di Gibson HG Adv;
Mal Eden, 1st Adv

Audree Clifton
3rd Advanced
A happy Scrabbler

Dorothy Rice
1st Intermediate
Langwarrin Club Player

Shaun Donnelly - 1st Rec, with
aunt Jenny Kearney - 2nd Rec

Best novice Michael Rubinstein
with Norma Fisher

Glen Chandler, Novice; played
years ago at the Dorchester

Bridget Halge &amp Sandra Masel.
After the game

A new friendship:
Runner Oscar &amp player Anand


Jack, Norma &amp Ellen, with
flowers for Marj - thank you all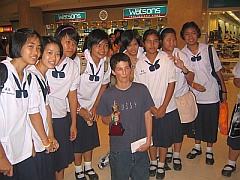 David in Johor Bahru, in earlier times
The Causeway Challenge - starting Wednesday December 3 at 11.30am AEST
The players below have been selected to represent Australia in Johor Bahru, Malaysia, over 45 games of Scrabble. This is the strongest team we can send based on the ratings at the end of the 12 month qualifying period, and we hope they will do well, as a follow-up to Australia's first placing in this team event in 2006. Some international players have not been able to take part due to air travel problems, and some substitutions have taken place, but the tournament will go ahead with a full field of 50 players.

David Eldar
Victoria

Edward Okulicz
N.S.W.

Chris May
N.S.W.

Andrew Fisher
Victoria


Naween Fernando
Victoria
There are also 17 other Aussies competing in the Open event which commences on Thursday, good luck to all, and to web-whiz Barry Harridge who is handling much of the web work, having already set up the excellent website prior to travelling to Malaysia. For a preview click
here
7.00 pm November 30 2008 - Trans Tasman Challenge Final Results
For full details click
here
The Australian team on 179.5 wins has defeated the New Zealand team, on 108.5 wins. Congratulations to all 12 Australians in the team, a wonderful effort. The Individual 2008 Trans Tasman Champion is Rod Talbot (NSW - 19 wins) from Edward Okulicz (NSW - 18 wins), Esther Perrins (NSW - 17 wins), Mike Sigley (NZ - 16 wins), and Michael Hornung (Vic - 16 wins).

Rod Talbot NSW
2008 Champion

Edward Okulicz
NSW - 2nd Indiv.

Esther Perrins NSW
3rd Indiv.

Mike Sigley NZ
4th Indiv.

Michael Hornung
Vic - 5th Indiv.
Team 2008
The Trans Tasman is the second of the challenging events mentioned below by Barry, and 12 Aussies from various states will pit their knowledge and skills against a team of 12 from New Zealand, including well known NZ/NSW Scrabble identity Joanne Craig. The Australian team comprises Edward Okulicz, Bob Jackman, Esther Perrins, Joan Rosenthal, Rod Talbot, John Holgate and Alastair Richards, all from NSW, Richard Jeremy (ACT), Anne Drew (Qld), Carmel Dodd (SA) and Russell Honeybun (WA). Our sole Victorian representative is Michael Hornung, and we wish Michael and the team good luck, and a very pleasant battle with the Kiwis at the Rex Centre, 58A Macleay Street, Potts Point in Sydney.
Nov 14, 15, 16 2008: World Players Championship
Scrabble events with the Trans Tasman, the World Players Championship, the Causeway Challenge and the World Youth Scrabble Championship all happening within a 30 day period!

Click me
First up is the World Players Championship, designed as a fill in for the World Scrabble Championship in even years, but open to all. It is being held for the first time in Dallas Texas. Victorian Scrabble players David Eldar and Trevor Halsall are among the international line up. Trevor is using the opportunity to travel and had the exhilarating experience of being in front of the White House when the presidential election results came in. Other Aussies taking part are John Barker, Sunny Wright, Donna MacDonald, Joanne Craig, Bob Jackman, Liz Jackman, Carmel Dodd.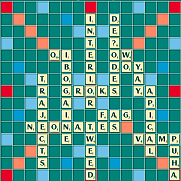 David has GILNNTU
At the end of the first day, Nigel Richards and David Eldar headed the field on 7 wins each, after a
nailbiting game (click here)
between David and Nigel in round 8.
The Aussies had a bad second day, but picked up very well on the third day. David had an exciting game against Amit Chakrabarti from the US (who played in the Victorian Championships in 2005). Can you also find David's bonus in GILNNTU on the board shown? Hover your mouse over the board to reveal what David did. Click the board to follow the whole game.
Congratulations to David's worthy second prize, second only to the legendary Nigel Richards.
| | | |
| --- | --- | --- |
| Trevor v Nigel Richards in round 3 | David v Nigel Richards in round 8 | David collects 2nd prize from Chris Cree |
The Camberwell Club
Click
here
to find the details
Dec 6, 2008: The Vic/SA Border Challenge, Horsham
with seven games on Saturday, and three on Sunday morning. The hotel does not offer accommodation, so you will need to find this elsewhere in Horsham. There are many places to stay, ranging from motels to hotels to bed and breakfast places, and by clicking
here
you will find a couple of helpful links, as well as full details of this fun event.
Geelong Tournament November 9th 2008
Flanagan Room at the Geelong Football Club for today's annual tournament. A rather solemn but impressive portrait of the renowned Geelong player Fred Flanagan witnessed the joy and despair and the highs and lows of play throughout the day, and helped me keep everyone in order, although we had little to do as everyone behaved impeccably.
Seriously though, thanks to Marlene Ellis for finding such a great venue, spacious and with good lighting, and with fresh sandwiches available to purchase for lunch. The alternative was a very tasty meal at the Cats Bistro, although indigestion was a problem with some after lunch as the service was rather slow, leaving little or no time to consume the goodies. Not everyone was served in turn, as far as I could tell, and I think John Parker is still waiting for his cake and coffee. Apart from that it was a lovely day, very well organised by Dorothy, Mary and Marlene and the Geelong members, and we thank them for their efforts on our behalf. Also thanks to Carol on computers, Barry for his freely-given help, Don and Norma for transporting the resources, Anne Menheere's three lovely granddaughters for "running" tirelessly all day, and Mary Mackie for acting as the standby player.

Home of the Geelong Cats,
seen from the playing room

Carmel Doney
1st Place: Masters

Dianne Gibson
1st Place: Advanced

Lorraine Robinson &
Don Marshall
Don: 1st Place Intermediate

Val Martin, travelled
south from Ballarat.
1st place: Recreation

Pat Weston & Dorothy B.
Pat received her badge for
1000 games played

Anne M. with g'daughters
Amy, Laura, and Rachael


Lorraine T. & Patricia M.
Good friends, via Scrabble

Paula M. with Lorna P.
Time for crosswords
MASTERS saw the reemergence of Carmel Doney as a force to be reckoned with, placing first ahead of Heather Long from Bendigo, with a happy Doug Ristic in third place. Cynthia Curr managed a day off from her motel management, and it was good to see her back playing scrabble. In ADVANCED a delighted Dianne Gibson took the honours, winning a tournament for the first time in her career, well done, Di. She was closely followed by Lorraine Thomas who is on her way back from a bad patch, and Natasha Podesser, who will be jetting off at the end of the month to play in the Causeway Challenge and the World Youth Championship in Penang. Ageless Geelong Club member Don Marshall won all 6 games in INTERMEDIATE to emerge a clear winner, with Mornington's Marjorie Page and Natasha's dad Oliver Podesser placing second and third. And in RECREATION Val Martin from Ballarat won by just 3 margin points from Charlene Wardley, a young mum of three who also plays at the Ballarat Club. Third placing went to Gloria O'Loghlin, who travelled across on the ferry with the other Mount Martha players. All would have caught the return ferry with plenty of time to spare as play finished reasonably early. High words for the day were CATTAILS 113, QUIETER 102, RICKETTY 100, and SWATTING 100, played by Norma Fisher, Gillian Kinder, Julie Belle and Val Martin respectively. High game scores were 537 (Norma Fisher), 507 (Dianne Davis), 493 (B.J.Winzer), and 453 (Margaret Kane). I hope to see you at the Bentleigh Tournament on November 30th, click here to find the details.
November 4, 2008. Update on the Malcolms
the Ozscrabble list, will know that the Malcolms are happily awaiting the birth of twins, a girl and a boy expected in January. Chile has had a sojourn in hospital with problems unrelated to her pregnancy, and everyone was pleased to hear that the twins are continuing to grow and develop as expected. Chile was visited by Barry Harridge, pictured doing what he does so well - setting up a wireless internet connection on Chile's laptop. More news will follow as time goes by.
| | |
| --- | --- |
| Harry and Chile | Barry at work, with Chile |
Scrabble at Halls Gap:
Cynthia is only able to play an occasional tournament at the moment, and we look forward to seeing her at the Geelong event. Needless to say Cynthia and Greg will make you and your family and friends most welcome at any time, even if its not the third Thursday of the month.......
Click
here
to find full details of the Halls Gap Scrabble Club.
Go to the top