~ News Archive 2012 ~
The Decathon - the last Victorian tournament for 2012!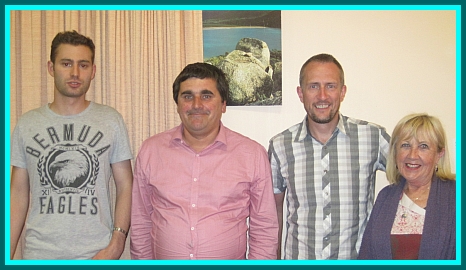 The Masters - Peter Kougi, Matte Dunn, Andrew Fisher &amp Carol Johnsen
Sixty seven players competed in this challenging annual ten game tournament, and all appeared to enjoy the event, although some were rather tired at the end of the day! In Masters our reserve player
Gwen Lampre
played the first five games, with
Michael Rubinstein
playing the last five after arriving late due to serious car trouble.
We welcomed three interstate players -
John Hamilton
, who is doing a great job as President of the Scrabble Association in our nation's capital, and
Leoni Dettmann
and
Quentin Abbott
, both from Queensland. Quentin is currently living in Melbourne, and with his future plans undecided we are enjoying his presence at our tournaments, and hope it continues. Leoni had competed in only one tournament previously (in 2008) and did very well to win 5 games in Intermediate, an excellent effort, Leoni.
Two birthdays were quietly happening, one on the day of the tournament and the other a day later, and Happy Birthday wishes go to
Nick Ivanovski
for the 30th, and
Lainie Mercieca
for the 31st.
Masters
saw
Peter Kougi
once again in fine form, winning 9 games and amassing an excellent margin, with
Andrew Fisher
second and
Matte Dunn
third, both on seven wins.
Carol Johnsen
was quietly lamenting not having a great day, but had one magical game in which she achieved the High Game score of 555 points.
Andrew Fisher
brilliantly played
OVERFINE
for 176 points which we thought would be the highest word score for the day, but see below for further news on this..........

The Advanced Players - Mal Eden, Lorraine Thomas
&amp Bridget Halge


Intermediate - Glen Chandler, Paula Messer, Rob York
&amp Khwanjai Thammaping


Recreation - Mohammed Hegazi, Glenys Dettmann,
Gayle Cameron &amp Dominica Krstic

Advanced
was won by
Chris Scholten
who has been steadily climbing the rankings and has now attained Masters level - a great achievement indeed. Chris finished on 8 wins, with
Lorraine Thomas
close behind in second place on 7 games, followed by
Bridget Halge
, also on 7 wins.
Mary McMahon
was pleased to achieve the High Game Award for a score of 576, the highest overall on the day - nice game, Mary. The other highlight of the day was undoubtedly the High Word in Advanced, played by
Mal Eden - PITCHIER
for 212 points, an excellent nine-timer - a great find, Mal!
In
Intermediate Khwanjai Thammaping
was almost unbeatable and swept most opponents aside, winning 8 games and finishing clear of
Rob York
and
Paula Messer
both on 7 wins, and separated by margin alone.
Carol Mascitti
scored 509 to take home the High Game Award, and
Glen Chandler
played
SHOUTED
for 114 points to achieve the High Word Award for the section.
Recreation
saw a fine performance from
Dominica Krstic
, who plays just an occasional tournament and has steadily improved her game at the Balwyn Club. This section had the closest results on the day, with five players on 7 wins -
Dominica
finished just 33 margin points ahead of
Mohammed Hegazi
, with
Glenys Dettmann
in third place, a further 85 points behind. For interest,
Lina Camilleri
placed fourth, with
Judith Westwood
in fifh place.
Marlene Ellis
scored 497 points to collect the award for High Game for the section, and
Gayle Cameron
played the four-timer
HOGTIED
for 108 points to achieve the High Word Award.

The Ice Cream Queue - Mary Mackie, Ann Goodwin, Dot
Rice, Marlene Ellis, Jenny Brysha &amp Gillian Renwick


Scrabble friends - Balada Catanchin, Marisa Nuccitelli,
Dominica Krstic &amp Ann Goodwin


Leoni Dettmann, visiting from Queensland,
with mum Glenys Dettmann.
Some high achievers on the day were the following, who increased their respective ratings substantially in a day of tough competition -
Dominica Krstic +57
,
Mythili Rudra +56
,
Lina Camilleri +56
,
Judith Westwood +48
,
Lois Binnie +48
,
Rob York +45
,
Khwanjai Thammaping +43
,
Bridget Halge +39
and
Chris Scholten
, also
+39
.
Well done to all, and thanks to all who helped out in any way on the day, as always your help was appreciated!
Vale Ros Hurworth ~ February 28, 1948 ~ December 17, 2012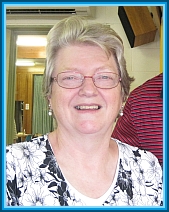 February 2011 - Ros at the
Camberwell Tournament
These words were penned by Barry Harridge and posted to the Ozscrabble List as a tribute to Ros:
I am sad to report that Ros Hurworth passed away on December 17. I knew Ros from the very early days of organised Scrabble in Victoria. She was an early, if not the original, organiser of the Dandenong Scrabble Club. Dennis Boon was another involved at that time. She loved the game of Scrabble, founded on a very knowledgable and literate store of words. Always cheerful and sociable, she was very much respected by all.
We did not see her at Scrabble for many years, essentially because she had a very busy working life, which often involved travel. She was an aspro (associate professor) of Education at Melbourne University. We were delighted to see her return recently for a little while to the Camberwell Scrabble Club, together with her son in law, Leif Cooper. Ros and Leif were of the very few who could complete a DA (David Astle) cryptic crossword.
Unfortunately we ceased to see her at Camberwell after Leif moved to Western Australia, where he shines in the Scrabble scene there. I saw her occasionally at Melbourne University, and it always seemed that she had a very busy working life, which I am sure that she enjoyed as much as she enjoyed Scrabble.
She was younger than me, and it came as quite a shock when I saw the death notice in the Melbourne Age newspaper, which gave thanks to the Royal Women's Oncology Department and Bethlehem's Palliative Care Community. She passed away peacefully at home. The death notice described her as a loving, generous, intelligent woman who was an inspiration to all. Those of us who knew her through Scrabble can endorse that completely.
Our condolences to her family.
News from the Pesta Pulau Pinang Scrabble Contest - December 13-16 2012

Nigel Richards (New Zealand) plays Pakorn Nemitrmansuk
from Thailand

Penang Tourism Minister YB Danny Law Heng Kiang
with the Champion Nigel Richards


YB Danny Law Heng Kiang presents Jakkrit Klaphajone
(second place, Thailand) with his award
Several Australians competed in this two-section event in Malaysia, dubbed the P.P.P.S.C., and a great replacement for the now defunct Causeway Challenge.
In the
Championship
, after playing 33 games, Alastair Richards (AUS - 20.5 wins) finished third (well done, Alastair) behind the winner Nigel Richards (NZ) who won 27 games, and Jakkrit Klaphajone (TH) on 21.5 wins. Other Australians in the Championship were Michael McKenna (22nd), Karen Richards(26th), Cameron Farlow (27th), Dianne Ward (30th) and Russell Honeybun (34th).
The contestants in
Intermediate
played 30 games, and here are the placings for our Australians - Paul Richards (5th), Olga Visser (10th), Heather Long (13th), John Barker (16th), Robin Andersen (20th), Jenny Coetzee (40th) and Peter Bauer (43rd). Well done, everyone!

Third in the Championship, Alastair Richards (Aus)
with YB Danny Law Heng Kiang, Malaysia

Paul Richards (Australia) receives his award for fifth place
in the Intermediate Division from Dr Adele Tan


Happy Olga Visser (right, tenth in Intermediate) receives
her award from Dr Adele Tan, Malaysia

To play through many annotated games and to see more photos and the full results (brought to us by Barry Harridge, with excellent commentary from Suanne Ong, the 2009 World Youth Scrabble Champion), click
HERE
Michael McKenna triumphs at the World Youth Scrabble Championship!
To see how the Aussie Fab Four (and the other 56 competitors!) fared over the three day event click
HERE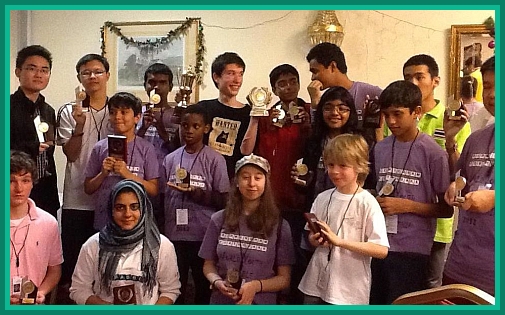 The happy winners of the many trophies presented on the day.
Congratulations, Michael, a great victory! Michael's history at the WYSC is impressive - 2009 third, 2010 fourteenth, and 2011 third, for the second time.
At the end of Day 2 Michael was trailing by two games, behind the brilliant player William Kang from Malaysia, and level on games with Cheong Yi Wei, also brilliant and also from Malaysia.
Day 3 saw Michael win 5.5 of the seven games played to finish on 18.5 wins, 1.5 games clear of Yi Wei in second place and William in third place, both on 17 wins. At one stage it appeared that Michael had lost by one point to Jessica Pratesi from the UK, but following a recount the game was declared a draw which was a great help to Michael in the final stages of the event.
Our other young reps acquitted themselves well, and finished as follows - Marvi Delfin 35th, Rangi Collins 43rd, and Maree Farlow 44th.
Well done to all, it must have been a wonderful experience meeting so many people fom so many different places, and either forming new friendships or cementing old ones.
Special thanks to Karen Richards for her ongoing support and organisation of Youth Scrabble, and to Barry Harridge for bringing us such excellent game-by-game updates of the event. Also thanks to Amy Byrne, the Scrabcast Team for bringing us live coverage of many games, Steve Perry from the ABSP for his assistance, and two more special thank yous, firstly, to Mauro Pratesi for allowing the use of his excellent photos, thanks, Mauro, and from Karen Richards "to all the children and parents who stayed back to help us pack up, since we had a plane to catch - it was really, really appreciated."

2012 Champion Michael McKenna
(Australia) with Amy Byrne


Second place - Cheong
Yi Wei from Malaysia

Third place - William
Kang, Malaysia

The Aussies - Marvi Delfin, Michael McKenna,
Rangi Collins &amp Maree Farlow

The youngest - Ronnie
Bennett, aged 6 (UK)

| | | | |
| --- | --- | --- | --- |
| Michael McKenna versus Rangi Collins | Marvi Delfin, concentrating...... | Joe Knapper (UK) plays Maree Farlow | Jessica Pratesi (UK) with Michael McKenna |
Vale Alan Cole ~ July 12, 1948 ~ December 9, 2012
Alan and Pat, photographed in 2008.
It was with great sadness that we heard the news late on Sunday of Alan's passing, and our sympathy is extended to his partner, fellow Scrabble player Pat Weston, and to his son Mark and all of Alan's family. The wonderful partnership between Alan and Pat started many years ago, and I remember saying at a tournament at the Mitcham Senior Citizens' Centre to our late friend Cynthia Curr that there was a new Scrabble romance starting, as the sparks were flying between the two - Cynthia told me not to be silly.........
Here is a lovely tribute from one of Alan's longtime friends, David Baker:-
I knew Alan from almost day one when he joined the scrabble family. His easy going attitude made us friends. In fact he enjoyed Christmas dinner with my family at Doveton the year after I met him. I still regard the day as one of our better Christmases. Alan became a regular member of Dandenong Club, often playing scrabble before heading to work on a night shift roster.
He was always the first to lend a hand, true friends do this. He helped me with the Mega Board to promote scrabble and as an opponent the rivalry was always keen and enjoyable, neither of us wanted to lose. I played my first Super scrabble game against him, losing. Sad to lose a great mate. Sincere condolences to Pat and his family and friends. God Bless. David Baker.
And some words from Carol Johnsen, President and friend:-
Alan passed away last night after a long battle with emphysema. Alan was the Geelong (Victoria) Club Organiser and a Tournament player for many years. His dry sense of humour and love of the Scrabble game were there till the end and many happy hours were spent with him. Sincere condolences to his partner Pat Weston, his family and his many friends across the Scrabble community.
Alan's funeral service took place on Friday 14th at King's Funeral Home in Newcomb, Geelong. Several scrabble players attended the service, which was followed by a private cremation. Instead of flowers, Alan had requested that a donation could be made to the Intensive Care Unit at the Geelong Public Hospital, where he had received such excellent care.
Rest in peace, Alan.
Go to the top
International Fundraiser #4 ~ December 9, 2012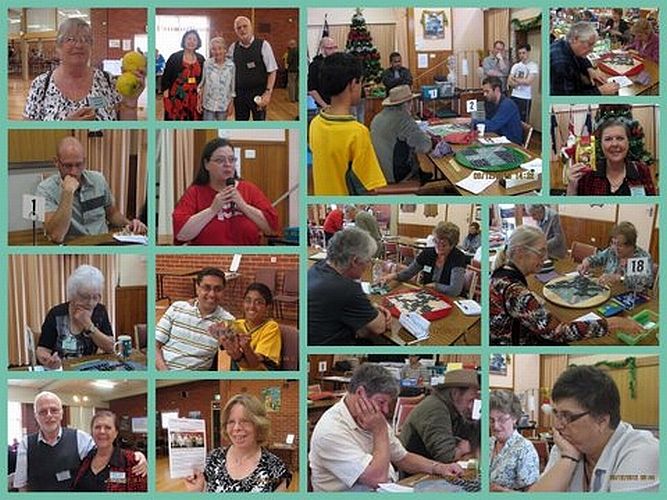 The various faces of Scrabble®........thank you to Khwanjai Thammaping for all the pics.
Here is a report from first time Tournament Director Jenny Brysha - thanks for taking on the job, Jenny, and doing it so well!
The Fundraiser tournament attracted 36 keen players (not bad, given that there was a tournament the week before). We welcomed two players from Queensland, John Rider and Quentin Abbott. After a slight delay due to a computer readjustment and yours truly as standby being out, in and then ultimately out again, play proceeded smoothly. We managed to get all 8 games played, a decent lunch break and prizes all done by about 5:30pm. Thanks to Lalitha on the computer for her efficiency and skill at getting the results in and the draws up with aplomb.
Nick Ivanovski dropped in and updated us on the status of the Australian contenders in the WYSC and took a few photos for his web page. Thanks go to Khwanjai Thammaping for being the official photographer on the day and to our helper in the kitchen who keeps us all well fed and watered.
We raised $460 which included some donations. Thanks to all for their generosity.
There were three sections. Mohammed Hegazi made a clean sweep of Section C - bagging high word, high game and first place! Carole Eden was second and Ann Goodwin third, both getting some impressive rating gains in the process.
Section B saw Oliver Podesser ahead of the pack on 7 wins (and a rating gain of +49) with Mal Eden in 2nd place and Dieter Jedamski in third. Mal also got high word and Diane Stoyan achieved the high game.
It's good to see Naween Fernando back in battle and he was sweating on winning the last game to win Section A. Unfortunately he lost the last game and the ultimate winner was Peter Kougi with the unstoppable Anand Bharadwaj second and Naween third. Naween took out the prize for high game and Natasha Podesser had the high word.
As it was a fundraiser all prizes were high in calories rather than high in dollar terms. I was a little shy on the microphone so announcements were very few and far between but everyone knew what to do and got on with things and it was a great day of play. Thanks also go to Norma Fisher, and Marj Miller and Carol Johnsen who helped set up in the morning before going to other engagements. Marj was back at the end to help tidy things away again. Thank you all.
Merry Christmas all.
Jenny Brysha

Division A Masters: Natasha Podesser,
Peter Kougi and Anand Bharadwaj


Naween Fernando, back from a break
and enjoying his return

The Division B stars: Oliver Podesser
and Mal Eden

Division C Gurus: Ann Goodwin, Carole
Eden and Mohammed Hegazi
The 2012 World Youth Scrabble Championship ~ December 7/8/9 This 24 game event takes place over the next few days at the Brittania Hotel in Birmingham in England, under the guidance of WESPA Youth Coordinator Karen Richards, with assistance from Barry Harridge and the UK Scrabble Association. The first game starts on Friday at 2pm GMT, which translates to 1am in the early hours of Saturday morning here in Victoria.
Pictured below are Australia's representatives - Maree Farlow from Queensland, Marvi Delfin from Western Australia, Rangi Collins from South Australia and Michael McKenna from New South Wales. Michael finished in third place last year, and we hope that he can do equally well (or even a little better!) this year. We wish all our young players the very best of luck, it should be a fun experience for all!


| | | | |
| --- | --- | --- | --- |
| Maree Farlow | Marvi Delfin | Michael McKenna | Rangi Collins |
To see the report on the Trans Tasman Challenge click HERE
The Bentleigh Tournament ~ December 2 2012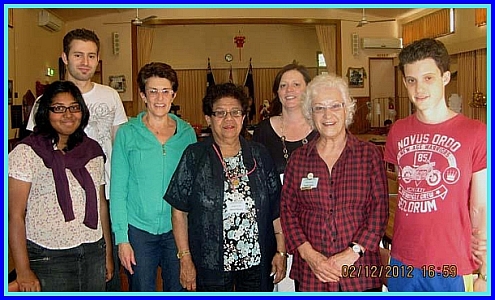 Members of the Bentleigh Club: Mythili Rudra, Peter Kougi, Ellen Frajman,
Marie D'Rosario, Maxine Auld, Norma Fisher, Michael Rubinstein.
The 66 players who took part enjoyed this four section tournament, including the lovely homemade goodies provided by the Bentleigh Club Members - thank you, everyone! Club meeting times are changing - from February 6th next year the Club will meet on the first Wednesday of the month at 7.30pm, in the Sports Bar of the South Oakleigh Club - a very pleasant place to have dinner before play starts.
Masters
was very competitive with
Nick Cavenagh
(our ex-Victorian now residing in New Zealand),
Naween Fernando
, and
Alistair Kane
making wins harder to come by for the rest of the field. As it turned out
Nick
was in fine form, winning six of the seven games played - congratulations, Nick! In second place was
Trevor Halsall
(the only player to record a win over Nick) followed by
Naween
, both on five wins.
Trevor
scored 582 to collect the High Game Award, and
Val Hardiman
found a nine-timer - SOLENOID, valued at 134 points - to collect the High Word Award.
ADVANCED
was equally competitive - four players finished on five wins, with
Elaine Capewell
triumphant over
Bridget Halge, John Rider
(visiting from Queensland) and
John Parker
. Placing 5th was
Dilendra Nanayakkara
who is still provisionally rated, but thoroughly enjoying playing in tournaments.
Lorraine Thomas
collected the High Game Award for a score of 559, and
Katie Rowe
played WARISON for 92 points to claim the HIGH Word Award for the section.

The Masters players: Trevor Halsall, Val Hardiman &amp
Nick Cavenagh


Advanced: John Rider, Katie Rowe, Lorraine Thomas,
Elaine Capewell &amp Bridget Halge


The Intermediate crew: Glen Chandler, Mal Eden &amp
Khwanjai Thammaping
The outcome was more clearcut in
INTERMEDIATE
where
Mal Eden
proved unbeatable, winning all seven games - well done, Mal! Second place went to
Glen Chandler
on six wins, with
Khwanjai Thammaping
third on five wins (nice to see you back playing, Khwanjai, and thanks for some of the pics). Both the High Game and High Word Awards went to
Glen Chandler
for a score of 502, and the play of GLARIEST for 131 points - a good effort, Glen.
RECREATION
also saw four players on five wins, separated by margin only - what a tussle! First placed was
Anne Bingham
, who is no longer provisionally rated and whose rating has been steadily climbing since her first tournament in June. Anne was closely followed by
Mohammed Hegazi, Carole Eden
and
Elizabeth McKean
in second, third and fourth places respectively. The High Game Award went to
Mohammed
for a score of 452, and the High Word Award was presented to
Anne
who played REQUOTE for 114 points.
| | | |
| --- | --- | --- |
| The Recreation Gurus - Carole Eden &amp Anne Bingham | Alistair Kane &amp Gwen Lampre | Nick Cavanagh, Carol Johnsen, Trevor Halsall, Jenny Brysha |
Excellent ratings gains
were achieved on the day by
Nick Cavenagh +84, Mal Eden +59, Glen Chandler +53, Elizabeth McKean +45
and
John Parker +43
. Congratulations to all players, and thank you again to the Bentleigh Club members.
To check out the full results of this event click
HERE
Go to the top
The Geelong Tournament ~ November 11 2012
After a few minor hiccups the tournament got underway, with fifty players competing in the pleasant Fred Flanagan Room at the home of the Geelong Cats, the very successful hometown A.F.L. team. We welcomed
Lynne Butler
from New Zealand to the tournament - Lynne has arrived early to compete in the Trans Tasman Challenge which takes place this coming weekend, and enjoyed her tournament. In one of her games (against Norma Fisher) Lynne had consecutive racks of WORDS?L and WORDS?N, using the blanks as i's and making bingoes DROWSILY and DROWSING............what are the odds?...........and aren't there enough i's in the bag?
| | | |
| --- | --- | --- |
| The Geelong Football Ground, home of The Cats | Jennifer Swift versus Dorothy Barraclough | Peter Kougi plays Nick Ivanovski |
We were well cared for by staff member
Dave
, who looked after our tea and coffee requirements all day and accepted orders from many for sandwiches for lunch. Quite a few players enjoyed the reasonably priced meals in the
Cats Bistro
, and some tried their luck in the gaming room with varying degrees of success. Special thanks to
Marlene Ellis, Mary McMahon, Anna Palmer
and the
Geelong Club members
for organising the event,
Lee Beaumont
for filling the position of standby player, and everyone else who assisted in any way on the day.

Masters ~ Lynne Butler, Peter Kougi, Geoff Wright
& Heather Long


Advanced ~ Cheryle Jerram, Mary McMahon, Audree
Clifton, Paula Messer &amp Kris Howat


Intermediate ~ Brenda Thurgar, Glen Chandler,
Diane Stoyan &amp Rob York

Masters
saw another fine win to
Peter Kougi
who finished on 5 wins with an excellent margin, ahead of
Heather Long
on 4 wins - Peter's only loss for the day was to Heather by just one point, and Heather actually thought that Peter had won the game until he pointed out a minor error in the scores.......great sportsmanship, Peter.
Geoff Wright
filled third place on 4 wins, and
Chris Scholten
, who played a section higher in Masters to even up the numbers had an excellent day, notching up four wins and finishing fourth.
Peter Kougi's
score of 560 was the best for the day and earned him the High Game Award, while our OS visitor
Lynne Butler
scored 101 points for her play of
DROWSILY
to win the High Word Award.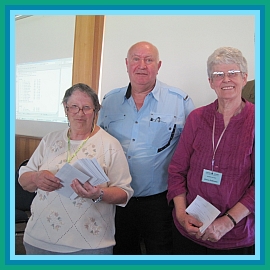 The Champs in Recreation - Marlene Ellis,
Harry Chojna & Glenys Dettmann
Advanced
produced the greatest battle for supremacy, with the top seven players finishing on 4 wins and separated only by margin - an interesting result indeed. Coming out on top was
Kris Howat
, followed closely by
Cheryle Jerram
and the evergreen
Audree Clifton.
Mary McMahon
(although not at her scintillating best!) scored 514 to collect the High Game Award, and
Paula Messer
took home the High Word Award for playing
QUILTERS
for 110.
Intermediate
produced the highlight of the day, with a delighted
Rob York
winning all six games (for the first time in his career!) and placing first ahead of
Diane Stoyan
on five wins - it was good to see Diane and her better half
Wayne
back from an unavoidable break, and both plan to compete regularly again from now on - hopefully this will happen as we do like having them around!
Glen Chandler
had a good day to place third on four wins,
Brenda Thurgar
was very pleased to find
JINGOES
for 112 points to win the High Word Award (the highest overall on the day), and
Diane
showed she hasn't lost any of her considerable skills by scoring 500 to take out the High Game Award.
Recreation
saw
Logan Bolam
place first in only his second tournament, a great effort, winning five games and also playing
BOLTERS
for 95 points to achieve the High Word award for the section. Second place went to
Glenys Dettmann
with Geelong Club Convenor
Marlene Ellis
in third place, both on four wins.
Harry Chojna
(also playing in his second event) placed fourth, improved his rating considerably, and scored an excellent 512 to take home the award for High Game in Rec.
Good ratings gains
for the day went to two of our players who are still provisionally rated -
Harry Chojna
moved from 652 to 901, and
Logan Bolam
went from 897 to 1052, and is now eligible to play in Intermediate. Other excellent gains for the day went to
Rob York +58
and
Chris Scholten +39
. Well done to everyone, it was a very happy tournament played in a very pleasant atmosphere.
To see the full results of this event click
HERE
Coming soon - the Trans Tasman Challenge!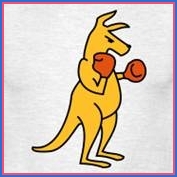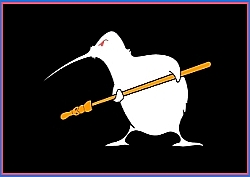 Twelve of New Zealand's top Scrabble players are travelling to Melbourne to compete against a strong team from Australia, playing 24 games over three days, from 16-18th November. This event takes place every two years, with each country taking turns at hosting the tournament.
This year it is hosted by Victoria and is being staged in the Skyline Room at the Doncaster Shoppingtown Hotel on Wiliamson's Road, opposite the Doncaster Shoppingtown Complex.
The NZ team comprises Howard Warner, Patrick Carter, Joanne Craig, Rogelio Talosig, Glennis Hale, John Foster, Nick Cavenagh, Marianne Bentley, Lynne Butler, Lawson Sue, Liz Fagerlund and Val Mills.
The Aussies playing are Alastair Richards, Andrew Fisher, Peter Kougi, Edward Okulicz, Naween Fernando, Bob Jackman, Russell Honeybun, Richard Jeremy, Esther Perrins, Michael McKenna, Anand Bharadwaj and Anne Drew.
This promises to be an exciting event, and we hope to bring you regular updates from the Skyline Room. For a preview click
HERE
to go to the site prepared by Barry Harridge - thanks, Barry!
Go to the top
The Mount Martha Tournament ~ October 20 2012

The spacious playing area at the Mount Eliza Community Centre - thanks to Carol Johnsen for the pics!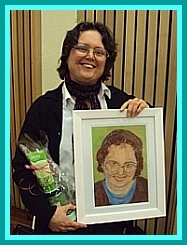 Heather ~ "Most Improved
Player for 2011-12"
Many thanks to the Tournament Organiser
Julie Belle
for the following great report ~
A lovely day was had by all yesterday at the 6th annual Mt Martha Club tournament held in Mt Eliza. A huge thanks as always to all the members of the club who rally together to produce all the home-baked goodies and contribute prizes for the day....(even if they were unable to attend...such as Marj Barnes, who runs the Mt Martha Club, she was up at 5.30 a.m. baking her famous sponges before zipping off to her grandson's wedding...and they hardly hit the table before they disappeared! Delicious!) A huge thanks to Heather for doing a sterling job in the kitchen just days after major eye surgery!
Humungous thanks to Carol Johnsen for running the day so smoothly from mission control and as always being the first to arrive and the last to leave...and to Norma Fisher for all of her assistance, nothing is ever too much trouble, TY. The 3rd of three musketeers was unfortunately unable to attend (aka Marj!) due to back probs and we hope you are feeling much better now!
Geoff Gittus had a great day in Recreation by taking out first place and high game, followed closely by Gayle Cameron in 2nd place and Judith Westwood in 3rd...well done to you all! Heather won HW for 'quarter' and was also presented with a beautiful portrait painted by Katie Rowe for achieving the highest ratings gain for the year 2011/2012....Congratulations Heather!
The drive all the way from Raymond Island was worth it for Sylvia Galloway who achieved first place in Intermediate, well done! Marie D'Rosario cleaned up with 2nd place, High Game, High Word and won the lucky door prize hamper...not a bad day's work! Good on you Marie! 3rd place in Intermediate went to John Parker who also celebrated his 80th birthday last week....Happy Birthday John!


Recreation - Geoff Gittus, Judith Westwood, Gayle
Cameron


Intermediate - Sylvia Galloway, Marie D'Rosario,
John Parker


Advanced - Julie Belle, Carmel Doney, Cheryle
Jerram, Elaine Capewell


Mohammed Hegazi versus Sylvia Galloway,
who received her 1000-game badge


Natasha Podesser versus Chris Scholten,
winner of the High Game Award in Masters
In Advanced, congratulations go to Carmel Doney for first place, Cherlye Jerram in second place and Elaine Capewell in 3rd, well done ladies! High game went to Cheryle Jerram and high word to Julie for 'snoring' (which I think well describes her playing for the rest of the day! Lol!)
Finally to Masters, terrific work by Peter Kougi to not only win 1st place but also score a fabulous High Game score of 573! Congrats to Norma Fisher in 2nd place and to Gwen Lampre in 3rd place. Chris Scholten used his play-up certificate to play in Masters and proved he deserved to be there, winning high word for 'outdoing' for 131 points, he certainly 'outdid' himself!
Thank you to all who came to help make it a great day!
To check the full results of the tournament click HERE
Seniors' Festival ~ Thursday October 11 2012

At the Golden Ages Senior Citizens Club, opposite Mount
Waverley Railway Station at 47 Miller Cres., Mt. Waverley


Tam &amp Sita Dasika, our hosts for the day, who also run the
Waverley Scrabble Club here on Wednesdays from 10 am


Players concentrating on their games, after lunch
in very pleasant surroundings
This was a lovely day out, and gave many Senior Citizens from far and wide their first opportunity to play in a social scrabble tournament. All appeared to enjoy the experience, as did our Association members who attended the event at the Golden Age Senior Citizens' Club in Mount Waverley. Our hard-working organisers Tam and Sita Dasika, with help from the Waverley Club members and some Association members, did a wonderful job supplying a very enjoyable light lunch, and we thank everyone involved in the effort. We're sorry that some players missed out this year, but we were pleasantly surprised by the response from both the public and our Association members. Mr Chris Reidy, Manager of the Victorian Seniors Festival, has been most helpful, and we thank the Department of Health for their generous donation of $350 towards the running of this event, which allowed all to enjoy a happy and free day out!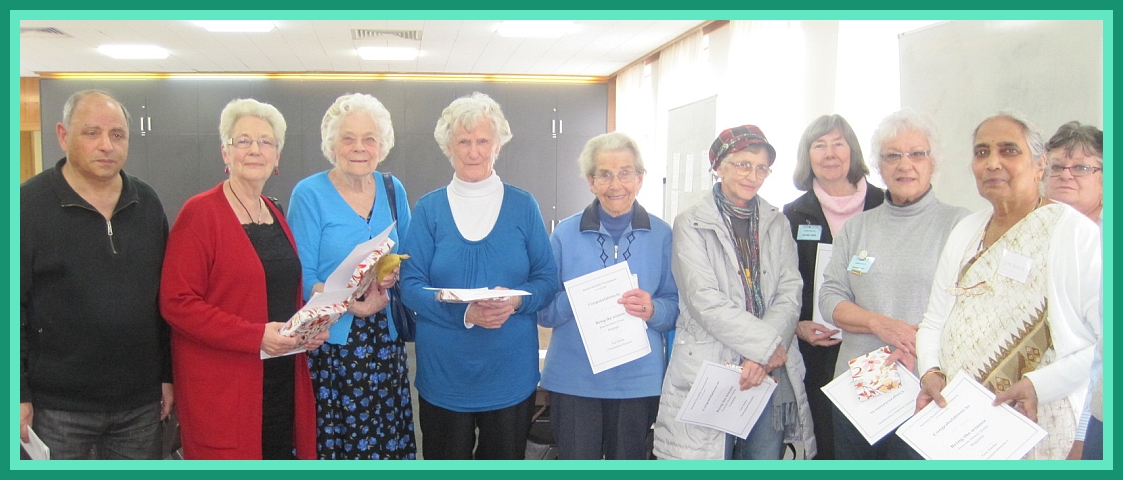 The winners on the day, from left to right ~
Columbine:
Mohammed Hegazi.
Jasmine:
Fay Bourke.
Iris:
Wanda Rigby.
Freesia:
Jean McKinnon.
Euryops
:Ruth Fewings - (Euryops is a yellow daisy from Africa, but still not an allowable word in our Scrabble lexicon).
Gazania:
Balada Catanchin.
Daffodil:
Jennifer Swift.
Amaryllis:
Norma Fisher.
Begonia:
Sita Dasika.
High Word Score
overall for the day: Glenda Eslick (Gazania), who played JASMINE for 114 points.
Missing:
Hydrangea winner: Jack Mack, and the
winner of the Scrabble puzzle competition:
Mary Mackie. Thanks to
Ruth Fewings
for compiling this challenging crossword prior to the event, and congratulations to everyone on your successes on the day!
"Behind The Words - Scrabble" video screened on Channel 31 - Monday October 8
This half hour film stars our Victorian players Lois Binnie, Jenny Brysha and Trevor Halsall, mainly at the 2012 Victorian Championship, and was filmed by the team from Alawa Productions - producer Kingsley, interviewer Kirsty, photographer John and editor Christopher. Thanks team, it has turned out really well, and feedback has been positive. And thank you to Lois, Jenny and Trevor for your input, it is appreciated, and it's also interesting to see the balance of the contestants either playing their games, or wandering around in the background.
If you'd like to view this ad-free film please click
HERE
, but please do it soon - it will only be available for another week or two.
South Australia victorious over Victoria!
| | | |
| --- | --- | --- |
| Overall Winner - Jane Taylor from South Australia | Adam Kretschmer from S.A. | From Victoria - Norma Fisher &amp Carol Johnsen |
The S.A. team were far too strong for our Victorians, who put up a gallant fight in spite of losing 68 games to 52. Once again all enjoyed the encounter in the western Victorian town of Horsham, at the White Hart Hotel on Firebrace Street, and plans are being made to repeat the challenge late next year. Congrats to the South Australian team, and to Jane Taylor from SA, the best placed individual overall. The High Game award went to Carol Johnsen for a score of 638, which was a new record for her in tournament play, and the High Word award went to Norma Fisher for a score of 131 for the word ANURESIS. Both players were very pleased to bring a little glory home to Victoria!
The Annual Essendon Tournament ~ September 30
56 enthusiastic Scrabblers contested the recent Essendon Scrabble tournament. All were seeking glory, or at least a good day out with some challenging games of Scrabble. The Disney Channel film crew spent the latter part of the day at the tournament filming footage of Anand and Michael Rubinstein for a Youtube clip about Scrabble. They had been going to film the two of them playing a game once the tournament was over, but quite fortuitously Michael and Anand were pitted against each other in the final game to determine the winner of the tournament. On this occasion, Anand was victorious and a very gracious winner taking out first place with 6 wins. Well done Anand, you continue to amaze. Peter Kougi came in second, and Michael took out third place both with 5 wins.

The young Masters: Anand Bharadwaj &amp
Michael Rubinstein

The Advanced gurus: Audree Clifton, Chris
Scholten &amp Jenny Brysha

Inter: Tam Dasika, Lainie Mercieca, Marisa
Nuccitelli, Dilendra Nanayakkara, Paula Messer
The film crew also interviewed Carol, Marj and Norma who were all lined up before the camera like the three wise monkeys - oops, I meant to say like the three doyennes of Scrabble! We look forward to seeing the final clip. Chris Scholten was a worthy winner of the Advanced section winning all 7 games, the only player to do so on the day. Bridget Halge came second and Audree Clifton put in another strong performance to take third place. Intermediate was a closely fought contest with Dilendra Nanayakkara taking out first place in only his second tournament with 5 wins. I hope we see a lot more of Dilendra. Lainie Mercieca was snapping at his heels in second place, with Marisa Nuccitelli coming a close third on a play up certificate. Marlene Ellis, Ruth Fewings and Rena Aitken took out the honors in Recreation.

Recreation: Ruth Fewings, Anne Bingham &amp
Rena Aitken

Our visitor from New Zealand Lyn Dawson who
enjoyed the day, placing 7th in Intermediate

New player on the day, Sasha Sellick with
friend Liz McKean
The tournament had an international flavor with Lyn Dawson from Halswell, just outside Christchurch competing strongly in intermediate. Players were fed well, with Essendon members excelling in the catering department. Janet Bau, one of the Essendon club members had a disastrous day, starting with her leaving her catering contribution on the bench at home! Thanks to all who supported the event, and especially thanks to those who helped on the day.

The 1990 National Champion Nick Ivanovski
with SuperDuperStudio Producer John Harris

The talented team from Super Duper Studio -
John, Lyndal, Justin and Lee

Tournament Director Lois Binnie with Cynthia
Cook, stalwarts of the Essendon Club
Thanks to Lois Binnie for the above report, it is appreciated, as is the contribution of all the Essendon Club members. Of interest on the day were the excellent ratings gains achieved by Chris Scholten +61, Marisa Nuccitelli +60 and Rena Aitken +48. Well done to all!
To check the full results of the tournament click
HERE
Go to the top
The Third International Fundraiser ~ September 16 2012
Following many cancellations due to illness (and one reentry, which was good!) a field of 36 settled down to play the final tournament at the Mitcham Senior Citizens' Centre - this comfortable venue is due to be demolished next year when works on the nearby railway crossing and a new Mitcham Railway Station commence. We welcomed
Rebeccah Booth
who has moved here from Western Australia, and Rebeccah enjoyed her first Victorian tournament, which we hope will be her first of many. The event was part of an ongoing fundraising effort to support our overseas representatives next year at the World Scrabble Championship and the World Youth Scrabble Championship, and after expenses the amount of $504 was raised. Thank you to
Isabel Van Hoorn
and
Rob York
for your generous donations, and to all who played for supporting the event. The photos are quite random as I was busy handing out prizes and failed to organise anyone to take photos of the place getters - sorry, everyone.
| | | |
| --- | --- | --- |
| The playing area. Click to enlarge | Peter Kougi and Mythili Rudra | Rebeccah Booth with Angie Winkler |
After winning all 7 games
Peter Kougi
was the clear winner in
Division A
, a great effort, Peter. Second place went to
Gwen Lampre
who was also in fine form, winning six games, and third was
Carmel Doney
on four wins. Peter collected more chocolates for his High Game of 559 and playing
TOXINES
for 104 points to claim the High Word award.
Division B
saw a drawn game between
Katie Rowe
and
Lorraine Thomas,
with both finishing on 5.5 wins and Katie a little ahead on margin finishing in first place. Third place went to
Patricia Mitchell
on 5 wins, and its good to see these players back in form.
Bridget Halge
and
Katie Rowe
each scored 521 to receive a High Game Award, and there was also a tie for High Word -
Lorna Patching
played
FOISTED
for 92 points, and
Dieter Jedamski
also scored 92 for his best word but I can't recall what it was!
| | | |
| --- | --- | --- |
| Carol Mascitti, Glen Chandler, June Valentine | Rod Casey with old friend Lorraine Thomas | Relaxing - Angie Pearse and Lorna Patching |
The winner in
Division C
was
Ann Goodwin
who won 5 games, ahead of
Janet Roberts
by just 11 margin points, with
Anne Bingham
third, also on five wins and just 6 points behind Janet. This was Anne's first placing in an event, an exciting achievement, well done Anne! The High Game award also went to Anne for a great score of 506, and
Irlande Alfred
played
EXCISES
for 100 points to collect the High Word chocolate.
Good rating gains were achieved by
Gwen Lampre +54, Lorraine Thomas +26, Katie Rowe +25, Peter Kougi +24, Angie Pearse +24, Ann Goodwin +24 and Dorothy Barraclough +23.
Thanks to all who assisted on the day, especially
Norma Fisher
and
Jenny Brysha
, and to all who helped to set up and also put everything in order at the end of the day.
To check the full results of this event click
HERE
Edward Okulicz is the 2012 Masters Champion!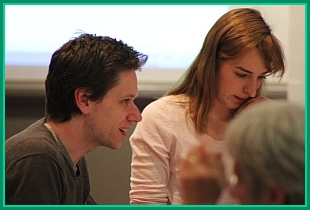 The 2012 Masters Champion, Edward Okulicz,
with annotator Kitty-Jean Laginha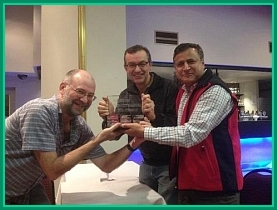 The Champion Team, New South Wales -
Greg Pinchbeck, Tony Hunt, Rocky Sharma
In an enthralling tussle
Edward
from New South Wales triumphed to win the event from
Andrew Fisher
(Victoria), with
Trevor Halsall
(Vic) in third place. The first game of nineteen saw Andrew defeat Edward, and then lose to Trevor - then win thirteen games consecutively, but lose the last four. In the meantime Edward won all but three of his remaining games, finishing a game clear of Andrew, and two ahead of Trevor.
Richard Jeremy
from the ACT placed fourth, and
Alastair Richards
, currently based in Queensland, finished fifth. The youngest player in the field,
Anand Bharadwaj
(Vic), scored 587 to win the High Game award, and
Trevor Halsall
(Vic) played
CROPLAND
for 167 to achieve the High Word award for this event. Edward's win assures him of a place in the
World Scrabble Championship
later next year, with the time and location to be advised at a later date. Thanks to
Mark Smith and the NSW organising team
for keeping us up to date with happenings at the event, it was good to be able to follow the changing fortunes of the players.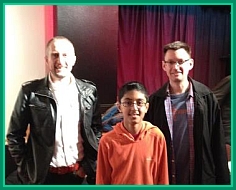 Some Masters players - Andrew Fisher,
Anand Bharadwaj &amp Trevor Halsall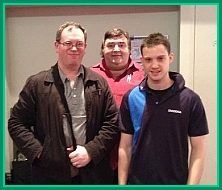 The Vic State team - Nick Ivanovski,
Harry Malcolm &amp Michael Rubinstein
The
State Team Challenge
was a roller coaster affair, with the
New South Wales
team eventually victorious, just half a game ahead of
Queensland
. The
Australian Capital Territory
placed third, and
Tony Hunt
(NSW) had a good tournament to finish top in the individual placings in the Team Challenge, followed by
Helen Maurus
(Qld) and
Rocky Sharma
(NSW) in third place. Our 3-man team finished in sixth place, and the best individually was
Michael Rubinstein
who finished in fourth place, well done Michael. The High Game award went to Tasmania's
Helen Metaxas
for a score of 574, and
John Hamilton
(NSW) played
AIRTIMES
for 140 to collect the High Word award in this event.
So far there is no news of where this event might take place next year, so we'll await further news on that decision.
Thanks to
Rex Shakespeare, Tony Hunt and Nick Ivanovski
for the photos, and to check the full results of these events click
HERE

Chris Hall at left, Edie Mueller at right
Click to enlarge

Rex Shakespeare at left, Wilma Vialle centre
Click to enlarge

Left Carmel Dodd, right Trevor Tao
Click to enlarge
Vale Cyril "Nobby" Clark ~ 23/04/1939 ~ 01/09/2012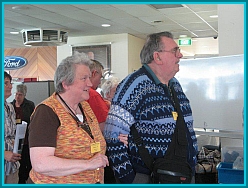 Marjorie and Nobby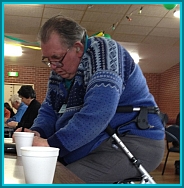 Nobby as we often saw him
It was with sadness that the Scrabble community heard the news of Nobby's sudden passing on Saturday evening, and our thoughts are with Marjorie at this time. The pair celebrated their Golden Wedding in 2009 by taking a cruise, something they had wanted to do for quite some time.
Nobby, together with Brenda Thurgar and Mary McMahon and others, was a keen organiser of Travel Scrabble get-togethers over the past few years and had recently taken on the Presidency of the group, and his contributions in this area will be missed.
In recent years Nobby and Marjorie moved from Bairnsdale to Moe to Ballarat, and from there travelled regularly by train to take part in tournaments in the Melbourne area. Nobby's most recent appearance was at the Ballarat tournament on August 25, where he placed third in his section. Nobby is survived by Marjorie and their three sons Robert, David and Patrick, and two grandchildren.
A Service of Thanksgiving will be held at the F.W. Barnes & Son Chapel, Cnr Pleasant St Sth and Darling St Ballarat on FRIDAY September 7 at 11.00am. Rest in peace, Nobby, your kindness and gentle nature will be missed by your family and friends.
The Ballarat Winter Tournament ~ August 25, 2012
Tess Robinson
and helpers again presented a happy event at the Brown Hill Hall in Ballarat East, and we thank the
Ballarat Club
members for their assistance to Tess. As always all players enjoyed the lovely snacks and lunch provided, and the generally relaxed air of the tournament.
Peter Kougi
was of help to
Tess's family
in dealing with some computer issues and a non-working printer, which was overcome by reading out the draw between rounds, which happens once in a while at various tournaments. Tess welcomed three first-time players, all of whom are members of the Ballarat Club - welcome to
Diane Flindell, Cheryl Curtis and Harry Chojna.
The photos below are from various events, with the pic of Norma Engel dating back to a magical day's play in 2010 at Aestival!
| | | |
| --- | --- | --- |
| Peter Kougi | Marjorie Clark | Norma Engel |
In
Division A Peter Kougi
was triumphant due to margin alone as
Heather Long
and
Peter Bauer
finished second and third respectively, with all three players on 5 wins.
Heather
scored 507 to take home the High Game trophy, and
Mythili Rudra
played
REALIGNS
for 131 points, the best High Word for the day.
Division B
saw
Marjorie Clark
place first on 5 wins - Marjorie, a local player, has been playing well lately and continues to steadily improve her rating. Second place went to
Ruth Fewings
from Bendigo, also on the rise, and third place went to another Ballarat player
Kaye Campbell.
The High Game in this division went to
Ruth
for a score of 449, and
Marjorie
played
CUSHION
for 85 points to collect the High Word award.
In
Division C
first place went to
Norma Engel
with 5 wins, followed by
Judith Westwood
and
Nobby Clark
on 4 wins each. This was Judith's first award since she began playing tournaments, and she was still delighted when I retrieved the computers from her on Wednesday. Thanks for looking after them, Judith.
Norma Engel
received both the High Game and High Word awards, scoring 445 in her best game and playing
DUCKING
for 84 points.
Notable rating gains
for the event were achieved by
Peter Bauer +46, Ruth Fewings +36, Marjorie Clark + 32, Kaye Campbell +29 and Heather Long +24.
To see the full results of the event click
HERE
Coming soon - the Australian Masters and State Team Challenge
These excellent events, the brainchild of Andrew Fisher, will take place in Sydney over the first weekend in September. Players are invited to take part following a rigorous selection process, and the Masters features many of Australia's highest rated players and is keenly fought - as well as the considerable prestige associated with victory the winner is guaranteed a place in the 2013 World Championship.
Victorians travelling to compete in the Masters are Andrew Fisher, Peter Kougi, Trevor Halsall and Anand Bharadwaj, and representing us in the equally challenging State Team Challenge will be Harry Malcolm, Nick Ivanovski and Michael Rubinstein, a formidable trio indeed. Good luck to all!
To follow some of the action on Facebook, posted by the Administrator Nick, click
HERE,
and if you haven't already done so please click on "like" to help build our growing following on Facebook.
| | | | | | |
| --- | --- | --- | --- | --- | --- |
| Andrew Fisher | Peter Kougi | Trevor Halsall | Anand Bharadwaj | Michael Rubinstein, Harry Malcolm | Nick Ivanovski |
The Midwinter AGM Tournament ~ August 19 2012
Fifty-eight people played in this four-section seven-game event, and following recent practice the Annual General Meeting took place during the lunchtime break.
Dianne Gibson
stepped down from the Committee and her position as an Ordinary Committee member has been filled by
Arjun Haria
- thanks for stepping up, Arj, and thanks for your time helping with the various facets of organising Scrabble in Victoria, Dianne, you will be missed. All other Committee members were reelected to their previous positions, and to check on who's who on the Committee click
HERE
The day started with yummy chocolate cake/s baked by President and Tournament Director
Carol Johnsen
to celebrate
Audree Clifton's
recent ninetieth birthday, and our delightful Audree received a lovely round of applause from the members present - what a wonderful achievement. Carol welcomed "new" player
Cathy Hazell
and wished her well - Cathy played tournaments about 25 years ago and found the day very different to her earlier experiences - but despite this, Cathy promised to return. Carol also told us of the recent passing of former ASPA Vic member Judy Bee, who was a regular tournament player and an active member of the Bentleigh Club for many years.

Happy ninetieth birthday to a very astute player,
Audree Clifton


MASTERS: Peter Kougi, Heather Long &amp
Andrew Fisher


ADVANCED: Elaine Capewell, June Valentine,
Angie Pearse, Chris Scholten

Masters
saw
Andrew Fisher
take out first place on six wins, with
Peter Kougi
second, also on six wins, and
Heather Long
third with five wins. As it happened Andrew lost to Peter, Peter lost to
Geoff Wright
, and Heather lost to both Andrew and Peter. The High Game was recorded by Andrew (595) and
Val Hardiman
played
ESPALIER
for 149 points to collect the High Word award.
In
Advanced Angie Pearse
triumphed with six wins, followed by
Chris Scholten
on five wins and
June Valentine
on four, and all were very pleased with their day's play. As well as third place June scored 526 to achieve the High Game award, and
Elaine Capewell
played
QUOTERS
for 106 points to take home the High Word award for the section.
In
Intermediate Bridget Halge
was in fine form, winning six games to achieve first place, followed by
Dieter Jedamski
and
Mohammed Hegazi
on five wins each, separated only by margin. The High Game award went to
Dorothy Barraclough
for an excellent score of 501 points, and
Lorna Patching
scored 149 for
WRITINGS
to win the High Word award.
Recreation
saw the top performance for the day, with
Marjorie Clark
winning all seven games, a sterling effort which included wins over husband
Nobby
who placed second and
Marlene Ellis
in third place, both on five wins.
Elizabeth McKean
took home both the High Game and High Word awards for a game score of 533, and playing
DOCTORS
for 110 points.

INTERMEDIATE: Lorna Patching, Bridget Halge
Mohammed Hegazi, Dieter Jedamski


RECREATION: Nobby Clark, Marjorie Clark,
Elizabeth McKean


Regardless of the weather, our players enjoy an
ice cream break late in the day

Great ratings gains
for the day were recorded by
Marjorie Clark +58, Heather Long +46, Angie Pearse +45, Mohammed Hegazi +44, Lois Binnie +43, Nobby Clark +42, and Ruth Fewings +40.
Congratulations to everyone, and to see the full results of the event click
HERE
Go to the top
The Annual Langwarrin - Cranbourne Interclub Challenge 2012
This event was held on August 14th at the Langwarrin Community Centre. Each team comprised 9 players with 3 players in each section in a round robin format, 27 games in total. The fact that seven of the Cranbourne team are also Langwarrin club members made the competition very intense.
Cranbourne won this event in 2010 &amp 2011, so the Langy team were excited to get home by 1 solitary game.
Geoff Gittus
, as captain of the Langwarrin team, was pleased to receive the perpetual trophy from Cranbourne captain
Elaine Capewell
, with Elaine threatening to reverse the result next year.
High game &amp high word prizes were awarded in each section as follows:
Section 1
High game: Carol Johnsen 478. High word: Katie Rowe "Respite" 88
Section 2
High game: Pat Judd 425. High word: Brigid Murphy "Donkeys" 94
Section 3
High game: Peter Zimmerman 400. High word: Sara "Stewing" 94
Should any other Scrabble clubs be interested in challenging Langwarrin in a similar format on a Tuesday night please contact Geoff Gittus on (03) 9775 8830 or email
geoff.gittus@bigpond.com
Fun at the Essendon Club as Audree racks up ninety wonderful years!
Audree's history in Scrabble goes back many years, and thanks to Lois Binnie for the following insight into Audree's amazing Scrabble past.
Audree started playing Scrabble with her children around the kitchen table, much as I did with my parents. Her sister, Marie Knight, persuaded her to enter the Moomba tournaments. She played in the first Essendon tournament, the first Bendigo tournament and the first Camberwell tournament, and has known Meg Henderson and Ruth Fewings since those very early days. No word lists existed, and each tournament had 1 or 2 adjudicators who checked challenges in the dictionary. Results were all entered on wall charts and manually calculated. Audree got an iPad recently and now checks all her words on that! How times have changed. She and I often have a few games late on a Sunday afternoon and she never fails to teach me a new word or two.
Thanks to Glenys Dettmann for forwarding the picture, which shows Audree (at centre, with the blue scarf) celebrating her 90 years with friends at the Essendon Club - from left - Gianna Devcic, John van der Schoor, Lina Camilleri, Lois Binnie (at back), Norma Engel, Cynthia Cook, Doug Ristic, Nicole Lowe in front and hidden at the left is Rod Casey. Well done indeed, Audree.
The 2012 Matchplay
Andrew Fisher has defeated Peter Kougi 5-3 in the final, scoring an average of 540 over the final three games. Congratulations, Andrew, a good effort from you again, and thank you for all your organising efforts, Peter.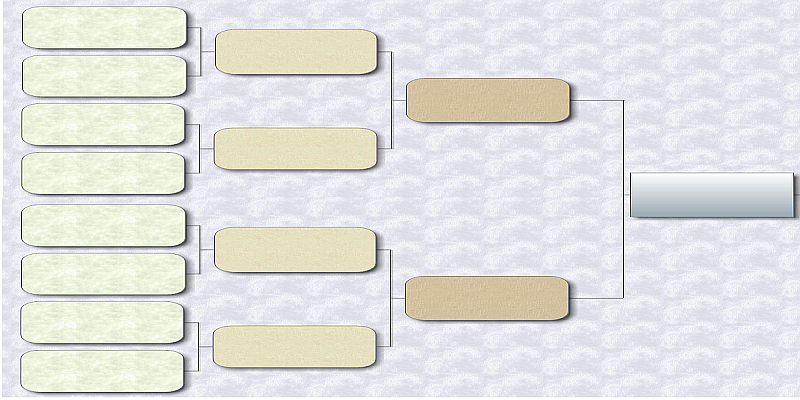 Andrew Fisher 3
Peter Kougi 3
Trevor Halsall 2
Norma Fisher 3
Michael Rubinstein 3
Mythili Rudra 3
Gwen Lampre 3
Lois Binnie 3
Barry Harridge 0
Dianne Gibson 1
Jenny Brysha 3
Chris Scholten 1
Lainie Mercieca 2
Oliver Podesser 2
Sandra Masel 0
Fintan Conway 0
Andrew Fisher 3
Lois Binnie 1
Norma Fisher 0
Mythili Rudra 3
Peter Kougi 3
Gwen Lampre 0
Jenny Brysha 0
Michael Rubinstein 3
Andrew Fisher 4
Mythili Rudra 0
Peter Kougi 4
Michael Rubinstein 2
Andrew Fisher 5
Peter Kougi 3
The 2012 Victorian Country Championship ~ August 4 2012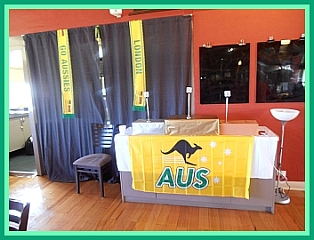 The Club showed support for the London Olympics
Here is a report from the 2012 Country Champion - thanks, Carol:
Once again, we journeyed to chilly, but sunny, Daylesford to participate in the Country Championship. This tournament is run in conjunction with the "Words in Winter" Festival which, these days, has expanded and runs over a whole month. Its activities include poetry and book readings, authors' talks, plays, etc. and it now encompasses surrounding towns in offering events.
Thirty-four Scrabble players competed in 6 games, most of whom come from the Ballarat and Geelong clubs. We were housed in the comfortable dining area of the Daylesford Bowling Club with views over the township. Thanks to Clive and Jan Rutherford (and Clive's sister Val) for their organisation and provision of the food and prizes for the tournament. Norma Fisher (metropolitan resident and ineligible to play) offered to be the Tournament Director and this surely helped me to concentrate on my games and thus the Championship. Thank you very much, Norma. - Carol Johnsen
The pictures show the placegetters in the three divisions, and congratulations to all. One of the interesting words played on the day was NEINEIS, a New Zealand shrub, and this was played by Katie Rowe. High games for the day in the three divisions were played by Harry Malcolm 602, Marjorie Clark 464 and Robin Dettmann 465. High Words were played by: Division A - Irlande Alfred FIDGETS 105. Division B - Marlene Ellis BUSHERS 89. Two other players - Carol Hoffmann and Anna Palmer - also recorded the same score for their best words. Division C - Bernie Crisp SPELLING 74.
To see the full results of the tournament click
HERE

The 2012 Country Champion Carol Johnsen,
with Heather Long, Harry Malcolm
and Irlande Alfred

Division B Champions ~ Jenny Kearney,
Marjorie Clark, Carol Hoffmann, with
the section winner Anna Palmer in front

Division C Champions ~ relaxing with their
trophies ~ Bernie Crisp, winner Robin
Dettmann and Kath Drummond
Go to the top
The Nunawading Tournament, July 22 2012
Cheryle Jerram
who filled in as the Standby Player on the day. Cheryle had been very busy baking and brought many goodies for us to enjoy, thank you Cheryle, and also
June Valentine
, your culinary talents were appreciated by all. We welcomed new player
Dilendra Nanayakkara
from Sri Lanka, who is now living and working here and thoroughly enjoying Scrabble in Victoria. As Dilendra's ranking in Sri Lanka is over 1200 our ratings expert
Barry Harridge
recommended that Dilendra should play in Intermediate, which turned out to be a very good place for him as he won four games and achieved the best game score in the section. Well done, Dilendra, and thanks for the advice, Barry. It was also good to see
Kate Gullan
, who hopes to play more tournaments from now on as her work commitments have changed somewhat and the children are growing up a little.

Triumphant in Masters ~ Trevor Halsall,
Harry Malcolm &amp Geoff Wright

Two of the happy high achievers in Advanced,
Peter Bauer &amp Dianne Gibson

Dilendra Nanayakkara enjoying a game, with
Marisa &amp Ruth Fewings in the background
Masters
saw a fine performance from
Trevor Halsall
who finished with six wins from seven games, separated only by margin from
Harry Malcolm
also on six wins, with
Geoff Wright
on five wins in third place. The High Game award went to
Trevor Halsall
for a score of 668 which included five bonus words. Trevor mentioned that this is his highest recorded score, so well done, Trevor, and sympathy to
Carmel Doney! Harry Malcolm
played a fine nine-timer to take home the High Word award -
PLAYMATE
for 158 points.
In
Advanced
the top two players each had 6 wins, again separated only by margin -
Dianne Gibson
won from
Mary McMahon
(both players are starting to show their true form!), with
Peter Bauer
in third place on four wins. The High Game award also went to
Peter
for a score of 466, and
Kris Howat
played
DOTAGES
for 83 points to win the High Word award.

The Intermediate gurus ~ Stephanie Saunders
Glen Chandler &amp Dilendra Nanayakkara

Recreation Champs ~ Gayle Cameron, Marisa
Nuccitelli, Liz McKean &amp Lina Camilleri

The game board from Trevor Halsall versus
Carmel Doney Click to enlarge
The
Intermediate
section was hard-fought with the top five players finishing on five wins each, with
Dorothy Barraclough
in first place, followed by
Glen Chandler
and
Stephanie Saunders
in second and third places respectively.
Dilendra Nanayakkara's
fine score of 501 saw him achieve the High Game award, and
Janet Roberts
found the very nice four-timer
BLOCKIER
for 114 points to receive the High Word award for the section.
The results in
Recreation
were also extremely close, again with the top five finishers on five wins each.
Lina Camilleri's
margin put her into first place, with
Marisa Nuccitelli
and
Gayle Cameron
filling second and third placings.
Lina
also received the High Game award for a score of 452, and
Elizabeth McKean
played
HORSING
for 100 points to win the High Word prize.
Good ratings gains for the day were achieved by
Mary McMahon +45, Dianne Gibson +40, Jenny Brysha +38, Harry Malcolm +37, Stephanie Saunders +34, Carol Mascitti +34, and Judith Westwood +30.
Congratulations to all who did so well, and thank you to all who contributed in any way to making the tournament a happy day's outing, especially Cheryle and the Nunawading members.
To see the full results of the tournament click
HERE
GUINNESS WORLD RECORD ATTEMPT ~ July 5/6 2012
To see the full report on this successful undertaking click
HERE
Go to the top
The Second International Fundraiser ~ July 1st 2012
| | | |
| --- | --- | --- |
| Visiting from Queensland - Robyn Corbel | Visitor Sandy McConnell from Tasmania | N.S.W. player Garth van Vliet |
This event attracted 54 players, although we would undoubtedly have had more without the usual range of winter ills and chills causing several cancellations! I hope that all are recovering. We welcomed new player
Angie Winkler
from the Watsonia Club, and Angie enjoyed the day, meeting many new people and being well looked after by her friends from the club. Three interstate players joined us,
Robyn Corbel
from Queensland,
Garth van Vliet
from New South Wales, and
Sandy McConnell
from Tasmania who competed in her first tourney in Victoria. Hopefully all enjoyed the day, and thank you for joining us. Prizes were minimal as the aim was to raise some funds to assist our international representatives when they travel to the World Championship and the World Youth Championship late in 2013. Thank you to all for supporting the event, your generosity contributed the excellent amount of
$727
to the cause.

Division A - Mythili Rudra, Peter Kougi,
Anand Bharadwaj, Geoff Wright


Division B - Janet Matthews, Cheryle Jerram,
Oliver Podesser


Division C - Mary Mackie, Mohammed Hegazi,
Ruth Fewings

Division A
saw the currently unstoppable
Peter Kougi
a clear winner on seven wins, followed by
Geoff Wright
on six wins, with
Anand Bharadwaj
third on five wins. The High Game chocolate prize went to
Mythili Rudra
for a score of 525, and
Geoff
collected a second chocolate for playing the brilliant High Word DEACONRY, a nine-timer for 149 points.
In
Division B
a resurgent
Oliver Podesser
was victorious on six wins, with
Cheryle Jerram
and
Anne Menheere
second and third respectively, each on five wins.
John Parker
scored 495 to win the High Game chocolate, and
Janet Matthews
played SPENCES for 107 points to achieve the High Word award for the section.
Division C
saw a good win to
Mohammed Hegazi
on six wins, ahead of
Ruth Fewings
also on six wins, with
Mary Mackie
in third place on five wins - all players were pleased to do well, particularly the "girls" as top-three finishes have been fairly rare for them lately.
Livia Caulfield
from the Cranbourne Club scored 476 points to win the High Game award, and
Marlene Ellis
from Geelong played RESIZES for 111 points to win the High Word award.
| | | |
| --- | --- | --- |
| New player on the day, Angie Winkler | Facebook guru Nick Ivanovski with cutie Oscar | Relaxing with friends between games |
Many players were happy with their excellent ratings gains, including
Ruth Fewings
+49,
Oliver Podesser
+46,
Anne Menheere
+45,
Janet Matthews
+45,
Sandy McConnell
+44 and
Mary Mackie
+44. Congratulations to all on your good play, and my sincere thanks to all who helped in any way, including
Lalitha Sundaresan, Norma Fisher, Carol Johnsen, Barry Harridge
and all who helped with setting up, and tidying up at the end of the day. To see the results of all sections click
HERE
Click on the link to Youth Scrabble at left
to see a report on the most recent Challenge between Melbourne High School and Haileybury College.
Go to the top
The Clota Cottage Fundraiser ~ June 24 2012

The organiser Ann Hagley, Geelong Grammar
Junior School Principal Garry Pierson, with
Norma Fisher


The light and pleasant playing area, with
Barry Harridge at the laptop and players relaxing
during a break Click to enlarge

Ann Hagley with two of the ladies from Clota
Cottage, and Norma Fisher, winner of the
raffle, third from the left

This seven game tournament was organised by the Chairperson of Clota Cottage Neighbourhood House,
Ann Hagley
, and funds raised will assist the House members to get away from Melbourne for a break - last year they had a most enjoyable trip to Echuca, and are now looking forward to organising something similar this year as over $800 was raised on the day. Thirty-six players competed in two sections, and generously supported the plant and home-baked goodies stalls, and the impressive raffle. The event was held at the
Geelong Grammar Junior School Campus in Toorak
, and some early problems with the heating meant we were rather chilly in the early part of the day, but after the addition of portable heaters and the heating system finally kicking in many were too hot, although some were delighted with the warmth - it is always difficult to accommodate everyone's needs in ensuring comfort for all.
School Principal
Garry Pierson
attended in time to meet some of the players and draw the winning raffle ticket, which was held by
Norma Fisher
- a fitting winner as Norma had been very helpful to Ann in organising and setting up the tournament.

The A Division Champs: Norma Fisher, Geoff
Wright and Peter Kougi


Top two in B Division, separated only by margin:
Janet Roberts and Dieter Jedamski


Dorothy Barraclough: third in Division B,
plus High Word and High Game

Division A saw Peter Kougi
finish in first place on 6 wins, followed by
Geoff Wright
and
Kris Howat
, both on 5 wins. The
High Game Award
was collected by Peter for a score of 535, and the
High Word Award
went to Norma Fisher who played UNEARTH for 101.
In Division B Dieter Jedamski
had a great day, as did
Janet Roberts
who is on the comeback trail - both won six games with Dieter finishing ahead on margin alone. Third place went to
Dorothy Barraclough
who won five games, and also collected the
High Game Award
for a score of 490, and the
High Word Award
for playing BOTTIES for 93 points.
Notable ratings gains
on the day were achieved by
Kris Howat +63, Janet Roberts +62, Barry Harridge +35 and Lina Camilleri +33
. Well done to all on your excellent play, and thank you to all for the manner in which the tournament was played, it was a very pleasant event played in the lovely surroundings of the college campus.

Cheerful opponents and fellow Essendon Club
members Glenys Dettmann and Norma Engel


Marlene Ellis, convenor of the Geelong Club,
with a very healthy looking purchase!


Angie Pearse versus Sandra Masel, with Dianne
Gibson at their table

Thankyou to
Ann
and her good-natured hard-working husband
Ian
for your efforts, and to everyone else who assisted in any way including
Khwanjai Thammaping
for some of the pics and
Barry Harridge
for ongoing assistance with the laptop program, as always your help was appreciated.
To view the full results click
HERE
The 27th International Brand's King's Cup, Bangkok ~ June 2012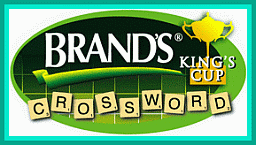 The King's Cup logo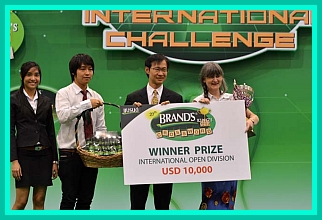 Happy Helen Gipson with her trophy and cheque
Eighty six players competed in this prestigious twenty-nine game event, under the expert guidance of John Chew from Canada who does an amazing job keeping up with many things, including Tournament Director's duties and internet updates. The lead changed many times with Thai players Thacha Koowirat and Pakorn Nemitrmansuk looking likely winners for much of the event, but Helen Gipson from Scotland bettered her standing with strong consistent play to gain a place in the final against Thacha Koowirat. Helen narrowly won a tense first game of the playoff with the scores at 427-425, but had an easier time in winning the second playoff game 462-328 to claim the King's Cup trophy and the first prize of US$10,000. Congratulations to Helen, a deserving winner after many years of commitment to Scrabble.
Eleven Australians took part, and here are their placings: Alastair Richards (Qld - 4), Andrew Fisher (Vic - 10), Russell Honeybun (WA - 12), Rod Talbot (NSW - 17), Bob Jackman (NSW - 30), Dianne Ward (WA - 35), Olga Visser (Qld - 57), John Barker (NSW - 66), Rocky Sharma (NSW - 68), Ivor Zetler (NSW - 69), Karen Richards (Qld - 71).
To view the full results click
HERE
Go to the top
The Victorian Championship &amp Queen's Birthday Tournament June 9/10/11, 2012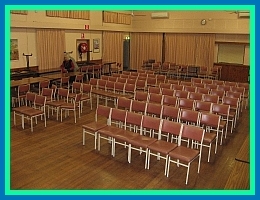 The room when we arrived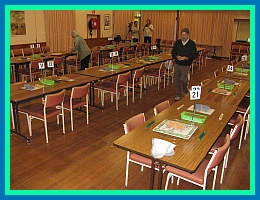 Almost ready to play after some hard yakka
The organisers were rather dismayed when we arrived at Box Hill Senior Cits early on Saturday morning to find the Centre set up in concert style, with our playing tables upended and stacked around the edge of the room. After some very hard work from Carol Johnsen and Norma Fisher the room was returned to its usual setup, and players arrived punctually, starting soon after 9am. President Carol welcomed everyone, including twelve interstate visitors, and we were delighted to see them as our numbers were somewhat down this year.
We also had the pleasure of the company of three great young people from Channel 31, filming a documentary on Scrabble as part of a series titled 'Behind the Words'. The series is an exploration of word usage in contemporary society – interviews with writers, illustrators, songwriters, actors and the list goes on.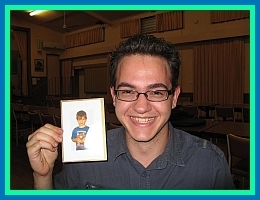 The 2012 Champ Alastair Richards, with his
prizemoney envelope featuring a photo of
himself aged 7 with his first scrabble trophy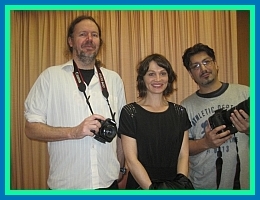 The production crew from Channel 31 -
producer Kingsley, interviewer Kirsty &amp
photographer John
Our superstars whose fortunes were followed during part of the Championship are Lois Binnie, Jenny Brysha and Trevor Halsall, and the episode will air in early October - I'm looking forward to seeing it!
Interestingly at the end of the first day Trevor Halsall led Alastair Richards from Queensland by margin alone, but by the end of Day 2 Alastair was leading, three clear games ahead of Andrew Fisher. Alastair maintained his excellent form and at the end of the third day emerged well ahead of all other competitors, with Andrew Fisher two games behind on 18 wins, Peter Kougi third on 16 wins, just ahead of fourth placed Trevor Halsall on margin alone. Joanne Craig from NSW came in fifth on 15 wins, possibly unlucky not to be placed higher as she had an excellent margin, second only to that of Alastair. Such is the fickle game of Scrabble! Congratulations to Alastair, a sterling effort and a well-deserved win in your growing collection of Scrabble achievements!
The High Game Award went to Nick Ivanovski for a score of 650 against an unwell John Rider from Queensland who managed to reach 400. Joanne Craig played "KEDGIEST" for 176 points to collect the High Word Award for the Championship.

The Champs - Trevor Halsall, Peter Kougi,
Andrew Fisher, Alastair Richards, Nick
Ivanovski, Joanne Craig Click to enlarge

The super display board, designed years
ago by Meg Henderson - Andrew Fisher 539
v Peter Kougi 515 Click to enlarge

Ready at Table 1 - Trevor Halsall v Greg
Pinchbeck (NSW) with Michael Rubinstein
at Table Two Click to enlarge

Naween Fernando visited - L to R. Peter
Bauer, Heather Long, Carmel Doney, Naween &amp Andrew Fisher Click to enlarge

Ann Hagley &amp Kris Howat, 1000 games,
Norma Fisher 2000, Marj Miller 1000


Joanne Craig from New South Wales with
Lois Binnie, Victoria


Rene Chelton from New South Wales, with
Lorraine Thomas &amp Di Gibson, Victoria


Champ Alastair receives some extra tuition
from dad Paul Richards

On Monday morning we were joined by 52 players who arrived to compete in the popular 6-game Queen's Birthday Tournament. The event ran concurrently with the last 6 games of the Championship, and moved along smoothly thanks to the wonderful competence of Lalitha Sundaresan on the computer. We were visited later in the day by Lalitha's son Anand Bharadwaj and his dad Kannan Sethuraman - Anand opted not to play at all this year due to exam commitments and his many duties as Junior School Captain at Trinity Grammar in Kew. We welcomed two new players, and both enjoyed their first tournament - Anne Bingham was introduced to us via her friend and fellow teacher Chris Scholten, and Balada Catanchin has taken to Scrabble in earnest, and enjoying it all - she is playing regularly at three different clubs and her game is improving very rapidly. We welcomed back Kashi Ross and enjoyed a lunchtime visit from bright-eyed Olive and dad John. Olive is an absolute poppet.

The boys from A Division: Doug Ristic,
Chris Scholten &amp Matte Dunn


B Division: Sandra Masel, Janet Bau &amp
Dorothy Rice, with Margaret Magro


C: Glenys Dettmann, Lina Camilleri, Mary
Mackie, Dominica Krstic, Rena Aitken


Our new players on the day: Anne
Bingham and Balada Catanchin

Division A saw Chris Scholten in fine form, winning 5 games ahead of Matte Dunn and Doug Ristic, both on 4 wins. The High Game and High Word Awards both went to Matte Dunn for a score of 607 and 101 points for playing XERANTIC.
In Division B Sandra Masel made a clean sweep, winning all 6 games ahead of Dorothy Rice on 5 wins and Janet Bau on 4. The High Game Award went to Janet for a score of 500, and Margaret Magro played FOSTERS for 103 points to take home the High Word prize.
Division C was a close tussle with Glenys Dettmann and Rena Aitken both recording 5 wins, Glenys taking first place on margin alone, followed by Dominica Krstic third on 4 wins. Lina Camilleri scored 444 to achieve the High Game Award, and Mary Mackie played SHARING for 104 to win the High Word prize. Thanks to Mary for acting as the Standby player for the day, your generosity in doing this job is greatly appreciated by all.

Lovely Olive Thelma Ross-Thiris with
her proud dad John


Gwen Lampre, Norma Fisher, Trevor
Halsall, Barry Harridge, Jenny Brysha


Lalitha Sundaresan &amp Kannan Sethuraman
with son Anand Bharadwaj


Happy mum and daughter duo, Rena
Aitken &amp Jenny Brysha

Thankyous are numerous - Tournament Director Carol Johnsen, Barry Harridge and Nick Ivanovski for spreading the news on the internet, the people who kept us well fed and watered including member Rena Aitken, Khwanjai Thammaping for the use of some of her great photos, those who helped us tidy up on Monday evening including Rob York, and Norma Fisher for everything she does so competently behind the scenes.
To see Barry's reports
(click here)
To check the full results of the Championship click
HERE
And to see what happened in the Queen's Birthday event click
HERE
Vale Gladys Sharp ~ May 22nd, 2012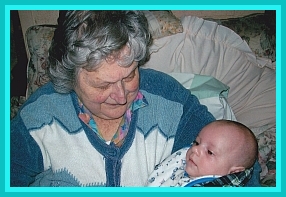 Gladys with her great great grandson Tyson,
taken in early May.
Members were saddened by the news of the passing of one of our older members, Gladys Sharp. Gladys played regularly from around 1980 till her last tournament at the Decathon in December 2005. She was very good friends with Sylvia Galloway and Carmel Doney among others, and ran a club for several years.
Here are some words from her friend Sylvia -
Dear Gladys, who together with other members helped me so much on tournament events. She came here to Raymond Island and was a most enthusiastic participant. I have been looking back to a book of club records and find amongst so many a great score for Gladys of 132 for "squalid", dated 30.06 94. I did visit Gladys recently, and asked her if she would like a game of scrabble, she said.. Well I have plenty of time... We never know. I have lots of happy memories from our nights at Ferntree Gully. Sylvia.
Glad passed away on Tuesday May 22nd, and from the tributes section of the Herald Sun we read that she was the matriarch of a very large family, being mother to nine children, grandmother to twenty-two grandchildren, great grandmother to seventeen, and great great grandmother to one. What an amazing legacy and a wonderful life.
The Cranbourne Tournament ~ May 27 2012
Thanks to Tournament Director Katie Rowe and the members of the Cranbourne Club for presenting the Club's annual tournament, members really do appreciate your efforts, particularly the home-baked goodies which I believe were delicious! Here is a report from Katie, thankyou, and also thanks to Barry Harridge for supplying the pics.
In an eerie repeat of last year, sixty players turned up (eventually) for the 7-match tournament. Again, anything that could go wrong, did go wrong: late arrivals, just as the draw had been generated; computer glitches including 617 Windows Updates on the new computer, and a failed printer driver which required switching back to the old computer.


Cranbourne Club Convenor &amp Tournament
Director, Katie Rowe


The maestros of Masters - Geoff Wright, Peter Kougi
&amp Trevor Halsall


Happy Advanced winners - Jenny Brysha &amp Dianne
Gibson

Elaine Capewell, racing to the venue with a car full of food and refreshments and travelling a few kms over the speed limit was spied by a Sunday morning traffic policeman, and copped a hefty fine. Barry Harridge worked miracles on the computers, as usual, and the Cranbourne Club stalwarts provided so much yummy tucker that the day was saved.
A Singer brand Sandwich Maker valued at $79 was raffled to raise funds for Youth Scrabble, and $83 will be turned over to our Treasurer to add to their coffers. Spot prizes of $10 Gift Cards, for words based on an Olympic theme, were awarded on games 2, 3, 5 and 6.
Maintaining the spooky replay of last year, in the Masters Section Trevor Halsall took out first place (again) but this year he outdid the 2011 result with 6-1/2 games, as well as High Word (ENZYMES 96) and High Game (553). Trevor's margin was 1084, hundreds ahead of place-getters Peter Kougi and Geoff Wright, who took the minor placings with 6 and 4.5 games respectively.
In the Advanced Section Jenny Brysha ploughed through the field and was crowned winner with all seven games and an enviable margin of 711. Dianne Gibson was runner-up with 5 games, and High Game of 537, with Audree Clifton 3rd with four wins. Mary McMahon's EQUINES won the High Word prize with 102 points.


Triumphant in Intermediate - Mal Eden &amp Tam
Dasika, with two awards each


The Recreation gurus - Gayle &amp Heather, both
members of the Cranbourne Club


A hard-fought game in Recreation - Liz McKean
versus Marjorie Clark

The Intermediate Section was won in a close finish by Tam Dasika, 6 games and a 480 margin, with Mal Eden almost closing the gap with 6 wins and a 471 margin. Cheryle Jerram came in 3rd with 5 games. Tam won the High Game prize with 572, and Mal took the High Word award with EXCITING (104), so they shared the honours in every way.
In Recreation Heather from Cranbourne - still provisional after only 34 games - was chuffed to win 6 of her 7 games with a 366 margin to take 1st place; Latha Weerakkody was 2nd with 5 games and a 485 margin, and Glenys Dettmann 3rd also with 5 games and a margin of 379. Glenys's High Game of 462 was the best in the section for the day, and Gayle Cameron's SMIRKER (92) took the High Word prize.
A mis-keyed game result recorded in the last game skewed the results briefly in the Advanced section, but it was easily repaired and the results amended very quickly, with no effect on the prize-winners. Thanks again to Barry Harridge for his quick work, and apologies to the two players whose results were transposed. It was a great day, and despite the late start we were finished by about 5.30pm. Thanks as always to Barry and Norma Fisher, and the Cranbourne Club members who kept players fed and watered all day.
To check the full results click
HERE
A daughter for Kashi and John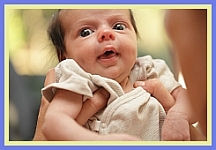 Olive Thelma Thiris
Thanks to Kashi for the following words, and congratulations to Kashi and John from your Scrabble friends; we look forward to meeting Olive soon.
On Easter Sunday, while the Nationals were being played in Hobart, a new member of the Victorian Scrabble community was being born. John and Kashi Thiris welcomed Olive Thelma Thiris to the world at 6.38pm on 8/4/12 at the Royal Women's Hospital in Parkville. At birth she weighed in at 3.2kg (average), measured 47.5cm (a bit short) and had a head circumference of 36cm (large).
Olive is a beautiful, highly social baby who enjoys being held and driving in cars. She doesn't cry much, has a healthy appetite and is slowly growing bigger. She has a lot of hair on the sides but not much on top and beautiful grey blue eyes. At six weeks of age she is now starting to look and smile. We look forward to bringing her along to visit a tournament soon.
Kashi and John.
Guinness World Record Attempt!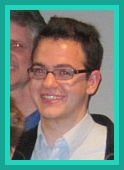 Alastair Richards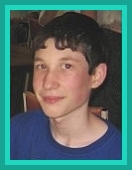 Michael McKenna
News from Karen Richards -
on Thursday 5th July, into Friday 6th July, NSW players Michael McKenna and Alastair Richards will be attempting to break the current world record for most games scored playing Scrabble over a 24 hour period. We expect that this will require over 200 games played, approximately 10 minutes per game.
The attempt will take place in Sydney, at the home of Garth van Vliet. We had also thought about using this as a fund-raiser for a worthy cause. I approached RSPCA, but received no response. None of those organising this has the time to take the fundraising potential further. Michael suggested, and I concur, that the most appropriate beneficiary of any fundraising done in conjunction with this would be an Autism charity. If anyone has the time and energy to do this, please feel free to organise it - the more publicity we can get, the better. The current record for the highest Scrabble score achieved in 24 hours by two players is 162,171 and is held by Chris Hawkins and Austin Shin (both UK). The attempt took place in Milton Keynes, Buckinghamshire, UK on 17-18 August 2002.
Good luck to Michael and Alastair in this exciting endeavour, I can't think of two people more likely to break the record, and we'll be watching with interest in July.
Go to the top
The Arvo Evo International Fundraiser ~ May 6 2012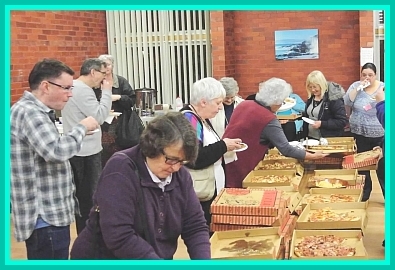 Pizza for dinner, quite nice!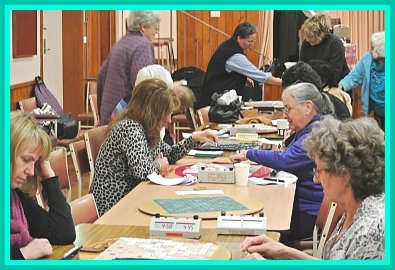 Anna Palmer versus Dorothy Barraclough, with
Livia Caulfield and Rena Aitken in the background
A pleasant Sunday afternoon and evening were spent at the Box Hill Senior Citizens' Centre, with 46 players competing in two sections and enjoying pizza for dinner, as well as between-game snacks and each other's company. We welcomed Robyn Corbel on one of her regular visits from sunny Queensland, and also welcomed back Alan Milne who had played his only tournament in April last year, good to see you both again.
In Division A Jimmy Scarff was in fine form, sweeping all before him to win all six games ahead of Katie Rowe second on five wins, with Geoff Wright third on four wins. Carol Johnsen presented Geoff with his 3000-game badge, a brilliant achievement, Geoff, and we look forward to seeing you at many more tournaments on your way to your next milestone. The High Game Award also went to Geoff for a score of 539, and Barry Harridge scored 104 for EXPANSES to achieve the High Word Award.
Division B saw Anna Palmer place first on 5 wins, ahead on margin of Dieter Jedamski and Rob York, both also on 5 wins - a hard fought battle to come out on top. Anna also received the Award for the High Game for a score of 504, and the High Word Award was claimed by Glenys Dettmann who played SQUIRTER for 118 points.
Excellent rating gains on the day were achieved by Katie Rowe +58, Jimmy Scarff + 49, Dianne Gibson +35, and Anna Palmer + 30. Well done to everyone on your great achievements.
Thanks to all who helped on the day - Norma Fisher, Barry Harridge (and for some of the pics), Carol Johnsen and Rob York, and apologies to all those I've forgotten to mention - your help is always appreciated.
For the full results of the event click
HERE

Division A: Barry Harridge, Katie Rowe &amp
Geoff Wright

Division B: Back - Rob York, Dieter Jedamski &amp
Glenys Dettmann, with Anna Palmer in front

President Carol Johnsen with Geoff Wright, who
received a badge marking 3000 games played
New South Wales wins the Tri-State challenge!

Carol Johnsen with Garth van Vliet, studying
the intricacies of the Director! program


Arie Holla and Jan Serisier, both from N.S.W
discuss the state of play.


Liz Jackman from N.S.W. with Carmel Doney
from Victoria

The A.C.T. placed second, with Victoria trailing behind - here is the breakdown of wins, calculated on games played between the different states: NSW - 52.1%, ACT 51.5%, VIC - 47.4%, a close contest indeed. Bob Jackman (NSW) won the individul contest, with ten wins from ten games played. Tim Reddan (ACT) placed second, with Carmel Doney (VIC) third.
Thanks to Bob Jackman, Carol Johnsen and Tim Reddan for organising and acting as team leaders, and Norm Byng for arranging everything so well in Wagga Wagga - the Senior Cits was a very pleasant venue, and the snacks supplied by the ex-president of the Centre, Jean, were much appreciated. Also thanks for the pics, Bob. Rumour has it that we may be back there again in twelve months time, travelling from both Sydney and Melbourne on the XPT, and from the A.C.T by road.
2012 Matchplay ~ Kickoff Tournament April 22

During Game 7 - at left, Trevor Halsall
versus Geoff Wright. At right, Carmel
Doney v Dianne Gibson Click to enlarge

Prize winners in the Kickoff - Andrew Fisher,
Sandra Masel, Peter Kougi, Michael
Rubinstein, Geoff Wright

At the end of the day - computer operator
Lalitha Sundaresan, with Mythili Rudra
and Barry Harridge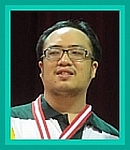 Visitor Aaron Chong
Thanks to Organiser Peter Kougi for the following report:
Forty-six took part in the 6th Victorian Matchplay qualifier event on a sunny autumn Sunday. Andrew Fisher triumphed, winning 7 out of 8. His only loss came at the hands Geoff Wright (who finished 3rd) in a low-scoring encounter. Peter Kougi gained back a few rating points lost at the Nationals by finishing 2nd. Carmel Doney and Sandra Masel both had good tournaments, taking out the 1450 and 1250 rating band prizes respectively. Several players achieved solid ratings gains, notably Fintan Conway +57, Sandra Masel +54, Stephanie Saunders +46 and Lainie Mercieca +45. Lainie noted that this tournament effectively marked her 1-year anniversary of competitive Scrabble, and she made it a memorable one by defeating the current Malaysian number 1 Aaron Chong, who was playing just his second Australian tournament.
Some fine words observed on the day were: POLITICO, ACERBITY and ROTOTILL by Andrew (ROTOTILL gained notoriety after it was played by Paul Cleary at the 2005 WSC), TSARITSA by Angie Pearse, and CALLOWER by Trevor Halsall. Norma did a fantastic job making sure players were well fed, and Lalitha operated the computer with her usual efficiency. Thanks to everyone who helped run this tournament. The fixture for the knockout phase has been devised and qualifiers have been notified, and results will be bought to you as the matches are completed.
For the full results of the Kickoff event click
HERE
Go to the top
The Nationals and Plate in Hobart, Easter 2012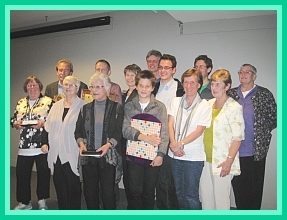 The winners. Back: John Salmon, Andrew
Fisher, Pam Thomas, Richard Jeremy, Alastair
Richards, Chris May, Anne Drew. Front: Caroline
Scowcroft, Glen Chandler, Norma Fisher, Tim
Mason, Esther Perrins, Margaret Bishop
Click photo to enlarge
A total of 127 players took part in these two events, aided by the services of three standby players from the host state, Tasmania. Thanks to
Sylvia, Cherelle, and Cecilia
for helping all players to avoid byes, adding to the overall enjoyment of the tournament. The Tasmanian Committee and members, under the leadership of
President Alan Mathews
, had worked long and hard to stage an interesting and very well-run event, and the hard work paid off handsomely - we were well fed, well watered, and left in no doubt about who we were to play next, and where, under the expert guidance of
Tournament Director Wilma Vialle
and
Webmaster Barry Harridge
. Thank you to all concerned for your wonderful efforts, they were greatly appreciated.
After many ups and downs over the final day, with the lead alternating between
Alastair Richards
(Qld) and
Andrew Fisher
(Vic) at different stages, there were three possible winners going in to Round 24 -
Alastair
and
Esther Perrins
(NSW) both on 17 wins, with
Andrew
on 17.5 wins - he and
Chris May
(NSW) had played a very tight drawn game in Round 19 to give Andrew the half game advantage - here's the board.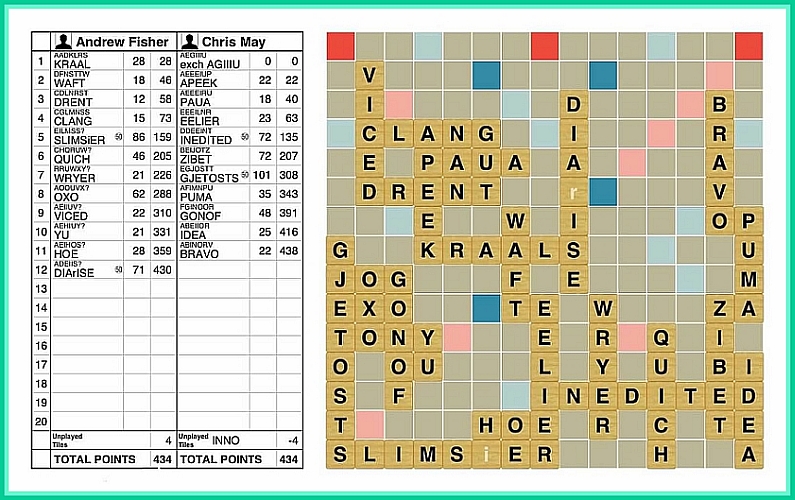 As it happened
Esther
lost to
Joanne Craig
(NSW) to drop to fourth place,
Richard Jeremy
(ACT) moved up to take third place after defeating
Cameron Farlow
(Qld),
Alastair
won against
Rod Talbot
(NSW) to secure second place, and a rather surprised (so he said!)
Andrew Fisher
defeated
John Hamilton
(ACT) to take out the title of Australian Champion for 2012, his third win in this event - a great record indeed, Andrew, and well deserved.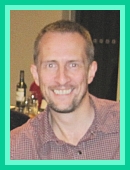 The Champion,
Andrew Fisher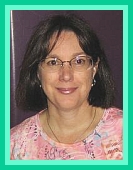 The Plate Winner,
Janine Whittaker
Fifth place was filled by
Chris May
, with
Norma Fisher
(Vic) collecting the High Game award for a great score of 619, and
Anne Drew
(Qld) recording a brilliant 203 points for playing EXUDATES to win the High Word award.
The outcome was much more clear cut in the Plate, limited to players rated below 1250 prior to the event - but do not for a moment think that the competition is any less fierce than that in the Championship! First place went to
Janine Whittaker
(NSW) on 18 wins, a wonderful effort and two games clear of
Margaret Berliner
also from NSW, with
John Salmon
from WA in third place. Fourth and fifth places were filled by
La'Reine Lang
(NSW) and
Margaret Bishop
(Tas) respectively. The High Game award went to
Glen Chandler
(Vic) for a score of 543, and the High Word award was won by
Pam Thomas
(Tas) for playing EQUATOR for 129 points.
Excellent ratings gains in the Plate were recorded by
La'Raine Lang
(NSW) +133,
Vonnie Farlow
(Qld) +110, and whiz kid
Tim Mason
from WA who received a rotating board from World Youth Chair
Karen Richards
for the highest rating gain by a junior player, +100. Well done, Tim. In the Championship outstanding ratings gains were achieved by
Caroline Scowcroft
(ACT) +120, and third placed
Richard Jeremy
and
Jane Brown
(Qld) who each gained 101 points, well deserved rewards for all.

Tas Pres Alan Mathews, 2012 Champ
Andrew Fisher &amp retiring CASPA
Coordinator Carol Johnsen

At the presentation dinner -
Marisa Nuccitelli, Beryl Bourne &amp
Dianne Gibson


Paul and Karen Richards (WESPA
Youth Chair) with Cameron &amp Vonnie
Farlow from Queensland

A good time was had by all -
Victorian players Sandra Masel
&amp Patricia Mitchell

Dorothy Barraclough, Carol Johnsen
&amp Norma Fisher


Glen Chandler, delighted with her
High Game award in the Plate


Mum and Daughter Rena Aitken &amp
Jenny Brysha with Marj Miller


Peter Kougi &amp Mythili Rudra with
the Champ Andrew Fisher

The tournament was followed by a dinner and presentation evening in the Merino Room at the
Old Woolstore Hotel
on MacQuarie Street, and this was attended by about 90 players, all of whom enjoyed the buffet meal and very pleasant social atmosphere. The trophies consisted of various interesting products beautifully crafted from Tasmanian timbers, and were appreciated by the recipients - as well as the generous cash prizes awarded!

Hard working Tournament Director
Professor Wilma Vialle


Our web guru Barry Harridge, busy
keeping those at home up to date


Keri Heart, official photographer,
with Lorraine Thomas


Cameron Farlow plays Heather Long,
with Peter Bauer &amp Ram Mohe


Cheah Siu Hean congratulates the victor
Anand Bharadwaj on his fine play


Game One - Tony Hunt, Bob Jackman,
Nick Ivanovski &amp Marj Miller

Thanks to
Barry Harridge
for some of the pics - Barry's complete album can be viewed
HERE
at his Shutterfly account.
Click
HERE
to visit the mini website which Barry set up for his continuing updates during the event, and there is a tab to take you to some of tech-savvy
Nick Ivanovski's Twitter
posts, and to some of the boards posted by Nick on
Instagram
. Thanks for the additional coverage, Nick, it's undoubtedly the way of the future and hopefully will be utilised more at our Victorian Championship in June.
Thanks again to
Tasmania
for hosting so well in 2012, it was great. Many players are already looking forward to visiting
Queensland's Gold Coast
for these prestigious events in 2013!
Lastly, to view the full results of both the Championship and the Plate on the National website click
HERE
Vale Theresa Scicluna ~ March 27 2012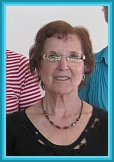 Theresa in 2011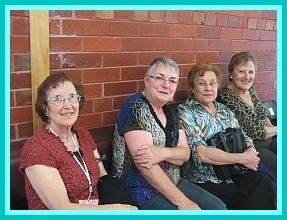 Theresa with some of her Essendon Club friends,
Cynthia Cook, Lina Camilleri &amp Gianna Devcic
It was with sadness that the Essendon Club members heard of the passing of their loyal Club member and friend - many did not know until the club convened for its regular Tuesday night meeting that Theresa was gone, and were stunned and saddened by the news. Theresa had assisted with the running of the Club for many years and in many ways, including opening up on Club night on a regular basis. Harry Malcolm fondly recalls that Theresa was his opponent in his first Club game, and after she politely whipped his tail her friends Cynthia and Janet proceeded to do the same. Luckily for Harry the supper more than compensated for his lack of wins on the night, and he and Theresa often joked about his first club experience, the basis for an enduring friendship, one of many formed by Theresa and her fellow Scrabblers.
Theresa played her last tournaments in January - the Aestival and Ballarat Summer events - and following this fought a short battle with cancer. Theresa is succeeded by her children Tony and Jenny, daughter-in-law Debby and son-in-law Charlie and her much-loved grandchildren Ashley, Andrew, Elyse and Emily.
Rest in peace, Theresa, your Scrabble friends will miss you.
Coming up - the Nationals in Tasmania!

Chris May
2011 Champ

Dianne Gibson
Radio Star
Many of our Victorian players have made plans to attend the annual Australian Scrabble Championship in Hobart over Easter, travelling by plane or ferry. Dianne Gibson took part in a radio interview with Red Symons on ABC 774 this morning (March 28) and gave some much-needed publicity to this upcoming prestigious event. Participants will play in either the Championship division or the Plate, and all will play 24 games, culminating in a Celebration Dinner on Easter Monday evening. Apart from the competition it is a great social experience, giving players from all states the chance to catch up on old friendships and forge new ones. As always rivalry will be fierce, and best wishes to all who take part - last year's winner was Chris May from New South Wales, and it will be interesting to see who takes out the Championship this year, and the equally hard-fought Plate title. Good luck to all, we hope it is an enjoyable experience!
The Langwarrin Tournament ~ March 22 2012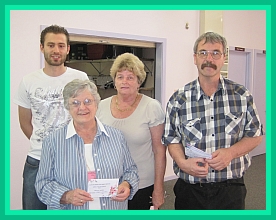 Masters: Peter Kougi, Marj Miller, Dianne
Davis, Ray Alford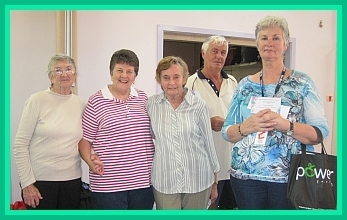 Advanced: Beryl Bourne, Dianne Gibson, Lorraine
Thomas, Doug Ristic, Angie Pearse
Exceptional talents were displayed at this annual 6 game event, with both
Dianne Gibson
and
Peter Kougi
winning all games in their respective sections. Fifty-eight players competed, and we thank the
Langwarrin Club members
for their efforts in running such a pleasant day for all.
Geoff Gittus
and family were on early morning duty setting up the venue, and
Carol Johnsen
ably filled the Tournament Director's role, coping with any difficulties in her usual unflappable manner. Club members provided many goodies for between game snacks, and these were enjoyed by all - thank you.
Jimmy Scarff
was welcomed back from a break, and was happy to be amongst friends and playing competitively again.
As mentioned
Peter Kougi
comprehensively swept aside all opponents to win
Masters
, followed by
Ray Alford
and
Dianne Davis
, both on four wins. The High Game award went to
Marj Miller
for a score of 561, and
Ray
played ENVIERS for 110 to win the High Word award.
In
Advanced
a delighted
Dianne Gibson
matched Peter's achievement with six wins, with
Doug Ristic
in good form in second place with five wins and
Angie Pearse
third on four wins. The High Game award went to
Lorraine Thomas
for a score of 491, and
Beryl Bourne
played REVAMPED for 113 points to take the High Word award home to her new abode on Phillip Island - Beryl is loving her recent seachange and we wish her happy times in her new home.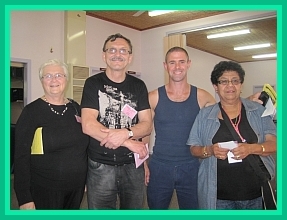 Intermediate: Glen Chandler, Oliver Podesser,
Leigh Donnelly, Marie D'Rosario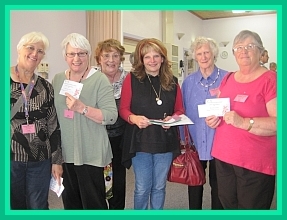 Recreation: Gayle Cameron, Judith Westwood,
Brigid Murphy, new player Livia Caulfield,
Jean McKinnon, Eileen Mills
Intermediate
was won by
Leigh Donnelly
on five wins, ahead of second-placed
Oliver Podesser
on margin alone, with
Marie D'Rosario
third on four wins. Leigh was delighted with his efforts - he and good friend
Noel Meyers
have an ongoing friendly but very keen rivalry and Leigh's efforts allowed him to catch up somewhat to Noel's superior rating.
Glen Chandler
won the High Game award with 533 points, and
Leigh
played QWERTIES for 122 to win the High Word award - not an easy combination of letters to pick from the bag.
Recreation
saw a close battle between
Eileen Mills
and
Gayle Cameron
, both finishing on five wins with Eileen ahead by 229 margin points. Third place was filled by
Brigid Murphy
on four wins, with
Judith Westwood
scoring 441 points to achieve the High Game award. Local player
Jean McKinnon
played SWADDLE for 88 points to win the High Word award and
Livia Caulfield
was welcomed to her first tournament. Livia relished the experience, winning three games in Rec and attaining a provisional rating of 767. Well done, Livia.
Excellent
ratings gains
on the day were achieved by
Dianne Gibson +55, Gayle Cameron +50, and Leigh Donnelly +46
.
Well done to all, and to see the full results of the event click
HERE
Go to the top
The 2012 Melbourne Team Challenge ~ March 4
;
The Good Girls, 2012 Champion Team -
Carol Johnsen, Audree Clifton, Lois Binnie,
Ann Goodwin, with Anna Palmer in front
After some challenging moments organising the formation of the Teams, mainly due to some unavoidable cancellations, fifty keen players gathered at the Box Hill Senior Citizens Centre to compete for the title of Champion Team 2012. The final replacement was phoned at 7.30am after one of our country players called with the news that her car wouldn't start - a disappointing reason to miss out on a good day's Scrabble! Sorry,
Anne Menheere!
Thanks for filling in at such short notice,
Carol Mascitti
, and thank you to those who were contacted earlier in the week with a request to participate who happily agreed to do so. The importance of having exactly fifty competitors cannot be overstated as a bye in this format would alter the whole outcome, quite unfairly.
We welcomed ex-Aussie player
Nick Cavenagh
from New Zealand, and thank you to Nick for heading up the Jacks High team for the day. The ten teams of five players were graded according to current ratings so each player was pitted against nine others closest to them on the ratings list, and this led to some very fierce competition over the day.
The team concept is an excellent way of mixing all levels of players together and moves along quite smartly, thanks to the excellent software devised by Birthday Boy
Barry Harridge
.

The Buccaneers (2) - Doug Ristic, Marie
D'Rosario, Rob York, with Ruth Fewings
and Norma Fisher in front


Emanon (3) - Geoff Wright, Carol Mascitti,
Katie Rowe, Dieter Jedamski and
Elizabeth McKean


The Frontrunners (4) - Lainie Mercieca, Kris
Howat, Peter Kougi, Marisa Nuccitelli,
Judith Westwood


The Lamplighters (5) - Gloria O'Loghlin,
Jenny Brysha, Paula Messer, Gwen Lampre,
Judith Roberts


The Knickerbockers (6) - Carmel Doney, Nobby
Clark, Nick Ivanovski (HG 613), Khwanjai
Thammaping and Gillian Renwick


The Lovelies (7) - Mythili Rudra (HW 203), Angie
Pearse, Dorothy Barraclough, Bridget Halge,
with Mercia Cadan in front

At the end of the 250 games played
The Good Girls
emerged as the dominant 2012 Champions - prior to the last round they were 4.5 games clear of their nearest rivals Emanon, and needed only one win to secure the title - they did this (and more!) with ease, finishing on 32 wins, seven games ahead of the fast-finishing
Buccaneers
on 25 wins with
Emanon
third on 24.5. Congratulations to
Carol Johnsen, Lois Binnie, Audree Clifton, Anna Palmer and Ann Goodwin
on a great team effort. There were no prizes for individual performances but mention must be made of the outcome for two of our more senior players -
Audree Clifton
was one of the players asked during the week to fill a gap in a team and she had a wonderful tournament, the only player to win 8 games. Audree gained 61 ratings points, with
Gloria O'Loghlin
gaining 66 points on the day - brilliant results indeed from both girls.

The Ruby Reds (8) - Gianna Devcic, Michael
Rubinstein, Lorraine Thomas, with Cheryle
Jerram and Lina Camilleri in front


"Whatever" (9) - Arjun Haria, Dianne Gibson,
Oliver Podesser, with Marjorie Clark and
Natasha Podesser at the front


Jacks High (10) - Elaine Capewell, Carole Eden
Mal Eden, Leigh Donnelly, with captain
Nick Cavenagh

Nick Ivanovski,
captain of the Knickerbockers, was excited to win the High Game Award - Nick scored 613 against the captain of Whatever,
Natasha Podesser
- this was the highest score attained by Nick in his long Scrabble career spanning 30+ years, with quite a long break in the middle years - its good to have you back playing, Nick, and congratulations on a great game. The score for the High Word increased with almost every round - and at the end of the day the award went to the captain of the Lovelies,
Mythili Rudra
, who scored 203 for "JEERINGS". Well done Mythili, a great score for you to remember. Thanks to
Khwanjai Thammaping
for taking the pics, and to all who helped with running the tournament, your help is greatly appreciated.
To see the full results of the event click
HERE
The Camberwell Tournament ~ February 11 2012
The Camberwell tournament was full of nail-biting excitement. 68 players contested it at the usual Box Hill Centre. Here are some of the swings and roundabouts. Glenys Dettmann was unsure whether her outplay of SUGO was correct. She knew it as an Italian word for a meat sauce. Luckily it had been added to our lexicon at the start of 2012. Norma Engel went overtime by more than 3 minutes. However despite this she won by one point. Cheryle Jerram was not so lucky. When she went overtime, she lost by 6 points. Pat Weston looked very likely to win Intermediate but her final game was a tied game which put her into second place. Trevor Halsall scored a whopping 582 points against Peter Bauer, but the high game score had been claimed by Anand Bharadwaj for 583 points! The tables were turned (metaphorically only) later when Anand looked fairly sure to win Masters, but a large win 553 to 337 in Trevor's last game was enough to put Trevor into first place. In fact doing brilliantly was not even enough in many cases. There were several games over 500 which were consigned to be also-rans, 553 and 582 for Trevor, 540 for Anand, 554 for Peter Kougi, 505 for Mythili Rudra (who now resides in Victoria), 551 for Lois Binnie and 503 for Norma Fisher. The high scoring game by Anand is shown here. But beware, ZOWIE is an interjection used in Batman comics for instance, and may not be pluralised with an S. It was left unchallenged by Katie.


Peter Kougi and Lorna Patching were both
presented with badges marking 1000
tournament games played


The whizzes from Masters - Rod Casey and
Trevor Halsall appropriately get on the same
level as Anand Bharadwaj


Advanced achievers - Patricia Mitchell,
Mal Eden (both fresh from a scrabble holiday
with friends) and June Valentine

Masters place getters were Trevor, Anand and Rod Casey, with Anand also scooping the pool for high game (583) and high word (SEQUOIA for 131).
Advanced was won by Mal Eden who had only just earned his place in Advanced by the dint of his rating. Needless to say the further rating gain he achieved places him solidly in Advanced now. Skill and practice must have been important, though perhaps luck helped too. I heard him mutter as he handed in his result slip after a narrow win, "I think I did a Houdini there." June Valentine and Cheryle Jerram took second and third places. With this tournament being closest to Valentine's day, June Valentine's good showing was appropriate, especially since her surname before marriage was Hart. Mal Eden got the high game with 482, and Patricia Mitchell got the high word with 140 for REDUCING.


The best in Intermediate - Fintan
Conway, Lainie Mercieca, Rob York and
Pat Weston

The Recreation gurus - Jenny Kearney,
Ruth Fewings, John van der Schoor and
Glenys Dettmann


Our 2011 World Youth Scrabble Champion,
Anand Bharadwaj, still excited and busy with
school commitments, music and Scrabble
Intermediate was won by Anne Menheere whose 5 wins were enough to squeeze past Pat Weston's 4.5 wins in second place. Third place was Rob York. High game was Lainie Mercieca for 477 and high word was Fintan Conway's NEEDLING for 122.
Recreation saw Glenys Dettmann emerge as the only player in the whole tournament to win all her games. Jenny Kearney was second and Carole Eden third. High game was John van der Schoor on 483, and high word was Ruth Fewings for 92 with JINGLES.
On the whole the tournament ran quite smoothly, with the cooperation of players who know the ropes and thus make the routine of the day run well. A good time was had by all. Barry Harridge
To check the full results of the event click
HERE
Go to the top
Amazing record set at the 2012 Northern Ireland Scrabble Championship

Toh Weibin is a Singaporean player who competed as a youth player in the first World Youth Championship in Australia in 2006. Australia's David Eldar won the event that year, but Weibin won the WYSC the following year in a tense finish from Malaysian Sean Chung. Weibin is now at university in England and is helping coach Youth Scrabble there.
In the 2012 Northern Ireland Scrabble Championship he had a blazing game which set new world records for high game score and high spread, scoring 850 : 259 in his game against Rik Kennedy. Well done, Weibin, a great effort.
For anyone who would like to play through this brilliant game click
HERE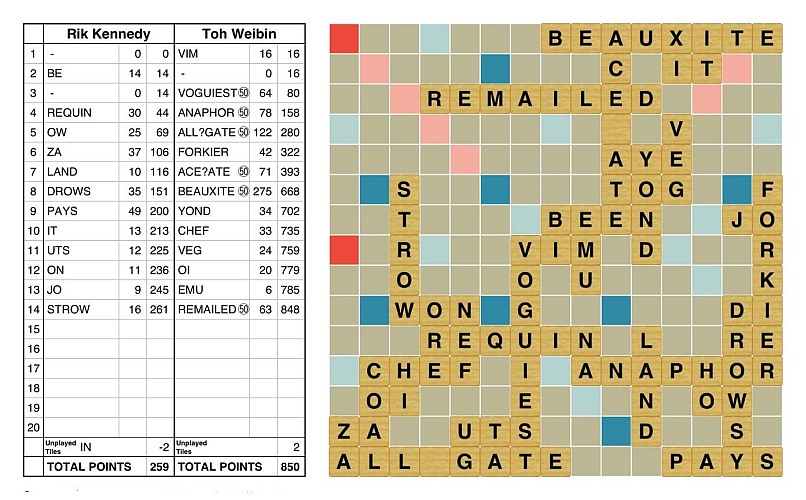 The Bil Rose Aestival ~ January 15 2012
Notwithstanding the frenetic juggling of names through the sections once all players have registered (with no-shows), once underway, this tournament always has proven to be a popular alternative format, where groupings of 8 players (in order of rating) play 7 round robin games. Also, because of the predetermined draws, the day progresses very efficiently.

The Section Winners: Khwanjai Thammaping,
Patricia Mitchell, Peter Kougi, Ruth Fewings,
Mal Eden, Gianna Devcic, Katie Rowe

Fun for the High Game and High Word winners:
At the back Elizabeth McKean, with Rod Casey,
Norma Fisher and Rob York

Janet Roberts, returning after a break of many
years, with Patricia Mitchell and Carole Eden
who won the prize for the best "Tennis Word"
Our theme this year was of tennis players' names commencing with A through to G - we were sorry there were not enough competitors for the H Section - (Lleyton) HEWITT would have been a popular team. However, those in the FEDERER Section appeared to be very happy with their lot. Along with cash prizes for 1st place winners of each Section a set of magnetised fridge Scrabble tiles were also presented.

Frank Csarics versus Kate Gullan in the
Baghdatis section


Khwanjai's aristic arrangement of the section
names - thanks for the pics, Khwanjai


A hard fought game in the Federer section -
Eileen Mills versus Marlene Ellis

In Sections ALMAGRO, BAGHDATIS, CLIJSTERS AND DJOKOVIC, Rod Casey had the highest word - DISABLED - for 113 and Norma Fisher had the High Game with 546. In Sections, ERRANI, FEDERER AND GROTH (10 players), Rob York scored 102 for AGONIZES and Elizabeth McKean had the High Game with 479. The tennis theme word went to Carole Eden for COURTED. - Carol Johnsen, Tournament Director

Visiting from South Australia, Adam Kretschmer
and Rachel Telfer


Essendon Club's Theresa Scicluna, Cynthia
Cook, Lina Camilleri &amp Gianna Devcic


Clowning around - Rob York mimics well-known
Aussie player Lleyton Hewitt

Thanks to Carol for the Tournament report, and special thanks to those who helped set up at the outset and those who stayed to assist with packing up - the "stayers" were awarded with a very yummy chocolate or two provided by our kitchen staff. To see the full results of the event click
HERE
Collins Words 2012 ~ introduced January 1st 2012

Many useful documents relating to the changes to the Collins Words valid for Scrabble play in Australia and most of the world can be downloaded from the WESPA website. Click
HERE
to find the lists you need. Of particular interest from the WESPA site - the changes are far less extensive than those introduced in 2007 when the Collins Words were first adopted. Additions involve 2023 new words of length 3 to 9 letters (there are no new 2-letter words), and 203 words of length 3 to 9 have been deleted as they are no longer supported by the source dictionaries. A cakewalk for dedicated Scrabblers, no doubt!
Go to the top