~ News Archive 2015 ~
The 2015 Decathon Tournament - December 28 - the last for this year!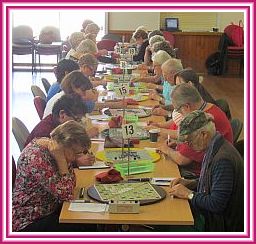 Division B in action - Lorraine Thomas
plays Rod Casey early in the day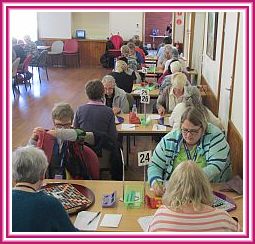 Division C players - Balada Catanchin
and Liz McKean facing the camera
Decathon
this year attracted a fine field of
64
, and we welcomed several players from interstate -
John Hamilton
from the Australian Capital Territory,
Hailey
and
Ryan Sutton
from New South Wales, and four from Queensland -
Karen, Paul and Alastair Richards
, and
Liz Blanch
who enjoyed her day, but was sad that her Victorian opponents didn't let her win more games! Such is the competitive nature of tournaments......we were also pleased to see
David Eldar
on a visit home from England, and he is still playing fine scrabble! Our two new players on the day both enjoyed their tournament/s -
Trish Magee
has played at the Golden Age Club in Waverley for some time, and
Minuki
had played in the WYSC in Perth, but was yet to establish an Australian rating. Well done to you both, I hope you'll continue to enjoy our tournaments.
Nick Ivanovski
donated a prize for a theme word, namely the book written by well-known British Scrabble player
Craig Beevers
and titled
"Word Addict"
. The theme was
"New Year"
, and
Nicole Lowe
played "New" to collect the prize. Second prize of a calendar went to
Naween Fernando
for his fun play of "Fun"......
A Lagged Draw
has been used quite extensively in other parts of Australia, but rarely in Victoria, and it certainly moved this 10 game event along more quickly than in other years....players had 22 minutes each to make their moves, and most avoided time penalties, although not all....

Division A Winner,
Alastair Richards


Trish Magee, new player
on the day.

Our other new player,
Minuki enjoyed her day!

Naween Fernando plays
John Hamilton

Computer operator Lainie
Mercieca with helper Oscar
Division C
saw 20 players doing battle, and at the end of the day
Lynne Goodinson
had won 8 games to win her section, well done, Lynne! Its good to see you back and playing well. Second place went to
Ann Goodwi
n on 7 wins, and third was
Norma Engel
, winning 6. Lynne also took home the High Game Award for her score of
473
, and the High Word Award was won by
Rena Aitken
for her lovely play of
QUIETEN for 111 points.
In
Division B Lorraine Thomas
proved too strong for the opposition, winning nine games and amassing a fine margin. Her only loss was in Game 9 to
Kris Howat
, well played to you both. Second behind Lorraine was
Rod Casey
on 7 wins (thanks for doing the Standby Player's job, Rod) and
Hailey Sutton
from NSW placed third to take 37 ratings points back to her home state....well done, Hailey.
Cheryle Jerram
scored
535
to win the High Game Award, and
Janet Bau
found
GLITZIER
for 114 points to win the High Word prize.
Division A
saw
Alastair Richards
triumph in a strong field featuring the three top-rated players in Australia at the moment, and the competition was fierce....
Alastair won 9
, followed by
David Eldar on 8
, and
Naween Fernando on 7
. Alastair's only loss was to David, David's losses were to Heather Long and Naween, and Naween lost to Karen Richards, as well as the rapidly improving Ryan Sutton, and Alastair.....its a strange game indeed. The High Game award went to
Carol Johnsen
for a great score of
559
, and
Norma Fisher
kept improving on her own High Word Score to finish with the prize for her play of
SPOUTIER for 140
. Well done, all.

The Division C Clever Clogs!
Lynne Goodinson, Rena Aitken,
Norma Engel &amp Ann Goodwin


Division B's Brilliant people!
Janet Bau, Rod Casey, Hailey Sutton,
Lorraine Thomas & Cheryle Jerram


The Division A Achievers!
Carol Johnsen, David Eldar, Norma
Fisher & Naween Fernando


Theme word winner Nicole
Lowe with her prize "Word
Addict" by Craig Beevers

Great ratings gains
for the day were achieved by
Lorraine Thomas +74, Gwen Lampre +70, Angie Winkler +45, Lynne Goodinson +44, Hailey Sutton +37, Glenys Dettmann +36, Alastair Richards +30, John Hamilton +30, and Dorothy Hunt +30
. Well done, everyone! Thank you to all who helped make the day a success, including Liz McKean who baked cookies,
Lainie Mercieca
who manned the laptop all day, and our very helpful people who regularly help us set up and tidy up, as always all help is greatly appreciated!
Happy New Year to all, and Happy Scrabbling in 2016!
VICTORIAN CLUB CLOSURE AND REOPENING DATES OVER THE HOLIDAY PERIOD
CLUB
BREAKUP DATE
RETURN DATE 2016
Ballarat
Tuesday December 15
Tuesday January 19
Balwyn
Monday December 21
Monday January 11
Box Hill
Cranbourne
Essendon
Tuesday December 8
Tuesday February 2
FaNS
NO BREAK
Frankston
Wednesday December 9
Wed January 13, if temperature less than 30 degrees
Frankston Nth
Geelong
Saturday January 16
Golden Age
Wednesday December 16
Wednesday January 13
Gormandale
Greensborough
Tuesday December 15
Tuesday January 5
Horsham
Langwarrin
Tuesday December 1
Tuesday February 2
Mt Martha
Tuesday December 15
Tuesday January 12
Nunawading
Tuesday December 22. Breakup
dinner at 6pm at the Mitcham Hotel
Tuesday January 12
Paynesville
Queenscliff
Rosanna
Thursday December 10
Thursday January 14
Stawell
Watsonia
Wednesday December 16
Wednesday January 20
Welshpool
Wodonga
Thursday December 17
Thursday February 4
The Frankston Tournament ~ December 6, 2015
48 players took part in this event, playing in four sections, and there was some confusion with the results at the end of the day. Any discrepancies have been adjusted, and the corrected file has been forwarded to the National Ratings Officer.
Tournament Organiser Ray Alford
will ensure that all prizewinners receive their correct prizes.

Masters:
Winner, Harry Malcolm
who did extremely well.


Second in Masters,
Geoff Wright, who had
a good day's scrabble


Advanced: Dianne Gibson, Rod
Casey, Glen Chandler, Paula Messer,
Marj Miller


Intermediate:
Mal Eden, Rob York, John Parker,
Julie Alliston


Recreation: Mohammed Hegazi,
Norma Engel, Glenys Dettmann,
Patrick Morgan

In
MASTERS Harry Malcolm
emerged the winner, with five wins from the seven games played.
Geoff Wright
placed second on four wins, and third place went to
Angie Pearse,
also on four wins. Due to a mix-up third prize was presented to Norma Fisher, but this will be rectified with Norma passing her prize on to Angie at the first opportunity.
Geoff
scored
528
to win the High Game award, and
Harry
took out the High Word award with his play of
BEAUTIES for 140 points.
ADVANCED
was a tight tussle with the top place-getters separated only by margin, and all on five wins.
Dianne Gibson
had a lovely day out, placing first, with a delighted
Paula Messer
in second place, followed by
Rod Casey
third. The High Game Award was won by
Marj Miller
for a score of
482
, and
Glen Chandler
played
PRAYERS for 98
to win the High Word prize. Both Paula and Glen were playing a section higher than that in which they were rated, so a good effort from both.
INTERMEDIATE
saw an excellent effort from
Mal Eden
who won six games and gained sufficient rating points to again be rated in Advanced, with
John Parker
and
Rob York
placing second and third respectively, both on five wins. The High Game award was won by
John
for a score of
498
, and the High Word award went to
Julie Alliston
for her play of
ZOOMS for 98
. Well done, Mal and everyone.
RECREATION
was the largest section, and
Mohammed Hegazi
played well to win six games and place first.
Norma Engel
and
Glenys Dettmann
both won five to take out second and third prizes, well done to all. The High Game award was won by
Lynne Goodinson
for her score of
459
, and the High Word award went to
Patrick Morgan
for his excellent find of
WRINKLY for 104.
Excellent
ratings gains
were achieved by several players -
Paula Messer +41, Angie Winkler +40, Jenny Brysha +36, Mohammed Hegazi +35 and Mal Eden +33.
Well done to all who played well, and commiserations to those whose day was not quite so rewarding!
The A.G.M. Tournament, November 22nd, 2015

Julie Alliston, our new player
who did extremely well.


Our other new player, Christine
McCann, well done, Chris.


Mary Morgan, our visitor from
Ireland, we enjoyed her visit!


Lainie Mercieca v Geoff Wright,
a tough match in Masters


A challenge in Intermediate -
Mardi Healy plays Betty Egan

Sixty-two keen players
arrived in good time to play in this 6 game event, and we welcomed
Mary Morgan
from Ireland - Mary played the auxiliary tourneys in Perth and followed up with a visit to Melbourne, and will next play in Sydney. It was lovely to have you visit, Mary! We also welcomed two new players who thoroughly enjoyed their first tournament experience -
Julie Alliston
arrived with husband Patrick Morgan and had a great day, winning Recreation and achieving an excellent provisional rating. Well done, Julie!
Christine McCann
also had a good day, but sadly have to leave early, before the last game - Chris has assured me she'll be back, and we look forward to seeing you both again soon, Chris and Julie.
The Annual General Meeting
of the Victorian branch of the Australian Scrabble Players Association took place after Game Four, and
Barry Harridge
stepped down from the Committee, with his place being filled by
Nick Ivanovski
. Thanks for your time on the Committee, Barry, and welcome to you, Nick. Other positions remained unchanged - President Carol Johnsen, Vice-president Norma Fisher, Public Officer/Secretary Gwen Lampre and Treasurer Mal Eden. General Committee Members are Natasha Podesser, Trevor Halsall, Rob York, Marj Miller, and as mentioned Nick Ivanovski.

The Recreation players - Fintan
Conway, Marisa Nuccitelli, Patrick
Morgan &amp Julie Alliston


Intermediate: Glen Chandler,
June Valentine, Mal Eden, and
Mardi Healy

The clean sweepers in Advanced:
Angie Pearse and Dianne Gibson -
absent is Lorraine Thomas

Masters Magic: Lainie Mercieca,
Trevor Halsall and Nick Ivanovski, with
his several prizes
Now to news of the Tournament:
RECREATION
saw 26 contestants competing, and as mentioned
Julie Alliston
emerged victorious, ahead of
Fintan Conway
and
Patrick Morgan
. All three were separated by margin alone, with all three finishing on five wins.
Marisa Nuccitelli
played a brilliant game to score
508
and win the High Game Award, and
Marjorie Clark's
play of
HOODIES for 95 points
won the High Word Award.
INTERMEDIATE
also had a good number of players, with 18 taking part. At the end of the day
Glen Chandler
claimed first place, winning five games and finishing just 11 margin points ahead of
June Valentine
, also on five wins. Third place was filled by
Mal Eden
on four wins, and
Mardi Healy
cleverly scored
546
points to take home the High Game Award, the highest overall for the day. The High Word Award went to
Carol Mascitti
for her excellent play of
NEEDIEST for 113 points
, also the highest recorded for the day. Well played, Mardi and Carol!
ADVANCED
saw just eight players competing and
Angie Pearse
was dominant, winning all six games, the only section winner to do so.
Dianne Gibson
and
Lorraine Thomas
filled second and third places respectively, both with four wins.
Angie
also received the High Game Award for her score of
498
, and
Dianne
played
JANGLED for 106 points
to win the High Word Award.
MASTERS
saw ten players competing for the honours, and
Nick Ivanovski
stepped up to take first place on five wins, followed by
Lainie Mercieca
on four wins (Lainie was playing a section higher than usual, and had a great day!). Third place was filled by a lightly moustachioed
Trevor Halsall
(four wins) who is taking part in the annual fundraising initiative "Movember". As visible in the photo Nick also collected the awards for High Game -
545
- and High Word
UNTAXED for 96 points!
Well played everyone, we congratulate you all on your achievements!
To see the full results of the A.G.M. Tournament click
here
Go to the top
The new World Champ is Wellington Jighere from Nigeria, and we congratulate Wellington and the runner up Lewis MacKay from England on their great performances. For full details click here, and to take you directly to the results click here
The inaugural WESPA World Scrabble Championship
was held over five days from November 4-8 at Gloucester Park in Perth, Western Australia.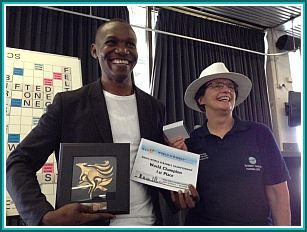 The WESPA World Champion, Wellington
Jighere from Nigeria was absolutely delighted
with his win. He is seen here with Tournament
Director Wilma Vialle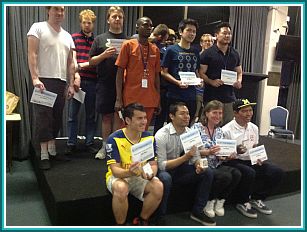 Many top players and award winners from
the Championship here - top row, second
from left - Cameron Farlow, Australia
11th, and in the front row - Esther Perrins,
Australia, 3rd
It was a busy week for Scrabblers in
Perth
and
Australia
in general, with a huge amount of organisation and hard work needed to get the main event up and running, together with the
Last Chance Qualifier
and the three side tournaments which ran concurrently with the
World Championship, in which 130 players competed
. In the best-of-seven final Wellington defeated Lewis 4-0.
The Last Chance event
(64 players) saw the following players qualify to take part in the WESPA Championship - Hassan Hadi Khan, Lawson Sue, Paul Kalumba, Tariq Pervez, Wimal Fernando, Akkarapol Khwansak, Karen Richards and Mariam Arif. Well done to all on qualifying!
The three-day Open event
(121 contestants) was convincingly won by
Chollapat Itthiaree
on 22 wins from
Tony Hunt
on 19 wins, followed by three players on 16 wins.
The Saturday one-day event
(116 competitors) was also won by
Chollapat
, half a game clear of the rest. For the
Sunday Open
many players who had played the first four days of the Championship joined the field, with 154 taking part.
Jakkrit Klaphajone from Thailand
finished a game clear of
Mark Nyman (England), Ayorinde Naidu (Nigeria), Waseem Khatri (Pakistan), Martin Teo (Malaysia) and Ryan Sutton (Australia)
, all a game behind Jakkrit.

International Open Winners - Weera Saengsit
THA 5th, Tony Hunt AUS 2nd, Chollapat Itthiaree
THA 1st, Goutham Jayaraman SGP 3rd, &amp Cedric
Lewis MAL 4th.

Glenys Lawrie &amp the Saturday Open winners -
Rocky Sharma AUS 4th, Goutham Sayaraman SGP
5th, Chollapat Itthiaree THA 1st, Lynne Butler
NZ 3rd, Cedric Lewis MAL 2nd.


Many award winners after the Sunday Open -
includes Junior winners &amp Ratings Band winners
Rocky Sharma, Keri Heart and Carmel Dodd, and
Senior Award winner Tan Jin Chor

The Champs Runner up,
Lewis Mackay, England

Tony Sim SGP, Norma Fisher AUS,
Nigel Richards NZL

Best senior player twice, Tan
Jin Chor MYS, with TD Colin Lim

AUS Champs competitors, Alastair
Richards &amp Naween Fernando
Thanks to everyone
who contributed to the success of these amazing events, you are too numerous to mention but you know who you are! Well done to you all!
Yay! The WESPA World Championship starts in Perth on November 4!
Here are our fourteen Australian players including their state of origin, in no particular order, who have worked hard to qualify for this wonderfully challenging event! Well done, everyone, and good luck!

Russell
Honeybun: WA

Andrew
Fisher: Vic

Peter
Kougi: Vic

Esther
Perrins: NSW

Richard
Jeremy: ACT

Mythili
Rudra: Vic

Bob
Jackman: NSW

Alastair
Richards: Qld

Cameron
Farlow: Qld

Daniel
Piechnick: SA

Trevor
Halsall: Vic

Rod
Talbot: NSW

Ron
Baginski: Qld

Naween
Fernando: Vic
The Langwarrin-Cranbourne Annual Scrabble Tournament ~ October 2015
The Vale Park Community Centre in Cranbourne was the venue for this year's Annual Challenge, Langwarrin v Cranbourne Clubs. The format is 2 teams of 9 players with each team divided into 3 sections of 3. Each member plays the opposing 3 in their section [27 games in total]. This Challenge originated in 2007, when David Baker who was running Dandenong Club at the time, and Geoff Gittus from Langwarrin decided that their 2 clubs should play for a perpetual trophy each year.
When Dandenong Club closed in 2009 Katie Rowe started up the Cranbourne Club and the tradition has continued since. This year's event proved most exciting with Cranbourne winning the majority of the early games, but Langwarrin came home with a withering run.
Final results were 13 1/2 games each, courtesy of a tied game between Irlande Alfred and Pat Judd. As Langwarrin won last year they will retain the trophy until next year. High Game was won by Ray Alford with 510, High Word by Mardi Healy for "Zaniest" worth 107. A big thank you to Elaine Capewell and all the Cranbourne members for delicious snacks. Talk about food for thought! A most enjoyable night indeed!
The 2015 Matchplay Knockout Results - Congratulations, Nick Ivanovski!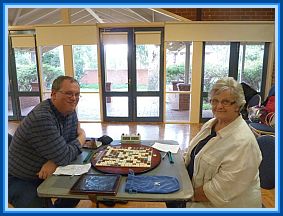 The overall winner Nick Ivanovski is seated
on the left, during his semi-final win over
Marj Miller at the Balwyn Scrabble Club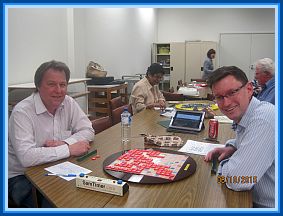 The eventual runner up, Trevor Halsall, is
pictured at right during his semi-final with
Geoff Shepheard at the Nunawading Club
The final outcome - in the
best-of-nine Final
, event organiser
Nick Ivanovski
defeated
Trevor Halsall 5:3
. Many of the games were close, so it was a tough day's Scrabble for both Nick and Trevor. The boards are available on Facebook, on the Scrabble Victoria site, and there are some great plays - click on the Facebook link at left to find them.
The
Semi-finals
took place in September/October:
Nick
was too good for
Marj Miller
in a very pleasant afternoon session at the Balwyn Scrabble Club, well played, Nick. In the Halsall-Shepheard match,
Trevor
emerged the victor despite strong opposition from
Geoff
, which included a drawn game. A great effort,
Geoff Shepheard!
This match was partly played at the Nunawading Club, thanks for hosting,
Cheryle Jerram
.
Thanks to everyone who took part, including those who supported the
Matchplay Kickoff
event in July, and the four unmentioned
quarter-finalists
-
Lainie Mercieca, Lynn Weaver, Mythili Rudra and Rob York
, your participation was of great importance to the success of the event!
Thanks to Nick
for running this event - Nick is already making plans for the 2016 Kickoff Tournament, scheduled for July 17!
Here are links to the final games, posted on Crosstables....

Trevor Halsall 3
Nick Ivanovski 3
Mythili Rudra 1
Marj Miller 3
Lainie Mercieca 0
Lynn Weaver 1
Geoff Shepheard 3
Rob York 1
Trevor Halsall 4.5
Geoff Shepheard 2.5
Nick Ivanovski 4
Marj Miller 1
Trevor Halsall 3
Nick Ivanovski 5
Fun (but no win for Victoria!) at the S.A./Victoria Challenge ~ October 17/18, 2015
| | |
| --- | --- |
| The happy South Australian Team - they say winners are grinners! | The Victorians, at this stage still hopeful! We almost made it.... |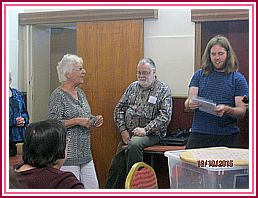 The overall Individual Winner Norma
Fisher, with Barry Harridge and
Oliver Jenner-O'Shea
This annual event was full of excitement from the beginning, with the team tallies changing constantly throughout the ten games played - seven on Saturday afternoon/evening, and three on Sunday morning.
In the final count South Australia finished a game ahead of Victoria, 115.5 games to 114.5....a triumph for the South Aussies, and rather disappointing for the Vics! 25 Victorian players and 23 from South Australia took part, with all games played between the two states counting towards the final outcome.
Running concurrently with the Teams Challenge was an individual event, and the clear winner of this was Victoria's Norma Fisher, who won all ten games against all comers, with South Australians filling the next four places - Michael Cameron (9), Adam Kretschmer (9), Trevor Tao (7) and Antony Kimber (7). Well done, all.
Rating band prizes were awarded to the highest rated players who started the event on a rating 1018 or lower, and this prize was won by Rob Marotta from South Australia - he is pictured on the right of the SA photo, well done Rob! Second and third rating band placings went to Marilyn Evans and Adam Kauschke, both from SA, a good effort from all.
The overall High Game for the day was played by Adam Kretschmer who scored 611 points, and the High Word went to a delighted Emanuel Atsas who played REWAXES for 123 points, well done to you both.....
Thank you to the organisers from South Australia, next year it's Victoria's turn to do the work, and we look forward to hosting again in the lovely rural city of Horsham in Western Victoria.
To see the full results of the Border Challenge click
here

Trevor Tao leads the South Australians
in their victory theme song.......

On Saturday, a lovely stopover in St
Arnaud - Carol Johnsen &amp Lina Camilleri

Two of our Victorian players, Betty Egan
and Dianne Gibson

Our host Frank at
the White Hart Hotel

Go to the top
The Annual Mount Martha Tournament (and feast!) ~ October 11, 2015
Here is a wonderful tournament report from organiser Julie Belle, it was a lovely day out indeed!
Today marked the
9th annual Mt Martha tournament
held back at the favoured venue of the Mt Eliza Community Hall. It was great to see nearly fifty friendly faces who came from far and wide to attend our tournament on this sunny Sunday. A few glitches were quickly overcome in the morning and then it was smooth sailing with computer whiz Carol at the helm! (Many, many thanks Carol!)
| | | |
| --- | --- | --- |
| Welcome back, Chelaka! | Dad Krish and Meghna | Pranav with mum Shubha |
We welcomed some new faces:
Chelaka Paranahewa, Meghna Nagarajan and Pranav Srivatsan
, all taking part in junior scrabble and preparing themselves for future junior scrabble championships around the world. Thank you for joining us and good luck with those events in the future. Thank you also to your lovely parents who helped us throughout the day with packing up etc.

Recreation Wreckers! Mark Whiting,
Janet Matthews, Latha Weerakkody,
Marisa Nuccitelli &amp Lynne Goodinson

Intermediate's good players!
Dorothy Rice, Mal Eden, and Oliver
Podesser

Sylvia Galloway plays Janet
Bau, with Brenda Thurgar and Mal
Eden on Table 10

Glen Chandler plays Stephanie
Saunders in the foreground, and
Mark Whiting plays Latha Weerakkody
Other newer faces included the
Whiting brothers: Tim and Mark
...lovely to meet you both and we welcomed back
Lynne Goodinson
who proved that she still had it, taking out the
high game
award in
Recreation
with a great score of
534
...well done Lynne.
High word
in Recreation went to
Marisa Nuccitelli
for
'squailer'
awarding her
104
well-earned points.
Congratulations to
Janet Matthews
who was well and truly surprised to hear that she came 3rd, good work! Newcomer
Mark Whiting
is swiftly moving up the ladder taking out second place in
Recreation
and the top spot of first place went to
Latha Weerakody,
both on 5 wins.
In
Intermediate
today
Heather Iapozzuto
had a great
high word
with
'squaddy'
for
99
points and the start of a good day for
Mal Eden
saw him win high game for
504
points. Well done to
Oliver Podesser
who came 3rd ...hope you managed to get through the night shift at work tonight after such a big day! Second place went to
Dorothy Rice
on 5 wins and
Mal Eden's
great day continued with 1st place also on 5 wins...congrats to you all.

The Daunting Talent in Advanced!
Rob Hutchinson, June Valentine
and Geoff Shepheard

Masters winners, mostly in blue!
Marj Miller, Gwen Lampre &amp Norma
Fisher, with Geoff Wright behind


In the foreground Angie Pearse
plays Frank Csarics, with Ray Alford
playing Sandra Masel


Geoff Shepheard does battle with
Wayne Stoyan, and Natasha Podesser
plays Dianne Davis

On to
Advanced
....it was great to see
Janet Bau
at her first Mt Martha tournament and great to see that she also took out
high game
for
506 points. Geoff Shepheard
impressed with
'firmest'
for
102
points to take out high word. It was a trifecta finish in
Advanced
with all
3 contenders on 4 wins
. Third place went to
Rob Hutchinson
...well done Rob... and it was a happy car pool going home with
Geoff Shepheard
in 2nd place who very kindly gave
June Valentine
a lift to the tournament ...and June came 1st!
In
Masters
today
Geoff Wright
won the highest high game of the day with
538
points just pipping Recreations' Lynne Goodinson's high game score of 534! Well done
Frank Csarics
on 'receiving' 106 points for...
'receive'
! Good to see that
Gwen Lampre
came 3rd in Masters...especially after making such a great long distance effort to make it to our tournament:) Also great to see that
Marj Miller
and
Norma Fisher
took out 2nd and 1st place respectively, well deserved...and as always all your behind the scenes help with the tournament is much appreciated.

Some of the great Mt Martha cooks!
Heather Iapozzuto, Edith Wilson, Marj
Barnes, Julie Belle &amp Gloria O'Loghlin


Meghna Nagarajan plays Pranav
Srivatsan, with Marisa Nuccitelli
playing Gloria O'Loghlin

Table 20 - Geoff Gittus plays Lynne
Goodinson, &amp Chelaka Paranahewa
plays Del Stitz

Tim Whiting plays Fay Boxshall
on Table 21, with Mt Martha's Marj
playing Marjorie Page

Speaking of behind the scenes help ... that is my lead in to once again send out a huge and hearty thanks to the tireless efforts of all the
ladies at the Mt Martha Scrabble Club
who were all up bright and early baking, cooking, making sandwiches etc so all the goodies on offer would be fresh and delicious! (Including from members unable to make it on the day).
Their contributions to the lucky door prize raffle (won by
Sylvia Galloway
... well done!) and also the high word/high game prizes were very much appreciated. Special mention has to go to Heather Iapozzuto's daughter's friend...who is a keen crocheter ...and very kindly donated two of her hand made, beautiful crocheted blankets. All up a lovely day...thanks for coming and we look foward to welcome you next year for our 10th tournament, which will also be held on the second Sunday of October at the same venue. Many thanks, Julie:)
On behalf of all who attended we thank Julie and the Mount Martha members for a lovely tournament, and all the lovely goodies which were appreciated by all! The Club meets on Tuesdays at 1.00pm in Room 5, Mt Martha House, at the corner of Dominion Rd and The Esplanade - new players are always welcome, so drop in any Tuesday arvo!
To see the full results of the Mount Martha Tournament click
here
Seniors' Scrabble Fun Day Out ~ October 8, 2015 at Mount Waverley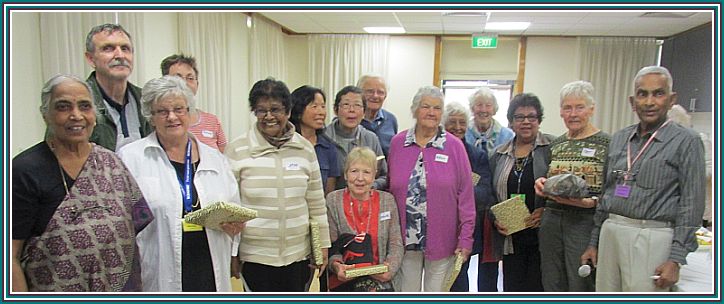 The 2015 Workers and Winners: Sita Dasika - Hard Worker; Oliver - Bulbul; Marj - Apostlebird; Julie A - High Game Award; Latha - Cockatoo; Teresa - Finch; Laura - Drongo; (Seated) Julie O'C - Emu; Harold - Ibis; Elsie - Galah; Sally - Honeyeater; Mary - main door prize; Marie - High Word Award; Pat - extra door prize; and Tam Dasika - Organiser and Hard Worker

This very pleasant day was enjoyed by almost 50 enthusiastic senior players, and was very capably organised by Tam Dasika and his wife, Sita - thank you both. Also thank you to those who assisted in many ways on the day! A big thank you must go to the Department of Ageing via their representative Chris Reidy for their generous funding of this event which allowed the day to be completely free of charge for all who attended. Lunch was extremely enjoyable, with lovely fresh Subway rolls, hot pastries, fresh fruit, dips and cakes.

Tam addressing the players - thanks for
all your hard work, Tam!


Norma Fisher checking the scores, with
June Valentine and Lina Camilleri

Cheryle encouraging everyone to take up
tournament play, with Oliver and Latha

Players were divided in to nine groups of four or six, and the sections were named after birds, a popular choice. Three games were played, and all sections saw some excellent play, with the High Game score advancing rapidly from 541 to 556 and finally 576, played by Julie A - well done, Julie. An amazing find by Marie D'Rosario saw her take advantage of an opening made by her opponent June Valentine to play the 9-timer REVOICES for 176 points! Brilliant play, Marie!

Players waiting for the presentations
in the pleasant playing area

The board showing REVOICES, the word
which scored 176 points


Marie D'Rosario and Paula Messer, enjoying
catching up with each other
Thank you to all players who came from far and wide to ensure the day was a success, and from comments made it would seem that many are already looking forward to next year's event!
Go to the top
~ The Annual Essendon Tournament, September 27, 2015 ~
Thanks to our very capable Tournament Organiser Rob York for the following excellent report:
The 2015 Essendon Scrabble Club Tournament and Chocolate-Fest
has been another successful event in the Victorian Scrabble calendar, with a total of 56 players. Of particular note is the return of
Graeme Jones
from Seymour, after a 3 year hiatus from Scrabble in Victoria, and the participation of
Audree Clifton,
as our Standby player! Despite a couple of dropouts and administrative errors, we managed to start close on time, and all play was completed by 5.30pm.

Recreation: Cynthia Cook, Elize Plaganyi,
Faye Leeder, Balada Catanchin, Mohammed
Hegazi


Happy in Intermediate: Tournament
Organiser Rob York, Oliver Podesser,
John Parker & Diane Stoyan


Eyes down after lunch, at the start
of Game Four - Marjorie Clark plays Norma
Engel, from the Essendon Club

In
Recreation,
from a field of 22, the winner was
Elize Plagányi
with 6+347, second was
Mohammed Hegazi
5+422 and third was
Balada Catanchin
5+145. The High Game went to
Faye Leeder
(457) and High Word was split between
Cynthia Cook (SQUEAKS)
and
Dorothy Hunt (PILCHERS)
both 101. In
Intermediate,
the field was bolstered by 3 hopeful play-ups - Elizabeth McKean, Glenys Dettmann and Latha Weerakkody; alas, their respective attempts were all thwarted. With 4 players on 5 wins, the placings were determined by margin; first place was taken by
John Parker
5+320, second was
Diane Stoyan
5+199 and third was
Oliver Podesser
5+179. Of note, Audree Clifton was 5+163. High Game went to
John Parker
(489) whilst High Word went to
Rob York (STRAFED)
for 102.

Advancing upward - the Advanced winners!
Angie Pearse, Lynn Weaver, John Rider


Masters Magic - Carol Johnson,
Peter Kougi and Norma Fisher


Happy Birthday celebrations for Rob York,
thanks to Lainie Mercieca for the cake!

With a field of 10,
Advanced
was won by
Angie Pearse
5+201, with
Lynn Weaver
in second 5+21 followed in third by
Mary McMahon
4+639, who also took out High Game (551).
John Rider
picked up High Word with
PANTILES
for 122. In the
Masters
section, out of 12 players the winner was
Peter Kougi
6+342, with
Andrew Fisher
in second place 5+462 and
Norma Fisher
in third 5+146.
Andrew Fisher
also picked up the High Game with a whopping
612
, and
Carol Johnsen
found
SNUFFLIER
for 110.

The hard-working members of the Essendon
Scrabble Club! Thank you all!


Mal Eden and Tam Dasika about to play,
with Graeme Jones next to Mal


At Table One, after a good morning's
play - Carol Johnsen and Norma Fisher

A big thankyou
must go to the members of Essendon SC (Peanut Butter Cookies!!) as well as Marj Miller, Norma Fisher and Carol Johnsen for all their assistance, and a huge THANKYOU to
Jen
in the kitchen! See you all again next year! Rob Y.
Also of note were some excellent ratings gains, namely
Elize Plaganyi +64, Norma Fisher +56, Balada Catanchin +42, John Parker +36, and Lynn Weaver +32
, great results all!
To check the full results of the Essendon Tournament click
here
The Geelong Tournament ~ September 13, 2015

One of our new players on the
day, happy Robyn Cooper from
the Ballarat Club


Tim Guidera travelled from Horsham
with friend Dieter Jadamski, and
enjoyed his first tournament


At left, organisers Marlene Ellis and
Anne Menheere, with Marjorie Clark
and Glen Chandler


Carole Eden plays Mohammed
Hegazi, with Latha Weerakkody
playing Elizabeth McKean
This year's event, held in September rather than November as is traditional, took place in a spacious room at
The Sphinx Entertainment Centre
in North Geelong, and the general opinion of the players was that it was a great place to hold a tournament! Continuous tea and coffee were available all day, lunch orders were taken prior to Game Two and our meals were served quite promptly before Game Three, and most were happy with their choice and the service. We were able to be seated at spare large round tables which led to a convivial atmosphere at lunch, very companionable indeed.
Forty contestants
took part, divided into four divisions, and as always the competition was fierce! We welcomed two new players who settled in to tournament play very comfortably,
Robyn Cooper from Ballarat
, and
Tim Guidera from Horsham
- both won four games of the six played, and finished third and fifth respectively, well done to you both on these amazing results.
A great deal of organising had been done by Geelong Club Coordinator
Marlene Ellis
with help from
Mary McMahon
and
Anne Menheere
, thank you all, and thanks to
Mary Mackie
for filling in as the standby player - well done everyone.

Division A:
John Rider, Heather Long,
Geoff Wright, Jenny Brysha


Division B: Doug Ristic,
Paula Messer, Sandra Masel,
Rob York, Don Marshall


Division C: Anne Menheere,
Dorothy Barraclough, Betty
Egan and Norma Engel

Division D:
Robyn Cooper, Latha Weerakkody,
Elizabeth McKean

Division A
saw
Geoff Wright
victorious on five wins, followed by
Heather Long
and
John Rider
, both on four wins.
Jenny Brysha
won the
High Word Award
for her great score of
492
, and the
High Word Award
went to
Heather Long
for her play of
LEVIRATE for 86 points
- I missed this on the result slip early in the day, and I apologise to Heather and all Division A players for this oversight.
Division B
saw great play from
Sandra Masel
who won all six games, a great achievement and a very satisfying one for Sandra! Two happy gentlemen filled second and third places on four wins, namely
Rob York
and
Doug Ristic
. Veteran Geelong player
Don Marshall
scored
490
to win the
High Game Award
, and the prize for
High Word
went to
Paula Messer
who played
STICKED for 91 points
.
Division C
produced another 6-game winner, namely
Betty Egan
who overcame all challenges, well done, Betty - tiring but worth it! Second place went to local player
Dorothy Barraclough
on four wins, with
Anne Menheere
, also a local, in third place on three.
Norma Engel
won the
High Game Award
for her score of
473
, and Anne played
TAXINGS for 117 points
to win the
High Word Award
, the highest across all sections for the day.
Division D
was won by
Elizabeth McKean
who scored five wins, followed by
Latha Weerakkody
who also won five, with new player
Robyn Cooper
third on four wins, a commendable effort indeed.
Del Stitz
scored
455
to take home the
High Game Award
, and
Elizabeth
scored
87 for SITTING
to collect the High Word Award.

From the left: Sandra Masel,
Don Marshall, Dieter Jedamski
and Rob York


Val Martin from Ballarat plays
Marisa Nuccitelli, with Robyn
Cooper playing Eileen Mills


Balada Catanchin plays Elize
Plaganyi, with Del Stitz playing
Tim Guidera


Norma Fisher does battle with
Heather Long, with Mary McMahon
playing Kris Howat

Wonderful ratings gains
were achieved by
Sandra Masel +56, Betty Egan +54, John Rider +39, Latha Weerakkody +38, Elizabeth McKean +29 and Rob York +28
. Congratulations to all who collected prizes and achieved ratings gains, well played indeed!
To see the full results of the Geelong Tournament click
here
Vale Gianna Devcic ~ September 12, 2015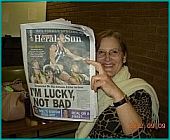 Gianna at Travel Scrabble
at Cowes, in 2012


Gianna in 2009,
at Halls Gap
Sadly Gianna passed away on Saturday September 12th, at the Royal Women's Hospital in Carlton. Gianna had been fighting cancer for quite some time, but nevertheless many were surprised by the news of her death. Gianna had been a popular and loyal member of the Essendon Scrabble Club for many years, and a regular contestant at tournaments, playing her last one in September 2014. She was also a keen bushwalker, sharing this activity with some of her scrabble friends. Gianna also loved Travel Scrabble Group trips, and quite often attended with her sister Marisa. Gianna will be missed by her many friends and her family, and a Memorial Service will be held at a later date. RIP, Gianna.
Go to the top
The Australian Masters & State Team Challenge ~ September 5/6 2015
This great tournament, held at the RSL Burwood in Sydney, has been won by local Victorian player Naween Fernando, with fellow Victorians Andrew Fisher second and Peter Kougi third, great results for Scrabble in Victoria indeed. Our team came in sixth in the State Team Challenge, a great effort in a tough field.

The top three placegetters:
Masters Champion Naween Fernando,
with Andrew Fisher & Peter Kougi


New South Wales President Tony Hunt (left)
with the Champion NSW team: Ryan Sutton,
Rocky Sharma and Graeme Lock Lee


Our representative Victorian State Team:
Seated: Norma Fisher and Paula Messer,
with Carol Johnsen

Here is a report from Naween, with links to some games on Crosstables, and some photos of most of his opponents, some from earlier times! Thanks, Naween!
I had been preoccupied in recent weeks with various little things so much so that I had overlooked organising my flights and accommodation for the Masters until mid-August.
I followed up
Tony Hunt
to work out starting times to see if flying in on the morning of the event was possible and some preliminary calculations told me that it was workable. Accordingly, I decided to catch the early bird on the Saturday which would also allow me the extra night on Sunday to enjoy any unforeseen victory celebrations. Unfortunately temptation got the better of me on the Friday night and I eventually only got home just after 2am on the day of the event giving me around 3 hours sleep.
Luckily the flight got in on time and a swift cab ride plus a generous tip from the airport to the playing venue, the Burwood RSL, ensured I arrived ready to play and on time. I hadn't revised any words for months, except the week before when I went through some of the basic new words. However a practice session with some of the country's best that week, I felt, stood me in good stead.
Game 1
and I was drawn to play
Edward
. For those keen to play through the game, it is available below.
I felt I played fairly solidly with no major errors. Move 22 was critical with around 4-5 minutes left to work out what appears to be 1 of the 2 winning plays. The penalty for FOCALLY here put the game out of reach for Edward.
Game 2
and my draws weren't getting any easier – I was matched up to play the
National Champ, Peter
. I seemed to have the game under control until Peter managed to find a bingo onto a C in eighth position. Despite what appears to be a forgone conclusion, Peter needs to find one of three winning plays with about two minutes on the clock. The full game can be viewed here:
Game 3 – Carmel
- I was able to claw back after Carmel bonused early. However a couple of late bingos from her cut my lead down.
Game 4 – Esther
- Took a while to get going, but had some good opportunities in this game which I was able to capitalise on. You can see what I mean here:
Game 5 – Richard
had bingoed out to win against me at the Nationals with the brilliant AIRPROO(F). So when I opened with FARL, he aptly noted that the F was just what he needed to make APERITIF. Luckily for me he was only reminiscing about cocktails and I was able to hang on to a lead through to the end.
Game 6 – Michael M.
– Again managed to hold on to an early lead in this game and a late bingo sealed it. Was pleased to get down the now acceptable JURES in this game.
Game 7 – Michael C.
– Michael managed to get down E(B)ONITES for 140 in this game but I had already managed 4 of my own including FUDGIER+ on my first rack, so held on to a comfortable win in the end.
Most of my opponents on the first day:

Edward
Okulicz

Peter
Kougi

Carmel
Dodd

Esther
Perrins

Richard
Jeremy

Michael
McKenna

Russell
Honeybun

Mythili
Rudra

Karen
Richards
Game 8 – Russell
- A crucial error in this game in not challenging off a phoney eight cost me dearly. Was able to claw my way back into the game, however whilst we both had promising racks towards the end, Russell was able to capitalise early and managed to fall over the line.
Game 9 – Mythili
– Felt like I should have won this one quite comfortably with LAITIES, DILUTEE and (U)NEXOTIC but Mythili was able to get A(V)IATORS plus HAJ (58) and ZIGAN (89) to make a game of it. I was just able to exhaust the bag of tiles and extinguish the flames as she came storming home.
Game 10 – Karen
– I hadn't played a game like this in a very long time, so it was nice to experience it again. We exchanged early bingos – PREA(D)ULT for me (missed the other option with AELPRTU?(1) for 3 more – beginning with a P), while Karen got down MO(U)LTERS. It was the classic get in front stay in front scenario….. this was a style of play I was quite familiar with from my younger days and I regard myself as an expert in this style, perhaps only second to
Geoff (Wright)
in the country. The endgame revolved around volunteering to get stuck with the Q however denying the opponent the pleasure of acquiring the additional ten points by ensuring they were trapped with a similar stick, albeit them being one pointers, a blank and an S.
Finished 8-2
for the day, and I was starting to feel quite sick and very tired. I immediately grabbed a quick bite and retired to the motel and tried to catch up on some much needed sleep and rest.
DAY 2:
Woke up the next day in a bit of a sweat – still having a bit of a headache but feeling much better than the night before.
First up was
Tony Hunt
– it appears that I seem to have missed my first bingo this game on the first rack AACORST (2), playing OCA instead! Luckily the tiles continued to be favourable to me and I still managed one of the old RETAINS bingos on the next go. The only other interesting piece of trivia from this game is that it appears Tony had the opportunity to play the five letter front extension of CONVERTS(3).
Next up was
Victor Tung
who didn't seem to be in the most pleasant mood after being drubbed by Peter by almost 300. Luckily I was able to maintain a constant lead thanks to DORKIER, PRESTED and ENGrACE(D). Victor got down sONDAGE and ROUTINES.
Game 13 – Rod
was umming and aahing after my opening play of ROUX. I was kinda hoping he had drawn drek and was going to change. Unfortunately he was tossing up whether to playing COA(X)INGS or not for 122. Much to my dismay he decided to do so and I threw in another 5 points for good measure as well. Surprisingly I was able to stay in touch for most of the game and I wasn't overly disappointed to go down by only 67 in the end.
At this stage Andrew was one game clear of Peter and I, on 11 wins but with only 6 games to go and the next best on 8 wins, was starting to look like a 3 horse race from the Spring Racing Carnival.
Game 14 – John
got off to an early lead and it was always going to be difficult after he got his second bingo. The full game can be played here, spot the phoney if you can:
Game 15 – Bob -
Another cracker of a game against Bob, with a nine, nine-timer and a clever endgame setup by Bob I had to be wary of to avoid defeat. The trick was ensuring that I kept ZA for insurance. Full game here:
Game 16 – Joanne -
A game where the tiles fell fairly straight-forward for me and largely error free, which was pleasing going into the business end of the event. Game can be viewed here:
My opponents on Day 2:

Tony
Hunt

Victor
Tung

Rod
Talbot

John
Holgate

Bob
Jackman

Joanne
Craig

Trevor
Halsall

Andrew
Fisher

Cameron
Farlow
Game 17 – Trevor
A fairly even game until I had a good flow midgame with LOT(TE)RIES, VESpIAR(Y) and ZO(O)EA(E) for 70. Trevor had DArIOLE and EXACT the only other notable score for 47.
Game 18 – Andrew
I basically had to win this game to have any chance at the title. Game can be viewed here:
Game 19 – Cameron
All I had to do was win this game to guarantee the title….unless Andrew managed a huge win. This was the type of game where one started with AVIONIC, played AaSVOGE(L) onto a triple with the V on the double and got down HUSTLeR for good measure. Cameron got down LACUNOSE and EUGARIE and tried a desperation (FLEX)IEST* which came off but it was all over by then.
It was interesting how the draw seemed to pan out with me effectively playing off for the title in the penultimate game and then getting to have a crack against the outgoing Masters Champion in the final game.
A prize-giving ceremony
followed and as is generally the case with these high profile events, a round of drinks was shouted at the bar for the throngs of fans and players alike. I indulged myself in a few (very generously priced) rounds of Black Label and we then retired to one of the local restaurants at the venue for some dinner, trivia and gossipry. Very pleased to have a second Masters title under my belt.
Naween Fernando
Spoilers:
1) PUbERTAL
2) OSTRACA
3) INTERCONVERTS
To see the individual results of both events click
here
And to see how the Teams finished click
here
Go to the top
The Winter Pick Me Up Tournament ~ August 23, 2015
This was a pleasant tournament apart from a few early hiccoughs with the equipment, but after these settled down proceedings moved along quite smoothly. A total of
52 players
took part, including new player
Tim Whiting
who enjoyed the experience, winning three games and settling in to the scrabble scene very quickly. Well done, Tim!

Our new word book!

This was only the
second tournament in Victoria
at which the
"new" Collins 2015 words were in use
, and here are a few samples as they appeared on the boards:
EEW, CINQ(S), TIZ, XED, YER, and ZEDA!
How helpful will these (and all the other additions) be in attaining higher game scores? In my opinion, very helpful indeed!
Standby player Khwanjai Thammaping
was needed to compete to even up the numbers, and we thank Khwanjai and others who have recently offered to attend as the emergency player. Several of our contestants are heading to Sydney in early September to take part in the
Australian Masters and State Team Challenge
and we wish them good luck! There was also interest in final qualifying for the
World Championship in Perth in November
, but unfortunately
Mythili Rudra
was unable to improve her chances of playing in "The Worlds". Good luck in making it, Mythili!

The Masters Winners:
Geoff Wright, Nick Ivanovski,
and Trevor Halsall

Fun in Advanced:
Jenny Brysha, Kris Howat
and Bridget Halge

Inter gurus: Tam Dasika,
Liz McKean, Glen Chandler,
Diane Stoyan, Mal Eden

Great players in Rec:
Norma Engel, Lina Camilleri
Mary Mackie &amp Ann Goodwin
Masters saw
an interesting contest between the top contestants, with a couple of our Advanced players readily agreeing to play in Masters when asked. Thanks to
Julie Belle
and
Mary McMahon
for doing this, and well done to Julie for winning four games and gaining 35 ratings points! At the end of the day
Trevor Halsall
emerged the victor, winning all seven games played.
Nick Ivanovski
placed second on five wins, and
Geoff Wright
was third with four wins. The
High Game Award
went to
Geoff
for his score of
544
, and
Trevor
collected the
High Word Award
for playing
TELEXING for 101 points
. Well done, everyone.
Advanced
was won convincingly by
Bridget Halge
who was in excellent form winning six games, followed by
Kris Howat
on five, and
Jenny Brysha
on four. Happy
Jenny
ended with several awards, also collecting the
High Game and High Word Awards
for a game score of
484
and her wonderful play of
VAPORING for 158
. Good play, all.
Intermediate
saw
Mal Eden
(still on an upward roll!) win six games to finish in first place, followed by
Diane Stoyan
and
Tam Dasika
playng well and winning five games each to place second and third respectively. The
High Game Award
went to
Glen Chandler
for her great score of
501
, a difficult number to achieve.
Elizabeth McKean
(who used her Play-up Certificate to play in this section) made a lovely play of
BARRINGS for 158
to take home the
High Word Award
. Excellemt play, all....
Recreation
saw a happy group of sixteen take part (although I did hear one player say she had just been beaten by her ex-friend!) This was the most evenly contested of all four sections, with the top three finishers all winning six games!
First on margin was Norma Engel
, followed in turn by
Ann Goodwin
and
Lina Camilleri
, what a great contest, everyone. The
High Game Award
went to
Mark Whiting
for a great score of
481
, and
Mary Mackie
was delighted to collect the
High Word Award
for her lovely score of
101 for QUOTIENT
. Nice play, Rec players!

Table 1: Trevor Halsall v Lainie Mercieca,
Table 2: Nick Ivanovski v Jimmy Scarff

Concentrating in Intermediate: Mal Eden
plays Glen Chandler

Recreation players hard at work! Carole
Eden plays Lynne Goodinson

Our new player on the day, Tim Whiting -
we hope to see you again soon, Tim!
Exciting ratings gains
on the day were achieved by
Lina Camilleri +59, Bridget Halge +54, Norma Engel +47, Trevor Halsall +44, Ann Goodwin +43, Tam Dasika + 39, Mal Eden +36, Elizabeth McKean +36, and Julie Belle +35
.
Thanks to Nick Ivanovski for some of the photos, to everyone who helped in any way, and to all players for your patience and cooperation on the day, as Tournament Director it was really appreciated!
To see the full results of the Winter PMU tournament click
here
Go to the top
Victorian Country Championship ~ August 1, 2015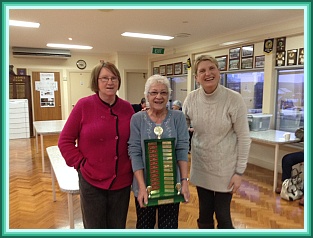 Heather Long (second), the new Country Champ
Norma Fisher, and Julie Belle (third)

Thank you to Norma Fisher for the following report, and congratulations on becoming the 2015 Victorian Country Champion!
Picturesque Daylesford was once again the venue for this year's Country Championship ably organised and run by TD Mary McMahon who was unfortunately unable to play. The weather was cool but the tournament atmosphere was warm and friendly - it really felt like we were having a scrabble party! The food in the Daylesford Bowling Club Bistro is always good (with generous serves) so we had a very enjoyable lunch break.
In Group A I squeaked in the win on margin (4 + 446) with Heather Long hard on my heels (4+127) and Julie Belle in 3rd place (3+302)..........my two losses were against Heather and Julie! I also took High Game (546) and High Word (88 for dartles). Mal Eden picked up 28 very well deserved rating points.
In Group B Dorothy Barraclough came 1st with 5+100, with Marjorie Clark in 2nd place with 4+358 and Robin Dettmann in 3rd place with 4+176. Robin also had the High Game of 445 and Kaye Campbell won the High Word prize (108 for scarlet). Robin picked up a 36 point rating gain for her day's efforts..........well done, Robin.
The prize of a deluxe scrabble board donated by Mattel was won by Cheryl Curtis – Mary had determined the prize would go to the lowest winning score..............congratulations, Cheryl! Once again, thankyou to Mary McMahon for her efforts in keeping the Country Championship alive , having picked up the reins from Clive Rutherford. Due to other commitments several regular players were unable to attend but having canvassed those present, Mary has determined that interest is still keen and that Daylesford would be the venue for next year's tournament.
To check the full results of the Vic Country Championship click
here

Group B: Robin Dettmann 3 &amp High Game, Dorothy
Barraclough 1, Marjorie Clark 2, Kaye Campbell HW


Kaye Campbell, Marjorie Clark, Cheryl Curtis
with her prize, and Maggie Solomon

Tournament organiser Mary McMahon with Dorothy
Barraclough &amp Marjorie Clark
The Matchplay Kickoff ~ July 19, 2015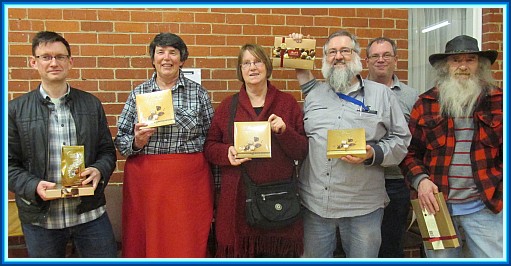 Six of the Top Eight Finishers on the Day! Trevor Halsall, Mary McMahon,
Heather Long, Rob York, Nick Ivanovski, Geoff Wright.
Missing - Mythili Rudra and Lynn Weaver. All but two of the above are
able to play in the ensuing knockout rounds.
The Annual Matchplay kick off tournament was a fitting finale for the CSW12 word list in Victoria, fielding one of the highest numbers for this format. It also was the first tournament I have run - and I am glad to say it was an enjoyable experience made easier by the support of the those on Committee and many other helpers throughout the day! Although I was not expecting to run and play, it did prove a nice distraction and a chance to get some tournament Scrabble in before the new list kicked in.
Those who finished 1-8 on the day received chocolate prizes with cash reserved for the 8 who have continued to the KO stages (you will see a fixture chart above which shows how it will pan out). August will see the QFs, September the SFs and the GF will be played out in October. The winner will take home $150, the runner-up $100, the losing SF players $40 each and the losing QF players $20 each.
Ratings band prizes were also available on the day, and along with the usual High Game and High Word, it meant that 16 prizes were able to be handed out - which certainly ensured the prize pool was shared by many on the day. Feedback for the day was positive - and I hope to be able to continue the tradition next year.... hopefully with a bumper attendance!
Thanks to Nick Ivanovski for this report, and for taking over the running of the Matchplay. To check the full results of the Kickoff tournament click
here
| | | |
| --- | --- | --- |
| Ratings Band winners | Ratings Band winners | Our refurbished room at Box Hill |

Busy helper Natasha Podesser, with
Tournament Organiser Nick Ivanovski

The prize table, with Scrabble sets
and lots of yummy chocolates!

Happy Lynn Weaver, who finished sixth
on the day and gained 60 ratings points!
Nigel Richards wins the 30th BRAND's Crossword Game King's Cup - July 2-5 2015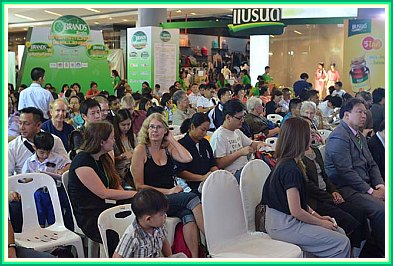 The audience during the finals - including Aussies Rod Talbot,
Russell Honeybun, Olga Visser and Dianne Ward
Sixty-six players competed this year, with seven Aussies finishing in various positions from 27th to 63rd. This tournament grows in strength each year as those who have visited before are keen to return to enjoy the experience - play takes place in a noisy shopping mall surrounded by many distractions, rather different from most tournaments within Australia!
There were several different leaders in a star-studded field over the course of the tournament, including Alex Tan (Malaysia), Komol Panyasophonlert (Thailand), Nigel Richards (New Zealand), Manop Phiphatboonserm (Thailand), Odette Carmina Rio (Philippines), and Ming Hui Hubert Wee (Singapore).
After 28 games the final was played between Hubert Wee and Nigel Richards - the system is interesting with certain conditions applying if both players are locked on one win each after two games - a third game is played with the winner then being the player with the highest overall margin.
The first prize of USD $10,000 was well worth playing for, and as things turned out Nigel won the first two games (567-515 and 545-392) so a third game wasn't required to decide the Champion. This win is Nigel's eleventh King's Cup victory, and this is an amazing achievement indeed!
| | | |
| --- | --- | --- |
| Nigel Richards with the Champion's Trophy | Nigel &amp Hubert at the end of the final | Hubert Wee accepts his Runner's Up Trophy |
The 2015 Youth Fundraiser ~ June 28
Fifty-four players gathered at Box Hill for a three-section seven-game tournament to raise some funds to support youth scrabble in Victoria, and we thank you all for coming and supporting the cause. With the assistance of a very generous donation from one of our members who was unable to play we raised
$531
while still awarding our "normal" cash prizes, well done and thank you everyone!

Our new players on the day, Gabrielle
and Harper Pestinger - both are looking
forward to playing again

Challenging games: on Table 1 Peter
Kougi plays Mythili Rudra, with Natasha
Podesser &amp Anand Bharadwaj on Table 2

Serious play - in front John Hamilton
plays Barbara Berlin, with Dianne Gibson
and Jenny Brysha at the next board
We welcomed two new players, mother and son team
Harper and Gabrielle Pestinger
, and it was great that we had a new junior player on this particular day. Both Harper and Gabrielle enjoyed the experience, and were delighted with the welcoming attitude and assistance provided to them by their fellow players.
We were also pleased to see
Anand Bharadwaj
playing a tournament during a break from his studies, great to see you, Anand, and
John Hamilton
from the Australian Capital Territory travelled by overnight bus to join us after directing a tournament the day before in the A.C.T. Good to see you as always, JJ!

Division A's clever people: Dianne
Gibson, Geoff Wright, Mythili Rudra
and Peter Kougi

Division B - great results for these
two very happy players - Mal Eden, with
June Valentine

The great gurus in Division C! Balada
Catanchin, John Metcalf, Elizabeth
McKean &amp Latha Weerakkody
Division A
saw a tight tussle between the winner
Peter Kougi
on six wins and
Mythili Rudra
, just half a game behind. Peter's only loss was against Mythili, whose record against Peter has steadily improved, particularly over the past few months. In third place was
Geoff Wright
who is always hard to beat, with two more players on five wins -
John Hamilton and Norma Fisher
. The
High Game Award
went to Peter for a score of
570
, and
Dianne Gibson
played
MALIGNED
for a brilliant score of
167 points
which won her the High Word Award.
Highlights in
Division B
saw
June Valentine
in fine form winning six games, and scoring
584 points
to achieve the
High Game Award
. June played five bonus words in this game:
TRAINED 70, MOTTLING 69, EARLIEST 70, BASTING 77, and BROWNING 67
. Well played, June! Second place went to
Mal Eden
who won five games, and third was
Paula Messer
with four wins, playing well after a fun time overseas.
Dorothy Barraclough
played
OUTSIZE for 95 points
to win the
High Word Award
, well done to all.
Division C
saw a great victory to
Elizabeth McKean
who won six games, with
Latha Weerakkody
and
Balada Catanchin
in second and third places respectively, both on five wins.
John Metcalf
, playing in just his third tournament, scored
463
and was delighted to win the
High Game Award
, and Elizabeth's play of
JABBERS for 123 points
was the best for the day, gaining her the
High Word Award
. Well done to you all, and thank you to all in your section for looking after Harper and Gabrielle so well.

Glenys Dettmann, back from an OS trip,
plays Lorna Patching, with Dorothy
Barraclough &amp Rob York next.

Happy players: Ann Goodwin, Judith
Westwood, Dorothy Hunt, Dianne Gibson,
Marisa Nuccitelli &amp Balada Catanchin

Our two helpers on the day: Jen, artist
and provider of sustenance, and Oscar, a
great help to the Director - thank you!
Excellent
ratings gains
on the day were achieved by
Faye Leeder +54, June Valentine +49, Elizabeth McKean +45, Mythili Rudra +44, Marisa Nuccitelli +34, and Angie Pearse +32
. Congratulations to all, well played indeed!
To check the full results in the extensive archive click
here
Go to the top
Victorian Players - The Greatest Rating Gain - June 2014~May 2015
This award is calculated from the beginning of June till the end of May the following year, and this year's worthy winner is Peter Kougi, who gained 184 rating points over the period and is now ranked third in Australia, a great achievment indeed, Peter!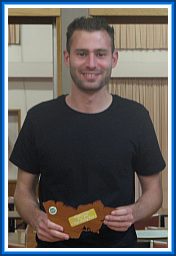 Peter Kougi - this year's
player with the Highest
Rating Gain in Victorian
Scrabble
Well done on the outcome of a hard year's work to all mentioned on the list below, and thanks to Barry Harridge who now works out the changes each year with a software program he has written for the purpose, much quicker than the old manual method. Thank you to Ellen Frajman for all the times you carried out that task, Ellen, it was appreciated.
| RANK | PLAYER | GAMES PLAYED | RATING CHANGE |
| --- | --- | --- | --- |
| 1 | Peter Kougi | 137 | 1872 + 184 = 2056 |
| 2 | Julie Belle | 104 | 1246 + 164 = 1410 |
| 3 | Dominica Krstic | 58 | 808 + 142 = 950 |
| 4 | Lainie Mercieca | 44 | 1312 + 130 = 1442 |
| 5 | Natasha Podesser | 186 | 1550 + 108 = 1658 |
| 6 | Glenys Dettmann | 95 | 916 + 108 = 1024 |
| 7 | Anne Bingham | 51 | 1113 + 100 + 1213 |
| 8 | Mary McMahon | 139 | 1310 + 99 = 1409 |
| 9 | Del Stitz | 67 | 570 + 93 = 663 |
| 10 | Angie Pearse | 122 | 1360 + 93 = 1453 |
The Annual Victorian Championship and Queen's Birthday Tournament ~ June 6/7/8 2015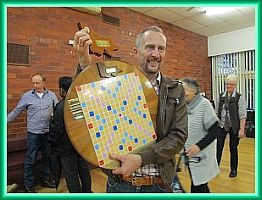 Andrew Fisher from Victoria, the 2015
Victorian Scrabble Champion. This was
Andrew's third Victorian title, a well
deserved win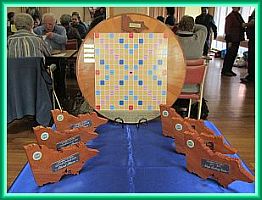 As per tradition, hand-carved maps of
Victoria were awarded down to third
place, and for High Game and High Word
This ran very smoothly under the guidance of
Tournament Director Carol Johnsen,
with 48 players taking part. Carol welcomed novice
Mark Whiting
who bravely chose the three-day Championship to start his competitive Scrabble career - well done, Mark! Also welcomed were eight players from
New South Wales
, six from
Queensland
, two from
South Australia
and one
overseas player
, our former Victorian player
Lois Binnie
who now resides in New Zealand. Best finishing from NSW was
Joanne Craig
who placed second (well done Jo!), from Queensland
Roberta Tait
sixth (a wonderful result for you, Roberta!), and from South Australia
Carmel Dodd
who finished twenty-ninth. Thank you all for supporting our Championship, it's always lovely to see you and catch up. Unfortunately the defending Champion Peter Kougi was unable to attend for the three-day event due to work commitments, but it was still a very strong field.

The Championship Winners: Esther
Perrins, Trevor Halsall, Frank Csarics,
Naween Fernando, Karen Richards,
Joanne Craig and Andrew Fisher

Naween Fernando checks in with two of
his fellow competitors from Victoria,
Dianne Gibson and Marisa Nuccitelli.
Thank you for helping, girls!

Day 1: Leader at the time Esther
Perrins from N.S.W. plays second placed
Mythili Rudra from Victoria, with Rod
Talbot, Naween Fernando &amp Trevor Halsall
Also present were thirty two from the host state
Victoria
, and amongst these was the eventual
Champion, Andrew Fisher
, who added the 2015 crown to his titles from 2007 and 2009.
Andrew won 18 of the 24 games played
, well done Andrew, a great result again. As mentioned
Joanne Craig
came in second, winning 17 after a rather slow start to the tournament, and in third place was
Naween Fernando
with
Trevor Halsall
fourth, both from Victoria and both on 16 wins.
Esther Perrins
from NSW placed fifth on 15 wins after leading the field earlier in the event, well done to all.
Karen Richards
played a brilliant game to score
647 points
and take home the
High Game Trophy and cash
, and during the first game
Frank Csarics
played
VAIRIEST for 149 points
to win the
High Word
for the Championship - nice play, Karen and Frank!
Excellent ratings gains
were achieved by
Khwanjai Thammaping +148, Arnold Appelhof +85, Mohammed Hegazi +74, Dianne Davis +63, Dianne Gibson +55, Geoff Wright +48 and Ivor Zetler +44
. Well done to all who did well, and to all who played over the three days.

Welcome to Mark Whiting, who played
his first tournament, won five games
and enjoyed the experience!

Day 2 - Naween Fernando and Trevor
Halsall analyse their game, with Esther
Perrins &amp Andrew Fisher

On a return visit - Lois Binnie, now
happily settled in Christchurch close to
where she formerly lived

The N.S.W. crew - Jo Craig, Esther Perrins,
La'Reine Lang, John Barker, Bob Jackman,
Rocky Sharma, Rod Talbot, Ivor Zetler

The players from South Australia -
regular visitors Rob Marotta and
Carmel Dodd

Competitors from Queensland ~ Roberta
Tait, Karen Richards, Paul Richards,
Robyn Corbel and David More
To find the full results of the Victorian Scrabble Championship click
here
THE QUEEN'S BIRTHDAY TOURNAMENT, JUNE 8 2015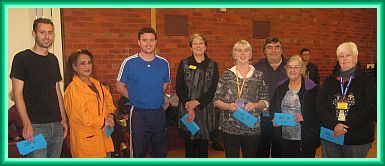 The Queen's Birthday Winners: Peter Kougi, Lynn Weaver,
Liam Gillespie, Carol Mascitti, Mardi Healy, Harry Malcolm,
Rena Aitken and Gayle Cameron
Thirty-eight players competed in this popular annual event, with Division A named after
Princess Charlotte
, and Division B after
Prince George
. Play started on time, in unison with the second game of the Championship for the day, and this timing worked well for the remainder of the day, with both tournaments completed in good time for presentations, celebrations and plane timetables etc. We welcomed the return of stalwart
Gladys Minihan
who enjoyed her day, as did
Dorothy Hunt
who hadn't competed since 2008.
Peter Kougi
swept all before him in
Charlotte Division
, winning all six games ahead of
Chris Scholten
on five and
Harry Malcolm
on four. Two players tied for the
High Game
, each scoring 527 - well played,
Peter and Chris
. The High Word Award was won by
Lynn Weaver
for her brilliant play of
IDOLATRY
, a nine-timer scoring
167 points
- great play, Lynn!
In
George Division Liam Gillespie
returned from a shortish break to win five games and the division, its good to see you back, Liam. Second place went to
Carol Mascitti
, and third placed was
Mardi Healy
, with both also winning five games - a very tight contest indeed!
Rena Aitken
was delighted to score 465 and win the
High Game Award
, and
Gayle Cameron
took home the High Word Award for her play of
FOUNDER for 90 points
.

Play under way - Mary Mackie, Dorothy
Hunt, Gladys Minihan and Norma Engel

Relaxing - Carol Mascitti, Rena Aitken,
Fay Boxshall, Dorothy Rice

Faye Leeder plays John Metcalf,
competing in his second event
Notable
ratings gains
on the day went to
Mary Mackie +40, Chris Scholten +35, and Kris Howat +26,
well done to everyone and we hope you enjoyed the day. Thanks over the three days go to
Carol Johnsen and the Victorian Committee members,
including standby players
Norma Fisher and Barry Harridge.
Thanks to Khwanjai Thammaping for the use of some of her photos, and to the many others who assisted in various ways, including
Rena Aitken
who managed the catering beautifully on Day One. Our caterer for Days Two and Three was unwell in hospital and we thank Jack Miller for his assistance with the kitchen work and many other duties, we couldn't get by without all the help we receive from so many.
To check the full results of the Queen's Birthday Tournament click
here
Go to the top
The Annual Cranbourne Tournament ~ May 24, 2015
Here is a report from Tournament Director
Katie Rowe
- thanks Katie, and thanks to your
Club Members
for their hard work and wonderful catering! The
Cranbourne Scrabble Club meets on Wednesday evenings under the guidance of Convenor Elaine Capewell
, and to find the details click
here
With some unexpected unregistered drop-ins, and several registered dropouts due to illness, the Cranbourne tournament began almost on time with 58 competitors playing in four divisions.
We were pleased to welcome three novices who started their careers in tournament play, and managed to win games despite the anxiety of clocks, score sheets, and challenges: two from the Cranbourne club - Trish Raal and Joanne Steiger, and John Metcalf who is not yet affiliated with any club. Another new player was Christie Godby whose only other tournament was at Tumut. And it was good to see one of our regular visitors from Queensland, Robyn Corbel, with us again.
It's interesting to note that in three divisions the 1st placegetters each won all seven games, a difficult feat at any time.


Happy prizewinners in Recreation:
Carol Mascitti, Rena Aitken and
Irlande Alfred


The clever players in Intermediate: Geoff
Shepheard, John Parker, Mal Eden, Christie
Godby and Glenys Dettmann


Prizewinners in Advanced: John Rider,
Elaine Capewell, June Valentine, Kris
Howat and Jenny Brysha


The Masters winners: Gwen Lampre, Peter
Kougi, Norma Fisher, Natasha Podesser and
Mythili Rudra

In Recreation, Carol Mascitti gained 54 points for her 7 winning games, Irlande Alfred was runner-up with 6 games and Dorothy Rice 3rd with 5 games. Dorothy also took home the prize for the high game of 479. Marisa Nuccitelli held the High Word score (Peanuts, 129) for most of the day until Game 5 when Rena Aitken slapped down UNPLACED for a massive 158 points to take home the prize. Mal Eden won the Intermediate Division with 6 games, followed by John Parker (5 games) in 2nd place and Geoff Shepheard 3rd. Glenys Dettmann's High Game score of 488 took the prize in this section, and Christie Godby played INBOXES for 91 points.
The 1st place in Advanced Section was won by John Rider with 7 wins, Jenny Brysha won 5 games for 2nd, and Elaine Capewell was 3rd with 4 winning scores. Kris Howat's High Game of 624 won a round of applause and the prize, and June Valentine took home the High Word prize for VARNISH 93. Peter Kougi was on fire again and won 7 games for 1st place in Masters. Gwen Lampre's coat of many colours drew many glances of admiration and avarice, and may have been distracting enough to put off her opponents; she came 2nd with 5 big wins, and Mythili Rudra was 3rd, also with 5 wins. Norma Fisher's High Game of 586 took the money, and Natasha Podesser's MAJORED (114) won the award in the section.
Cranbourne Club Members produced some scrumptious savouries, sweets and fruit, and worked in the kitchen between games to keep everyone contented. My special thanks to Marj Miller and Barry Harridge for help with the computers and printers, Norma Fisher for her help with everything, and everyone else who assisted in any way - it was appreciated.
To check the full results of the tournament click
here
Go to the top
Fun at Tumut for the Tri-State Challenge! May 2/3, 2015

The NSW Team ~ includes from left: Sunny Wright, Pat Schuberg, Raelene
Moon, Janine Whittaker, Tony Hunt, Kerry Constable, Joanne Craig, Sharon
Sorensen, Bev Sutton, Alison Pollard, Richard Birch, La'reine Lang, Colleen
Birch, Gary Pollard, Rene Chelton, Nonie English, Arie Holla, Rocky Sharma,
Bob Jackman, Liz Jackman

The Challenge Individual Award Winners ~
Liz Jackman, Bob Jackman (T.D.), Joanne
Craig, Norma Fisher, Tony Hunt holding
the Shield, Pat Schuberg, Eileen Mills,
Anne Schick and Marisa Nuccitelli

For the first time this event was held in sunny and warm Tumut at the foot of the famous Snowy Mountain range, and it was well organised by Bob Jackman and his team from New South Wales. Much assistance (and wonderful yummy fresh food!) was provided by the Tumut Scrabble Club members, including Bev Sutton who played in a formal tournament for the first time and acquitted herself well indeed. Victoria were joined by novice Christie Godby, who also did very well. Christie is an experienced online player, and this stood her in good stead for her first venture into face-to-face Scrabble. Well done to you both! The venue was changed from the R.S.L. Club to the Tumut Golf Club, and we thank the Club for their excellent and friendly service, it was appreciated by all. Many of the Victorian players travelled north on a minibus, very capably driven by players Nicole Lowe and Rob York - thank you to you both, for your patience and good humour as well as your driving!

The Victorians: Christie Godby, Natasha Podesser, Elize Plaganyi, Marj
Miller, Dorothy Barraclough, Marisa Nuccitelli, Lina Camilleri, Mal Eden,
Carole Eden, Heather Long, Norma Fisher, Latha Weerakkody, Peter Bauer,
Nicole Lowe, Carol Johnsen, Rob York, Norma Engel and Eileen Mills


The valiant team from the Australian Capital
Territory: Christine Foot, Tony Beer &amp Anne
Schick. The usual team leader John Hamilton
was OS, contesting the Malta Open

A total of forty-two players competed, with twenty-one representing New South Wales, three from the Australian Capital Territory, and eighteen from Victoria. Bob Jackman did a great job as Tournament Director, well done, Bob, and thanks to all who contributed to the success of the event - as always a great deal of organising was involved. Thanks to Carol Johnsen for the photo below of the lovely autumn colours, and to Eileen Mills for the magnificent sunset pic!

Dinner at the Golf Club: Latha Weerakkody,
Elize Plaganyi, Marisa Nuccitelli, Nicole
Lowe, Norma Engel and Lina Camilleri

Beautiful autumn foliage was
prevalent in the area - a lovely
spot for an autumn holiday!

This photo shows the brilliant
sunset over the Tumut Golf Club
on Saturday evening
Results were calculated on the percentage of wins to each state, but only games played against opposing state team members were counted, and New South Wales finished well ahead, winning 60% of these games. Victoria were second on 46%, with the A.C.T on 37%. Well done to the NSW players, far too good for the rest of us! Individual winners were decided on overall ratings gains, with prizes awarded to Liz Jackman (NSW) +73, Eileen Mills (Vic) +65, and Marisa Nuccitelli (Vic) +48. Well played, girls! Extra prizes were awarded to the top finishing representative from each state, and these were Joanne Craig from NSW, Norma Fisher from Victoria, and Anne Schick from the ACT. Tony Hunt (NSW) scored 527 to achieve the High Game Award and Pat Schuberg, also from NSW, played OVATIONS to take home the High Word Award.
To check the full results in the archives click
here
Vale Carmel Doney ~ April 8 1940 ~ April 23 2015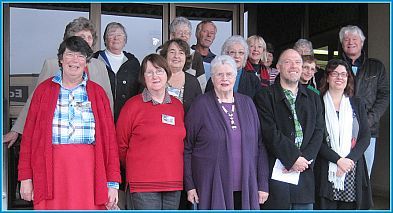 At the South Australian/Victorian Border Challenge in Horsham
in 2013. Carmel is at the centre, amongst her friends
Our members were saddened to hear of Carmel's recent passing after a brief but courageous battle with cancer. Carmel's career in Scrabble goes back many many years, during which time she played well over 2000 tournament games, as well as being a dedicated club player. Her association with the Knox Club and friendships with the members are fondly remembered, as are her friendships with many players throughout the Scrabble family, both local and interstate. Carmel loved to travel to compete, often with good friends Heather Long and Peter Bauer, supporting the Australian Championship regularly in various states, Border Challenges and many country tournaments, including the Raymond Island event where she delighted in catching up with her good friend Sylvia Galloway.
Carmel's family - husband Jim and children Michelle and Chris and the grandchildren were pleased to share Carmel's funeral service with us, and they will miss her as will we, but all will have many happy memories of a lovely warm, caring and straightforward lady. Rest in peace, Carmel.
Go to the top
The April Antics Tournament ~ April 19, 2015
Here is a report from Tournament Director, Carol Johnsen, thanks, Carol:

Do we ever get enough Scrabble? You would think with the Nationals only completed less than two weeks before, everyone would "take a break". Not so! Fifty four competitors turned up and played a Four Division tournament. Great place to be as it turned out for the heavens opened up as players were arriving and at the end of the day and icy winds outside. Peter Kougi, Australian Champion for 2015, continued in fine form with 7 wins out of 7, with Geoff Wright and Gwen Lampre placing 2nd and 3rd. It was an absolute delight to have Michael Hornung return after a 5 year break, his last tournament having been the Decathon in 2010. Let's hope that we see him more often.


Masters ~ Barry Harridge HW, Gwen Lampre,
Natasha Podesser HG, Geoff Wright


Advanced: Cheryle Jerram 1, HG &amp HW,
John Rider 2 and Kris Howat 3


On the left: Gwen Lampre, Michael Hornung,
Mary McMahon, with Peter Kougi at right
An absolute thrill for Rena Aitken who scored 102 with BESPOKEN - she was very proud to have done it with such a lovely word. A lovely surprise for competitors but a Tournament Director's lament when, after working out finances for the day and enveloping prizes, etc., a High Game was equalled along with a High Word - always need to keep some reserve moneys handy! I trialled the presentation of printed Congratulations Certificates (with names and achievements on them) which were well received. A lovely day which appeared to have gone well for all concerned. - CAROL JOHNSEN, Tournament Director

Inter: John Parker 3, Siva Sivapalasundram
HG, Khwanjai Thammaping HW,
and Diane Stoyan 1


Recreation: Rena Aitken equal HW,
Ann Goodwin 2 and HG,
Elize Plaganyi equal HW, and Carole Eden 3

Foreground: John Rider plays Rod Casey,
Lorraine Thomas plays Dianne Davis
and Cheryle Jerram plays Kris Howat
To see the full results in the archives click
here
Go to the top
Wow!! Our new Australian Champion is Victoria's Peter Kougi, and the Plate Champion is Anne Schick from the A.C.T!
After 3 days of tough Scrabble, with wonderfully strong fields in both the Championship and the Plate, we congratulate Peter and Anne on their great performances.....well done indeed!

The 2015 Australian Scrabble Champion,
Peter Kougi from the host state Victoria


The trophies presented to the top performers,
with the impressive perpetual trophy.


The Plate winner, Anne Schick, from the
Australian Capital Territory
The Essendon Windy Hill Social Club proved very suitable for the event, although rather crowded at times around the area where the draws were being posted on two large TV screens capably organised by Barry Harridge, brilliant, Barry! The congestion eased a little when printed draws were used in conjunction with the excellent display, but comfortable space around the playing tables was appreciated by all. Morning and afternoon teas were excellent, as were the bistro meals, and many took advantage of the gaming room to either improve their own finances, or in many cases those of the Essendon Club!
A total of 160 players competed, and we welcomed ten from overseas as well as over 100 interstate players, and we thank you for making the trip to Melbourne, Victoria - your support of the event was absolutely fantastic and greatly appreciated by all.
THE CHAMPIONSHIP

Peter Kougi 1
Victoria

Alastair Richards 2
Queensland

Daniel Piechnick 3
South Australia

Richard Jeremy 4
A.C.T

Andrew Fisher 5
Victoria

Esther Perrins 6
New South Wales

Cheah Siu Hean 7
Singapore

Naween Fernando 8
Victoria

Michael Tang 9
Singapore

Nick Ivanovski 10
Victoria

Alex Tan, High Game,
Malaysia

Lorraine Thomas,
High Word, Vic

Angie Pearse, High
Ratings Gain, Vic


Henry Yeo, Dream
Team, Malaysia
82 players took part in the Championship, and all lasted the distance with no dropouts, latecomers or faint-heartedness, a good effort indeed. Early leaders included Yeo Kian Hung (Henry), Joanne Craig, Peter Kougi, Andrew Fisher, and Richard Jeremy, with defending Champion Daniel Piechnick leading for Rounds 9-14. At this stage Peter Kougi, playing great scrabble, took over the lead. Round 23 proved pivotal, with Peter just one game clear of Alastair Richards from Queensland, but Peter had a narrow 3 point win over Alex Tan, and Naween Fernando won against Alastair, so at this stage Peter could not be defeated. To see the Kougi v Tan game
click here.
Alex Tan cleverly scored 657 to take home the High Game Award, and Lorraine Thomas was delighted to play CRAZIEST for 221 points to achieve the award for High Word. Angie Pearse's High Rating Gain of 118 points was brilliant, and Peter Kougi gained 102 points to move him over the 2000 rating mark and into third place in Australia. This win also means that Peter automatically qualifies to contest the WESPA Championship, being held in Perth from November 4th-8th this year. Peter joins our other automatic qualifier Cameron Farlow from Queensland, who won the 2014 Australian Masters. We have 12 more Australian places to fill, and to follow the stringent selection process click
here.
THE PLATE

Anne Schick 1
From the A.C.T

Dianne Gibson 2
Victoria

Rene Chelton 3
N.S.W.

Lewis Hawkins 5
New Zealand

Peter Bauer 7
Victoria

Paula Messer 10
Victoria

Don Hadley, N.S.W.
High Word
Missing from the above photo gallery are Marjorie Giffen fourth, Cheryl Michler sixth, Colleen Birch eighth, Margaret Griggs ninth, and June Valentine who scored 608 points to win High Game, great score, June. Also missing is Karyn Crease, who shared the High Word award with Don Hadley, both scoring 149 points - Karen played USHERING which was equalled by Don's play of NEGROIDS. The High Ratings Gain in the Plate went to Anne Schick who gained a massive 148 points, brilliant, Anne!
MISCELLANEOUS

Directors Wilma Vialle and Barry Harridge -
a brilliant duo indeed!


The Young Ones! Front: Lewis, Ronnie, Shekinah.
Back: Radheya, Karen, Tim.

Karen Richards with Radheya Jegatheva,
Highest Junior Ratings Gain
In charge of the crowd....
Tournament Directors Wilma Vialle and Barry Harridge did an admirable job keeping everyone in order and adhering to the timetable, and with staggered lunch times for the two divisions most competitors returned to play on time, although I heard a whisper that a few players (who shall remain nameless!) had to be personally fetched from the social area downstairs by Wilma, and they were seen moving very rapidly to their tables after the muster!
Young players!
The group pic shows WESPA World Youth Coordinator Karen Richards with the younger players, many of whom have benefitted greatly from coaching clinics organised by Karen. Most travelled long distances to attend the Championship, with Lewis Hawkins making the trip from New Zealand. Radheya Jegatheva from Western Australia received the award for the junior with the Highest Rating Gain, 136 points, an excellent result, Radheya! The Age newspaper visited and produced an excellent article featuring Champion Peter Kougi, and the youngest player in the tournament, Ronnie Bennett.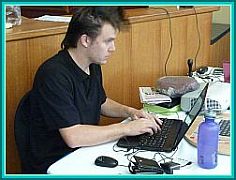 Dream Team Organiser John Hamilton,
getting it all exactly right!
The Dream Team!
John Hamilton had travelled from the Australian Capital Territory to help with many tasks, and with the assistance of Barry Harridge's software had organised a "Dream Team Competition" which proved wonderfully popular, attracting 63 entries including several from overseas! Stringent conditions for choice of team members were in place, and it wasn't easy to choose a team within the prescribed parameters, but Henry Yeo did that extremely well - his team comprised Anne Schick, Andrew Fisher, Adam Kretschmer, himself, Radheya Jegatheva and Shekinah Giffen, and their total number of wins (84.5) gave Henry's team a win over John Hamilton's and Jay Jay Jegathesan's teams, both on 84 wins but with John's team having a greater margin. Good fun for all, and thank you, John!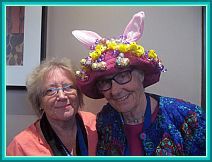 Barbara Hancock with Sunny Wright
in her homemade Easter Bonnet!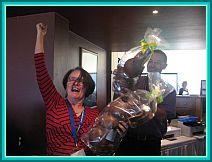 Wilma triumphs over Tony! Far too
strong for the NSW President!
More fun! Jarping the Bunnies!
Unable to source a large egg as jarped in Sydney last year, Victoria utilised two bunnies - the idea was to choose a person from each division to do battle between the bunnies to see which one caved in first! Tony Hunt won the best Easter word for the Champs section with the word HARELIKE, but the person representing the Plate was missing at the time so TD Wilma Vialle filled in, breaking Tony Hunt's bunny with some ferocious tactics - such a shy person, that Wilma.....play then resumed and the chocolate was later shared among all.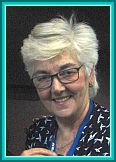 Liz Jackman,
played SQUELCH!!
Records!
Several records were equalled, but a score of 112 points for an opening move by Liz Jackman from New South Wales is the best for the year to date. Liz was excited as the word SQUELCH unfolded on to her rack, and went on to win the game convincingly! Well done, Liz! All records can be viewed in the archives, just click
here
Thanks from the Organisers!
With President Carol Johnsen at the helm of a hardworking subcommittee everything eventually fell into place - I won't mention any more names as I'm sure to miss someone - you know who you are! Sincere thanks go to all who assisted throughout the process, including our standby players, our photographers, and the wonderfully friendly and obliging staff at the Windy Hill venue, its a pleasure to all that we have conducted another successful Australian Scrabble Championship. Next year South Australia are the hosts, and we look forward to seeing many of you there!
To see the article in The Age newspaper click
here.
To visit the tournament website click
here
And to see the results in the Australian archives click
here
Go to the top
~ The Nunawading Tournament, March 22 2015 ~
Fifty-four players
settled down to play in this annual event, and it was a very enjoyable day indeed, with some excellent performances in each of the four sections. The
Convenor of the Nunawading Scrabble Club
(which meets at 7.00 pm on Tuesday evenings at 16 Station Street, Mitcham, all welcome!) had been very busy organising the tourney and making many delicious goodies for all to enjoy, and we thank
Cheryle Jerram
for her wonderful efforts. Also keeping us well fed was
Club Member Geoff Shepheard
, whose sausage rolls and quiche proved very popular. Thanks to you both!
As always
Lalitha Sundaresan
did a great job on computers, keeping everything moving smoothly, and producing the results and ratings speedily at the end of the day. Many other helpers contributed to the success of the day, and we thank all for their welcome assistance.

Masters ~ Naween Fernando,
Natasha Podesser, Trevor Halsall


Advanced ~ Kris Howat, Lorraine Thomas,
Dianne Gibson, Glen Chandler, Noel Coulter


Fintan Conway, with Mum Hilary looking on,
plays returning player Lynne Goodinson

MASTERS
saw a clean sweep to
Naween Fernando
, who won all seven games with a wonderful margin of +873 and is looking strong for our upcoming Australian Scrabble Championship, taking place at Essendon over Easter. Second place went to
Trevor Halsall
on six wins, followed by
Natasha Podesser
on five wins....
Trevor
scored
572
to achieve the High Game score, and
Heather Long
played
QUINOLS for 131 points
to collect the High Word Award.
ADVANCED
saw the second clean sweep for the day, with a wonderful performance from a delighted
Kris Howat
, who finished two games clear of
Lorraine Thomas
on the comeback trail, and
Noel Coulter
who assured me it was his "first time on the podium". High Game for the section went to
Dianne Gibson
for her score of
508
, and
Glen Chandler
played
PLAITERS for 149 points
to win the High Game prize, the best overall for the day.

Intermediate ~ Dorothy Barraclough,
Mal Eden, Diane Stoyan, Khwanjai Thammaping


Recreation ~ Liz McKean, Elize Plaganyi,
and Latha Weerakkody


Nuna Club players, from left - Lorraine Thomas,
Geoff Shepheard, Cheryle Jerram, with Rob York

INTERMEDIATE
was very closely contested with
Dorothy Barraclough
finishing ahead of
Khwanjai Thammaping
on margin, both with six wins, followed by
Mal Eden
on five. The High Game award went to
Diane Stoyan
for her score of
555 points
, and Mal played
RESOLING for 122 points
to win the High Word prize.
In
RECREATION
a delighted Elizabeth McKean took out first place, winning her section for the first time - well done, Liz. Second place went to
Mohammed Hegazi
, and third place was filled by
Latha Weerakkody
. A score of
460 points
gained
Marlene Ellis
the High Game award for the section, and
Elize Plaganyi
played
UNEARTH
for 99 points to win the High Word prize.
There were some wonderful
ratings gains
on the day -
Elizabeth McKean +68, Kris Howat +62, Dorothy Barraclough +41, Naween Fernando +37, Khwanjai Thammaping +35, Mal Eden +35, Natasha Podesser +34 and Mohammed Hegazi +33
.
Congrats to everyone, well played and thank you to all who attended and helped make the day a success!.
To see the full individual results click
HERE
Go to the top
Alastair Richards equals the World Record for most bonus words in a game! Eight!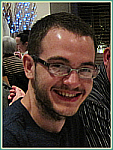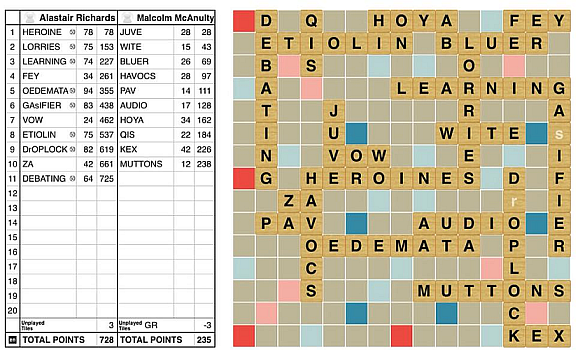 Alastair achieved this amazing feat on the weekend of March 7/8, 2015, in Adelaide at the annual South Australian Championship, and we congratulate him on this wonderful game - Alastair also took out the Championship, finishing two games clear of Esther Perrins and Jane Taylor, well played, Alastair and girls!
The 15th Annual Langwarrin Tournament, March 1, 2015
The Langwarrin Club members
~ Elaine, Brigid, Geoff,
Chris, Carol, Mardi, Irlande, Dorothy &amp Gayle.
Once again the
Langwarrin Scrabble Club
welcomed us to their comfortable venue, the
Langwarrin Community Centre
on the corner of Lang and Warrandyte Roads in Langwarrin, where the club meets on
Tuesday evenings at 7pm
- everybody welcome!
The tournament moved along smoothly under the direction of Club Member Carol Johnsen, with wonderful help from all the club members. Club Treasurer Gayle Cameron did an excellent job balancing the books before heading off to another function.
Geoff Gittus
filled in as the standby player and the members supplied lots of lovely food to keep us well nourished! Thank you to all for your efforts and assistance, it was appreciated by the players. The weather was delightful, allowing players to wander outside between games, and I thank
Khwanjai Thammaping
for the lovely photo of the Langwarrin Club players.
Forty-six players travelled from far and near to compete in the four sections scheduled, and some great play was seen at various times - two players won all their games, a remarkable achievement - its not surprising that
Sylvia
and
Rob
were beaming at the end of the day!

Recreation Winners: Irlande Alfred 2, Mardi
Healy 1, Norma Engel 3


Tops in Intermediate ~ Shaun Donnelly 2, Glen
Chandler 3, Sylvia Galloway 1


Oliver Podesser plays Marisa Nuccitelli at Board 14,
with Dorothy Rice playing Mal Eden at Board 13

In
RECREATION
local club player
Mardi Healy
proved too good for her opponents, winning five of the six games played. Mardi was followed by seven players on four wins, and the best of these was local
Irlande Alfred
in second place, with
Norma Engel
third. The High Game Award went to
Mardi
for her excellent score of 486, and
Norma Engel
played
SMEARED for 92 points
to win the High Word Award. Well done, girls!
INTERMEDIATE
saw
Sylvia Galloway
win all six, well done, Sylvia! Second place went decisively to
Shaun Donnelly
on five wins, and both Sylvia and Shaun have moved into the Advanced section with their great ratings gains. Third place went to
Glen Chandler
on three wins, and Glen also won the High Game Award for her score of 482. Sylvia won the High Word Award for her play of
REWAXES for 111 points
, the highest overall for the tournament.

Aces in Advanced: Rob York 1, Sandra Masel 2,
Angie Pearse 3


Happy Masters: Natasha Podesser 2, Marj Miller 1,
and John Rider, High Word


Relaxing at lunch time - Mal &amp Carole Eden,
Norma Engel, Lina Camilleri &amp Irlande Alfred

ADVANCED
was won by
Rob York
who was using a Play-up Certificate to allow him to play in this section, and he took advantage of the opportunity by winning all six games, a great day, Rob! Second and third places were filled by
Sandra Masel
and
Angie Pearse
respectively, with both on four wins.
Noel Coulter
scored 469 to win the High Game Award, and Sandra Masel's play of
PRINCES
for 101 won her the High Word Award.
MASTERS
was an up and down contest, with
Marj Miller
losing the first game by 159 to
Natasha Podesser,
both winning five games on the day with Marj coming out in first place by a small margin.....third place went to an ever-improving
Chris Scholten
on three wins. Interestingly the High Game Award went to
Natasha
for her score of 520 against Marj...hmmm.
John Rider's
lovely play of
HOAXERS
for 103 points allowed him to take home the High Word Award.

Elize Plaganyi plays Del Stitz in the foreground,
and Chris Radin plays Norma Engel


Action in Inter: Siva Sivapalasundram plays Shaun
Donnelly, Geoff Shepheard plays Sylvia Galloway


In the kinder room: Faye Leeder, Balada Catanchin,
Dianne Gibson, Rob York &amp Ann Goodwin

Excellent
ratings gains
went to
Rob York +76, Sylvia Galloway +56, Marj Miller +44, Shaun Donnelly +33, Natasha Podesser +26 and Sandra Masel +20.
Thanks again to all involved in presenting such a pleasant event, we hope to join you again, same time, same place, next year!
To see the full individual results click
HERE
The 2015 Melbourne Team Challenge ~ February 15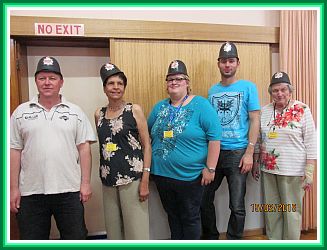 The Champions!! The Frontrunners!
Geoff Shepheard,
Bridget Halge, Liz McKean, Peter Kougi, Marjorie Clark
This annual event turned out to be another good day's scrabble, a rather long day but an enjoyable one! We owe a big thank you to
Barry Harridge
for his help, as always Barry was able to deal with anything and everything which arose, thanks, Barry. Catering problems took a little sorting out, but these were overcome with a great deal of help from our standby player
Rob York
and several of our players between their games, sincere thanks to everyone! Also many thanks to
Norma Fisher
for her tireless work, and to all who helped set up and clean up at the end of the tournament.
Now to the event - the photos at left and below show the
composition and finishing order of the teams
, and congratulations to
THE FRONTRUNNERS
for finishing
IN FRONT!
What doesn't show is the closeness of the finish -
WHATEVER
finished a game short of the
Frontrunners
but well ahead on margin, with
THE LOVELIES
a further game behind in third place.
To see the full placings of the Teams click
HERE
The winning team were well rewarded for their excellent efforts, but rather than reward individual performances within the teams extra prizes were given for theme words, and these proved popular, with many entries to choose from -
Mythili Rudra
played
INSPIRER
to win the prize for
"Leadership"
,
Shaun Donnelly
played
MEDIATE
to win the award for
"Harmony"
, and
Elize Plaganyi's
play of
DOVE
was a popular choice for the
"Peace"
prize.

Second Champions, Whatever!! Tash Podesser,
Julie Belle, Glenys Dettmann, Angie Pearse,
and Judith Westwood

Third place - The Lovelies: Lorna Patching,
Paula Messer, Mythili Rudra, Marisa
Nuccitelli and Kris Howat

Finished Fourth - Melbourne Victory: Andrew
Fisher, Lorraine Thomas, Dorothy Barraclough,
Latha Weerakkody and Elize Plaganyi

Fifth, and first prize for great hat wearing!
The Underdogs: Rena Aitken, Marie D'Rosario,
Norma Fisher, Gwen Lampre and Glen Chandler

Sixth place, Quick Nick &amp The Knickerbockers!
Kashi Thiris, Dorothy Rice, Livia Caulfield,
Nick Ivanovski &amp Khwanjai Thammaping

Seventh - The Bratpack: Mal Eden, Geoff
Gittus, Balada Catanchin, Naween Fernando
and Noel Coulter

Eighth - Emanon, looking good in bunny ears!
Geoff Wright, Elaine Capewell, Shaun Donnelly,
Eileen Mills &amp Ann Goodwin

Ninth place - The Carollers: Oliver Podesser,
Jenny Brysha, Carol Johnsen, Dianne Gibson
and Mary Mackie

The Bright Horses, in lovely Buccaneer Hats!
Lina Camilleri, Janet Bau, Stephanie Saunders,
Jimmy Scarff and Siva Sivapalasundram
Great individual performances
on the day saw
Norma Fisher
win
eight of the nine games played
, and the following players won
seven: Andrew Fisher, Glen Chandler, Angie Pearse, Lorna Patching, Peter Kougi, Jenny Brysha, Kashi Thiris and Latha Weerakkody
. Good efforts from you all!
Great ratings gains went to Lorna Patching +58, Marjorie Clark +55, Norma Fisher +52, Kashi Thiris +44, Angie Pearse +43, Noel Coulter +41, and Geoff Shepheard +40.
Well done to all players, I hope you enjoyed your day as part of a team!
To see the full individual results click
HERE
Go to the top
The Camberwell Tournament ~ February 1, 2015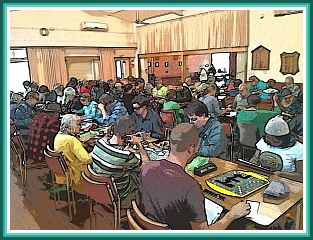 An interesting shot from Barry's camera, called
"Artists' Effect". Taken during Game Seven
After several cancellations fifty-two players settled down to contest this annual event, and Tournament Director
Barry Harridge
welcomed all players, plus two returning members - namely
Shaun Donnelly
and
Frank Csarics
, it was lovely to see you both back with us. Many thanks to the
Camberwell Club Members
for helping with setting up and running the event, it was appreciated indeed, and it was most unfortunate that Club Convenor
Patricia Mitchell
could not be with us.
The four divisions were keenly fought out, with two players winning all seven games played -
Paula Messer
in Intermediate and
Mohammed Hegazi
in Recreation. Congrats, what an exciting result for both of you.
In
Masters Peter Kougi
proved too strong for the opposition, finishing a game clear of
Trevor Halsall
and
Jimmy Scarff
, both on five wins. High Game in this section went to
Trevor Halsall
for his score of 582, and
Mythili Rudra
won the High Word award for playing
SIXTEENS
for 113 points.
Advanced
saw a similar finish with
Elaine Capewell
on six wins, a game clear of
Mary McMahon
and
John Rider
, both winning five.
Julie Belle
was delighted with her score of 552 which gained her the High Game award, and
John Rider
played
REAFFIRM
for 107 points to gain the High Word award.

Masters ~ Trevor Halsall, Mythili Rudra,
Jimmy Scarff and Peter Kougi


Advanced ~ Elaine Capewell, John Rider,
Julie Belle and Mal Eden


Paula Messer tallying her score on the
way to winning seven games

As mentioned,
Intermediate
saw a clear win to
Paula Messer
on seven wins, followed by
Rob York
and
Shaun Donnelly
on five wins. The High Game award was divided between
Carol Mascitti
and
Rob York
for their great scores of 500 points each, and
Glen Chandler
played
SINGLES
for 86 to win the High Word award.
Also as mentioned,
Recreation
saw victory to
Mohammed Hegazi
for his seven wins, followed by
Balada Catanchin
on six wins and
Latha Weerakkody
on five, well done all.
Mohammed
also won the High Game award for a score of 494, and the High Word award was won by
Marjorie Clark
for her play of
BASHING
for 96 points.

Intermediate ~ Glen Chandler, Rob York,
Shaun Donnelly and Paula Messer


Recreation ~ Balada Catanchin, Latha
Weerakkody and Marjorie Clark


Early in the day - Rob York at Table 1,
setting up and enjoying a coffee!

Excellent ratings gains
on the day were achieved by Paula Messer +60, Mohammed Hegazi +53, Elaine Capewell +43, Balada Catanchin +42, and Jimmy Scarff +35. Well done to all, with great results for many!
To see the full results click
HERE
Go to the top
Multinational David Eldar wins the 2015 City of Sydney Masters!
After 26 gruelling games of Scrabble played over three days at the Burwood Club in Sydney, New South Wales, David Eldar turned out to be the winner - David is originally from Victoria, Australia and now spends most of his time at his second home in England. David was out to an early lead but those behind didn't give up, and David finished on 21 wins, just a game clear of Edward Okulicz on 20, followed by Alastair Richards (18), Cam Farlow (17), Rod Talbot (16.5), and Graeme Lock Lee (16). Well done to Joanne Craig for her fine High Game Score of 667, and to Carmel Dodd for winning the High Word Award, scoring 162 for ODORIZES.
Thanks to Raelene Moon for these photos of Bob Jackman presenting the awards.
| | | | | | |
| --- | --- | --- | --- | --- | --- |
| David Eldar | Edward Okulicz | Alastair Richards | Cam Farlow | Rod Talbot | Graeme Lock Lee |
Congratulations to David and everyone who placed in the event, and well done to Bob Jackman, Edward Okulicz and their helpers for running another successful major event in New South Wales.
To see the full results click
HERE
The Bil Rose Aestival, January 18, 2015
This annual Round Robin, at which we honour the late
Bil Rose
, was contested by 60 keen players. At one stage in his career Bil Rose held the record in the Guiness Book of Records as the oldest person playing tournament scrabble in the world, a great achievement indeed! Bil has been gone from us for quite some time now, but is still remembered fondly by many.
Apart from G section (Gajdosova, which had 12 players) competitors were divided into groups of eight, with each group named after a tennis player. President
Carol Johnsen
, returning from illness and looking well, acted as Tournament Director and welcomed some people we hadn't seen for some time -
Sue Kyatt-Kane, Alistair Kane, and Julian McKail
. It was great to see you all playing again. Many people helped with organising, and setting up and tidying up, and we were grateful to all for their help! The standby player for the day (Marj Miller, who donated her services for the tournament) was fortunate to be needed to play, an enjoyable experience indeed.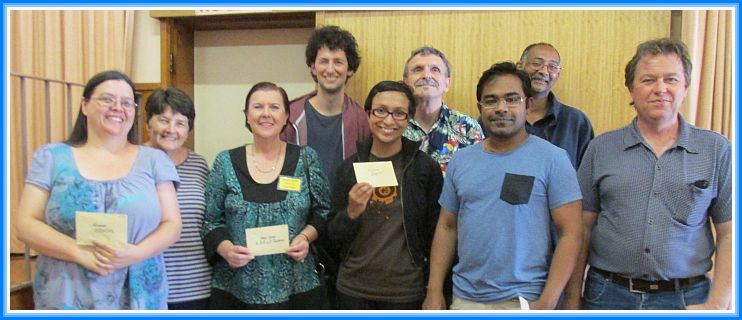 The clever people on the day: Jenny Brysha, Dianne Gibson, Diane Stoyan, David Eldar, Natasha Podesser,
Oliver Podesser, Naween Fernando, Siva Sivapalasundram &amp Geoff Shepheard. Missing: Dorothy Barraclough
AZARENKA
was an interesting section to play in, with David Eldar rising to the occasion to pip Naween Fernando and Julian McKail, with all on five wins.
BARTY
saw another fine performance from Natasha Podesser on six wins, ahead of Harry Malcolm on five wins and Gwen Lampre on four.
CILIC
was won by an in-form Dianne Gibson on five wins from Marj Miller on four, with Carmel Doney in third place also on four wins.
DJOKOVIC
saw a great win to Jenny Brysha who won five on the day, a game clear of Glen Chandler and Cheryle Jerram, both winning four.
These four divisions combined to find a High Game and High Word winner, with the former going to
Naween Fernando
for a lovely score of
573
points, nice game, Naween. The High Word Award went to an elated
Diane Stoyan
for a wonderful score of
194 for STICKERS
, by far the best for the day, and also the year to date as shown on the National website....click
HERE
to see the listing.
In
EBDEN
Dorothy Barraclough won six games to finish two games clear of Geoff Shepheard on four wins, with John Parker third on three wins, well done Dorothy.
FEDERER
saw Oliver Podesser, also in great form, win six ahead of Ann Goodwin also on six wins, with Carol Mascitti a game further back on five wins.
GAJDOSOVA
saw three players finish on five wins, with Siva Sivapalasundram ahead of Marlene Ellis and Rena Aitken, well done to all.
The winner of the High Game award for these three sections was
Dorothy Barraclough
with a fine score of
554
, and the High Word award went to
Geoff Shepheard
, who scored
101 points for CHIMERS.

EBDEN: Mal Eden plays Paula Messer, and in
front Anne Menheere plays Rob York


Waiting for results: Carole Eden, Gwen Lampre,
Balada Catanchin, Dianne Gibson, Ann Goodwin


The End: Norma Fisher, Carol Johnsen,
Geoff Wright, Barry Harridge, Glen Chandler

These are the players who made excellent ratings gains on the day:
Ann Goodwin +60, Dorothy Barraclough +50, Rena Aitken +50, Natasha Podesser +47, Oliver Podesser +40, Carol Mascitti +38, Dianne Gibson +34, Del Stitz +34, Harry Malcolm + 31, and Glen Chandler +31.
Thank you again to all who participated to make this event a very pleasant day out....
To see the full results click
HERE
Go to the top