---
~ News Archive 2020 ~
The After Christmas Tournament - December 27, 2020
Thanks to Nick Ivanovski for this report, and to Nick and Barry Harridge for the photos.
After Xmas
was our first full day event in around 10 months. Thank you to the 38 players who came to Balwyn for the 7 game competition with a great day had by all.
These are new times for us, negotiating table cleaning between rounds, QR codes to register attendance, and the use of hand sanitiser required throughout. It was great to see everyone looking to abide by newly requirements due to government restrictions.
The Scrabble was of a high standard with an annual record set late in the year.
| | | |
| --- | --- | --- |
| C Division Winner, Oscar Ivanovski | Victorious in Division B, Sandra Masel | Winner of A Division, Anand Bharadwaj |
In C Division, Oscar Ivanovski emerged victorious. Doreen Ivanovski's play of GLITZIER (131 points) toward the end of the day was the highest non triple triple play in Victoria for the year, and second highest in Australia!
Sandra Masel was one of FOUR players on 5 wins in B Division with her margin of 527 being the deciding factor in victory. John Rider, Cheryle Jerram, and Christie Godby rounded out the top 4 in an even division.
Anand Bharadwaj's 6 wins gave him the final title for 2020 in A in a quality field which featured three national champions.
Our next event is scheduled for January 17, and is the Victorian Plate. We look forward to seeing you there.
Many thanks, Nick

Oliver Podesser and John Rider, relaxing in the
fresh air at the Balwyn Community Centre

Frank Csarics and Rob York, locked in battle
at a distance of 1.5 metres!

Naween Fernando plays David Eldar, with Carol
Johnsen in the background
To check the full results of the After Christmas event click
HERE
Our second post-C0VID19 Tournament - Return II - December 13, 2020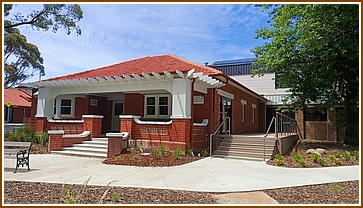 The house looks the same from the outside, but its all new inside!
As a thank you to players for their loyalty to Scrabble in Victoria over the last few difficult months this tournament was free of charge to members, as was the one last week.
Eighteen players took part in a five game Round Robin, ably organised and run by Nick Ivanovski with Carol Johnsen acting as Tournament Director, and Oscar Ivanovski on hand for part of the day to assist with adjudications.
Once again the venue was the Balwyn Community Centre, this time in the Garden Room at ground level, and all being well we will have several more tourneys in the same room this year.
Division A was won by Nick Ivanovski on four wins, followed by Geoff Wright and Jenny Brysha, both winning three.
Rob York was too good in Division B winning three of his five games, with Rod Casey and Christie Godby on his heels on three wins each, a closely fought section indeed!
In Division C Siva Sivapalasundram won four to emerge the winner from Trish Magee and Angie Winkler, both on three wins.
High games for the sections were (A) Nick Ivanovski 506, (B) Rob York 574 (a personal best for Rob!) and (C) Siva Sivapalasundram 479.
| | | |
| --- | --- | --- |
| Players in the airy Garden Room | Dominica Krstic plays Mal Eden | Marj Miller versus Nick Ivanovski |
Live Scrabble is back! Return I, December 6, 2020
Three tournaments have been organised for December 2020, with Covid-safe restrictions in place as per government regulations. The first of these took place on December 6th, and we thank the Balwyn Community Centre for the use of their lovely refurbished venue.
Eighteen players competed in three round robin divisions, with the best performance for the day coming from Oliver Podesser in Division B, winning all five games and gaining 36 ratings points. Division B was won by Khwanjai Thammaping with four wins and a gain of 33 points, and Division A saw Marj Miller in first place on 4 wins, with a rating gain of 38.
Thanks to President Nick Ivanovski and the Committee for their hard work in getting face-to-face Scrabble restarted, it hasn't been an easy job.

Social distancing in action - Norma Fisher
plays Carol Johnsen, with Kris Howat

Khwanjai Thammaping and Noel Coulter with
Paula Messer, who helped with adjudications

Marisa Nuccitelli plays Betty Egan, on a table
suitable for observing social distancing
Upcoming Online Tournaments
Due to the COVID-19 restrictions all face-to-face tournaments are cancelled pro tem, and hopefully we'll bring you news of the return of these when able.
In the meantime our President Nick Ivanovski has organised several online events which are proving popular. To see what Nick has organised and to join in the fun click here
The 2020 Online Tristate Challenge - May 2, 2020 - report and results from Organiser Nick Ivanovski
Hi everyone, COVID19 would not stop the Tri State this year with 30 players playing a one day virtual tournament of 8 rounds. There were some early tournament withdrawals which impacted some of the results but would not influence the overall result.
This year, aside from being the first of these to be virtual, is possibly the first to have been run using TSH, which allows for the facility of NO game being a dead rubber. No state player would play a fellow state player at all.
It took until Ronnie Bennett's victory in the last to confirm victory for ACT, with NSW 2nd and Victoria in 3rd.
To do the tournament, we used Scrabble Go for the Scrabble, TSH for the scoring and Google Hangouts was our tournament room. All options seemed to work in well with each other. TSH is always reliable, Google Hangouts was a first for use and it seemed to go down well. Scrabble Go was a stable platform that allowed for easy sharing of content after the event (see the below link for a more modern look to Scrabble online board photos).
It took about 10 hours of work all up before the event to arrange and then the 9 hours on the day, running (and in my case playing too) but it was well worth it and a huge day - I am extremely thankful for the support provided by Team Vic, NSW and ACT for making this the success that it is.
You can see a gallery of the boards at this public post on Facebook click
HERE
Round 8 Standings
1 71 +900 103916322, JohnHolgate (#2) 1W:398-361:#7
2 71 +861 98374082, NormaFisher (#6) 2W:457-365:#3
3 71 +201 95181448, JohnHamilton (#4) 1W:379-322:#17
4 53 +460 101417924, TonyHunt (#1) 1W:478-278:#22
5 53 +392 102654400, RonnieBennett (#11) 2W:423-372:#12
6 53 +332 90914982, AngiePearse (#17) 2L:322-379:#4
7 53 +325 90839398, Nick Ivanovski (#5) 1W:402-358:#14
8 53 +143 101782642, BobJackman (#3) 1L:365-457:#6
9 53 +123 110867202, ChrisOstrowski (#16) 1W:401-312:#28
10 53 +66 104913316, AsherChhabra (#27) 1W:359-334:#19
11 53 -176 97840258, MichaelSmitheram (#26) 2W:454-385:#13
12 4=3= +10 119570246, GaryPollard (#18) 2T:424-424:#21
13 4=3= -9 92784526, PaulaMesser (#21) 1T:424-424:#18
14 44 +385 115420140, NatashaPodesser (#7) 2L:361-398:#2
15 44 +236 90839396, OscarIvanovski (#28) 2L:312-401:#16
16 44 +85 101988826, JefferyLam (#29) 1W:356-342:#8
17 44 +63 100655516, CarolJohnsen (#8) 2L:342-356:#29
18 44 +13 92715498, JyotiChandna (#13) 1L:385-454:#26
19 44 +8 98015474, VincentNguyen (#24) 2L:367-417:#15
20 44 -78 102499282, AlexLam (#25) 2L:373-397:#10
21 44 -115 99334242, GeoffShepheard (#15) 1W:417-367:#24
22 44 -145 117867788, GregPinchbeck (#12) 1L:372-423:#11
23 44 -194 90186918, LainieChojna (#19) 2L:334-359:#27
24 35 +9 104869658, SusanGordon (#23) 1W:452-288:#32
25 35 -16 110834632, DianneDavis (#10) 1W:397-373:#25
26 35 -198 92976666, JanineWhittaker (#20) 1W:420-340:#31
27 35 -287 92656802, MargaretNeal (#14) 2L:358-402:#5
28 35 -351 104905606, KhwanjaiThammaping(#22)2L:278-478:#1
29 35 -706 107896750, PatrickHuynh (#30) 1W:420-340:#9
30 08 -640 109508246, KashiThiris (#9) 2L:340-420:#30
30 08 -640 104292600, NileshVaheesan (#31) 2L:340-420:#20
32 08 -1057 90370842, TonyQuinn (#32) 2L:288-452:#23
Team Standings
1 21.0- 11.0 +425.0 65.63% ACT
2 59.5- 52.5 +395.0 53.13% NSW
3 47.5- 64.5 -820.0 42.41% VIC
High Game Score
7 647 248 115420140, NatashaPodesser (#7) 107896750, PatrickHuynh (#30)
6 623 318 98374082, NormaFisher (#6) 97840258, MichaelSmitheram (#26)
1 606 220 103916322, JohnHolgate (#2) 90186918, LainieChojna (#19)
6 543 331 103916322, JohnHolgate (#2) 95181448, JohnHamilton (#4)
7 537 389 103916322, JohnHolgate (#2) 100655516, CarolJohnsen (#8)
I am planning another real time tournament using Scrabble Go in June.
Many thanks,
Nick
Some Online results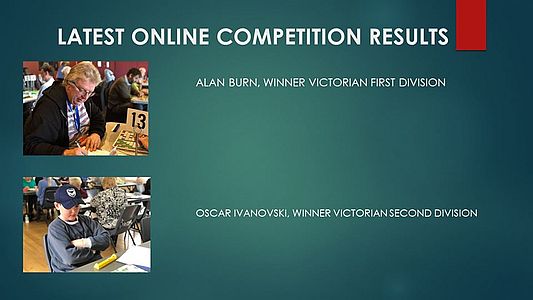 Our latest series of online Scrabble Go competitions have just been completed and congratulations go to Alan Burn and Oscar Ivanovski for winning their respective Victorian divisions. In the nationwide competitions, congratulations go to Mal Eden for winning the Aussie 3rd Division.
Mid-April: News From Nick Ivanovski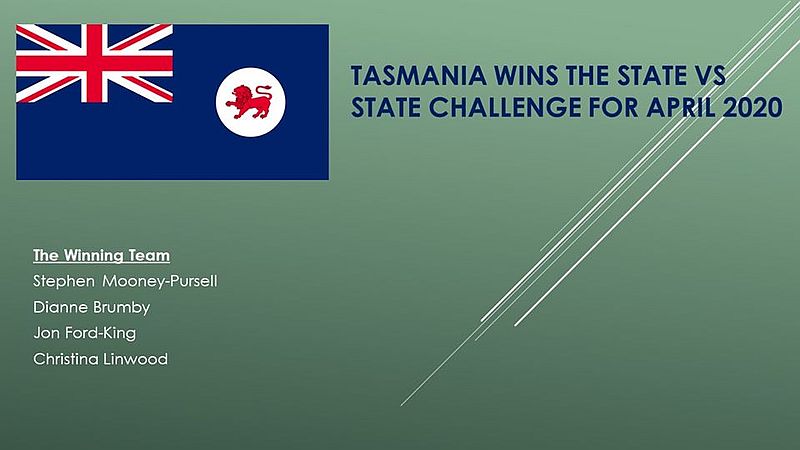 Congratulations go to Team Tasmania for winning the State v State Challenge. Victoria was runner up!!
Congratulations to Michael Smitheram for being the top placed Victorian in our Team Event and thank you to those who supported this online competition!
The Victorian team was Alan Burn, Michael Smitheram, Khwanjai Thammaping, Angie Winkler.
The next State v State comp is a real time Virtual Tri-State Challenge (Vic v NSW v ACT) and will be held on May 2.
Let us know if you are keen to play!!!
The Virtual Tri-State Challenge - a message from Nick
Hi everyone, given that we will more than likely still be in COVID19 restrictions, I have set up registration for a virtual version of the Tri State Challenge to be held on Saturday May 2, 2020 with games starting at 10am.
Open to players from NSW, Vic and ACT, it will be an 8 game comp at 45 mins per game total, and is therefore an event run in REAL TIME (matching, as much as possible, a typical tournament day).
TSH will be used which will mean that EVERY match will be a live rubber as no state member will play each other.
Games will be played using Scrabble Go.
Want to play? Here is the registration link - click
HERE
Hoping we can get a really big turn out for this... who will triumph in this state v state battle?
Many thanks, Nick.
The first online event
Here are the winners of the first online event - congratulations to Norma Fisher and Annette Casey, well done!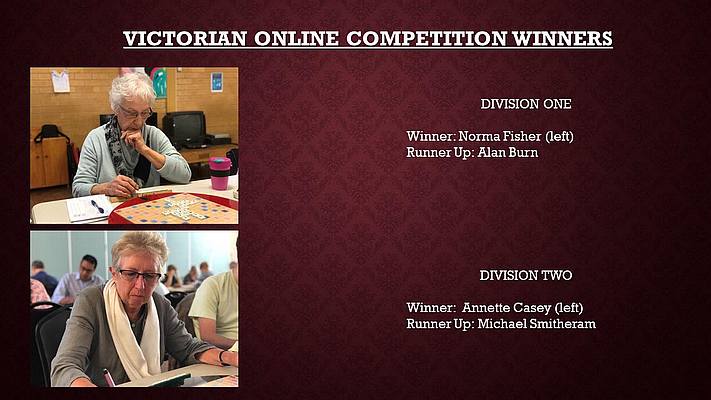 Progress in the 2020 Matchplay event
The qualifying rounds are complete, and the field has been divided into two: the main event and the repechage event. Here are the current standings.
Play is paused for the time being, although second round matches may be played if players concur.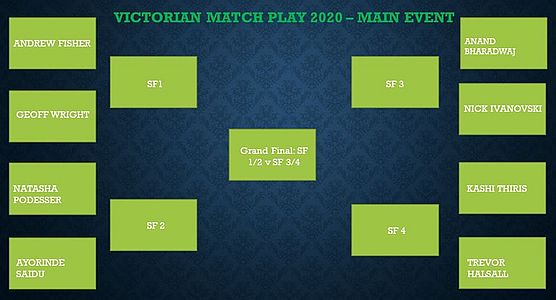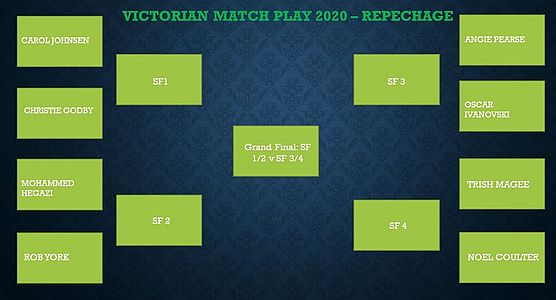 Saturday Sessions - 2020B - Saturday February 29
Here are some words from Tournament Organiser and Director, Nick Ivanovski -
"We had a massive 46 players turn out today in Reservoir for what has been the biggest Sessions in the three years it has been run! Thank you to everyone who attended, played, and helped out on the day!!"
| | | | | | |
| --- | --- | --- | --- | --- | --- |
| Division A winner, David Eldar | Division B winner, Mythili Rudra | Winner in Div C, Noel Coulter | John Parker, winner Division D | Winner in Div E, Glenys Dettmann | Division G winner, Lina Camilleri |
We couldn't get a photo of the winner of Division F, Mohammed Hegazi, who won all five games in his division. Excellent ratings gains were achieved by Lina Camilleri +45, Mohammed Hegazi +44, Faye Leeder +39, Angie Winkler +31 and Peter Kougi +30. Well done everyone, it was a great day.
Scrabble Generations - February 23, 2020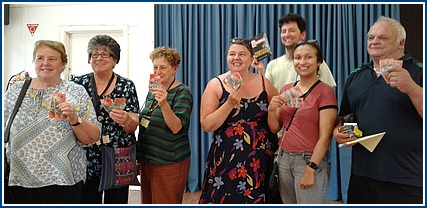 Team Christie, the happy winners!
Kris Howat, Marisa Nuccitelli,
Janet Bau, Christie Godby, David Eldar, Natasha Podesser, Noel Coulter.
Missing - Christiane McCann
A message from TD and Organiser Nick Ivanovski:
Today's event in Moonee Ponds brought out 30 players to play our annual team event. Groups had been matched as best as possible to age brackets and it is with great pleasure we congratulate Christie Godby's team on winning this year.
Here is the breakdown for the Team side of things:
Team Christie 34-22 +25 (60.71%)
Team Anand 27-22 +1552 (55.1%)
Team Carol 24-32 -1047 (42.9%)
Team Rob 20-29 -530 (40.8%)
Thanks, Nick, and thanks for the use of your photos.
Congratulations to Team Christie on a convincing win! Individual performances on the day were impressive - an in-form David Eldar won all 7 games, followed by Edward Okulicz and Noel Coulter who each won six games. David scored 567 to win the High Game Award, and Noel gained 67 rating points in an outstanding performance. Well done, everyone, and thanks to Nick and all who helped make the day such a success!

Team Anand - Shaun Donnelly, Edward Okulicz, Anand Bharadwaj,
Kannan Sethuraman, Jenny Brysha, Oscar Ivanovski and
Khwanjai Thammaping

Team Carol - Marj Miller, Latha Weerakkody, Angie Pearse,
Carol Johnsen, Annette Casey, Angie Winkler, Gwen Lampre
with Barry Harridge in front

Team Rob - John Rider, Paula Messer, Dominica Krstic,
Faye Leeder, Rob York, Doreen Ivanovski and
Shirley De Silva
To check the full results of the Generations Challenge click
HERE
Saturday Sessions 2020 A - February 1st, 2020
| | | |
| --- | --- | --- |
| Carol Johnsen, winner Division A | Angie Pearse, first in Division B | Play in progress, early in the afternoon |
The first Saturday Session for the year was well attended with 42 players taking part in a 5-game Round Robin. Nick Ivanovski was Tournamt Organiser and Director, and everything moved along smoothly under his direction.
Nick welcomed new player Michael Sacco from the Sunbury area, and Michael enjoyed the experience, winning three games and appreciating the atmosphere.
Light snacks were provided, and a cake made by John Rider's wife Flora was greatly appreciated.
Two players won all five games in their divisions, well done, Angie Pearse and Rob Hutchinson.
Great ratings gains were achieved by Carol Johnsen +52, Rob Hutchinson +49, Angie Pearse +47, and Eileen Mills +38.
Congrats to all winners
| | | | | |
| --- | --- | --- | --- | --- |
| Rob Hutchinson, first in Division C | Michael Smitheram, winner Division D | Winner of Division E, Elize Plaganyi | Division F winner, Eileen Mills | Marisa Nuccitelli, first in Division G |
Andrew Fisher wins the City of Sydney International Masters - January 26/27, 2020
Several Victorians travelled to Sydney on the long weekend to compete in this prestigious annual event, and of these Andrew Fisher finished in first place on 14 wins, followed by David Eldar (Victoria) and Marlon Prudencio (Singapore) on 12 wins each. Fourth place went to Chris May from New South Wales, with Peter Kougi 5th (Victoria) and Joanne Craig 6th (N.S.W.), all on 11 wins. The High Game Award went to David Eldar for his score of 647, and Ronnie Bennett from the Australian Capital Territory played BRIGADES for 167 points to win the High Word Award. Other Victorians in the field were Naween Fernandes (10th), Mythili Rudra (11th) and Shaun Donnelly (28th, in a tough field of 36). Congratulations to all who played, its a challenging tournament with 18 games played over two days.
A one day warmup event, the AUSTRALIA DAY OPEN, was held on Saturday 25th January, and David Eldar was the standout in this 9 game tournament, winning all his games and briefly achieving an Australian rating of 2121. Second place went to Peter Kougi and third placed was Andrew Fisher, both with 7 wins.

Andrew Fisher with Bob Jackman,
president of Scrabble in N.S.W.

The placegetters - Marlon Prudencio, Chris May,
Joanne Craig, Peter Kougi, David Eldar

Winner of the High Word Award,
Ronnie Bennett with Bob Jackman

Marlon Prudencio, Andrew Fisher, Chris May,
David Eldar, Peter Kougi, Mythili Rudra,
Esther Perrins, Victor Tung
To those who took the photos, namely Sharon Sorenson and Marlon Prudencio, thank you both!
For full results of the C.S.I.M. check the National Archive
HERE
To see the results of the Australia Day Open click
HERE
Fundraising fun at the Bil Rose Aestival - January 19, 2020!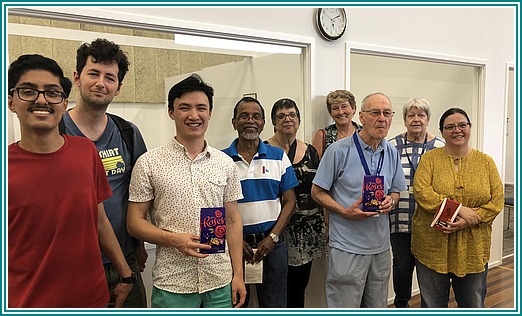 Winners on the day - Anand Bharadwaj, David Eldar, Jeremy Yip, Shirley de Silva,
Paula Messer, Carol Mascitti, Mal Eden, Christiane McCann and Jenny Brysha
This year's Aestival saw 54 players arrive to take part in raising funds for Jewish Care to assist their residents in having an end-of-year function, and Neetu from Jewish Care was delighted with the funds raised, over $1000 in total. Thank you all for your contributions, the residents are also delighted! Great food was provided by the Jewish Care people, including lovely fresh salads and chicken for our lunch - thank you, our players did appreciate your efforts. Many raffle prizes were on offer, and these were popular with the contestants.
Players were divided into 6 divisions, with each division bearing the name of a well-known tennis player.
AIAVA
was a hard fought division, with four players finishing on five wins - first place went to Anand Bharadwaj, ahead of Andrew Fisher, Naween Fernando and Peter Kougi.
BARTY
division saw Jeremy Yip in fine form, winning all seven of his games, one of two people to achieve this on the day. Geoff Wright finished second on six wins.
CABRERA
saw Jenny Brysha ahead of her peers with six fine wins, followed by Rob York and John Rider on 5 wins apiece.
DE MINAUR
was also a close contest, with Paula Messer in first place on 5.5 wins, ahead of Mal Eden on four wins.
EBDEN
saw Carol Mascitti win all 7 games, well done, Carol! Dominica Krstic was second on 5 wins, with Kannan Sethuraman third on four.
FEDERER
saw excellent play from Elize Plaganyi, winning six of her games ahead of Oscar Ivanovski, Marlene Ellis and Rena Aitken, all on five wins.
Combined prizes were given for the High Word and High Game over the top three sections, as well as the lower three sections (all prizes on the day were chocolates of varying sorts to allow more proceeds to go to Jewish Care).
In AIAVA, BARTY and CABRERA combined divisions the High Game chocolates went to David Eldar for his score of 569 points, and the High Word Award went to Shirley de Silva for his play of STAMPEDE for 162 points.
In DE MINAUR, EBDEN and FEDERER divisions the High Game Award went to Christiane McCann for her excellent score of 568 points, just one point less than David Eldar's score. Mal Eden took home the High Word chockies for his play of WOUNDED for 99 points.
Excellent ratings gains were achieved by Jeremy Yip +75, Carol Mascitti +54 and Jenny Brysha +50. Well done to you all!

Neetu from Jewish Care speaking, with Carol Johnsen, Barry
Harridge, Kannan Sethuraman and Oscar Ivanovski

Geoff Wright who has played 4000+ games of
competitive Scrabble - well done, Geoff!

Wayne Stoyan, back enjoying playing
after a break from Scrabble

A good day's play from Jenny Brysha,
well done, Jenny!
For full results check the National Archive
HERE
Go to the top