Trans Tasman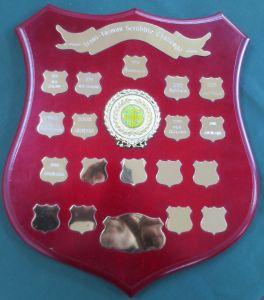 Australia and New Zealand have been allies and friendly rivals for many years. In Scrabble the Trans Tasman is a long standing teams event held every two years with the host country alternating. This year the event is held in Australia. It is a selective event where each country invites its best players.

The shield has been won by Australia in 1996, 2002, 2004, 2006, 2008, 2012 and 2014. It was won by New Zealand in 1998, 2000 and 2010.

In 2016 the format has been changed. The scheme is a team of 10 New Zealand players and 16 Australians playing an unrestricted round robin. The games between Australia and New Zealand will be tallied to see which country is victorious and there will be an overall individual winner determined.
Date and Venue
The tournament is held in Adelaide over the three days Fri 5 Sep to Sun 7 Sep. Check in starts at 9.30 on Friday morning and game 1 starts at 10.00 am. The venue is the South Australian Bridge Association, 243 Young Street, Unley.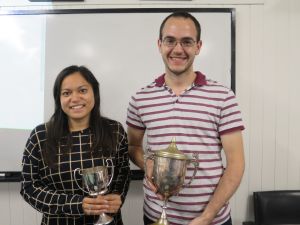 Final result
The winner of the team trophy is Australia. Using only the games where a Kiwi played an Aussie, the result was Australia 96 to New Zealand 64. The overall winner is Alastair Richards from Australia, half a game ahead of Lyres Freeth from New Zealand.
The event was a success not only in the quality of Scrabble played but also the warm friendship between the countries.
The teams
Here are the team members shown with their rating established by ASPA and by WESPA. This event will be rated in both systems.
AUSTRALIA
ASPA
WESPA
1
Alastair Richards (Qld)
2035
2083
2
Daniel Piechnick (SA)
1877
1906
3
Esther Perrins (NSW)
1927
1998
4
Russell Honeybun (WA)
1821
1794
5
Bob Jackman (NSW)
1788
1685
6
Nick Ivanovski (Vic)
1769
1756
7
Trevor Tao (SA)
1680
1617
8
John Holgate (NSW)
1809
1753
9
Ron Baginski (Qld)
1743
1672
10
Tony Hunt (NSW)
1631
1649
11
Victor Tung (NSW)
1707
1663
12
Michael Cameron (SA)
1735
1714
13
Karen Richards (Qld)
1574
1510
14
Adam Kretschmer (SA)
1638
1651
15
Stephen Mooney-Pursell (Tas)
1711
1635
16
Rocky Sharma (NSW)
1696
1608
NEW ZEALAND
ASPA
WESPA
1
Howard Warner (Wellington)
1765
1927
2
Nick Cavenagh (Hamilton)
1616
1796
3
Lyres Freeth (Auckland)
1737
4
Glennis Hale (Auckland)
1582
5
Lawson Sue (Auckland)
1662
1639
6
Murray Rogers (Takaka South Island)
1603
7
Liz Fagerlund (Auckland)
1487
1441
8
Anderina McLean (Auckland)
1476
1340
9
Patrick Carter (Auckland)
1858
10
Lynn Wood (Wellington)
1449
1378
Player profiles: New Zealand

Howard WARNER - Multiple NZ Champs and NZ Masters titles - Howard has had fabulous record in recent years including the winning of the World Senior Scrabble Championship and the 2014 European Open Scrabble Championship title. Has won the individual title at this Trans Tasman before.


Nick CAVENAGH - Excellent Hamilton player with many high placings and winner of NZ 2014 Masters while organising and running the event. Smiling assassin - watch out.


Lyres FREETH - Brilliant, clinical , young up-and-comer unlucky to miss place on the NZ Scrabble team to the Perth 2015 WSC - now experienced enough to make mark here - dark horse.


Glennis HALE - Former excellent NZASP president and NZ WSC team member who has qualified and played in every NZ Masters - if that isn't experienced we don't know what is.


Lawson SUE - Brilliant wildcard WSC qualifier Perth 2015 - great humour and personality and Lawson is very tolerant of those who call him 'a boy called Sue'.


Murray ROGERS- Everyone's favourite bohemian (one of the *wilderpeople?) who is playing excellently and also much appreciated for the work he does with young scrabble players in the Takaka/Nelson region. Starter's chance but don't take lightly - when on song Murray is formidable.


Liz FAGERLUND - Experienced scrabble player and administrator at the highest level - always procedurally correct and Liz is New Zealand's fallback position when technical rules issues arise. Never-say-die player who will take it to the wire.


Anderina McLEAN - The fabulous co-editress of Forwords magazine and runaway winner of 2014 Tauranga Tournament - can figure in this.


Patrick CARTER - Doyen of NZ Scrabble - the only problem we have with Patrick is his occasional unavailability as he is a bridge whizz and we have to fight for him to play the Scrabble tournaments when he is required for bridge competitions. Nevertheless a brilliant scrabble tactician who will give his opponents a fright.


Lynne WOOD
Player profiles: Australia

Alastair Richards - Is the highest rated WESPA player in the field. Has averaged 443 in WESPA tournaments during 2016 and won a whopping 7 state championships in the last 4 years.


Daniel Piechnick - Relatively unknown outside Adelaide but has always been an elite player. Has won the South Australian Championships three times but caused a huge upset when he won the 2014 National Championships. Rarely plays on the international circuit so will be interesting to see how he fares.


Esther Perrins - The best player in Australia to have never won a state championship. A massively underrated player who finished 3rd at WESPAC last year, Esther is the only female in the worlds top 50 players. Like her regular sparring partner Joanne Craig, has an ability to play defensively and regularly keeps her opponents to under 300.


Russell Honeybun - Has always been thereabouts in major tournaments, hangs around the top few tables in tournaments, but has improved recently. In his last 20 tournaments, Russell has won 9 and finished runner up in another 5. Has been ranked in the top 15 in Australia since November 2015.


Bob Jackman - One of the few early pioneers of Scrabble still running around on the international circuit today. Bob is one of only 3 people to have played 5000 games in Australian tournaments and is on track to hit 6000 by years end. Has a habit of winning events after being written off such as the 2006 Australian Masters and 2009 NSW Champs.


Nick Ivanovski - Burst onto the Scrabble scene in the 1980s as a teenager but dropped off the face of the earth until his comeback in 2010. Is passionate about getting more media coverage for Scrabble, particularly through social media but has also worked on his game immensely in the last 18 months. This has showed in his results. Was ranked 38th in Australia in February 2015 and is now in the top 20.


Trevor Tao - JAFA (just another flipping Adelaidean), relatively unknown outside of Adelaide. Has a strange sense of humour and will use any excuse to bring out his ukulele for a performance. His form goes up and down like a yo-yo but underestimate him at your own peril - Trevor has the ability to beat the best in a tight endgame


John Holgate - A stalwart of Scrabble in Australia, John has won 4 Australian titles, more than anyone else. John is still a strong player, finishing an impressive 14th in the Perth International last year and was ranked 5th until lunch on the final day of this years Australian Championships before being overpowered at the end.


Ron Baginski - Was ranked 24th in Australia when he stopped playing in 2002. Returned 11 years later and picked up where he left off, finishing 4th in the 2014 City of Sydney International Masters and reaching the top 10 players in Australia in 2014. He has struggled since then, with his WESPA and Australian ratings dropping but regardless of that, he always seems to be sitting at the top few tables in major tournaments well into the final day.


Tony Hunt - Plays the odd phoney but well and truly makes up for it with other brilliant plays. He once set up TOLARJEV as an bonus out to win, plonking the V down in the triple lane. Tony has begun to travel abroad for Scrabble more often in the last few years and has undoubtedly learnt a thing or two to add to his already large bag of tricks. Tony is the only person to have won the State Challenge more than once - winning in 2007 and 2012 as well as runner up in 2011.


Victor Tung - A very fast player who relies on gut instinct to win. Doesn't have many tactics, just a strong word knowledge. Has been ranked in the top 10 players in New South Wales since February 2015.


Michael Cameron - Apart from a poor national championships has been in solid form in 2016. Can play both attack and defence well and even when behind, is difficult win against


Karen Richards - Only three players in the world have played 2000 WESPA rated games. Karen is one of them (Tony Sim and Nigel Richards are the other two). Like all players, Karen has her ups and downs but there are few players that can turn a bad day into a good one as quickly as she can. A confidence player, once Karen grabs a win or two, she'll often go on to win 5-6 in a row. Karen takes great care in analysing her own games and will observe other, always keen to learn how to become a better player.


Adam Kretschmer - Since reaching the highest rating of his career in October last year, Adam has struggled with a number of poor tournaments. He is still a strong player, consistently averaging 420+ and finished an impressive second to Alastair Richards in this years South Australian Championships.


Stephen Mooney Pursell - One of the rising stars of Australian Scrabble, Stephen spent a number of years rated in the 1600s but has gained 154 points in his last 6 tournaments to shoot to a career high 26th in Australia


Rocky Sharma - Rocky has a bit of a reputation for fishing but what is not known about him is his strength with the power tiles. This has allowed for him to pull a win out of nowhere many times. Rocky's ratings history shows a slow but consistent improvement over a number of years.
---
Thanks to Paul Lister and John Hamilton for providing background stories on the players, and thanks to Daniel Piechnick for the logo in the header.
The South Australian committee had many helpers from their group helping in organising, preparing and catering to make a most enjoyable event for all. There were side tournaments on Saturday and Sunday which helped other players be part of the big occasion.