~ News Archive 2017 ~
The 2017 Decathon - the last tourney for the year - Saturday December 30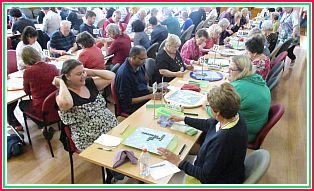 The Celebration players hard at work!
10 game annual event
had quite a buzz about it, with interstate players attending as well as some of our players whom we hadn't seen for some time. We welcomed a new player,
Jeremy Yip
, a friend of Anand Bharadwaj's from
Trinity Grammar,
where both have achieved absolutely amazing things! Good luck to you both in your continuing studies, there are exciting times ahead. Jeremy thoroughly enjoyed the day, winning five of his games, and he has assured me he will be back.
Interstate players
included
John Holgate and Colleen and Richard Birch
from
New South Wales,
and
John Hamilton
from the
Australian Capital Territory
who is busy organising the
2018 National Championship
- John had his best tournament for some time and was delighted to finish fourth in the top division, Auld Lang. Well done, John!
This was a strong division with David Eldar back from England, Naween Fernando attending after a very big day out at Day 4 of the Boxing Day Test Match, Anand playing after quite a break, and Mythili Rudra, Andrew Fisher, Peter Kougi, Nick Ivanovski, Alistair Kane and many more stars in attendance. The other divisions were also strongly supported and fiercely contested, with
70 players
competing in total, and I thank you all for coming.
Mary Mackie
acted as standby player for the day, thanks for helping out, Mary, it is truly appreciated. Also thanks to
Lalitha Sundaresan
for her help on the computer, and to new caterer
Leah Frajman
who did a lovely job keeping us well fed. Many others helped out in various ways and as Tournament Director I do appreciate your willing assistance!

The AULD LANG Winners:
Alistair Kane, David Eldar, Mythili Rudra,
Peter Kougi.


The BUBBLY people!
Khwanjai Thammaping, Lorraine Thomas,
Rob York, Sandra Masel

Clever Celebration winners!
Carol Mascitti, Siva Sivapalasundram,
Christiane McCann, Christie Godby

Nick Ivanovski tried streaming this game
between Peter Kougi and Mythili Rudra
Well done, Nick Ivanovski!

New player on the day,
Jeremy Yip
We enjoyed meeting you!
The
AULD LANG Division
saw
Mythili Rudra
playing wonderfully well (I loved her comment: "I don't know what's happened!"). Mythili won 8 games, losing only to the
MSI World Champ David Eldar
and local guru
Naween Fernando,
well done, Mythili!
David
came in second on 7 wins, ahead on margin of
Peter Kougi
in third place. As mentioned
John Hamillton
placed fourth, also on 7 wins.
Alistair Kane,
still working on his comeback to competitive scrabble, claimed the High Game and High Word awards during the first game of the day, scoring
584 points
and playing
COMEBACK for 119 points.
Good play, Alistair!
In keeping with the New Year theme
BUBBLY Division
saw a great win to an excited
Khwanjai Thammaping
who claimed 8 wins against some very tough opposition, well done, Khwanjai! Second and third places were filled by
Lorraine Thomas and Sandra Masel
respectively, both winning seven games as did
Mal Eden
who placed fourth.
Lorraine scored 553
to take home the High Game Award, and
Rob York
played
SQUELCH for 104 points
during his first game against Khwanjai to win the High Word Award. Nice Bubbly plays, all!
CELEBRATION
was also keenly fought, with a very happy
Christie Godby
placing first on 8 wins, great effort, Christie!
Carol Mascitti
also achieved 8 wins to place second, and
Siva Sivapalasundram
and
Dominica Krstic
placed third and fourth respectively on seven wins.
Christiane McCann
was delighted to win both the High Game and High Word Awards for her excellent score of
494
and her play of
SERVICE for 109 points.
There was much cause for Celebration in this division!

Phil Moller with Colleen Birch and
Dorothy Rice

Diyath Visidagamage plays John
Holgate from N.S.W.

Rob Hutchinson with Richard Birch
from New South Wales

John Hamilton from The A.C.T., with
Victoria's Barry Harridge

Play underway in the Auld Lang
Division - tough games in progress
Some
amazing ratings gains
were achieved on the day - notable achievers were
Khwanjai Thammaping +80, Mythili Rudra +77, John Hamilton +63, Faye Leeder +57, Ray Alford +53, and Christie Godby +42.
Well done to all players, it was a fun day's scrabble with some wonderful plays and cutthroat competition!
To check the full results in the National Archive click
HERE
Vale Marianne Janssen (Clayton) 16 September 1938 ~ 16 November 2017

Marianne was an avid Scrabble player in the early days of Scrabble, having joined the Knox Scrabble Club around 1985. She played in many Tournaments and remains on the historical ratings list, showing a rating of 1634 in 1993.
Marianne was also involved with the Victorian Travel Scrabble Group, enjoying time with friends and helping organise weekends away at various places, including a boat trip on the Murray River.
Recently Marianne developed cancer and passed away in November at the age of 79. In recent years Marianne still enjoyed family time and playing social games with friends, and will be missed by her family and friends.
Rest peacefully, Marianne.
SUNBURY TOURNAMENT & LUNCH on Saturday December 2nd, 2017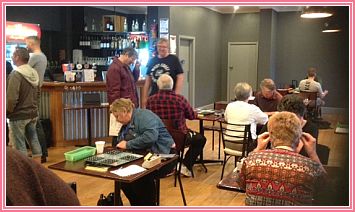 The playing area - Phil Moller, Peter Kougi, John Rider
and Alan Burn at the bar, with Kris Howat in the centre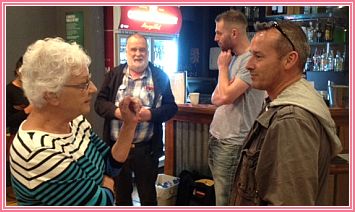 Organiser Norma Fisher chats to Phil Moller, with
Barry Harridge and Peter Kougi in the background
Despite the inclement weather,
30 scrabble stalwarts
played in the inaugural
Sunbury Tournament
, held at at the
Ball Court Hotel
- this number included a couple of newbies from the relatively new Sunbury club...........
Rita Byrne and Gayle Sewell.
We therefore had 3 equal groups of 10 with myself as standby player evening up the numbers.
Not having to pay rental for the use of the dining room and providing only tea, coffee and biscuits made for an inexpensive tournament ($10 plus $1 CASPA levy) plus $10 for a 2-course seniors' meal or the Saturday Special of fish and chips for non-seniors. From all accounts the food was considered very good, though I think a better job could have been done of getting the meals to the right persons........will work on that next year!! After minimal expenses the total intake was returned as prizes.
ASHES
group saw
Natasha Podesser
take 1st place (5 + 419),
Peter Kougi
2nd place (5 + 337) – a very tight finish, and myself a couple of games behind (3 + 104) in 3rd place.
Natasha
also won the High Word prize for
DISFAVOR for 101
and
Carol Johnsen
took the High Game prize with
517 points.
BRADMAN
group was lead by
John Metcalf
, winning all
6 games
with a margin of +374 with
Dorothy Barraclough
in 2nd place (4 + 323) and
Kris Howat
in 3rd place (4 + 44). John also won the High Game prize with a
462 game
and
Phil Moller
played
SEQUINS for 114
to take the High Word prize.
CRICKET
group was won by a delighted
Liz McKean
(5 + 185) followed in 2nd place by
Balada Catanchin
(4 + 185) with
Christiane McCann
coming 3rd (4 + 172) – only 13 points separating these two positions! Liz also won the High Word prize for
YAWNERS for 88 points
and
Marisa Nuccitelli
had a
441 game
winning her the High Game prize.

The ASHES Division: Carol Johnsen, Peter Kougi,
Norma Fisher and Natasha Podesser

The BRADMAN group: Dorothy Barraclough, Kris Howat,
and John Metcalf

CRICKET Division: Elizabeth McKean, Marisa Nuccitelli,
Christiane McCann and Balada Catanchin
Rita and Gayle
enjoyed their first tournament experience and I believe it will take much less arm-bending on my part to get them to another tournament – perhaps the new Saturday 5 game round robins planned by Nick Ivanovski for 2018!
My thanks to Carol for her computer wizardry (and for the group names – Sunbury being the home of the Ashes!), and a big thank you to Liz McKean who delighted us all with her yummy jelly slice! Norma Fisher.
Thanks for the report, Norma, and I'd like to mention those who made significant ratings gains:
John Metcalf +73, Elizabeth McKean +33, Dianne Gibson + 33, and Natasha Podesser +32.
Also, the Sunbury Club is meeting at a new venue in the New Year - from Wednesday January 10, from 5pm till 8pm, you'll find them at the
Sunbury Youth Centre,
51 Evans Street. All are welcome, so don't hesitate to go along! To see the full results click
HERE
The Victorian Matchplay concludes, and Andrew Fisher is the 2017 Victorian Matchplay Champion!
Andrew played Trevor Halsall in the best of nine final, and was victorious five games to nil in the playoff. Here are the links to the first three games of the final, played at The Rose in Fitzroy:
Andrew 481 (PINDERS/REMBLING), Trevor 372 (INDITERS).
Andrew 456 (AXINITE, ROOTIES) Trevor 411 (AUSTERER, NEOTERIC, DENUDING).
Well done, Andrew and all the finalists, and thanks for organising it all, Nick Ivanovski.

Andrew Fisher 3
Natasha Podesser 3
Nick Ivanovski 3
Trevor Halsall 3
Norma Fisher 2
Oliver Podesser 1
Dilendra Nanayakkara 0
Carol Johnsen 1
Andrew Fisher 4
Nick Ivanovski 3
Natasha Podesser 1
Trevor Halsall 4
Andrew Fisher 5
Trevor Halsall 0
The Inaugural FaNS Tournament, November 12 2017
The Fairfield and Northcote Scrabble Club
meet on Monday evenings from 7-9pm, at the Darebin U3A at 26 Railway Place, Fairfield. Drop in and see them for a game - all are welcome.
Convenor Rob York
organised a new tournament for the Victorian calendar, and
48 players
arrived to play, including new player
Val Wills
who has been playing at FaNS for a while. Val enjoyed her day and handled the start to her tournament career very well, welcome and well done, Val! Rob also welcomed Harry Malcolm back from a break, and Shaun Donnelly whom we hadn't seen for a while.

The smart A Division winners: Peter Kougi,
Heather Long, Geoff Wright, Jenny Brysha
and Nick Ivanovski

The B Division clever people: Glen
Chandler, Peter Bauer and Noel Coulter
with a swag of prizes!

Division C - the cream of the crop: Ann
Goodwin, Elizabeth McKean, Angie Winkler
and Balada Catanchin

FaNS Club Convenor Rob York with his
assistant, Oscar, who loves a social game
of Scrabble when not helping.
Players were divided in to
3 equal sections,
and after a rather slow start things moved along fairly smoothly, our thanks to all who assisted.
Division A
saw a fine performance from
Geoff Wright,
who won six of the seven games played, well done Geoff. Second and third places went to
Peter Kougi and Heather Long
respectively, both on five wins. The High Game prize went to
Nick Ivanovski
for his score of 528, and
Jenny Brysha
played
CONTAINS for 131 points
to win the High Game prize in A.
Division B
was won by Glen Chandler, winning six games ahead of
Peter Bauer and Noel Coulter
who won five each. Well done, Glen and all, a great effort. The High Game award went to
Noel Coulter
for his score of 472, and Noel also won the High Word award for his play of
BLUSHERS for 158 points.
Division C
was tightly fought with
Angie Winkler
finishing on 5.5 wins, half a game clear of the field. Good effort, Angie. Second and third places went to
Dorothy Hunt and Ann Goodwin,
both on five wins - the Greensborough Club was well represented here! The High Game award was won by
Balada Catanchin
for her score of 452, and the High Word award went to
Elizabeth McKean
for her play of
SQUIZZES for 130 points,
well done all!

New player from the
FaNS Club, Val Wills

Happy to be here,
Shaun Donnelly

Serious play - Nick Ivanovski v Peter Kougi,
Harry Malcolm v Geoff Wright at rear

Front: Angie Pearse v Lorraine Thomas,
and Gwen Lampre plays John Rider

Barry Harridge plays Geoff Shepheard, and
Heather Long plays Katie Rowe at the rear
Excellent ratings gains
were achieved on the day by Geoff Wright +56, Glen Chandler +50, Angie Winkler +42 and Katie Rowe, +37, good effort, everyone.
Rob would like to thank everyone who helped on the day, including Christie Godby who did a superb job with catering, Barry Harridge who sorted computer problems, Gwen Lampre for her help with taking entry money, and everyone who helped with packing up etc. I had volunteered for the Tournament Director's job, and was delighted with everyone's patience and demeanour on the day. Thank you all!
To check out the full results click
HERE
The 2017 WESPA CHAMPIONSHIP, November 6 - 12, in Nairobi, Kenya
This exciting event consists of
32 rounds, followed by a best of 7 final on Sunday November 12.
Nairobi is -8 hours c/f Eastern Daylight Time, and the Championship will get under way about 4.30pm our time here in Victoria, on Wednesday 8th November. There are several side-tournaments running concurrently, including a last chance qualifier and a Youth event.
Australia has thirteen players qualified for the Championship
following a stringent selection process - to check out this process click
HERE
Here are our four Victorian players who will compete in Nairobi - Andrew and Carol in the Championship, and Elize and Christiane in the side events.
| | | | |
| --- | --- | --- | --- |
| Andrew Fisher | Carol Johnsen | Elize Plaganyi | Christiane McCann |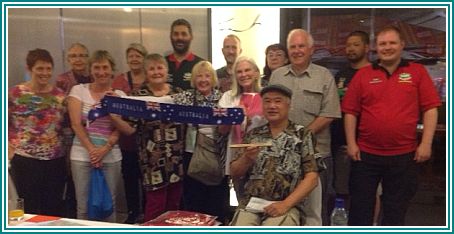 The Aussies in Nairobi
The full contingent of
Australians competing in the Championship
is as follows:- Andrew Fisher (2092), Adam Kretschmer (1644), Karen Richards (1532), Tony Hunt (1505), Russell Honeybun (1928), Esther Perrins (1966), Bob Jackman (1685), John Holgate (1583), Carmel Dodd (1597), Graeme Lock Lee (1510), Victor Tung (1553), Edie Mueller (1514), and Carol Johnsen (1545). As well as our two Victorians six are from New South Wales, two from Western Australia, two from South Australia, and one from Queensland and it will be interesting to follow the fortunes of all the Aussies. There are three Aussies playing in the side-tournaments; Susan Ensor from Western Australia joins Elize Plaganyi and Christiane McCann from Victoria.
Good luck to all!

The 2017 WESPA Champion - Akshay
Bhandarkar. Akshay won all 8 games on
the penultimate day to reach the final.

The final; Akshay Bhandarkar, Tournament
Director Wilma Vialle from Australia, and
Peter Moses from Nigeria

History: London in 1995;
Naween Fernando with
Akshay Bhandarkar

David Webb from England plays friend and former
Englishman, Australia's Andrew Fisher. These two
co-authored "How to Win at Scrabble"

Our other
Victorian player
Carol Johnsen
WOW!
The 2017 WESPA Champion is
Akshay Bhandarkar, from Bahrain,
congratulations, Akshay! The lead up to the final was interesting, and must have been quite disappointing for one of the favourites for the title, Nigel Richards, a New Zealander living in Malaysia. With three games left to play Nigel was three games clear of the field, but lost all three of his games to finish out of the final. Two of his losses were to Akshay and
Peter Moses from Nigeria,
who played off in the best of seven final.
Akshay was behind in the early stages but fought back to tie at three all after six games. In the final game Akshay played consecutive bingoes on his first two moves, making it difficult for Peter to wipe out the deficit. Akshay received US$20,000, and Peter collected $10,000 for his efforts. Congratulations to both, and on another note Victoria's Naween Fernando must feel somewhat as if his brother is the new Champ - Naween and Akshay grew up playing Scrabble together in Bahrain, and their parents took them to London to play in the world Scrabble Championship in 1995.
Australia's best placed finisher was
Russell Honeybun from Western Australia,
who finished in the prizemoney in 15th place, well done, Russ. Thanks to all who helped with the coverage, it was great to follow events as they unfolded.
Full details, including a great deal of information, can be found
HERE
The Annual South Australia - Victoria Border Challenge, October 21-22nd 2017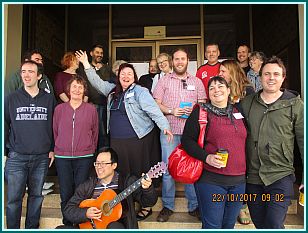 The happy South Australian Team!
The Victorian diehards!
Well, Victoria, we almost made it this time - perhaps next year? We'll certainly be trying! Well done, South Australia!
Seventeen South Australians and twenty-two Victorians travelled to the lovely town of Horsham (in Western Victoria, where everyone makes you feel very welcome) for this annual battle, and met at the White Hart Hotel on Firebrace Street where host Bruce cared for us very well.
South Australia were the tournament organisers this year and did a great job, thanks Paula and team, keeping us well fed with lovely fresh fruit etc. between games. Handling the computer pairings was quite a challenge, made more complex by the uneven numbers in the teams, and Adam Kretschmer and Oliver Jenner-O'Shea did a great job with some help from other team members. All South Australians played all their games against Victorians, with the spare Vics playing each other each round and ten of us having a bye.
Going into the second last round South Australia were ahead 74-62, with 34 games to play. However Victoria came home with a convincing run, winning the last two rounds 23 games to 11 and squaring the final game tally on 85 apiece. As it turned out, in spite of this amazing effort, South Australia claimed the perpetual shield as a result of their far superior margin of +679; congratulations to you all, you're a tough team to beat!

The winners: Adam Kauschke, Adam
Kretschmer, SA President Oliver
Jenner-O'Shea and Michael Cameron

Winners second rating band: Balada
Catanchin with Oliver, Khwanjai
Thammaping, and Glen Chandler

Oliver Jenner-O'Shea hands the
Perpetual Shield to the SA Team
Captain Paula Brown

The final game of the tournament,
with Bronwyn Piechnick from South
Australia playing Marisa Nuccitelli

The White Hart Hotel, scene of the
action, on the corner of Firebrace
Street and Roberts Avenue
Individual prizes were awarded within two ratings bands, with the SA players dominating the top division, and the Vic players making a clean sweep in the second division. Congrats to Michael Cameron who won all 10 games to place first, followed by Adam Kretschmer and Adam Kauschke, both on 8 wins. Winners in the second rating band were Glen Chandler, Khwanjai Thammaping and Balada Catanchin, all on 6 wins. Well done to you all, you've really contributed to Victoria's best result for several years!
Overall prizes were awarded for High Game and High Word - Michael Cameron scored 626 to take home the High Game cash, and Adam Kauschke played a nine-timer LEGALITY for 140 points to win the High Word award.
Impressive ratings gains were achieved by Balada Catanchin +70, Adam Kauschke +49, Glen Chandler + 46, Michael Cameron + 41 and Heather Long +40.
Well done to all who took part, it was a most enjoyable tournament and thanks again to the South Australian team for looking after us so well.

South Australian Adam Kretschmer
mans the computer

Players on the final day, with
a mix of state representatives

Local resident, Tim Guidera, with
his great prize for finishing last

The main street, Firebrace Street,
looking north

Looking south on Firebrace Street:
Horsham is a well-cared for town
To see the full results of the South Australia versus Victoria Border Challenge click
HERE
Go to the top
The Geelong Tournament takes place in a new venue! October 14, 2017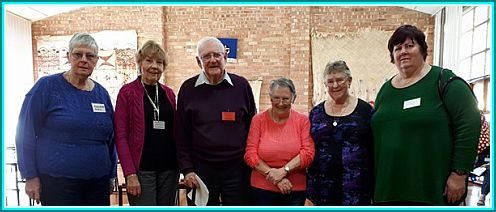 Members of the Geelong Scrabble Club
This year
36 players
arrived at
Saint Andrews Hall
in the
City of Geelong
for this annual six game tournament, ably organised by
Marlene Ellis
and the
Geelong Club Members
with help from
Carol Johnsen and Norma Fisher
. The venue is a pleasant place to hold a tournament, with excellent facilities for playing, catering and relaxing between games.
It was good to see both
Naween Fernando and Peter Kougi
in attendance, and these two were pleased to take out first and second places respectively in
Division ABLETT,
followed by local player
Mary McMahon
, a game behind in third place.
Naween
claimed the High Game Award for his score of
529,
and
Peter
collected the High Word Award for his play of
TRAVERSE for 140 points.
In
BARTEL Division Phil Moller
continued his excellent start to his tournament career, placing first on five wins - well done, Phil! Second place went to
Betty Egan,
also on five wins, with
Khwanjai Thammaping
winning four to place third. (Thank you for the photos, Khwanjai!)
Glen Chandler
had a good day, winning both the High Game and High Word Awards for her game score of
533,
and her play of
FRITTERS for 149 points.
Star of the day,
winning all six games, was
Latha Weerakkody
in
Division CAMERON,
a wonderful effort, Latha! Second place went to
Angie Winkler
on five wins, and in third place was the Geelong Scrabble Club Convenor,
Marlene Ellis
on three wins. The High Word Award also went to
Marlene
for her play of
EQUALING for 101 points,
and fellow Club Member
Anne Menheere
claimed the High Game Award for her game score of
473.
Notable ratings gains
were achieved by
Phil Moller +42
(Phil is still a provisional player, but having now played 46 games will move from the provisional zone at his next tournament),
Latha Weerakkody +39, Angie Winkler +38, Betty Egan +37, Glenys Dettmann +35, Mary McMahon +34 and Balada Catanchin +31.

Winners in ABLETT: Naween Fernando, Peter
Kougi, Mary McMahon

The BARTEL winners: Betty Egan, Phil Moller
Glen Chandler, Khwanjai Thammaping

The clever ones in CAMERON: Latha Weerakkody,
Angie Winkler, Anne Menheere, Marlene Ellis

Old friends catching up: Don Marshall and
Barry Harridge
Well done to all who competed, and thanks to the Geelong Members for their hard work organising everything, and for the provision of between-game snacks, including lovely fresh fruit which is so refreshing and always popular with the players.
The Geelong Club meets
at Saint Andrews Hall, corner Sydney Parade and Sydney Avenue, Geelong, on
Saturday afternoons at 1.30 pm,
and all are welcome to attend.
To see the full results of the Geelong Tournament click
HERE
Vale John van der Schoor ~ 5th July 1937 ~ 8th October 2017
John in 2014
John was a lovely caring gentleman, and a gentle friend to many in scrabble for many years. His life was interspersed with his time spent in Geelong, work at the Ballarat School of Mines as a librarian which he loved, attending concerts with friends ( he was particularly fond of classical music), and travel - in early days John spent considerable time trekking in the Himalayas, with regular visits to his place of birth in the Netherlands for family reunions a special delight. More recently he travelled in Europe with fellow Scrabble players Barry Harridge, Sandra Masel and Patricia Mitchell, who had enjoyed John's friendship for some years prior to his time playing Scrabble.
John is survived by a large extended family, including his five brothers who all reside in Australia, and their many descendants. A graveside service to celebrate John's life will take place at Western Cemetery (Minerva Road entrance) at 2.00pm followed by a Memorial Service at Tuckers Chapel, 68-74 Hope Street, Geelong West at 3.00pm. Rest peacefully, John.
The Seniors' Festival Social Day and Tournament, October 12 2017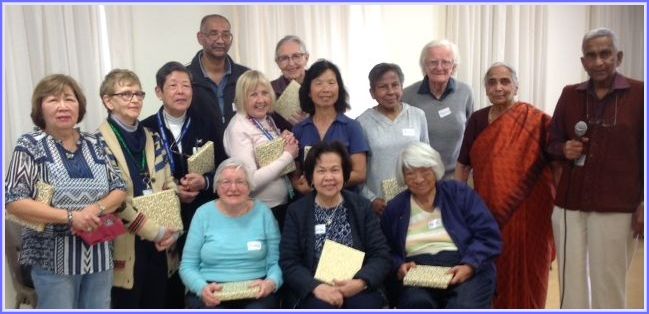 The Winners on the day, with organisers Sita and Tam Dasika on the right
Once again chief organiser Tam Dasika and his wife Sita worked hard to ensure the success of this lovely day out for Victorian seniors, with 47 people attending and taking part in a round robin tournament, with the eleven divisions having flower names in alphabetical order.
Prizes were awarded for the first place getter in each section, as well as some extra prizes for high game and high word.
Everyone enjoyed the lovely lunch and snacks provided, and the challenge of playing three competitive games of Scrabble against players of similar talents.
Tam thanked Norma Fisher, Carol Johnsen and Marj Miller for their ongoing assistance, and also thanked all his Club Members for their ongoing help.
This free day out is only possible due to the generous financial assistance of the Department of Health and Human Services through their Representative Officer Chris Reidy, as part of the annual Victorian Seniors Week Festivities.
Tam and Sita and all attendees are also grateful to the Golden Age Senior Citizens' Club for providing the venue free of charge, it is a welcoming and comfortable venue at which to host this popular annual event. The Golden Age Scrabble Club meets here (47 Miller Crescent, Mount Waveley, opposite the railway station) regularly on Wednesdays from 9.30 am till 3pm, and all are welcome to join the group.
Update on the 2017 Victorian Matchplay Event, October 10
All rounds have now been completed, and Andrew Fisher will play Trevor Halsall in the final. This should be a great contest between these two talented players - more news will follow.
| | | | | |
| --- | --- | --- | --- | --- |
| Norma Fisher plays her quarter final | Andrew Fisher versus Norma Fisher | Nick Ivanovski v Dilendra Nanayakkara | Carol Johnsen plays Trevor Halsall | SF - Nick just loses 3-4 to Andrew |

Andrew Fisher 3
Natasha Podesser 3
Nick Ivanovski 3
Trevor Halsall 3
Norma Fisher 2
Oliver Podesser 1
Dilendra Nanayakkara 0
Carol Johnsen 1
Andrew Fisher 4
Nick Ivanovski 3
Natasha Podesser 1
Trevor Halsall 4
Andrew Fisher
Trevor Halsall
The Essendon Tournament ~ October 1, 2017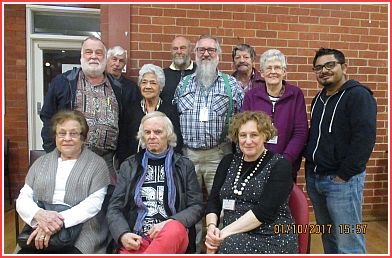 The Essendon Scrabble Club Members:
Barry Harridge, Doug Ristic,
Norma Engel, John Taylor, Rob York, John Rider, Glenys Dettmann,
Eloy Gardea. Seated: Lina Camilleri, Rod Casey, Janet Bau.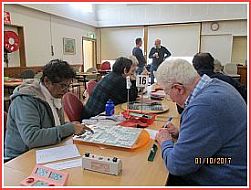 Play in progress, with Latha Weerakkody and
John Parker in the foreground
Fifty-two keen players
took part in this year's annual event, with
Rob York,
our Organiser and Tournament Director, keeping an eagle eye on proceedings and helping
Helen Richards
with the catering duties.
Rob welcomed all players to the Tournament, and in particular
Michael Smitheram
who is well known to contestants on the
Melbourne Online Scrabble Players website
. Michael enjoyed his day, finishing with four wins and a provisional rating of 820 points - well done, Michael, anything over 500 is good for your first tournament!
Rob had an excellent team of helpers, namely the
Essendon members
who supplied many delectable cakes and other goodies for our enjoyment, thank you all, our refreshments throughout the day were delightful.
Also helping in various areas were
Norma Fisher, Carol Johnsen, Barry Harridge, and Lainie Mercieca
who manned the computer for a good part of the day before slotting in to play when one of our players became ill. Many assisted in the final clean-up, and as always we were grateful for all help offered.
Players were divided into three sections for this event - Masters, Advanced and Intermediate.

The Winners in Masters:
Trevor Halsall, Norma Fisher, Nick Ivanovski

The victors in Advanced:
Betty Egan and Lorraine Thomas

The Intermediate gurus: Lynne Goodinson,
Elizabeth McKean, Angie Winkler, John Metcalf

Tournament Director and Essendon Club Convenor
Rob York with his trusty helper Oscar
Trevor Halsall
had a great day, sweeping all before him in
MASTERS;
winning all seven games is always a great achievement, well done Trevor. Second place went to
Eloy Gardea
on five wins (Eloy is heading back to his home in the U.S. shortly, its been good to have you here for a year, Eloy!)
Norma Fisher
also won five games to place third; the
High Game Award
went to
Nick Ivanovski
for a great score of
598,
and
Trevor Halsall played INKJETS
for 126 points to take home the High Word Award.
ADVANCED
saw a fine performance from
Lorraine Thomas
who won six games, followed by
Siva Sivapalasundram
on the comeback trail with five wins.
Betty Egan
won five games as well as the
High Game Award,
for her excellent score of 534. The
High Word Award
went to
Siva
for his play of
LAZIEST, worth 109 points
- well done, everyone!
Carol Mascitti
played in this section after some extensive travel in various places around the world and in Australia, its great to have you back, Carol.
In INTERMEDIATE Lynne Goodinson
(also on the comeback trail) won all seven games, finishing with an excellent margin of +859 - well done, Lynne, you're getting back to your old form now! Second and third respectively were
John Metcalf and Angie Winkler,
both on five wins, and both very happy with their day's play. The
High Game Award was won by Elizabeth McKean
for her great score of 500 points, and the
High Word Award
went to
John Metcalf
for his play of ENACTING for 94 points.

Essendon's Janet Bau with new player Michael
Smitheram, and Helen Richards

Helen Richards with friend Rob York, looking very
happy indeed!

Relaxing at lunchtime: Kris Howat, Marisa
Nuccitelli and Angie Pearse

Tidying up: Chris McCann with Norma Fisher,
and Carol Johnsen, Rob York and Barry Harridge
Excellent ratings gains
were achieved by these players:
Lynne Goodinson +70, Siva Sivapalasundram +46, Angie Winkler +46, Betty Egan +37, Faye Leeder +31, and John Rider +30.
If you wish to play Scrabble on Tuesday evenings please visit the Essendon Club at the
Essendon Senior Citizens Centre, 5 Kellaway Ave, Moonee Ponds
at 7pm and Convenor Rob and the members will make you most welcome.
To see the full results of the Essendon Tournament in the National Scrabble Archive click
HERE
Rest in peace, Nick Lindsay ~ June 13, 1943 ~ September 15, 2017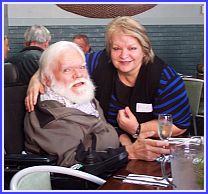 Nick on his 70th birthday, with Maria
It was with sadness that I heard from Maria Aivaliotis about the sudden passing of Nick Lindsay, a popular and well known Wangaratta identity who ran the local Scrabble Group for many years, usually in his home. Maria met Nick at a Scrabble Tournament in Wangaratta in 1997 and their mutual love of Scrabble ensured that they became firm friends.
This is from Maria's email to me this week: "We are all mourning the passing of Nick with sadness and will never forget the passion he had for scrabble. We came to recognise when a bingo was looming with a twinkle forming in his eye, then he'd take his time putting each letter down slowly in it's position, one at a time. Finally the sense of delight and achievement, that we all feel for a bingo, shone in his face. These memories...and many more, will remain with us forever and scrabble in Wangaratta will never be quite the same again."
I remember first meeting Nick in the early 2000's in Melbourne, and on a couple of occasions when dropping booklets and dictionaries in to him at his home when travelling through to Canberra. Nick always appreciated these fresh reference books as he liked to keep his group up to date with the latest word lists, and Maria mentioned to me that Nick christened the Scrabble Dictionary "Marj", and it was always referred to by this name - what an honour!
Nick will be missed by his daughters Fiona and Rebecca, grandchildren Lydia and Ben, family and his many friends.
Rest peacefully, Nick, many people will have happy memories of a life well lived.
The Peninsula Tournament, September 17 2017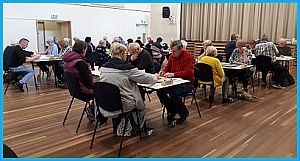 The spacious playing area at the Mount Eliza
Community Centre
Here is a report from the Tournament Director, Carol Johnsen - thanks, Carol! And thanks to Khwanjai Thammaping for the photos, they are appreciated.
This was the first year for the ASPA committee-run Peninsula Tournament, formerly the Mt Martha Tournament which had been ably run by Julie Belle and the members of the Mt Martha Scrabble Club. The venue is very spacious and popular but it amazes me how people still get lost finding it! Three players who regularly attend each year had trouble finding it, with one of them only coming from Mornington - just up the road!
Thirty four players
took part including standby player
Pat Weston from Geelong
who had come along to catch up with old friends at the tournament. Pat went on to win the
C Section
of the tournament and came away a very happy winner. Also of note in this section was
Trish Magee's score of 529,
well done, Trish.
In the
A Section,
local player
Jane McDonnell
proved a very formidable player - winning 4 games of 6 and
gaining 51 rating points.
We are certainly encouraging her to play in other tournaments but alas, not too successfully.
Carol Johnsen's
opponent's lament of "I've only had 1 blank all day" was not answered when in a seemingly blocking move to place an S in front of QUIZ, he had created the opportunity for her to have a
triple-timer BEASTIES
for 144 and highest game (with both blanks).
Alan Burn
was leading for most of the day but his last game was not fruitful and
Gwen Lampre
won through to take first place.
Relative newcomer to the Scrabble scene,
Phil Moller,
took out first place in
B Section
with 6 wins and a healthy gain of
118 rating points.
He is keenly waiting for the Decathon where he can play 10 games in a day! Unfortunately, a player left after lunch due to illness and there were 3 byes, however these would not have affected the placings.
To see the full results click
HERE

Division C: Balada Catanchin, Geoff Gittus,
and the winner Pat Weston

Division B high achievers: winner Phil Moller
and Glen Chandler

Division A: Carol Johnsen, Alan Burn and
first placed Gwen Lampre

Great concentration shown by Dianne Davis,
an important part of doing well in Scrabble
| | | | |
| --- | --- | --- | --- |
| Mardi Healy | Glen Chandler | Geoff Gittus | Christiane McCann |
Go to the top
Andrew Fisher is the 2017 Australian Masters Champ, and Victoria wins the State Team Challenge!
September 9/10, in Adelaide, South Australia

Andrew Fisher with the Masters perpetual trophy, and
South Australian President Oliver Jenner O'Shea

Defending Champ and second placed Joanne Craig,
with Oliver Jenner O'Shea

Daniel Piechnick finished in third place, seen here
at Presentations with Oliver

Technical matters - Daniel Piechnick checking, with
Oliver Jenner O'Shea and Trevor Tao
Both events produced
close and exciting finishes,
with the outcome of the
Masters
uncertain till the end of play -
Andrew Fisher from Victoria
had recorded six wins from ten games played on the first day and was in sixth place overnight. Excellent play on Day 2 (losing only to Michael Cameron from South Australia) resulted in a steady climb up the placings, and at the start of the final round Andrew was a game clear of four contenders on 12 wins, namely
Esther Perrins and Joanne Craig,
both from New South Wales, and
Daniel Piechnick and Trevor Tao,
two of South Australia's top players.
Andrew won his final game to finish on 14 wins
and put the result beyond doubt, with the others finishing in this order - second Joanne (13 wins), third Daniel (13), fourth Esther (12), fifth Trevor (12), with sixth place going to Bob Jackman (10.5) from New South Wales. The
High Game Award
went to
Russell Honeybun
from Western Australia for his excellent score of 624, and
Ron Baginski
from Queensland played GRIEVANT for 167 points to take home the
High Word Award.

The Champion State Team, from Victoria - Gwen
Lampre, Carol Johnsen and Norma Fisher

The top individual player in the Teams event, Edie
Mueller, a second time winner of this title

John Hamilton from the A.C.T. plays Norma Fisher
from Victoria

Play in progress - foreground - Ryan Sutton &amp Rod
Talbot, with Oliver Jenner O'Shea &amp Barry Harridge
The State Team Challenge
was a nailbiter for the players -
Tasmania
had led for much of the day, the
Australian Capital Territory
won many games in the final rounds, and
Victoria
had a greatly superior margin but needed to keep winning their games to secure the trophy.
In the final round
Victoria managed to win two of their matches which happened to be against Tasmanian players, and the
A.C.T.
won two of their three final matches, putting them into second place - so the final placings were
Victoria (31.5 wins, margin +1113),
the
A.C.T. second (31.5 wins, margin +379),
and
Tasmania third (30.5 wins, margin +573).
The High Game Award went to
Trish Brighton (Queensland)
for her score of 560, and
Martin Rose (Tasmania)
played COLLATED for 158 points to secure the High Word Award.
The top
Individual Player Award
within the
State Team Challenge
event was won by
Edie Mueller from Western Australia
for her 14 wins from 18 games played, a great effort indeed. Second place went to Norma Fisher on 13 wins, with John Spaan from the A.C.T. placing third on 11 wins.
Thanks go to the whole team from South Australian Scrabble
for organising this event so well, many people were involved behind the scenes - Oliver Jenner-O'Shea, Adam, Antony, Jacqui, Mel, Tony, Susan, Larrie, Margaret, Tracy, and many more who assisted with various tasks over the weekend - and Barry Harridge for directing the major events, and running the computers and website for the weekend. Well done everyone!
To visit the website click
HERE
The 2017 Australian Masters and State Team Challenge - happening this weekend in Adelaide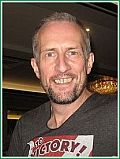 Andrew Fisher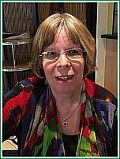 Gwen Lampre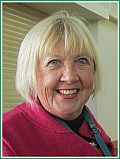 Carol Johnsen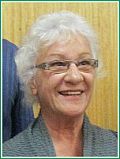 Norma Fisher
This prestigious annual event commences early on Saturday morning September 9th at the Bridge Association, 243 Young St, Unley in South Australia.
The twenty top Australian players who have accepted their invitations to compete in the AM will play nineteen games against their peers in the Australian Masters, with ten games on Saturday and nine on Sunday. Last year's Masters Champion Joanne Craig from New South Wales will be very keen to take the title again this year but will have some extremely tough opposition.
The State Team Challenge runs concurrently, with teams of three selected players from each state vying for the coveted title of champion Australian State team. Western Australia were victorious last year here in Melbourne and will be trying hard to repeat their victory.
Andrew Fisher, the 2009 Masters Champion, is our sole Victorian representative in the Masters, and our Victorian State team comprises Gwen Lampre, Carol Johnsen and Norma Fisher. Good luck, everyone! The Webmaster for the event is Victoria's Barry Harridge, and Barry will provide regular updates over the weekend on the designated webpage - to keep up to date with results and other news click
HERE
David Eldar from Victoria Australia is the new 2017 World Scrabble Champion!

Harshan Lamabadusuriya (Sri Lanka) and David
Eldar (Australia) at the conclusion of their
best-of-five final


MSA representative Rachael presents the
trophy to David



Champion David




The top 8: Elie Dangoor, Harshan Lamabadusuriya,
Neil Scott, Nigel Richards, Mark Nyman, Goutham
Jayaraman, Austin Shin and David Eldar.

Goutham Jayaraman from Singapore plays
Austin Shin from England in a quarter-final


The Mind Sports Academy World Scrabble Championship, played in Nottingham in England from 19-27th August, culminated in David Eldar emerging as the new Champ, after just managing to make the last eight players to compete in the final rounds.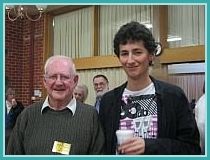 2009: David with mentor Don Marshall,
Rod Casey &amp Barry Harridge behind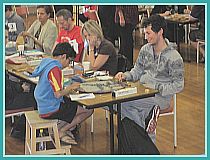 2010: David plays felllow Oz whiz kid
Anand Bharadwaj, with Bridget Halge,
Andrew Fisher &amp Helen Maurus-Hynes
David's Scrabble career began at the McKinnon Scrabble Club in the early 2000's under the leadership of Lesley Mack and Don Marshall, and David thanked the Club members for their early guidance, including Norma Fisher and Barry Harridge. David's early successes included the 2003 Victorian Championship when he was 13. He won the Australian Championship in the same year, as well as 2007 and 2013. David was the inaugural World Youth Scrabble Champion, organised by Karen Richards at Wollongong in New South Wales in 2006. His final playoff then was against Austin Shin, who came close to playing David in the finals of the Worlds in 2017. Many other notable wins have been achieved, with David taking a break from Scrabble to participate in his other pastimes such as poker, which garnered him some welcome financial rewards. David now enjoys life at his home in busy London.
In Nottingham, after winning 21 of the 35 games in the overall competition, a 2-0 win over the world's Number One player Nigel Richards in the Quarter Final, defeating Goutham Jayaraman 3-2 in a very tight Semi Final, and defeating Harshan Lamabadusuriya 3-0 in the Final, a very ecstatic and relieved David was declared the 2017 World Champion. Congratulations, David, this is a well deserved win after many years of competing at such a high level!
The A.G.M. Tournament, August 20, 2017
This six game tournament was attended by
56 players,
with the Annual General Meeting taking place after Game 4. Two members resigned from the Committee, and we thank both
Rob York and Christiane McCann
for their services to Scrabble in Victoria. All major positions were filled by the incumbents, namely President Carol Johnsen, Vice-president Norma Fisher, Secretary and Membership Officer Gwen Lampre, and Treasurer Rob Hutchinson. Members Christie Godby and Glen Chandler now fill the two vacant committee positions.

Winners in Division A: Kashi Thiris, Alan Burn,
Nick Ivanovski, Trevor Halsall

Division B winners: Dianne Gibson, Betty Egan,
Dorothy Rice, Oliver Podesser

The winners in Division C: Christiane McCann
and Elize Plaganyi
Players were divided into three divisions, with
Nick Ivanovski victorious in Div A,
one of three players to finish on 5 wins. Second and third places went to
Kashi Thiris
and
Trevor Halsall,
with the High Game Award going to
Nick Ivanovski for a score of 569,
and
Alan Burn's play of REQUEST for 130
earned him the High Word Award.
Division B
was also keenly fought with
Dianne Gibson finishing first on 5 wins
, ahead of
Oliver Podesser
also on 5 wins, and
Katie Rowe
on 4.5 wins. The High Game Award went to
Betty Egan for her score of 513,
and the High Word Award went to
Dorothy Rice
for her lovely play of
QUINTETS for 101 points.
Division C saw Elize Plaganyi
with a clean sweep on
6 wins,
the only player to win all 6 games - well done, Elize!
Laura Khan
placed second on 5 wins, followed by
Christiane McCann
on 4 wins.
Christiane
claimed both High Game and High Word Awards, scoring
501 points
and playing
REQUINS for 120 points,
well done all.

Relaxing at lunchtime: Dorothy Rice,
Eileen Mills and Lorna Patching

Marjorie Clark, Lina Camilleri,
Dorothy Hunt and Fay Boxshall

Angie Winkler, Natasha Podesser,
Faye Leeder and Rod Casey

Enjoying the sunshine - Dominica
Krstic and Paula Messer
Notable ratings gains
on the day were achieved by the following -
Kashi Thiris +49, Elize Palganyi +46, Janet Bau +45, Faye Leeder +42, Oliver Podesser +32, and Laura Khan +31.
Excellent work, everyone!
Full results of the AGM Tournament may be viewed in the archives - click
HERE
The 2017 Victorian Country Championship ~ August 6, at Ballarat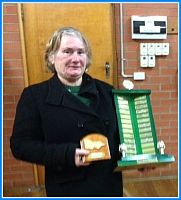 The 2017 Champion, Sue Kyatt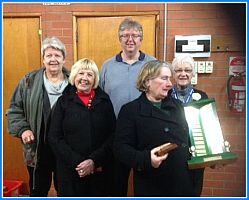 The 2017 prizewinners, from left: Christiane
McCann, Carol Johnsen, Alan Burn, Sue Kyatt,
Norma Fisher.
On a cold winter's day what better place to be than in one of the State's coldest places - Ballarat - for the Victorian Country Championship. We doubt the temperature exceeded 8C for the day. We stayed cosy in the warmth of the Brown Hill Community Hall which players will remember from those enjoyable Ballarat Club tournaments, held there for many years ably run by Tess Robinson and her family.
A nice break in the day, was to walk just 200m up the road to the local pub, Brown Hill pub, where we enjoyed a lovely lunch. We had ordered our lunches during the morning and they were able to be served when we arrived at the pub.
The new format for the Championship inviting all players to participate was successful in that it increased participation by 100% over that of 2016.
It was lovely to see the return of Sue Kyatt and Alistair Kane who now reside in San Remo and of course, to see Sue take out the 1st prize (6 wins) and the title of Victorian Country Champion. Sue remarked that it had been several years since she had participated in a tournament.
Carol Johnsen (5 wins) took 2nd place and Norma Fisher (5 wins) placed 3rd. Christiane McCann placed 11th winning the Highest Place (Under 1000 rating) with 4 wins. Alan Burn won High Game with 626 and Sue Kyatt won High Word with BROWNIES for 176 achieved in her game with Alan Burn where Alan was able to keep close with 3 bingos and the final scores were both in the 400's - a really good game.
Thanks to Norma Fisher, Carol Johnsen, Neville Hesketh, Val Martin, Ian Martin (standby player), Marjorie Clark and members of the Ballarat Club for their assistance in the organisation of the tournament.
To see the full results of the 2017 Victorian Country Championship click
HERE
Anand Bharadwaj visits the Balwyn Club to raise money for Unicef's School-in-a-Box program!
Once again the Balwyn Scrabble Club players welcomed Anand and his parents to this annual charity day to support Anand's favourite charity, which supplies educational goods to deprived areas of Africa. It was also Anand's 17th birthday, and we celebrated in style with a cake provided by Kannan and Lalitha.
To learn more about this charity visit the UNICEF website and experience the joy these educational boxes bring to disadvantaged kids - just click
HERE
Four tables were set up and Anand played all members at some stage, with the balance of members playing social scrabble nearby on the dance floor. Members supplied some additional delightful afternoon tea, and all appreciated their efforts - thanks everyone, and thanks for your support on the day.
| | | | |
| --- | --- | --- | --- |
| Players enjoying afternoon tea and birthday cake! | Balwyn stalwarts Marj and Rosie | Play in progress - Rosie, Barry, Anand, Kannan | Cheryle and David with Anand and Kannan |
Many thanks to Kannan for the use of his photos, and here is Anand's report on the day:
This year marked the fifth annual simultaneous Scrabble UNICEF fundraising event at Balwyn Community Cerntre, an event that was once again a resounding success, raising a total of $425 for UNICEF's School-in-a Box program.
I thank the Balwyn Community Centre for waiving the fee to use their facilities and the Balwyn Scrabble Club for their wholehearted support of this initiative. In particular, I am immensely grateful to Marj Miller, Norma Fisher, Barry Harridge, Carol Johnsen and Nick Ivanovski for publicising and promoting the event at tournaments and to Marj and the Balwyn members for their invaluable support in organising the event on the day.
All in all, it was a fun-filled afternoon, and I had a wonderful time celebrating my seventeenth with my Scrabble friends.
| | | | | |
| --- | --- | --- | --- | --- |
| Lalitha had been to a wedding! Balada concentrating! | Elaine enjoyed the birthday cake | Paula, just finished her game | Rosie, Barry, Anand and Kannan | Dominica and Natasha, having fun |
Matchplay Kickoff ~ July 17, 2017
The finalists, from left: Dilendra Nanayakkara, Trevor Halsall, Norma Fisher, Oliver Podesser, Carol Johnsen, Nick Ivanovski,
Natasha Podesser, and the overall winner on the day, Andrew Fisher.
The
2017 Match Play
kicked off on a high, with a
record player attendance
in the recorded history of this tournament.
Fifty players
converged on Box Hill for the seven round qualifier.
The tournament prize structure allowed for prizes to not only go to the top eight who wanted to proceed but also three prizes in three ratings bands, meaning that 1 in 3 people who played on the day would end up heading home with a prize!
We welcomed
Eloy Gardea
back after a brief absence from tournaments and the
Victorian Number 2 Andrew Fisher
headlined a strong field of players.
In the end,
Andrew
went through the qualifier undefeated and moved into the knockout phase in style.
Nick Ivanovski's final round 603
gave him High Game for the tournament.
The top eight players who wanted to proceed to the final stages were (in finishing order on the day) Andrew Fisher, Natasha Podesser, Norma Fisher, Carol Johnsen, Nick Ivanovski, Dilendra Nanayakkara, Trevor Halsall and Oliver Podesser.

Tournament Organiser and player Nick
Ivanovski, with Lorna Patching

Rating Band A Prizewinner
Marj Miller

Rating Band A Prizewinner
Lorraine Thomas

Rating Band A Prizewinner
Geoff Shepheard

Rating Band B Prizewinner
John Metcalf

Rating Band C Prizewinner
Marisa Nuccitelli
The finals stage has a prize pool of just under $500 and the knockout finals matches are set up below:
QF1:
Andrew Fisher v Norma Fisher
QF2:
Nick Ivanovski v Dilendra Nanayakkara
QF3:
Natasha Podesser v Oliver Podesser
QF4:
Trevor Halsall v Carol Johnsen
SF1:
QF1 winner v QF2 winner
SF2:
QF3 winner v QF4 winner
GF:
SF1 winner v SF2 winner
The winner will take home $200 and the runner-up $100.
Who will emerge victorious? Follow on this website or on Facebook. I hope everyone enjoyed the tournament and I am looking to make it bigger and better for 2018. Many thanks Nick.
Thanks to Nick Ivanovski for this report, and to see the full results of the Kickoff click
HERE
This table will be updated as the knockout results come to hand, hopefully with some photos - good luck to all players, enjoy your finals!

Andrew Fisher 3
Natasha Podesser 3
Nick Ivanovski 3
Trevor Halsall 3
Norma Fisher 2
Oliver Podesser 1
Dilendra Nanayakkara 0
Carol Johnsen 1
Andrew Fisher 4
Nick Ivanovski 3
Natasha Podesser
Trevor Halsall
Andrew Fisher
The 2017 Victorian Scrabble Championship ~ June 10/11/12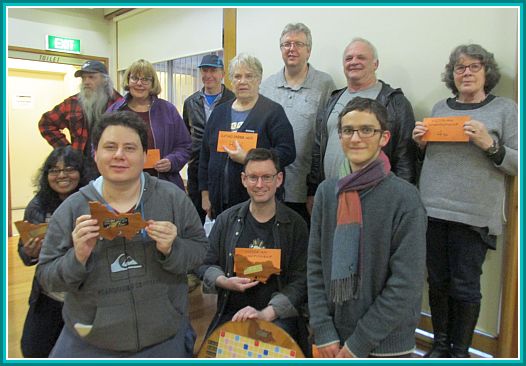 The Winners - standing - Geoff Wright, Jane Taylor, Rod Talbot, Katie Rowe, Alan Burn, Noel
Coulter, Dianne Brumby. In front: Mythili Rudra, Jimmy Scarff, Trevor Halsall, John McNaughton.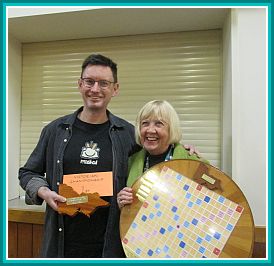 The 2017 Champion Trevor Halsall with
TD Carol Johnsen. Well done, Trevor!
Forty four players
arrived on a rather cold morning to compete in the annual
3-day 24-game Victorian Championship
, held at the Box Hill Community Centre. Victorian President and Tournament Director Carol Johnsen welcomed all players - 5 from
New South Wales,
4 from
South Australia,
2 from
Queensland,
and one each from the
Australian Capital Territory, Tasmania and Overseas,
with the balance Victorian competitors.
An initiative to run a concurrent event attracted insufficient numbers to make it viable, so generous Ratings Band prizes and extra High Word and High Game prizes were awarded within the Championship, and these were popular with the various winners.
This year's Champion is Victorian Trevor Halsall
who had been victorious in Victoria in 2011, and more recently runner-up in the 2017 Australian Champs.
Trevor
was placed third at the end of Day 1, but led at the end of play on Day 2 and won six of his seven games on the final day, finishing on
19 wins with an excellent margin of +1440.
Trevor was followed by three players on 16 wins -
Jimmy Scarff (Victoria, margin +1153), Rod Talbot (NSW, +631) and Dianne Brumby (Tasmania, + 97). Jane Taylor from South Australia placed fifth on 15.5 wins, with a margin of +1108.
Joint winners of the
Championship High Game Award were Alan Burn (Game 21), and Mythili Rudra (Game 22),
both brilliantly scoring
613 points.
The
High Word Award
went to
Geoff Wright
for his play of
BRUNETTE for 140 points,
well done, everyone.
The Ratings Band Prize
for the best placed player rated 1201-1400 went to
Victoria's Noel Coulter on 13 wins and 14th place overall
, and
New Zealand's John McNaughton
was the best placed player rated below 1200, winning 12 games and finishing in 17th place overall.
High Game and High Word Awards
for those rated
1400 and under
were presented to
John McNaughton
for his great score of
569,
and to
Katie Rowe
for her play of
JESSIES scoring 110 points.

From left: Noel Barrett, Geoff Wright,
Barry Jordan, Rod Talbot

Elize Plaganyi, Marisa Nuccitelli,
Adam Kauschke, Paula Messer

The Admin staff - Barry Harridge with
TD Carol Johnsen

From left: Mythili Rudra, John Barker,
Karen Richards, Jimmy Scarff

Adam Kauschke, Latha Weerakkody,
Alan Burn, Paula Messer
The tradition of announcing the
Most Improved Victorian Player
for the previous 12 months was continued, with rating gains calculated from June 1st 2016 till May 30th 2017. This year's very deserving winner was
Geoff Shepheard
who improved his rating by the massive amount of
231 points,
well done, Geoff.
To see the Top 20 Most Improved Players, and those who played the most games over the past 12 months
click here

2016-17 Most Improved Player, Geoff
with Carol Johnsen

Trevor Halsall, Nick Ivanovski, Jane
Taylor, Dianne Brumby

Elize Plaganyi, Christiane McCann,
Jeff Chelton, Marisa Nuccitelli

Rob Hutchinson, Rob Marotta, Geoff
Shepheard, Glen Chandler

Some serious concentration - John
McNaughton plays Mark Tully
Notable rises
in personal ratings were achieved by
John McNaughton (OS +131), Jane Taylor (SA +95), Rene Chelton (NSW +94, Noel Coulter (Vic +81), Rob York (Vic +74), Dianne Brumby (Tas +70), Barry Jordan (SA +65), Noel Barrett (ACT +62) and Marisa Nuccitelli (Vic +60).
Great play, everyone!
Thanks to everyone who helped out in any way over the weekend, as always your assistance was appreciated. This includes
Norma Fisher
whose contribution was enormous as always, and those who acted as reserve players, namely
Christie Godby and Barry Harridge
who played the final day, and also spent considerable time on improving technical matters.
To find the full results of the 2017 Vic Champs click
HERE
The Cranbourne Tournament ~ May 28, 2017
On a very cold morning
58 players
gathered at Box Hill Community Centre for the Cranbourne Club's annual tournament on Sunday 28 May for the last warm-up before the Victorian State Championships. It was great to welcome
Frances Adams
from Tasmania. As usual I have to thank
Barry Harridge
for help with the computing program. I only use it once a year and have to be reminded of all the little tricks.
Elaine Capewell, Livia Caulfield and Gayle Cameron
provided a great array of snacks and comfort food all day as well as competing in the tourney. My best thanks again. This year spot prizes were awarded for words related to AUTUMN, SPORT, TRAFFIC, POLITICS, CURRENT AFFAIRS, and CLIMATE, with plenty of imagination demonstrated by players.

Recreation: Christiane McCann,
Elizabeth McKean & Rena Aitken

Inter: Kris Howat, Sylvia Galloway,
Dorothy Barraclough & Mal Eden

Advanced: Geoff Shepheard, Rod
Casy &amp Lainie Chojna

Masters players: Nick Ivanovski
&amp Natasha Podesser

Frances Adams, visiting from
lovely Tasmania
In
Recreation
Section
Elizabeth McKean
won all 7 games with a margin of 359 to take out first prize, with
Rena Aitken
2nd winning 5.5 games and
Elize Plaganyi
in third place with 5 wins.
Christiane McCann
won prizes for both High Game (543) and High Word (SQUARES 108).
Kris Howat
won 1st prize in the
Intermediate Section
with the best margin (385) of five players all on five wins, ahead of
Sylvia Galloway
(margin 301) and
Mal Eden
(margin 270).
Kris Howat
also had the highest game score of 510, and
Dorothy Barraclough
scored 109 for SUNDECK to take the High Word award.
Geoff Shepheard
had a great day winning 6 games to take out the top prize in
Advanced Section,
with
Rod Casey
in second place with 5 wins and
Lynn Weaver
third with 4 wins.
Rod Casey
had a massive High Game total of 577, and
Lainie Chojna
played JANGLED (98) for High Word.
In the
Masters
Round Robin
Natasha Podesser
pipped
Nick Ivanovski
to win with 5 games and a margin of 315. Nick was a close second with 4 games (margin 331) and
Geoff Wright
took out third place, also with 4 wins and a margin of 214.
Nick Ivanovski
walked away with both High Game (561) and High Word (MISRATED 140).
| | | | | |
| --- | --- | --- | --- | --- |
| Elize Plaganyi plays Lauru Khan | Dianne Davis versus Alan Burn | Annette Casey plays Tim Whiting | Rob Hutchinson &amp Lorraine Thomas | John Metcalf with Gayle Cameron |
Excellent ratings gains were achieved by Elizabeth McKean +64, Geoff Shepheard +48, Rena Aitken +42, Natasha Podesser + 37 and Rod Casey + 30. Well done, everyone, and thanks to Tournament Organiser Katie Rowe for writing the above report, it is appreciated.
To check the full results of the 2017 Cranbourne event click HERE

Victoria wins the Tristate Challenge! May 13/14, 2017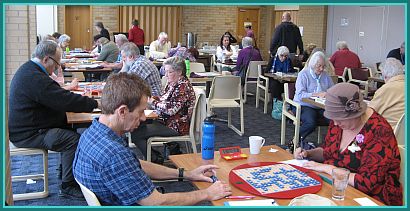 Serious play in progress at the Gundagai RSL, a pleasant venue.
In the foreground Tony Williams (ACT) plays Christie Godby (Victoria)
Teams of Scrabblers from the Australian Capital Territory, New South Wales and Victoria met in Gundagai on the Hume Highway in New South Wales to contest this annual Challenge, and for the
first time since 2011 Victoria were victorious
, a wonderful result indeed. This year the ACT were the chief organisers, with
John Hamilton
at the helm, aided by
Arie Holla
who runs the Gundagai Scrabble Club, thanks to you and your helpers for your efforts....it appears that the event was enjoyed by all who attended.
A different format was used this year, with the four highest ranked players from each state doing battle in Division A, and all other participants competing in Division B, with as many interstate games played as possible - thanks to John for devising the program, and keeping everything in order over the weekend.
Overall results saw
Victoria win 56.19%
of games played against the other states,
New South Wales
were second winning 47.03%, with the
ACT
close behind, winning 45.78% of their games.
Individually
Bob Jackman (NSW)
placed first in Div A, followed by
Joanne Craig
and
Rocky Sharma
, also from NSW, so it was a clean sweep to NSW in the top section.
Joanne Craig's score of 526
won the High Game award in Div A, and
Noel Barrett
from the ACT played
COWRIES
to win the High Word Award.
Division B was won by
Mark Tully from Victoria
, with
Barry Harridge (Vic)
second and
Sharon Sorenson (NSW)
in third place. The High Game award went to
John Barker (NSW)
for his score of 566, and
Rene Chelton (NSW) played MAGAZINE
for 126 points to win the Div B High Word award. Well played, everyone.
| | | |
| --- | --- | --- |
| Team Victoria | Team New South Wales | The Australian Capital Territory Team |

The famous Dog on the Tuckerbox at
Snake Gully, 5 miles from Gundagai

Organiser John Hamilton hard at work,
well done, John

Angie Pearse, representing Victoria,
plays Natalya Grace-Jones from NSW

Happy players Noel Coulter and Alan
Burn, both from Victoria

Arie Holla from NSW competes against
Balada Catanchin from Victoria
Thanks to Khwanjai Thammaping for the use of her photos, it is appreciated. Next year's event will be organised by Victoria, and the venue will be announced as soon as possible. To check the full results of the 2017 Tristate Challenge event click
HERE
The Nunawading Annual Tournament, April 30 2017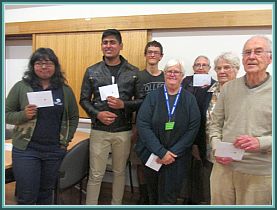 The winners - Mythili Rudra, Diyath Visidagamage,
John McNaughton, Gayle Cameron, Elize Plaganyi,
Katie Rowe, and Mal Eden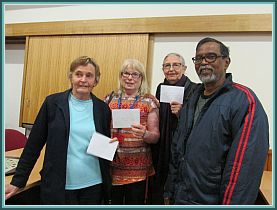 The High Game and High Word Winners - Lorraine
Thomas: HG Sections A-D, Lynne Goodinson: HW
Sections D-H, Elize Plaganyi: HW Sections D-H,
Shirley De Silva: HW Sections A-D.
Here is a report from the Nunawading Club Convenor, thanks, Cheryle Jerram, for doing a great job of organising the tournament, and the Club, which meets Tuesday evenings at 7.00 pm at 16 Station Street, Mitcham, near the Mitcham Station - all welcome!!
The Nunawading Club hosted a happy Round Robin competition on 30 April with 60 participants including 3 novices (Elaine McGinnes, Phil Moller and Diyath Visidagamage) and we also welcomed John McNaughton from New Zealand, and Shirley De Silva on his annual trip from Sri Lanka.
Winners for each section were Mythili Rudra, Diyath Visidagamage, Katie Rowe, Mal Eden, John McNaughton, Gayle Cameron and Elize Plaganyi. In the top divisions Shirley De Silva won the prize for High Word with TRANNIES for 131 and Lorraine Thomas won High Game with 528. In divisions F-H Elize Plaganyi won High Word with TAXLESS for 119, and Lynne Goodinson won High Game with 571, the highest game score for the whole tournament.

First time player Elaine McGinnes with
friends from the Balwyn Club, Lynn
Weaver and mischievous Rod Casey!


Good times at Scrabble - John
McNaughton from New Zealand, with
Diyath Visidagamage from Sri Lanka


New players Phil Moller and Elaine
McGinnes, who both play at the
Nunawading and Balwyn Clubs


Shirley De Silva
from Sri Lanka,
concentrating!

Friends from earlier WYSC events -
Diyath Visidagamage, Barry Harridge
and John McNaughton
Particular highlights of the day were Diyath Visidagamage's winning all 7 games in B Section (he now has a provisional rating of 2000!), Elize Plaganyi's 7 wins in claiming victory and 54 ratings points in section H, John McNaughton's great win in E section, and Mythili Rudra's win on 5 games in section A, clear of Trevor Halsall by just 12 points! Mal Eden (still on the comeback trail!) won section D, Katie Rowe gained 56 ratings points in winning Section C, and Gayle Cameron gained 55 for her win in section F. Well done, all!
Thanks again to Tournament Director and Computer Operator, Marj Miller, and Barry Harridge who gave invaluable assistance when there were some technical difficulties. The Nunawading Club again will host a Round Robin next year, and thank you to all players for supporting us this year.
To check the full results of the 2017 Nunawading event click
HERE
Go to the top
The National Champs &amp Plate, in Perth, April 15-17, 2017

The top three! Trevor Halsall 2nd, 2017 Champion
Russell Honeybun, Esther Perrins 3rd

The 2017 Plate winner, Susan
Roberts from South Australia

Sharvin, best performed
Junior player overall

Young players - Liana, Rahul, Kaustav, Radheya
and Sharvin, with Karen Richards
The Pagoda Resort in Como saw 56 players arrive to play in the Championship, and 44 to compete in the Plate.
The Western Australian Committee worked very hard to ensure that everything ran smoothly, with Professor Wilma Vialle as Tournament Director and Barry Harridge as Webmaster. John Hamilton organised his regular Fantasy Dream Team competition, with 42 entries received.
The lead changed several times early in the Championship, with
Hubert Wee, Esther Perrins, Gerry Carter, Tim Mason and Russell Honeybun
leading the field at various times, but from
Game 15 onwards Russell Honeybun
rose to the top of the table, and stayed there for the rest of the tournament, a brilliant effort indeed. This is the first time that a Western Australian player has been crowned the Australian Scrabble Champion, congratulations, Russ, there's no place like your home state in which to do so well!

The Vic players: Andrew Fisher, Khwanjai Thammaping,
Barry Harridge (Webmaster), Latha Weerakkody, Peter
Bauer, Carol Johnsen, Nick Ivanovski, Geoff Shepheard,
Paula Messer, Heather Long, John Rider, Christiane
McCann, Elize Plaganyi, Angie Pearse

The keen players who travelled from Queensland:
Jack Ashwin, Caroline Scowcroft, Paul Richards,
Karen Richards, Shekinah Giffen, Arnold Appelhoff,
Patti Ashwin, and Ben Munson



The crew from South Australia: Fiona Braendler, Daniel
Piechnick, Carmel Dodd, Jane Taylor, Susan Roberts,
Antony Kimber, Francoise Finlayson, Barry Jordan,
Emanuel Atsas, Oliver Jenner-O'Shea, Helen Jones,
Louisa Atsas
Russell (18 wins)
finished a game clear of second placed
Trevor Halsall
(Victoria), third
Esther Perrins
(New South Wales 16), fourth
Nick Ivanovski
(Vic 16), fifth
Rod Talbot
(NSW 15), sixth
Gerry Carter
(Thailand 15), seventh
Daniel Piechnick
(South Australia 15), eighth
Yeo Kian Hung
(Malaysia 15), ninth
Hubert Wee
(Singapore 14), and tenth
Andrew Fisher
(Vic 14). There were some excellent plays throughout the event, and the High Game Award was won by
Yeo Kian Hung
for his brilliant sore of 655 points, and
Carolyn Watt
played TEMPERER for 167 points to take home the High Word Award. Congratulations, everyone!

The Champ, Russell
Honeybun, during play

Defending Champ,
Trevor Halsall, 2nd

Esther Perrins,
New South Wales, 3rd

NicK Ivanovski,
Victoria, 4th

Rod Talbot,
New South Wales, 5th

Gerry Carter,
Thailand, 6th

Daniel Piechnick,
South Australia, 7th

Andrew Fisher,
Victoria, 10th
The Plate
was also keenly contested, with
Susan Roberts
from South Australia finishing on 17.5 wins, followed by
Rene Chelton
(NSW 16),
John Hayes
(Tasmania 16),
Rhonda Reynish
(WA 15.5) and
Margaret Neal
NSW 15). The score of 537 was the best in the Plate, achieved by
Rene Chelton,
and
Liz Jackman
from New South Wales played WOODSIER for 167 points to take home the High Word Award. Well done, everyone!

Daniel Piechnick and Sharvin with the
Plate winner, Susan Roberts

Rene Chelton, New
South Wales, Plate 2nd

John Hayes, Tasmania,
Plate 3rd

Angie Pearse, Victoria,
High Rating Gain overall

Carolyn Watt, WA,
High Word Champs

Liz Jackman, NSW,
High Word Plate

Webmaster Barry Harridge with
Tournament Director Wilma Vialle
Of the
42 Dream Team entries
received by John Hamilton the best selection came from
Victor Tung,
with his team winning a total of 86.5 games, and with a combined margin of +2319. Victor's Fantastic Fantasy Team comprised Trevor Halsall, Rene Chelton, Rhonda Reynish, Helen Jones, Marlon Prudencio and Arnold Appelhoff. Thank you to Khwanjai Thammaping, Deepa Bowmick and Nick Ivanovski for the photos, they are appreciated.
Next year's Championship and Plate will be held in the nation's capital Canberra, from March 31st - April 2nd. To check the full results of the 2017 National Championship &amp Plate click
HERE
Heading to the National Championship &amp Plate in Perth, Easter 2017
To follow the ups and downs of the players over the weekend click HERE

Trevor Halsall in 2016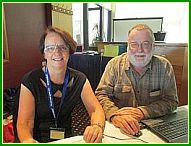 Wilma Vialle and Barry Harridge

John Hamilton
Fourteen of our Victorian players are heading over to Perth in Western Australia to compete in the annual Australian Scrabble Championship (for players rated 1300 and above) and the Plate (for played rated below 1300). Both events comprise 24 games (8 on Saturday, 9 on Sunday, and 7 on Monday), played over three days at the Pagoda Resort in Como, and we wish all our players good luck, including the current Champion Trevor Halsall - have fun, everyone!
A celebration dinner will take place on Monday evening at the venue, following completion of play.
The W.A. committee has worked tirelessly to have everything in place for the start, and will continue to be busy over the next few days. Also on the admin side Wollongong's Wilma Vialle is the Tournament Director, and Victoria's Barry Harridge has travelled to Perth to fill the position of Webmaster, good luck with everything, everyone.
Once again John Hamilton is conducting his Fantasy Dream Team competition, and full details can be found
HERE
Here are our contenders, with current ratings. The first eight are playing in the Championship, and the latter six in the Plate - we should do well!

Andrew Fisher
2112

Angie Pearse
1401

Carol Johnsen
1553

Geoff Shepheard
1338

Heather Long
1625

John Rider
1321

Nick Ivanovski
1785

Trevor Halsall
1763

Christiane McCann
902

Elize Plaganyi
904

1098 Khwanjai
Thammaping

967 Latha
Weerakkody

Paula Messer
1136

Peter Bauer
1264
The Nationals Warmup ~ 28th March, 2017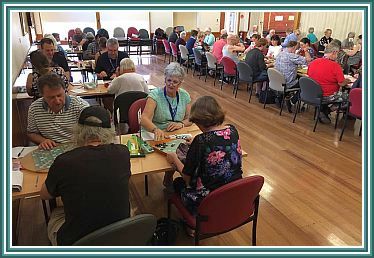 Play in progress in Round 5 - Geoff Shepherd plays
Geoff Wright on Table 1, with Angie Pearse playing
Gwen Lampre on Table 2.
In advance of the National Championship and Plate in Perth over the Easter break
forty-eight players gathered at the Box Hill Centre to play seven (mostly!) pleasant games of Scrabble, with some big wins and losses and excellent performances during the day. The tournament was an Open event, and as always players competed against some unexpected opponents. It was good to see
Shaun Donnelly
after a spell from the game, and also pleasing to see
Geoff Wright
take out first place after a break from the winner's podium.
Geoff W.
has played less frequently this year and still won all seven games, what a good feeling, well done, Geoff! Second place went to
Geoff Shepheard
on six wins, possibly his best tourney performance as he was victorious against several higher rated players. A brilliant performance, Geoff S. We have come to expect great things from
Alan Burn
and he didn't disappoint, placing third on six wins, well done, Alan.
Dilendra Nanayakkara
placed fourth after starting the day well, and
Gwen Lampre
placed fifth, with both on five wins.
The High Game award went to
Trevor Halsall
for his score in the final game of 642 points, nice game and great score, Trevor.
Dorothy Rice
was thrilled to play WEARIEST for 149 points to win the overall High Word award, well done Dot!
Three Ratings Band prizes
were awarded and all were pleased with their efforts! The
best rated Under 900 prize went to Lynne Goodinson
(rated 730), a great effort for finishing in 32nd place with 3 wins, Lynne. An excited
Christie Godby
(rated 905) put in a stellar performance to take home the
Under 1100 prize,
well done Christie! And the
Under 1300
award went to second placed overall
Geoff Shepheard
(rated 1281), well deserved, Geoff!
We were well looked after on the day by our
caterer Liz McKean,
thanks Liz, your hard work and lovely variety of food were appreciated by all. As Tournament Director I would like to thank all who helped in any way on the day, setting up and tidying up is so much quicker and easier with many helpers! Also thanks to Nick Ivanovski for the use of some of his photos, much appreciated as always, Nick.
Notable ratings gains on the day were achieved by Christie Godby +62, Geoff Shepherd + 57, Lorna Patching +35, Dilendra Nanayakkara +31, Alan Burn +30, Latha Weerakkody + 29, Geoff Wright + 28, and Lorraine Thomas +28.

The overall winners: Geoff Shepheard 2nd,
Geoff Wright 1st, Alan Burn 3rd

Ratings Band Prizewinners: Geoff Shepheard,
Christie Godby, Lynne Goodinson

The High Word and High Game winners:
Dorothy Rice and Trevor Halsall

From left: Del Stitz, Christiane McCann, Balada
Catanchin, Dominica Krstic, Shaun Donnelly
To see the full results of the 2017 Nationals Warmup click HERE
The Langwarrin Tournament, March 6 2017

The Langwarrin Club members: Geoff Gittus, Katie Rowe, Dot Rice, Mardi
Healy, Chris Radin, Alan Burn, Elaine Capewell, Shirley Walker, Pat Judd.
The Club meets on Tuesday nights at 7 pm, at the Community Centre

Clockwise from top left: Eileen Mills &amp Faye
Leeder, Mardi Healy, Brenda Thurgar &amp Fay
Boxshall, and Geoff Gittus


The Langwarrin scorebook
showing the Community
Centre, a good place to play!


The end of the day, in the very pleasant playing room
at the Community Centre, with Carol Johnsen and Club
Convenor Mardi Healy doing the presentations.
The first weekend in Autumn was another beautiful day in a week of late summer weather and it saw 40 players converge on the
Langwarrin Community Centre
for their
17th annual tournament
. A fire earlier in the week (mostly along a side fence) did not prevent the centre being open, though the club had been unable to have its usual club night the prior Tuesday.
Once again, the player numbers were split up into
3 "equal" groups 14, 12 and 14
with play-up certificate holders being allowed to play-up, mostly in the A Section.
Langwarrin Club players
acquitted themselves very well in the results with
Dorothy Rice and Mardi Healy
first and second respectively in B Section, and standby player
Geoff Gittus
third in C Section.
Lynne Goodinson
was dismayed when she discovered that a word she had played for 135 was a non-word but had not been challenged by her opponent. (N.B. if a high word is not included in our official word list, Collins Scrabble Words 2015 edition, it does not receive a prize in a tournament.)
Elaine Capewell and members of the Langwarrin Club
catered amply for the event and we are all asking Geoff Gittus for the recipe for his delicious biscuits. Thank you for a lovely tournament once again, and Mornington Peninsula players can look forward to the Peninsula Tournament to be held in September at the Mt Eliza Community Hall.

Division A: Carol Johnsen 3rd plus High Word
(LEADMAN 106) and High Game (536), with
Dianne Davis 2nd and Ray Alford 1st

Div B: Mardi Healy 2nd, Dorothy Rice 1st,
Khwanjai Thammaping 3rd, Glen Chandler
High Word (FEASTING 95)

Div C: Ann Goodwin 2nd, Marisa Nuccitelli High
Word (WARMING 99), Laura Khan 1st, Geoff
Gittus 3rd, Lynne Goodinson High Game (457)

Gwen Lampre with Jan McDonald and Shirley
Walker, with Rob York photo-bombing on the
left! Thanks, Khawanjai, for the photos
Players who achieved
good ratings gains were Dorothy Rice +39, Alan Burn +39, Dianne Davis +36, Ann Goodwin +36, Eileen Mills +29, Khwanjai Thammaping +26, Laura Khan +24 and Mardi Healy +22,
all excellent results.
Thanks to TD Carol Johnsen for the above report, and to check the full results of the 2017 Langwarrin event click
HERE
The Annual Melbourne Team Challenge ~ February 12, 2017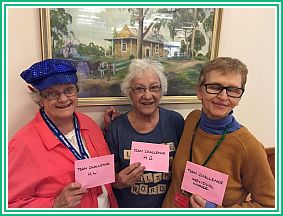 The overall individual winners on the day: Marj
Miller, Norma Fisher and Balada Catanchin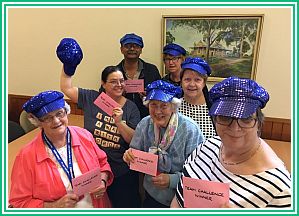 The Blue Caps, the winning team....Back - Siva
Sivapalasundram, Heather Long. Front - Marj
Miller, Jenny Brysha, Mary Mackie, Christiane
McCann and Paula Messer. Well done, team!
This event was limited to 56 players, and we had the usual last minute ring-around to find replacement players for those who found themselves unable to play, and I hope those who were unwell have recovered. I'm grateful to those who filled in - Mardi Healy, Gayle Cameron and others, and our reserve player Mary Mackie - thank you all. The day was a bit slow to get started but after some initial hiccoughs organising the teams and team hats all ran smoothly, and thanks to Barry Harridge for his input, as well as Amy on computers and everyone else who helped in any way. Also thanks to Nick Ivanovski for the use of some of his photos, appreciated as always, Nick.
Individual awards on the day went to Balada Catanchin who finished as the best of all 56 players with 6 wins, ahead of Mardi Healy and Christiane McCann, also on 6 wins for the day. The High Game Award went to Norma Fisher for her score of 547, and Marj Miller won the High Word Award for her play of DESEXING for 119 points. Well done to Balada, Mardi, Chris and all for your excellent play, and the spirit in which you all participated in this event.

Second place, the Team Builders, from the left:
Peter Bauer, Noel Coulter, Angie Winkler, Nick
Ivanovski, Dorothy Hunt, Elize Plaganyi, and
Kris Howat. Well played, Builders!

Third team on the day, the Black Caps - Norma
Fisher, Sandra Masel, Del Stitz, Ann Goodwin,
Dominica Krstic, Diane Stoyan and Lynn Weaver.
Well done to the only all girl team!

Team Scholten Pepper, a fine bunch of hearties!
Fourth on the day, back: Rob Hutchinson, Chris
Scholten, John Metcalf, Rob York. Front: Lorna
Patching, Bridget Halge, Balada Catanchin

The Bunnies. Captain Eloy Gardea wore the yellow
bunny ears all day, well done! Seen here with Trish
Magee, Lorraine Thomas, Geoff Shepheard, Marisa
Nuccitelli, Oliver Podesser, & Christie Godby.
The fight for the title of Champion Team was closely contested, with the Blue Caps emerging the victors by just one game at the end of the day - well done to my team mates Heather Long (our captain, who encouraged us all day), Jenny Brysha, Christiane McCann, Mary Mackie, Paula Messer and Siva Sivapalasundram, it was great fun to have a win. Other teams in finishing order were the Team Builders, Black Caps, Scholten Pepper, Bunnies, Twinkles, Green Caps and Carol's Crushers.
Excellent ratings gains on the day were achieved by Christiane McCann +47, Geoff Shepherd +46, Mardi Healy +43, Balada Catanchin +41, Peter Bauer +37, Glen Chandler and Kris Howat both +36, and Heather Long +31.

Barry Harridge's team, The Twinkles, placed sixth.
From left - Gayle Cameron, Rena Aitken, Cheryle
Jerram, Lainie Chojna, Mardi Healy, Mal Eden and
Barry Harridge


Gwen and her Green Caps, placed seventh.
Left: Gwen Lampre, (Rod Casey photo-bombing,)
Laura Khan, Wayne Stoyan, Glen Chandler, Carol
Mascitti, Annette Casey and Angie Pearse

The eighth team overall, Carol's Crushers...
Latha Weerakkody, Carol Johnsen, Rebeccah
Booth, Liz McKean, John Parker and John Rider,
with Rod Casey in front

The Green Caps versus the Blue Caps...Carol
Mascitti doing battle with Siva Sivapalasundram
on what appears to be a rather tight board,
with Angie Pearse and Wayne Stoyan nearby
Go to the top
The Annual City of Sydney International Masters ~ January 28/29, 2017
Seven of our Victorian players travelled to Sydney for this popular event, held at Club Burwood RSL in Burwood. A total of fifty-two players participated including Lyres Freeth from New Zealand, who had visited Australia for the Trans Tasman Challenge in Adelaide last year. Eleven games (22 minutes per player) were played on Saturday, and nine on Sunday. Bob Smith was in charge of directing the tournament, and regular updates were supplied by Edward Okulicz, thank you for those, Edward, and for the excellent website.
Andrew Fisher took an early lead and held on to it for the entire event, winning nineteen of the twenty games played, a brilliant effort indeed. Second place went to Chris May on 16 wins, and third was Alastair Richards with 15 wins. Joanne Craig scored 666 to take out the High Game Award, and Carol Johnsen's early play of SPURNING for 158 earned her the High Game Award.

Andrew Fisher from
Victoria, first

Chris May from New
South Wales, second

Alastair Richards from
Queensland, third

Joanne Craig, New South
Wales, High Game &amp 12th

Carol Johnsen, Victoria,
High Word &amp 31st

Natasha Podesser,
Victoria, tenth place

Trevor Halsall, Victoria,
22nd place

Alan Burn, Victoria,
25th place

Jenny Brysha, Victoria,
placed 26th

Khwanjai Thammaping,
Victoria, 51st place
To check the full results of the 2017 CSIM in the National Archive click
HERE
The BIL ROSE AESTIVAL ~ January 15 2017
Ah, summer is here, and that means the Australian Open is about to start. People are enjoying the weather, holidays from work and look forward to this yearly Round Robin event run strictly on ratings.
Sixty-six players
took part in eight sections named: Aiava, Barty, Cabrera, Duckworth, Ebden, Federer, Gavrilova and Hewitt. Norma Fisher is constantly updating the section titles (hoping to have all Australian Open players) and was pleased with Aiava and Cabrera being made wildcards this year, and Barty returning after a year off tennis, having played cricket for Australia for that year.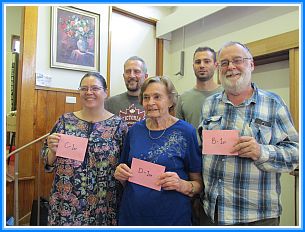 The winners in Sections A - D: Jenny Brysha, Andrew
Fisher, Lorraine Thomas, Peter Kougi, Barry Harridge.
Not in the photo: Naween Fernando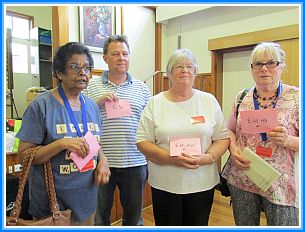 The winners in sections E - H: Latha Weerakkody,
Geoff Shepheard, Eileen Mills, Lynne Goodinson.
Not in the photo: Laura Khan, Trish Magee
It was unfortunate that a police intervention was happening on the tram route to the tournament and two more participants were unable to make it to the tournament. We welcomed keen new player
Sabir Khawaja
from Pakistan (Sabir is in Melbourne studying), and also welcomed back
Jason Stockdale
after a six year absence from Scrabble - Jason has been busy with study in Geelong, and its good to have you back.
After the lunch break,
Naween Fernando
treated us to a reading of one of
Bil Rose's Scrabble poems
which was delightful. Bil was a prolific poet and published many in our own magazine and in national publications over many years. Nick Ivanovski brought along a collection of his Scrabble magazines which featured Bil's poetry also.
Seven games
were played with first placegetters receiving a monetary prize, along with one monetary prize each for high word and high game for the first 4 sections and the next 4 sections.
Latha Weerakoddy and Lynne Goodinson
shared the high game (494) in the second group and
Siva Sivapalasundram
(KARITES) and
Eileen Mills
(SKILLED) shared High Word 95 while
Andrew Fisher
scored 149 for LUNGWORT and
Naween Fernando
scored the High Game with 524 in the first 4-section group.

Happy winner of the ticket to the Australian
Open tennis, Ann Goodwin


Our new player, Sabir Khawaja, with veteran
Barry Harridge


"EBDEN", with Khwanjai Thammaping playing
Dorothy Rice


"CABRERA", with Dianne Gibson and Janet
Bau partway through their game.

The
TENNIS theme word
generated a lot of interest as the prize was a Day pass ticket for Monday, 23 January at the Australian Tennis Open.
Ann Goodwin
was the winner having entered both SERVING and LOB. Two players won all seven games played, congratulations to Peter Kougi (Aiava) and Latha Weerakkody (Federer) for this achievement, and to all winners. Thanks for this report, Carol Johnsen!

The "GAVRILOVA" players, with Rena Aitken
and Laura Khan


"HEWITT" section, with Trish Magee and
Lina Camilleri


"AIAVA", with Peter Kougi playing Carol
Johnsen, and Jason Stockdale at Board 2


In "DUCKWORTH" Diane Stoyan plays Rob
York, a serious challenge!

Two players won all seven games,
congratulations to Latha Weerakkody (Federer) and Peter Kougi (Aiava) for this achievement, and to all the winners - Barry Harridge (Barty), Jenny Brysha (Cabrera), Lorraine Thomas (Duckworth), Geoff Shepheard (Ebden), Laura Khan (Gavrilova), and Trish Magee (Hewitt).
Excellent ratings gains were recorded by Latha Weerakkody +65, Dianne Davis +59, Barry Harridge + 56, Peter Kougi + 52 and Geoff Shepherd +40.
To check the full results of the 2017 Aestival in the National Archives click
HERE
Vale Ann McBain ~ May 15 1931 ~ January 4 2017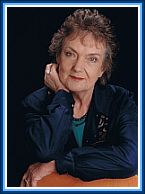 Ann was a dedicated scrabble player for many years, and very popular with her fellow players, both at tournaments and at club. The Balwyn Scrabble Club was founded in about 1984 by Ann Hagley, and Ann McB took over the running of it from Margaret Warmington in the late 1980's. Ann's gentle nature and lovely sense of humour were great attributes for a Club Convenor and she continued in charge until 2002 when health problems lead to her retirement.
Ann was married to Duncan, a ship's captain, and she loved telling the story of the ship that was named after her, the "Lady Ann". The privilege of launching the ship was given to Ann which delighted her, but sadly the Lady Ann sank just two weeks later!
Ann travelled extensively to many parts of the world, and this was a favourite pastime. She and good friend Gladys Minihan were part of the group who played scrabble down a gold mine in Bendigo, and the pair often played scrabble at airports on their interstate scrabble trips together.
Husband Duncan passed away a few months before Ann, and they are survived by their children Michael, Sheona and Caroline, four grandchildren and three great grandchildren.
Ann's funeral took place at 2pm on Monday 16th January, at St John's Church of England, Heidelberg, and family and friends will always remember Ann with love. Rest in peace, Ann.