The website of the Australian Scrabble Players Association (Victoria) Inc.
Watch this space for the latest news and happenings in the Victorian Scrabble scene, and to find lots of information and to check on news from the past click on the links at left. Your social reporter is Marj Miller, and to pass on any news click here mjwm9@bigpond.com

UPCOMING TOURNAMENTS:

Sunbury ~ SATURDAY December 1 ~ 6 games ~ at Sunbury
Decathon ~ SUNDAY December 30 ~ 10 games ~ at Box Hill
Bil Rose Aestival ~ SUNDAY January 13 ~ 7 games ~ at Box Hill
Saturday Sessions #1 ~ SATURDAY February 2 ~ 5 games ~ at Reservoir
Summer Fun ~ SUNDAY February 17 ~ 7 games ~ at Box Hill

For full details of tournaments click HERE
The Trans Tasman Challenge - in Dunedin, New Zealand ~ November 16/18, 2018
Australia's team for this event is as follows - good luck to all!
Bob Jackman (NSW), Rod Talbot (NSW), Ryan Sutton (NSW), Adam Kretschmer (SA), David Vanzyl (WA), Ron Baginski (QLD), Victor Tung (NSW), John Holgate (NSW), Karen Richards (QLD), Tony Hunt (NSW), Graeme Lock Lee (NSW) and Diane Brumby (TAS).
The Fairfield & Northcote Club Tournament ~ November 11, 2018
The second Fairfield and Northcote Scrabble Club tournament hosted 50 players in 4 sections on Sunday 11th November, being the 100th anniversary of Armistice Day, which was observed with a minute's silence at 1100 hours.
(Special thanks to Tournament Organiser Rob York for this report, for organising and acting as the Standby Player, and for his thoughtful reading of the Ode, which was appreciated by all.)

Division A - Naween Fernando, Geoff Wright,
Shirley De Silva &amp Anand Bharadwaj



Division B - John Parker, Angie Pearse,
Paula Messer, Lorraine Thomas and
Glen Chandler


Division C winners - Dianne Gibson,
Lynne Goodinson and Christiane McCann



Div D Winners - Angie Winkler, Annette Casey,
Eileen Mills, Marisa Nuccitelli, Elize
Plaganyi and Latha Weerakkody

Division A
saw a fine performance from Naween Fernando, who won on margin ahead of Geoff Wright and Anand Bharadwaj, all with six wins. The High Game prize also went to Naween for his score of 635, and Shirley De Silva played UPRAISED for 140 points to win the High Game prize in A.
Division B
was won by Angie Pearse, winning six games ahead of Lorraine Thomas with five wins and John Parker leading the pack on four wins. The High Game award went to Glen Chandler for her score of 537, and Paula Messer won the High Word award for her play of Sequins for 105 points.
Division C
was tightly fought with Christiane McCann finishing on 5 wins, beating Dorothy Barraclough on margin. Third place went to Dianne Gibson on 4.5 wins, again with a better margin than others. The High Game award was won by Lynne Goodinson for her score of 472, as well as the High Word for her play of EXAMINER for 104 points.
Division D
was won by the ever-smiling Latha Weerakkody with six wins. Angie Winkler and Annette Casey took out second and third, separated by margin, whilst Eileen Mills had a High Game of 522. Well done Eileen! An extra prize had to be found, as Marisa Nuccitelli and Elize Plaganyi both had a High Word of 88 points!!

Shirley De Silva played
UPRAISED for 140 points
Click to enlarge

Paula Messer playing Rob York on Table 12,
with Dorothy Barraclough playing Dianne
Gibson at the next board


In Division A, Gwen Lampre plays Mark Tully
nearest the camera, and Katie Rowe plays
Geoff Shepheard


Tidying up at the end of the day - Barry
Harridge, Norma Fisher, Geoff Shepheard &amp
Rob York

Excellent
ratings gains
were achieved on the day by
Geoff Wright (+57), Christiane McCann (+44), Angie Pearse (+42), Latha Weerakkody(+41) and Mary Mackie (+30).
Special thanks to FaNS members Jan Gilmartin and Christie Godby for the superb catering, Marj Miller (TD), Barry Harridge for computer operations and Norma Fisher for her ongoing help with resources.
To see the full results of the 2018 FaNS Tournament click
HERE
Saturday Sessions 8 ~ October 27, 2018
This was the final Session for this year, with eight more planned for next year - well done, Nick Ivanovski! Thirty four players competed in five sections, and at the end of the day all winners received medals for their efforts. Presentations were also made to players in various ratings bands who received the greatest number of cumulative points over the eight sessions this year, and these generous cash rewards were appreciated by all recipients.

Overall winners: Christie Godby, John Rider, Glenys Dettmann, Noel Coulter, Andrew Fisher, Naween Fernando

Division A winner,
Naween Fernando



Division B winner,
Rod Casey



Division C winner,
Noel Coulter



Division D winner,
Christie Godby



Division E winner,
Balada Catanchin


Once again thanks to Nick and Clare Ivanovski for running these round robin events, they have proved to be very popular indeed!
To see the full results of the final Session for 2018 click
HERE
Vale Carole Eden ~ October 23, 2018
| | | | |
| --- | --- | --- | --- |
| Carole and Mal at the A.G.M. in 2014 | Carole with Team Knickerbockers | With Angie Pearse at Tumut | Winners - fun with Marisa and Ann |
Carole was a happy and enthusiastic scrabble player, and had been a loyal member of the Victorian Scrabble Association for many years, together with devoted husband Mal. It was always a pleasure to face Carole across the board - she was a very fair and unflappable player, but not reluctant to comment if someone said or did something untoward! Carole had an interesting life, embracing time spent at work, and with family and her many friends. Sadly Carole developed Motor Neurone Disease in 2016, and Mal became chief carer for Carole at their home in Healesville, which was greatly appreciated by Carole as it gave them as much time together as possible.
This was a life well lived, rest peacefully, Carole.
The South Australia - Victoria Border Challenge! Sat/Sunday 20/21st October 2018
| | | |
| --- | --- | --- |
| The South Australian players, too good again! | The Victorian Team - we'll try again next year! | Dinner on Saturday night - a bit of a wait, but worth it! |
18 South Australians and 26 Victorians
met at the White Hart Hotel in Horsham to contest the annual Border Challenge, an event that South Australia has now won eight times in succession. Victoria were in a good position on Saturday night after 7 rounds, leading by four games, but a marked slump in form on Sunday morning saw
South Australia victorious 92 games to 88.
Some of the Victorian players felt they had been drawn to play too many Vics, but this will always happen when one team has a considerably greater number of players than the other - in previous years the South Australian team has consistently been larger than the Victorian contingent, and they have been playing against each other much more than us Vics have been doing. Short of restricting the number in each team I can see no way to alleviate this happening, and I personally wouldn't be in favour of this.
On a lighter note we all thoroughly enjoyed our weekend in Horsham, and catching up with friends from both states. Bruce and his staff at the White Hart Hotel look after our needs very well, which adds to the enjoyment of the weekend. Thanks to Victoria's
Carol Johnsen and helpers
for organising this year, and
South Australia's Adam Kretschmer
for his extensive computer work. Well done to South Australia, we'll do battle again sometime next year!

The overall winners - Michael Cameron (three
prizes!), Antony Kimber and Trevor Tao,
all from South Australia

Rating band winners: Kjwanjai Thammaping (Vic),
Julie Robins (SA), Helen Jones (SA), Dorothy
Barraclough (Vic) and Glenys Dettmann (Vic)

Trevor Tao with his ukulele, about to lead the
South Australians in their victory song -
my congratulations to the South Aussies!

Our lunch spot following the conclusion of play
on Sunday - Khwanjai enjoying her lunch beside
the lovely Wimmera River in Horsham
To check the full results of this Challenge click
HERE
The Annual Victorian Country Championship and combined Ballarat Tournament - Saturday 13th October, 2018
Here is a report from Carol Johnsen covering this combined event - thanks Carol, and for the photos.
What a wonderful day at the new venue for the Ballarat Club to host the Victorian Country Championship. The Greyhound Racing Club has plenty of parking, easy access, lovely big tables, comfortable and warm surroundings (remember, this is Ballarat!) and lunch was available around the corner at the equally comfortable Flying Horse bistro at the Trotting venue.
Peter Bauer came home late defeating his partner Heather Long by 6 points in the last game to push her from 2nd to 4th place and take out 2nd place in the section, giving him the title of Country Champion for 2018. Fair enough though, as Heather had already been Country Champion before!
Ballarat Club did themselves proud, along with the delightful and delicious snacks served throughout the day. There were three novices competing from the Ballarat Club with Vera Zylan winning best novice with 3 wins. With the smallish fields the day flowed quickly and was enjoyed by all.
To check the full results of this event click
HERE

A Division: Angie Pearse, Kris Howat,
Champion Peter Bauer, Carol Johnsen.

B - Vera Zylan (best novice), Marjorie Clark
(1), Elize Plaganyi (3), Jenny Kearney (2)

Vera Zylan plays Marjorie Clark, the Convenor
of the Ballarat Scrabble Club

The Greyhound Racing Club, where the
Club meets on Tuesdays from 10-3pm
The annual Seniors' Scrabble Day Out! October 11, 2018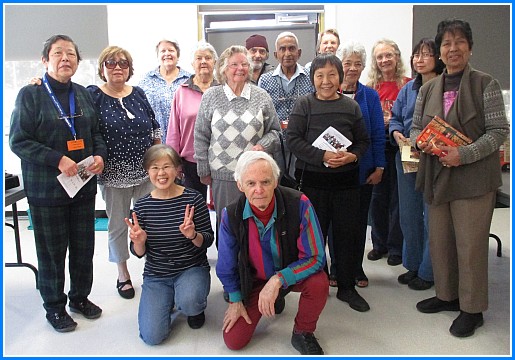 The happy winners of all the sections, with winners of door prizes and other various things!
Over 50 keen Scrabble players
from various areas descended on the
Golden Age Community Centre at 47 Miller Crescent, Mount Waverley,
to take part in a social tournament organised by
Carol Johnsen
and sponsored by the
Department of Health and Ageing,
and we thank them for their generous support which has allowed this free event to run regularly over the past few years.
Players were divided into groups of four,
and competed in 13 divisions named after various flowers - for example, A for Amaryllis through to M for Marigold. Three games were played and the winner of each section received a prize for their efforts, either a box of chocolates or a Scrabble notebook.
Morning tea was served after Game One, and we enjoyed a mix of dips, crackers, fresh fruit and cakes. Lunch was presented after Game Two and had been ordered from Subway and everyone enjoyed the lovely fresh salad rolls with ham, chicken, or tuna, with extra salad supplied for those with special dietary requirements.
Well done to Carol for her organisational and shopping skills, and thank you to the local players, especially Layhoon (pictured kneeling at left above) and Christiane (standing third from the left), who helped out in so many ways with setting up and tidying up at the end of the day.
Everyone seemed to really enjoy their day out, and if anyone would like to join one of the Scrabble groups which meet regularly at the
Golden Age Community Centre
the times are as follows:
Mondays and Wednesdays 9.30am - 3pm,
with a very short break over the Christmas period.

Players from the U3A Kingston Scrabble Group - contact U3A
on 9580 8328 to enquire about joining them in Mordialloc!

Organiser Carol Johnsen, with Laura, Juanita, &amp Christiane
McCann. All play regularly at the Golden Age Scrabble Club.

Members of Scrabble Victoria - Mary Mackie, Dianne
Gibson, Marisa Nuccitelli, Sita Dasika &amp Betty Egan.
Saturday Sessions, the 7th event for 2018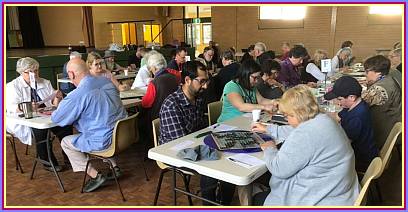 The start of the day - Game One underway.
Thirty-six players
attended Saint Gabriel's school in Reservoir to compete in the seventh Saturday Session, the second last Session for 2018.
All arrived on time, and Organiser/Tournament Director/Standby Player
Nick Ivanovski
settled in to play to even up the numbers. Thanks to Nick for his hard work, to
Clare Ivanovski
for her contribution in keeping us well fed, and to
Elizabeth McKean
for her donation of her legendary jelly slice. Thanks also to all who helped with setting up and tidying up at the end of the day, your help is appreciated!
There were several good performances on the day, with the highest game score of 550 achieved by
Andrew Fisher
in A Division, closely followed by
Mark Tully
who scored 525 in Division B. I'm aware of one nice individual play for the day -
DITZIEST
was played as a four-timer for 122 points, and I'm sure there were many others.
Geoff Wright
and
Naween Fernando
opened their game with 5 consecutive bonuses - Naween played PINBONE, MAULGRED, and SATURANT, with Geoff playing GELATION and SWIVELED! What a great start to a game. Two players won all five games in their respective divisions, namely
Glenys Dettmann and Marj Miller.
Below is the rogues' gallery from the event - missing is the winner of Division C, John Rider.
To check the full results of Saturday Session 7 click
HERE

Division A winner,
Peter Kougi

Division B winner,
Marj Miller

Division D winner,
Glenys Dettmann

Division E winner Ann Goodwin,
with Rob Hutchinson

Division F winner,
Rajiv Armani
The Annual Essendon Tournament ~ September 30, 2018
Here is a great report from Rob York, the Essendon Scrabble Club Convenor and Tournament Organiser - thanks, Rob! The Club meets on Tuesday evenings at 7pm at the Essendon Senior Citizens Centre, 5 Kellaway Ave, Moonee Ponds - all new players and visitors welcome for a great Scrabble experience!
On Sunday 30th of September,
following the devastating 2018 AFL Grand Final,
50 enthusiastic local Scrabblers
turned out for the 2018 Essendon Scrabble Club Tournament. Despite a cancellation and the confusion of an extra late entry, by 9.40am the draw went up, the heads went down and the bingoes started flowing!!

Division C's Clever Clogs!
Dorothy Rice, John Metcalfe, Nicole Lowe



The Brains in Division B:
Rob York, Janet Bau, Phil Moller, John Rider



Unstoppable in Division A: Noel Coulter,
Norma Fisher, Dianne Davis, Mark Tully &amp
Anand Bharadwaj

The 2018 Victorian Committee: Nick Ivanovski,
Anand Bharadwaj, Gwen Lampre, Christie Godby,
Carol Johnsen, Peter Kougi, Norma Fisher
In
Section A,
Dianne Davis made COSSETED (149) and Noel Coulter found a purple patch, with a High Game of 587!! The A Section winner, with 7wins was Anand Bharadwaj, with a margin of +824. On 5 wins each, Norma Fisher's margin of +444 placed her in second, ahead of Mark Tully with +185.
Section B
was very nearly an all-Essendon affair - Phil Moller played TRENDIES for 122 in the last game, to snare High Word from the clutches of Rob York, who instead had to settle for third place with 5 wins. John Rider and Janet Bau both had 6 wins, but John's margin of +271 paled before Janet's margin of +485. Janet also picked up High Game with 498!
Section C
was also won by an Essendon player - young John Metcalf had a clean sweep with 7 wins, a margin of +882 and he also took out the High Game with 508! Second place went to Dorothy Rice with 6wins (+409) and Lynne Goodinson took out third with 4 wins (+303). Not to be outdone, Essendon's Nicole Lowe took High Word with FORTIFY for 93.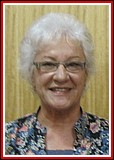 Norma Fisher, 3000
games! (file photo)
Special thanks go to
Barry Harridge
for his computer wizardry, the
Essendon Scrabble Club members
for their catering goodies, to John Taylor (still slightly jet-lagged) for taking on the kitchen duties and to Christie Godby for the Gluten-free cake!!
Special mention was made to
Norma Fisher
on achieving 3000 tournament games played in Australia (her medal is coming!). Norma has represented Australia in Trans-Tasman Challenges, and had played many uncounted games overseas, both in New Zealand and the United States, before settling here in 2001. Well done, Norma, a great achievement indeed!
People who made
significant Rating gains
included Mark Tully (+52), Norma Fisher & John Metcalf (both +44), Janet Bau (+41), John Rider (+36), Anand Bharadwaj +34, Rob York (+33) and Dilendra Nanayakkara (+31).
To check the full results of the 2018 Essendon Tournament click
HERE
The 2018 Matchplay Kickoff Tournament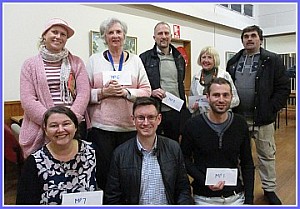 Qualifiers: Helen Hynes, Angie Pearse, Andrew
Fisher, Carol Johnsen, Matte Dunn. Front: Christie
Godby, Trevor Halsall, Peter Kougi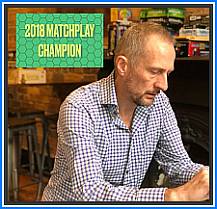 Matchplay Champ Andrew Fisher
Forty players attended to compete in this seven-game open event held on July 8th, to determine who would qualify to play in the subsequent knockout rounds.
Nick Ivanovski welcomed ex-Victorian player Helen Hynes from Queensland, and standby player Marj Miller was needed to even up the numbers. Nick moved the day along smoothly with help from his son and other players, and at the end of the day eight of the top nine finishers opted to contest the later rounds, with Helen Hynes unable to participate further due to her imminent return to Queensland.
Congratulations to all the qualifiers, and to the award winners on the day - many prizes were presented for various achievements including rating band prizes, high word and high game.
To check the full results of the 2018 Matchplay Qualifying Tournament click
HERE
Update 30th July 2018:
at the time of reporting the quarter finals have been completed, with Naween Fernando victorious over Angie Pearse, Andrew Fisher winning against Carol Johnsen and Peter Kougi winning against Matte Dunn. The most recently completed quarter final saw Trevor Halsall victorious over Christie Godby. Well done to all, more news will follow.

Happy Lina Camilleri with Peter Kougi,
also happy!

Glen Chandler, Dianne Gibson and Betty
Egan

John Rider, Mark Tully, John Parker,
and Rob York

Geoff Wright, Natasha Podesser and
Andrew Fisher
Final standings in the 2018 Matchplay
Congratulations to Andrew Fisher on winning this annual event, as always it was a tough contest!

Trevor Halsall 3
Peter Kougi 3
Andrew Fisher 3
Naween Fernando 3
Christie Godby 1
Matte Dunn 0
Carol Johnsen 0
Angie Pearse 1
Trevor Halsall 1
Andrew Fisher 4
Peter Kougi 4
Naween Fernando 3
Andrew Fisher 5
Peter Kougi 3
The Geelong Tournament ~ September 15, 2018
This event was held earlier in the year than usual, but still attracted 30 keen players to contest the 3 sections played.
A Division
saw a great win to
Kris Howat
, who won five of the six games played, followed by
Mary McMahon
and
Geoff Shepheard
, both on four wins. Geoff took home both the High Game and High Word awards for the section, scoring 521 points and playing MINIBARS for 158 points. Well done Geoff! Barry Harridge remarked that he had been complaining about the rubbish he had been picking up in the 3 games before the lunch break, and then proceeded to kick off his 4th game with a bingo - RUBBISH (no blanks). And strangely, another of his games finished with neither blank being played. It is a strange game indeed!
In
Division B
local player
Anne Menheere
triumphed with the best margin of four players who finished on four wins each, a very close tussle. Second place went to
Paula Messer,
with
Betty Egan
third. Betty had a good day, winning the High Game award for her score of 505 points, and the High Word award for her play of OCREATE for 96 points.
Division C
was won by
Balada Catanchin
on five wins, ahead of
Marlene Ellis
also on five wins, with
Raelene Owen
third on four wins. Marlene Ellis scored 473 points to win the High Game award, and Marisa Nuccitelli played RELAXED for 101 points to collect the High Word award.
People who made substantial ratings gains were
Kris Howat +55, Anne Menheere +42, Balada Catanchin +34, Raelene Owen +32, Marlene Ellis +30, and Noel Coulter +27.
Thanks to
Marlene Ellis
and the
Geelong Club members
for their hospitality, and to
Carol Johnsen
for helping with the organisation, and acting as the Tournament Director.
To see the full results of the 2018 Geelong Tournament click
HERE
The Australian Masters and State Team Challenge ~ September 8/9, 2018

The Victorian players - Masters winner Andrew Fisher,
Carol Johnsen, Trevor Halsall, Norma Fisher,
Peter Kougi and Gwen Lampre.

The winning team from the Australian Capital
Territory - Noel Barrett, John Spaan and
individual Challenge winner John Hamilton

The spacious and pleasant playing area at Southport R.S.L.



Scrabble Queensland were the hosts for this year's event, held at the Southport R.S.L. Club. Some travel arrangements were disrupted due to flight cancellations, with Chris May from New South Wales unable to play, and Roberta Tait from Queensland missing her spot in the Queensland team due to illness. Trish Brighton from Queensland filled in for Roberta, and the Masters were a player short. Tournament Organiser Martin Waterworth had the responsibility of sorting out these early problems, and play proceeded smoothly after he did this.
THE MASTERS:
After 18 gruelling games the final positions were Andrew Fisher (Victoria, 1st on 14 wins), Peter Kougi (Victoria, 2nd/13), Cameron Farlow (Queensland, 3rd/12), Joanne Craig (New South Wales, 4th/11), and Trevor Halsall (Victoria 5th/10.5). Congrats to Andrew on his third win at this event, an excellent effort as this is always such a tough contest. Rael Hayman fron New South Wales scored 560 to win the High Game prize, and Adam Kretschmer from South Australia played MEDITATE for 158 points to secure the High Word award.
Previous MASTERS Champions:
2005 Trevor Halsall (Victoria), 2006 Bob Jackman (New South Wales), 2007 Naween Fernando (Victoria), 2008 David Eldar (Victoria), 2009 Andrew Fisher (Victoria), 2010 Peter Kougi (Victoria), 2011 Edward Okulicz (New South Wales), 2012 Edward won again, 2013 Alastair Richards (Queensland), 2014 Cameron Farlow (Queensland), 2015 Naween Fernando (Victoria), 2016 Joanne Craig (New South Wales), 2017 Andrew Fisher (Victoria), and again in 2018.

Masters winner Andrew Fisher, with
Jane Brown (Queensland) and Carol
Johnsen (Victoria)

Masters 2nd placed
Peter Kougi with
Jane Brown

Jane Brown with third
placed in the Masters,
Cameron Farlow

Joanne Craig from New
South Wales, fourth in
Masters (file photo)

Fifth in Masters,
Trevor Halsall
with Jane Brown

Jyoti Chandna, High Word in the Team
Challenge, with Jane Brown, Judy
Mason and Martin Waterworth
THE STATE TEAM CHALLENGE:
the Victorian team struggled early, while the Australian Capital Territory established an early unassailable lead, with John Hamilton, Noel Barrett and John Spaan all playing extremely well and racking up 37 wins between them, the third highest in the history of this event!
The Victorian team improved greatly on the second day, and led strongly by Gwen Lampre worked their way up to finish in second place with 29 wins. Well done, Gwen Lampre, Norma Fisher and Carol Johnsen! South Australia, Western Australia and Tasmania scored 28 wins per team, followed by Queensland on 20 wins and New South Wales on 19.
Individual place-getters in the Team Challenge
were John Hamilton (Australian Capital Territory) on 16 wins, (well done, John!), Gwen Lampre (Victoria) second on 12 wins, and Dianne Brumby (Tasmania) third, also with 12 wins. Norma Fisher (Victoria) scored 525 to win High Game, and Jyoti Chandna (New South Wales) played DEVIATOR for 167 points to win High Word, well done to all.
Previous Champion Teams:
2005 South Australia (33 wins), 2006 Western Australia (38), 2007 Victoria (31), 2008 Queensland (32), 2009 Queensland (33), 2010 New South Wales (39), 2011 Queensland (33), 2012 New South Wales (31.5), 2013 South Australia (32.5), 2014 New South Wales (33), 2015 New South Wales (31), 2016 Western Australia (33), 2017 Victoria (31.5), and 2018 the Australian Capital Territory (37).
Congratulations to
ASPA Queensland
on your successful running of this event, all who attended were appreciative of your efforts.
To check the full results of the 2018 Australian Masters and State Team Challenge in the National Archive click
HERE
The A.G.M. Tournament ~ Sunday August 19, 2018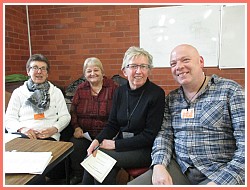 Relaxing at lunchtime: Dominica Krstic, Angie
Winkler, Annette Casey, Mark Tully
Forty-four players
took part in this annual tournament, and attended the Association's Annual General meeting which took place after the fourth game.
Tournament Organiser and Association President
Carol Johnsen
welcomed everyone, with a special welcome to newish player
Carolyn Miller
who had played Club scrabble for some years, and in the Saturday Session tournament the previous week - I hope you enjoyed the day, Carolyn!
The A.G.M. saw all Committee members returned, with the exception of
Treasurer Rob Hutchinson
who has stepped down due to personal commitments - thank you for serving on the Committee for the past couple of years, Rob. The position of Treasurer is currently vacant so if you know of anyone who might like to do the job please let President Carol know. The meeting voted to increase the number of ordinary committee members to six, and
Anand Bharadwaj
is the new member - Anand's scholastic achievements are notable, and he has a particular interest in promoting Youth Scrabble. Good luck, Anand!
The tournament started punctually and was very enjoyable, with delicious food provided in the breaks by caterer
Liz Mc Kean and her mum
. Thanks to you both, we all enjoyed it!
Division A
saw
Naween Fernando
win all 7 games, well done, Naween. Second placed was
Nick Ivanovski
on 5 wins, with
Dianne Davis
third, also on 5 wins. The High Game prize went to
Nick Ivanovski
(594 points, the highest overall on the day) and
Mark Tully
plyed NARTJIES for 119 points to take home the High Word Award.
Division B
was strongly contested, with
June Valentine
the victor on 6 wins, followed by
Elaine Capewell
and
Dorothy Barraclough
who both won 5 games.
Elaine
took home both the High Game and High Word prizes for her score of 506, and her play of SWEETEN for 98 points. Well done, everyone.
Division C
was won by
Asley McKeown,
who won 6 games to finish clear of
Laura Khan
and
Annette Casey
on 5 wins each.
Annette
scored 487 points to collect the High Game Award, and
Laura
played QUACKED for 130 points to win the High Word Award - this was the highest word score for the day, nice play, Laura.
Excellent ratings gains on the day were achieved by
June Valentine +48, Rena Aitken +44, Dianne Davis +33, Annette Casey +31 and Dorothy Barraclough +31.
Ashley McKeon
increased his provisional rating by 182 points, well done, Ashley and everyone, a great effort from all.

Division A: Naween Fernando, Dianne Davis,
Nick Ivanovski, Mark Tully

June Valentine, Elaine Capewell, multiple
winners in Division B

Multiple winners in Division C:
Annette Casey &amp Laura Khan

Second time tournament player, Carolyn
Miller, with regular Lina Camilleri
To see the full results of the 2018 AGM Tournament click
HERE
Saturday Sessions 6 ~ August 11, 2018
Thirty-four players took part in the sixth Saturday Session for the year, providing great competition for all who attended. Nick Ivanovski welcomed new players Carolyn Miller and Niki Misinale, I hope both enjoyed their day.
Winners on the day were Andrew Fisher (A), Julie Belle (B), Kashi Thiris (C), Robin Steward (D) and Marisa Nuccitelli (E). Outstanding performances came from Andrew, Robin and Marisa, with all winning the five games played in their divisions. Robin played a great game to score 599 points and take home the High Game cash prize on the day, agonizingly close to the magical goal of 600! Well done to everyone, and thanks to all who helped Nick run the event!
| | | | | | |
| --- | --- | --- | --- | --- | --- |
| | Marisa Nuccitelli, E Division | Robin Steward, Division D | Div. C winner, Kashi Thiris | Winner Div. B, Julie Belle | Andrew Fisher, Div. A winner |
Players who achieved excellent ratings gains on the day were Robin Steward + 42, Marisa Nucitelli +39, Kashi Thiris +29, and Julie Belle and Andrew Fisher who gained 24 points each. To see the full results of the 2018 Saturday Session #6 click
HERE
The Peninsula Tournament, July 28, 2018
After a late change of date due to a mix-up with the bookings 14 people met at the Mount Eliza Community Hall to contest the event, under the able direction of Carol Johnsen - thanks Carol, and also for the delightful food you provided. After six enjoyable games Angie Pearse proved too good and took home the top-place prize, with Jane McDonnell and Dianne Davis in second and third places respectively. Angie also played SEIZING for 108 points, the highest word score for the day, and the highest game score overall was achieved by Marj Miller for her score of 502.
Well done to everyone, and thanks for adjusting your weekend plans and coming on Saturday!

The winner Angie Pearse with Tournament
Director Carol Johnsen

Lynne Goodinson plays Sandra Masel, in
very pleasant surroundings

From the left: Dianne Davis, David Robinson,
Geoff Shepheard, Jane McDonnell

Mike McDonnell, Oliver Podesser, Barry
Harridge, Mark Tully
To see the full results of the 2018 Peninsula Tournament click
HERE
Saturday Sessions 5 ~ July 21, 2018
Thirty-two players took part in the first of the Saturday Sessions for the second half of the year, with three more scheduled from August till late October. Two players competed in a tournament for the first time, namely Penny Mikulicz and Rajiv Amarnani, well done to you both. The usual format of five-game Round Robin groups resulted in five winners who received medals as awards, with the majority of the tournament revenue held over for the final 2018 Session in October, when substantial aggregate prizes will be awarded.
| | | | | | | |
| --- | --- | --- | --- | --- | --- | --- |
| Trevor Halsall, Division A | Mark Tully, winner Div B | Christie Godby, Division C | Doreen Ivanovski, Div D | Balada Catanchin, Div E | New player Penny Mikulicz | Rajiv Amarnani, novice |
Players who achieved excellent ratings gains on the day were Balada Catanchin +39, Anand Bharadwaj +30, Christie Godby +23, Norma Engel +22, and Shaun Donelly +22.
To see the full results of Saturday Sessions 5 click
HERE
Annette Casey is the Most Improved Victorian Player for 2017-2018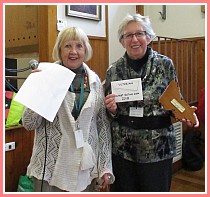 President Carol Johnsen with the
winner of the award, Annette Casey.
Congrats, Annette!
This coveted award is presented to the player who has gained the most ratings points over the previous 12 month period, from June 1st till May 31st the following year, after being rated in the system for the whole period.
This year's excited and deserving winner was
Annette Casey who gained a total of 228 rating points after playing 72 games in the allocated period.
Annette received a "Map of Victoria" trophy and a cash prize for her brilliant effort, well done, Annette!
Other great rating gains over the year were recorded by
Siva Sivapalasundram +186, Lynne Goodinson +163, Phil Moller +169, Christiane McCann +150, Cheryle Jerram + 150, and John Metcalf +146.
Three other Victorians also gained considerable points -
Jeremy Yip, Oscar Ivanovski and Doreen Ivanovski,
but as none had competed over the full 12 month period, they weren't eligible for the award.
Well done to everyone who improved their rating over the year, it's not an easy thing to do....and good luck in your Scrabble for the coming year.
Go to the top
The second McKinnon House Fundraising Tournament ~ July 24, 2018

The tournament attendees, with helpers
This is the second time that
Khwanjai Thammaping
has organised an event to raise funds for an end-of-year trip for the residents at her place of work,
McKinnon House.
With the help of other staff and carers, including
Fili and Joyce,
several of the residents attended and enjoyed some scrabble, some against our Victorian ASPA members - well done, all. The residents had been practising at McKinnon House with the aid of the "big" scrabble board, with help from
Khwanjai, Christie Godby and Rob York.
At the tournament a delightful lunch was cooked for all by
Sue,
Khwanjai's colleague, and this was appreciated by all, as were the generous between-game snacks.
A raffle and donations helped to swell the final total raised, which by the end of the day amounted to
$1000,
a very pleasing amount indeed. Khwanjai and the McKinnon House residents are deeply grateful for the support received from all.

McKinnon House residents and Scrabble
players get together

Player Dorothy Barraclough with Michaela
and her sister Lisa

Happy players Balada Catanchin &amp Elaine
McGinnes with the jelly slice

Relaxing after lunch - Geoff Wright, Rena Aitken
and Jenny Brysha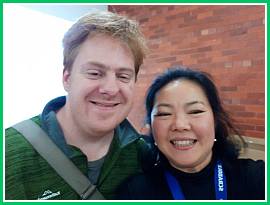 Shaun Donnelly with Khwanjai Thammaping
Ashley McKeon, new
player on the day
The
six-game three-division tournament
resulted in some some great play under the excellent supervision of
Tournament Director Barry Harridge,
thanks on behalf of Khwanjai for your contribution to the smooth running of the event, Barry.
Barry welcomed
Ashley McKeon
to his first rated tournament - we hope you enjoyed your day, Ashley, winning 3 games is a great start to your Scrabble career.
Division A
saw
Geoff Shepheard
win six games to emerge the victor (great result, Geoff), with
Geoff Wright
second on 5 wins, and
Alan Burn
third on four wins.
Alan
also won the High Game award for
ONESELF (97 points)
, and
Angie Pearse
won the High Game prize for her score of
527
.
Division B
was won by
Glen Chandler
with five wins, followed by
Paula Messer
and
Shirley de Silva,
both on four wins.
Dominica Krstic's
great score of
535
won her the choccies for High Game, and
Shaun Donnelly's
mighty play of
MIGHTILY for 119 points
earned him the High Word prize. Both Dominica's High Game and Shaun's High Word were the best overall on the day, well done to you both.

Division A: Geoff Wright, Alan Burn, Geoff
Shepheard &amp Angie Pearse


Div B: Paula Messer, Dominica Krstic, Shirley
de Silva, Glen Chandler & Shaun Donnelly

Division C: Elaine McGinnes, Elizabeth McKean
and Glenys Dettmann

Friends - Carol Johnsen, Fili and Suchada from
McKinnon House, and Lina Camilleri
Division C
saw the second clean sweep for the day, a great effort from
Glenys Dettmann
to win six games, with
Elizabeth McKean
second on five wins, and
Balada Catanchin
in third place on four wins.
Jenny Plant's
excellent score of
467
earned her the High Game award, and
Elaine McGinnes
played
INVESTS for 106 points
to win the High Word chocolate.
It was lovely to see the McKinnon House people enjoying themselves, as did the Association members. Well done to all placegetters, and to those who made significant rating gains on the day:
Geoff Shepheard + 62, Glen Chandler +49, Glenys Dettmann +41, Balada Catanchin +39, Elizabeth McKean +37, Christie Godby +6, and Betty Egan +30.
The Victorian Scrabble Championship ~ Trevor Halsall wins his third title!
June 9-10th 2018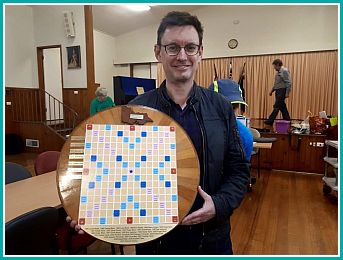 The delighted 2018 Champion, Trevor Halsall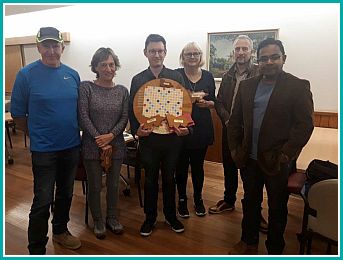 The major place getters: Rod Talbot (NSW equal High Word),
Esther Perrins (NSW 2), Trevor Halsall (Vic 1 &amp equal
High Word), Joanne Craig (NSW 3), Andrew Fisher (Vic 5) &amp
Naween Fernando (Vic 4).
Here's a report from Tournament Organiser and Director, Carol Johnsen - thanks, Carol.
Oh, the Melbourne weather, with a promising field of 52 players coming to the Victorian Championship it was going to be a good weekend. Well, by 8.45am on the Saturday, 8 players had phoned in to dip out - mostly because of sickness. Our first sign of winter, and we all fall by the wayside.
Nine games each day ran smoothly and provided continual challenges by at least 8 players to vie for the Championship until the end of the 17th game where Trevor Halsall had a very large margin lead, virtually ensuring that he was once again the 2018 Victorian Champion.
One of Trevor's games against Naween Fernando attracted international attention as it involved only a total of 20 moves with 7 bingos between them and the surprise was that a play of CAPIZ by Trevor for 87 points was more than any of the 7 bingos had scored. Also Glen Chandler and Paula Messer were delighted when the play of GOATEES fitted very nicely over the O of IVORIES.
Aside from the published results, our special prizes of $300 each went to John Rider for "Highest Placed Under 1400" and Jeremy Yip for "Highest Placed Under 1200".. Glen Chandler - RELATION - and Paula Messer - JEWELLED both scored 122 and were awarded $50 each for "Highest Word for Under 1400" and $50 was won by Angie Pearse - 529 - for "High Game Under 1400".

Gwen Lampre, High Game Champs,
with Rene Chelton

Rod Talbot and Trevor Halsall, joint
High Word winners in the Champs

Angie Pearse, High Game Award Rated
under 1400 - score 529 points

Victoria's Jeremy Yip, highest
finisher Rated Under 1200.

Glen Chandler &amp Paula Messer, joint
winners Under 1400 High Word Award
| | | | | |
| --- | --- | --- | --- | --- |
| Our visitors from New South Wales | Queensland players who made the trip | From South Australia - Carmel and Jane | Visiting from Tasmania, Dianne Brumby | Table 1 - Alan Burn v Elize Plaganyi |
Special thanks to Norma Fisher for her pre-tournament assistance, and to all who helped in any way throughout the tournament - your help is appreciated indeed. Also thanks to standby players Christie Godby and Marj Miller, our photographer Khwanjai Thammaping, and to our caterer Elizabeth McKean who did a sterling job keeping everyone well fed with a great variety of food. Thanks, everyone!
Notable rating gains were achieved by the following: Jeremy Yip (who is still on a provisional rating) gained 171 points, Angie Pearse +79, Keri Heart from Tasmania +78, John Rider +73 and Joanne Craig from New South Wales + 54.
To check the full results of the 2018 Victorian Championship click HERE

Vale Margaret Warmington 24/8/1930 ~ 25/5/2018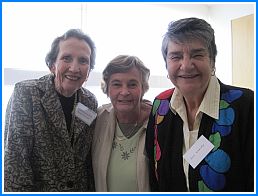 2010: Margaret with friends Lorraine Thomas
and Ann Hagley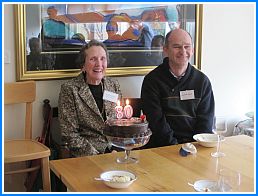 Margaret at her 80th birthday, with Alistair Kane

Here are some words from Barry Harridge, a friend of Margaret for many years:
Sad to hear of the passing of Margaret Warmington. She and her husband Jim, who died some years ago, were stalwarts of the earlier Scrabble scene in Melbourne. They both shared a great sense of humour and were loved by so many in the Scrabble scene. Rest in peace, Margaret.
Postscript: The funeral arrangements have now been made. The service will take place at Wattle Park Chalet on Wed 6 June at 11am.
The Cranbourne Tournament ~ May 20, 2018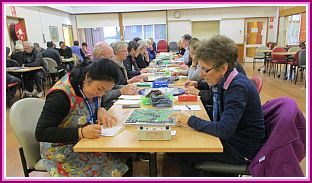 Late in the day: Khwanjai Thammaping plays
Dominica Krstic, nearest the camera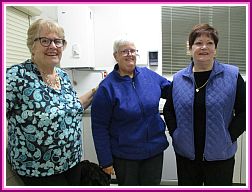 Cranbourne's hard workers, in the kitchen!
Katie Rowe, Gayle Cameron and Sue Bridges
Is he coming? Is she not? A surprising number of last-minute withdrawals and last-minute entries kept us guessing right up to the start of the tournament on Sunday, but the numbers settled and we played
three equal sections of 12,
with some interesting results. Before we started, it was my privilege to present
Noel Coulter
with his
1000 game badge.
Congratulations Noel!
Morning and afternoon tea were provided by
Sue Bridges and Gayle Cameron
who also played in the tournament, and by
Elaine Capewell
who was not well enough to attend but nevertheless sent her usual delicious cakes and slices.
Two boxes of
Harry Potter Scrabble Sets
were awarded after Game 6.
Dianne Davis
took one home for the
Smallest Winning Margin
with just one point difference, and
Val Wills
won the other for the
Lowest Winning Score
of just 298. Taped under a "lucky chair" was a photo of the new
Duke and Duchess of Sussex,
and
Annette Casey
was the winner of this third prize, a tall jar of unusual coloured and scented soaps.

Division C winners: Annette Casey, Rena
Aitken, Laura Khan

Division B: Siva Sivapalasundram, Lorraine
Thomas, John Rider

Division A: Cheryle Jerram, Angie Pearse,
Natasha Podesser, Geoff Wright

Annette Casey, who won the Lucky Seat Prize
after sitting on the hidden Royal Couple!
Laura Khan
won
C Section
with 6 wins and a margin of 190.
Christiane McCann
was 2nd with 5 wins and a 316 margin, and
Annette Casey
also with 5 wins came in 3rd with a margin of 154.
Lynne Goodinson
had an excellent score of 528 to win High Game, and
Rena Aitken
took home the High Word prize with 90 for DECEIVER.
The
B section
was won by
John Rider
with 6 wins and a margin of 392, followed by
Siva Sivapalasundram
who had 5 wins and a 349 margin, closely followed in 3rd place by
Lorraine Thomas
who also won 5 games. Her margin was 326.
Dianne Gibson's
score of 508 won the High Game award, and
Siva Sivapalasundram
scored 90 for FORINTS for the High Word prize.
Geoff Wright
had a great day in
Section A
with 6 wins and the top margin of 547.
Cheryle Jerram
surprised herself with 5 wins for 2nd place with a margin of 206, and
Natasher Podesser
made a late run to finish 3rd with 4 wins and a margin of 284.
Lynn Weaver
had the highest scoring game in the A section with 504, and the High Word prize went to
Angie Pearse
who scored 95 points for ENDOWING.

Katie Rowe with Noel Coulter, very proud of
his 1000 game badge

Siva Sivapalasundram v. Phil Moller, with Glen
Chandler playing John Rider at the next board

Tournament Director Katie Rowe at the end of
the day, very happy that all is almost done!

Jenny Brysha v. Dianne Davis, with Natasha
Podesser playing Alan Burn next door
Marj Miller's help was invaluable in so many ways, but particularly guiding me on the computer program which I only use once a year and trip up on occasionally, and Gayle Cameron and Sue Bridges made catering look easy. Norma Fisher must have been up at dawn to deliver equipment and help set up, although unable to stay for the tournament, and Rob York made a quick delivery before he too had to leave. Thanks also to Geoff Shepheard for so much assistance after the tournament.
Thanks to Katie for this great report, and thanks to the Cranbourne members for their hard work and yummy baking!
Some happy players, with excellent ratings gains after the event, were Cheryle Jerram + 45, John Rider +39, Annette Casey +39, Laura Khan +38, and Siva Sivapalsundram + 33. Well done to everyone!
To check the full results of the 2018 Cranbourne Tournament click HERE

Go to the top


The 2018 Tri-State Challenge in Gundagai - Victoria Win again!!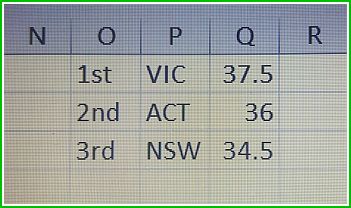 The final standings - only games played between
the three states counted towards the team results.
Another enjoyable weekend trip to Gundagai where Victoria was once again victorious in a tight finish to defeat ACT and New South Wales. Thirty-one players competed (10 ACT, 11 Victoria and 10 NSW).
Play commenced at 1pm on Saturday afternoon with 5 games followed by two after dinner. At the end of the night, Victoria had a handsome lead of 10 games.
But then, how the tides turn. On Sunday morning, NSW and ACT made their late charges and either could have overtaken Victoria.
Tremendous thanks are due to John Hamilton for his outstanding work in determining how best to format the tournament for fairness. Four sections with 3 playing round robins and one a straight Australian Draw with a King of the Hill worked out brilliantly.
Noel Coulter had a double with HEISTING for 158 and the Highest Game score of 552; and Norma Fisher was the winner of the Highest Ratings Gain with 59 points. Novice Hillary Wilde of Tumut competed and it was pleasing to see Arie Holla play before he moves from Tumut to Ballarat later in the year.

The Victorian team, with Heather Long missing!
Well done to you all!

The team from the Australian Capital Territory -
congrats on second place

Team New South Wales, who came in a close third!
Well done, N.S.W.

The Victorian team singing their new theme song,
penned by Peter and Glenys Dettmann
The Victorian team stood up this year with a ditty sung to the tune of "On the Road to Gundagai" penned by Glenys and Peter Dettmann:
VICTORIAN THEME SONG
There's a stack on my rack
That I want to throw back
At the Tri-State in Gundagai.
Where the Vics are competing
And winning without cheating
Beneath the cloudy sky.
Tho' Actrarians and Welshies are trying their best,
They will struggle to beat us 'cos we have the zest
So...we keep playing to win
Which is never thought a sin
Then return from Gundagai!
Next year's Tri-State Challenge (to be hosted by NSW) is booked in at the Junee RSL for May 4 and 5, 2019. Put it in your diaries now. Accommodation in town includes the Junee Motor Inn, The Crossing Motel and the Junee Tourist Park. Make sure you book your accommodation early.
(Thanks to Carol Johnsen for this report.)

Carol Johnsen with Div A
winner, Bob Jackman
from NSW

Carol with Norma Fisher,
winner of Division B and
High Rating Gain

Gary Pollard from NSW, winner of Div C,
with Owen Randall (ACT) and opponent
George Khamis (NSW)

Carol congratulates Division
D winner, Glenys Dettmann
from Victoria

Serious play in progress - Ronnie Bennett (ACT)
plays Norma Fisher from Victoria, with Noel
Coulter and Peter Bauer, both from Victoria

First-time tournament
player Hillary Wilde
from Tumut, NSW
To check the full results of the 2018 Tri-State Challenge click
HERE
Vale Doug Ristic ~ May 7, 2018

Doug, looking healthy and happy, in 2010
at the Marwal Centre in Balwyn North.

The Vic Team at Wagga Wagga in 2011, with Doug on the right


Doug in his element, after
catching a heap of fish.
Doug had played scrabble for many years, in many tournaments and at various clubs. He was particularly fond of traveling to the Border Challenges, which took him to Wagga Wagga in New South Wales, and various towns in Victoria's west, such as Dimboola, Donald, Nhill and Horsham. His first recorded tournament is the 2001 Victorian Championship, and his most played opponents over the years were Mal Eden, the late Alan Cole and Dorothy Barraclough.
Doug always spoke lovingly of his mother, who managed to keep all the family in touch in spite of time spent in homes in various places, such as Geelong.
His greatest interest, probably even greater than Scrabble, was fishing. One of Doug's best mates was Rex Hunt, well known AFL footballer, commentator and fisherman. Last week on his radio show Rex made the comment that Doug was a champion fisherman, and always ready to teach the sport to those with less knowledge.
Many remember Doug as a very difficult and outspoken person, but many also remember him as being a kind-hearted and caring person. He passed away on Monday May 7th after a series of health problems, and his ashes have been scattered over The Three Sisters fishing area off Sorrento pier, a favourite take-off place for many of his fishing ventures.
Thank you to Dianne Davis and Frank Csarics for attending the lovely service, held in a rotunda near Sorrento pier, following which ten of Doug's family and friends took to sea in a friend's fishing boat to scatter his ashes.
Doug is survived by his three sisters and three brothers. Rest in peace, Doug.
The annual Nunawading Tournament ~ April 29, 2018

The Nunawading Players, front: John Parker, Cheryle Jerram,
Elaine McGinnes, Fintan Conway. Back: Phil Moller, Geoff
Shepheard, Margaret Hopstaken, Latha Weerakkody, Karen Harris
and Fintan's carer Kate.

Sixty keen players competed at our regular venue,
the Box Hill Senior Citizens' Centre, in four
divisions: Masters, Advanced, Intermediate and
Recreation.


Margaret Hopstaken from the
Nunawading Club, who played
(and thoroughly enjoyed!)
her first tournament.

Karen Harris, also from the
Nunawading Club, who
returned after a break from
tournament play.
Thanks to
Cheryle Jerram,
convenor of the Nunawading Scrabble Club, for this report:
A number of members of the Nunawading Club had success: Cheryle Jerram, Geoff Shepheard and John Parker were all in 'the money'. Our Novice, Margaret Hopstaken, enjoyed her first competition, and Karen Harris played again after an absence. Other winners were Natasha Podesser, Paula Messer, and Ann Goodwin. Delicious food provided by our caterer, Elaine Capewell, was supplemented by generous contributions from club members. Our Director and computer operator, Marj Miller, again made an invaluable contribution with some help from Barry Harridge. Carol Johnsen and Norma Fisher were again stalwart supporters.

The Masters winners: Natasha
Podesser, first and High Word: EXPLAIN
for 131 points, with Geoff Wright,
third place. Missing: Gwen Lampre second
and Andrew Fisher High Game 573.

Advanced: Cheryle Jerram first (won all 7
games!), Geoff Shepheard second, Barry
Harridge High Game 497 &amp High Word
UNPLACED 98 points. Missing: Lynn
Weaver third.

The Intermediate winners: Tam Dasika
second place and High Word JEERINGS 101,
with Paula Messer first place, Dorothy Rice
High Game 498 points, and John Parker third
place.


Recreation Champions: Del Stitz third,
Ann Goodwin first, with Trish Magee,
second place and High Game 504 and High
Word BASTIONS 149 points, the best
overall for the day.

Impressive ratings gains were achieved by Cheryle Jerram +77, Trish Magee +44, Gwen Lampre +44, and Tam Dasika +41. Well done to these players, and to all award winners in each division.
To check the full results of the 2018 Nunawading tournament click
HERE
Saturday Session IV ~ April 14, 2018
The fourth and final session
of the first batch of
Saturday Sessions
for the year saw
forty players
in attendance at
St Gabriel's School in Reservoir
, despite some rather inclement weather. Players were divided into six divisions, and all played five games. Winners on the day were
Andrew Fisher, Julie Belle, Barry Harridge, Rob York, Robin Steward and Annette Casey.
Congrats, everyone!
| | | | | | |
| --- | --- | --- | --- | --- | --- |
| Annette Casey, Div F | Robin Steward, Div E | Rob York, Div D | Barry Harridge, Div C | Julie Belle, Div B | Andrew Fisher, Div A |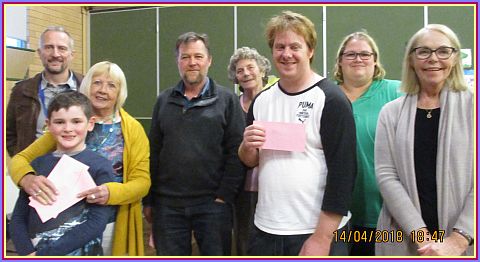 Prizewinners for the first four combined Sessions: in front, Oscar Ivanovski,
then from left to right: Andrew Fisher, Carol Johnsen, Geoff Shepheard,
Dorothy Barraclough, Shaun Donnelly, Elizabeth McKean &amp Ann Goodwin.
The Overall Results:
There were
two Ratings Gain prizes
overall, and these were won by
Robin Steward
and
Carol Johnsen,
well done to you both.
Points were also awarded over the four Sessions based on placings
- first in a section was awarded 6 points, second - 5 points, third - 4 points, fourth - 3 points, fifth - 2 points, sixth place and below received 1 point. (In the case of ties the prize monies were equally divided between the players.) Saturday Sessions Awards were presented as per the above system:
For those rated above 1350
Carol Johnsen's
aggregate was 22, with
Andrew Fisher
second on 19 and
Geoff Shepheard
third on 16.
For those rated 1000-1349
Robin Steward's
aggregate was 23, followed by
Shaun Donelly
19 and
Dorothy Barraclough
on 17.
For those rated Under 1000
Elizabeth McKean's
aggregate was 17, followed by
Ann Goodwin
and
Oscar Ivanovski
who tied for second place on 16 points.
The concept of this series of tournaments has been well received by the players, and we thank
Nick Ivanovski
for his foresight in organising and running them, and thanks to
Clare Ivanovski
for looking after refreshments for us.
The next series of four Saturday Sessions commences on
July 14,
and we hope you can make it!
To see the full results of Saturday Session IV click
HERE
Go to the top