Welcome
Australia won the 2004 Trans-Tasman convincingly 189-99, having the title sewn up midway through day 3. Chris May (AUS) won 7 games on each day to be the 2004 Trans Tasman Champion.

Rod Talbot (AUS) played the tournament's high game of 637 in round 10, and Debbie Caldwell (NZ) played HEAVIEST for 203 in round 24.
The players:
The Australian team was selected by picking the top-rated players as at July 1, plus any players rated #1 in their state who were rated better than 1700. The New Zealand team was picked directly from ratings.
The event:
The Trans-Tasman Challenge is held in even-numbered years and pits teams of 12 from Australia and New Zealand against each other. The first such event was held at the Macquarie Boutique Hotel in Sydney, and was a played as a full round-robin of 23 games. Only games between Australians and New Zealanders counted, Australian captain Bob Jackman claiming the honour of the top performer, seeing Australia home to win the inaugural event.
For future events, a team format was adopted, with everyone playing the entire opposing team twice, making in all 24 games. New Zealand won the event on their home soil in Auckland in 1998 by 21 games and retained it by the same margin in Melbourne two years later.
Australia took the title back at the 2002 event in Wellington by 23 wins, the biggest margin recorded so far and with an even stronger team this time - including newly naturalised Andrew Fisher (ex-UK) and permanent resident Naween Fernando (ex-Sri Lanka) - will be looking to increase the margin in 2004.
The venue: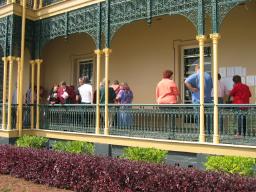 The 2004 Trans-Tasman Challenge is hosted by ASPA (Queensland) at the gracious Queen Alexandra Home, located in the inner Brisbane suburb of Coorparoo. The home began life as the family home of Sir Frank Nicklin, a Queensland premier. When the Nicklin family disposed of the home, it was used as a children's orphanage, then as headquarters for a division of the US army during World War II. It continued as a property of the Government, being used as a technical cooking school during the 1960's, and now used by various departments of Education Queensland.
Part of the ground floor is now leased to the Coorparoo Community Association which now occupies the Kingsbury Room where the Trans Tasman games are being held.
The website:
The Trans-Tasman website was created by Edward Okulicz and designed by Susan MacGillivray.