The event
Michael Tang has created the Alchemist Cup as an elite team event held every even numbered year. Pictured below is the victorious Australian team from 2018 (David Eldar, Naween Fernando, Chris May,Andrew Fisher, Edward Okulicz ) with organiser Michael Tang.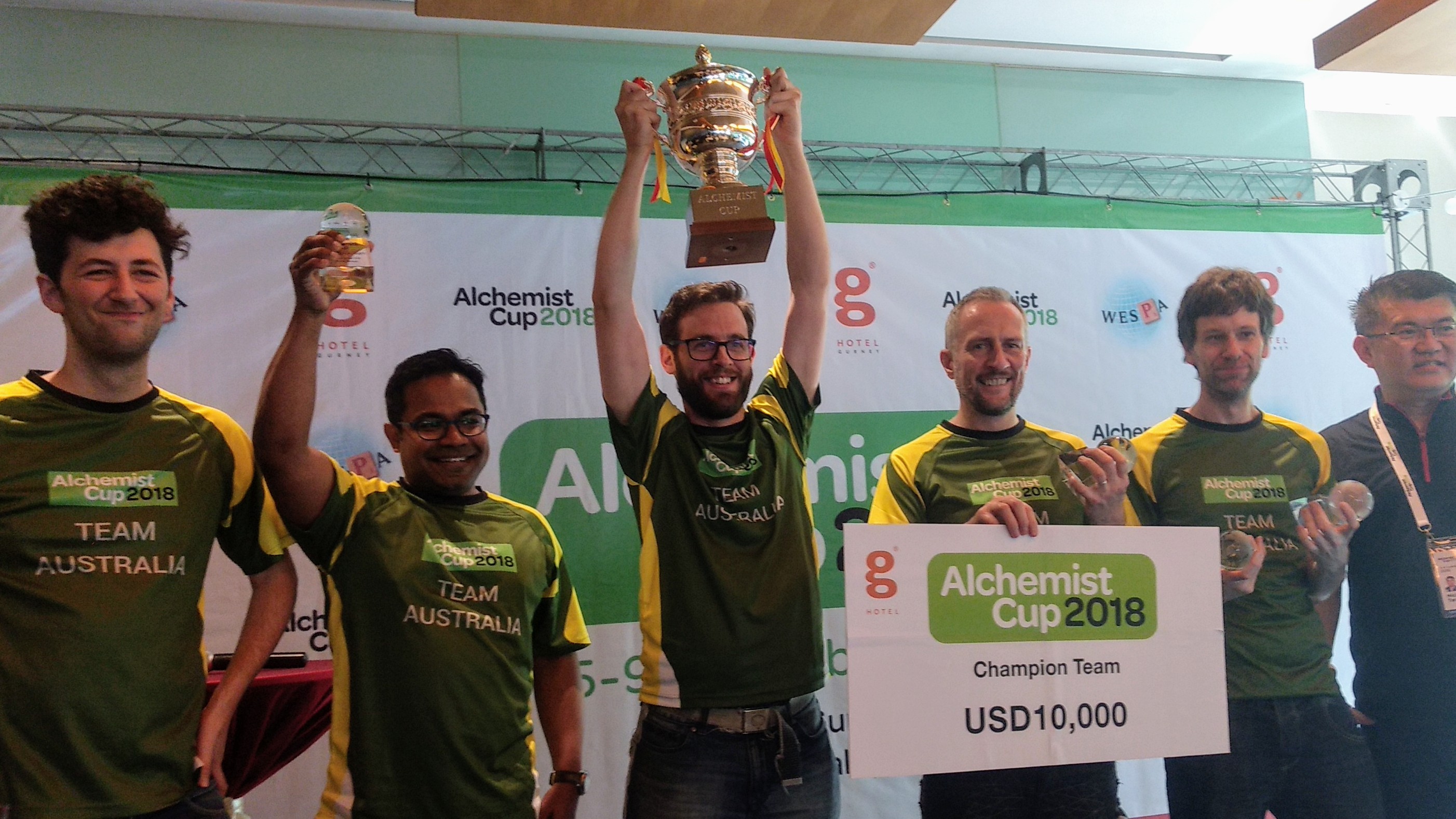 Unless infeasible due to the coronavirus, Alchemist Cup 2020 would be held in Penang, Malaysia from Dec 2 till 6, 2020. Ten teams of 5 players will play 45 rounds. Australia will be one of these teams. See the dedicated website.
The fifty players will be among the best in the world.
Selection process
This is an invitational event where Australian players are selected by the Council of Australian Scrabble Players Association, subject to approval of criteria by Michael Tang.
Qualification criteria
The qualification criteria are:
You must be a financial member of ASPA for the entire qualifying period.
You must be an Australian citizen or permanent resident. Temporary visa holders are not eligible.
The method of ranking candidates is by the three peak statistic (the Q statistic) described below.
The three peaks Q statistic
The primary criterion for ranking candidates is the Q statistic calculated like this:
The qualification period is the twelve months from May 1 2019 to April 30 2020 inclusive.
Subperiods are May 2019 to Aug 2019, Sep 2019 to Dec 2019 and Jan 2020 to Apr 2020.
A multiday tournament which spans two periods will be treated for peak and game count as occurring on the first day.
The qualifying statistic is Q = (P1 + P2 + 2 x P3)/4 , which is a weighted average of peak ratings in three subperiods.
If you play no games rated by ASPA in a period, your peak in that period is equal to the rating before that period minus 200.
You must have played at least 45 games rated by ASPA in the qualifying period before the last peak.
You must have played 60 games recognised by ASPA in the qualifying period, which includes games rated nationally by ASPA and up to 15 games played outside Australia and rated by WESPA.
You cannot be credited with a peak in a tournament where you are absent from a game for any reason except an allocated bye.
The secondary criterion is number of rated games within the qualification period. If two players have the same Q statistic, the one with the greater number of rated games in the qualification period is ranked higher.
The contenders
The table below shows the notional team as at 02.05.2020 plus 10 more who are almost in.
Selection has now finished.
More details revealed as you move your mouse over the table.
David Eldar (VIC)
(currently rated 2124) Peak 1 = 2110−200