Selective events
These events are invitational, based on rating.
2023

& State Challenge

2024
News
2022
In New South Wales the 6th Battle of the Brains Interschool Scrabble Tournament involved 7 teams. Cabramatta Primary School emerged as the best team and Jeffery Lam was the best player. Alex Lam got 519 in one game and Vinh Nguyen played REBuYIN(G) for 101 points. See the Youth page for more info about Youth Scrabble.
Cameron Farlow has won the Queensland Championship for the eighth time. The event was a further trial of the pairing algorithm, the Tight Australian.
The Australian Masters has been won by Naween Fernando. The State Challenge was won by Victoria with Heather Long being the best individual.
Chris May beat all comers to win the New South Wales Championship. Pictured here are Chris May first, Esther Perrins second, Victor Tung third.
The World Youth Scrabble Championship was, like last year, conducted using Woogles on line with clever time scheduling and strict supervision, managed superbly by young wonks from Pakistan. On the first two weekends over 36 rounds, matches were scheduled for all competitors. From these results the top ten proceeded to playoffs on the third weekend. The winner is Ali Salman from Pakistan. Congratulations also to Australian Ronnie Bennett who came fourth in the finals in a tough field.
The Tasmanian Championship has been won by Stephen Mooney-Pursell.
WESPA has determined quotas for the 2023 WESPA Championship to be held in Las Vegas in late July. Australia gets 13 places plus David Eldar. See our contenders
In Sydney, the World Seniors Scrabble has been won by Howard Warner. See full coverage.
The Trans Tasman was played in Sydney. 10 Kiwis and 14 Aussies battled it out over 28 rounds in three days. The final outcome was a solid win for Australia. Bob Jackman was the highest placed overall. See round by round coverage and history since 1996.
A new record for 2022, a high losing score of 500 when Joanne Craig lost to Victor Tung's 522 at the Trans Tasman.
The South Australia vs Victoria Border Challenge was held in Horsham. The crow eaters prevailed over the gum suckers 64.5 to 35.5 games.
Congratulations to Rael Hayman, the 2022 ACT Championship winner. Second: Karen Richards. Third: John Spaan. Winners are grinners.
---
2023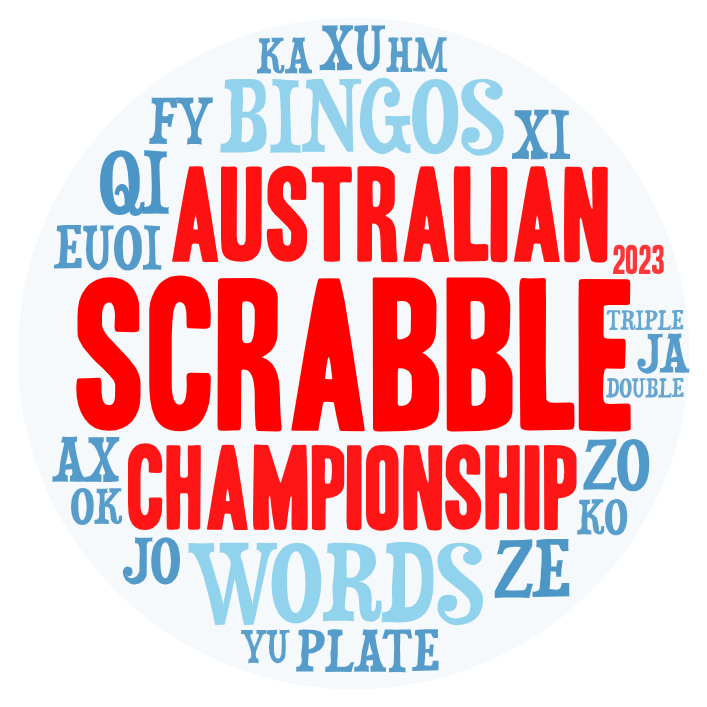 The Australian Scrabble Championship and Plate will take place in Melbourne starting on April 9 (for three days). Championship is for ratings &geq; 1300 and Plate is for those rated < 1300. The venue is Windy Hill in Essendon (home of the Essendon Football Club). We now invite you to or check Entries so far.
The City of Sydney International Masters (18 rounds) was won by Bob Jackman with 13 wins, closely pursued by two determined women on 13 and 12 wins.